How do I stream Apple Music in my house?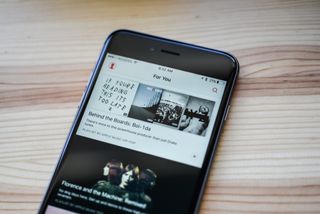 You've got yourself a subscription to Apple Music and that's great news! Now it's time to let everyone in the neighborhood know by cranking the volume to 11 and blasting it wirelessly through your home's sound system!
To do it, you'll need Sonos, Bose, or another connected speaker system.
What is Apple Music?
Apple Music is a streaming music subscription service that gives you access to a deep and wide catalogue of music from around the world. If you have a membership, you can stream music on supported devices, and if you know you're not going to be online for a while, cue up some tunes for offline enjoyment.
If you already have music you love downloaded from iTunes, Apple Music can add these songs, collecting all of your favourite tracks in one place.
If you don't totally understand Apple Music, you're not alone. For know, it's important to know that if you have Apple Music and a wireless speaker system you can make the two work together!
What devices can play Apple Music?
Apple Music is compatible on several smart devices. In the Apple family you can download the Apple Music app on iPhone, iPad, iPod Touch, Apple Watch, and Apple TV.
There is also support for Apple Music on Android phones and on your Windows PC or Mac computer.
Some wireless speakers will come with their own app to control music playback and manage speakers in your wireless sound system. Some of these apps include support for your Apple Music account so you can search for songs and create playlists to enjoy on your wireless speakers.
Even though every device, streaming service, and speaker is a little different, the overall methods for wirelessly streaming music in your home are simlilar.
What speakers can I stream Apple Music to?
You can stream Apple Music to just about any speaker, in theory. It just depends on how much work you want to do.
If you have an old stereo, you can convert it with a Bluetooth receiver, allowing you to stream Apple Music from your device through your stereo. This method is okay if you want to save some money on buying a wireless speaker and you only plan on streaming music in one room.
You can stream Apple Music through any Bluetooth or Wi-Fi speaker (though Wi-Fi audio quality is generally better than Bluetooth). This gives you a lot of options if you're looking to stream directly to a solo speaker.
Not all Wi-Fi speakers directly support Apple Music playback, so you might have to download a third party app in order to integrate things.
For complete, home audio streaming with Apple Music, it's worthwhile to research the Sonos speaker lineup. Each Sonos speaker in your home connects and communicates using the SonosNet, a secure wireless network dedicated to streaming music and managing Sonos devices.
Every speaker in your home can be managed by the Sonos Controller, an app for your smartphone or computer, that will let you search the Apple Music catalogue, create playlists, and direct which speaker(s) will play your selection. By pairing Apple Music with your Sonos sound system, you can control and manage your music in any room of your home.
Other options, like the Bose Soundtouch will let you stream music from AirPlay through Bluetooth, but doesn't offer the same support or integrated app experience you can get by using AirPlay with Sonos products.
Apple Music in your home
In order to enjoy Apple Music in your home, you need a device that supports the service and a wireless speaker. Depending on the speaker brand you choose, you'll be able to enjoy Apple Music streaming in only one room or in every speaker throughout your home. There's a wide range of costs when it comes to being able to stream Apple Music in your home.
Sweet Music
Millions of songs in your pocket.

Apple's music streaming service boasts over 70 million songs, live radio stations anchored by renowned personalities, and thousands of curated playlists spanning every genre you can imagine.
Master your iPhone in minutes
iMore offers spot-on advice and guidance from our team of experts, with decades of Apple device experience to lean on. Learn more with iMore!
"Siri, write a really funny bio for me to use for Mobile Nations" "Okay, Drew, here's your really funny bio: How-to writer, fiddle player, retro gamer."