How to stream PC games on your iPhone or iPad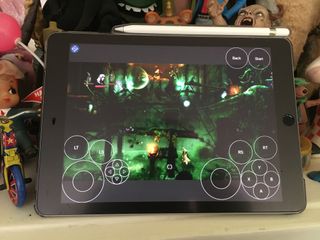 My gaming rig is a lot of fun to take a deep dive into a long game, but I don't always want to sit at my desk for some of the lighter titles in my Steam library. My iPhone and iPad are perfectly capable gaming machines in their own right, and with the right apps I can stream right to these while my PC does all of the work in another room. Depending on how your home network and gaming PC are set up, there are a couple of options available to you for streaming PC games to your iPhone or iPad. And once you get set up the way you like, all you will need to do is choose the right game to spend a lazy Saturday morning playing.
Before you get started
Your iPhone or iPad will need to be on the same network as your gaming PC for this to work. If you aren't at home, or if you are not connected to the same WiFi as your PC, this is either not going to work well or not going to work at all. Making sure you are on a solid, stable network together is always going to be Step One for this process.
It's also important that your PC be slightly more capable than it needs to be when streaming games. If your PC only meets the minimum system requirements for the game you are trying to play, streaming is going to be a miserable experience and you're not going to do it twice. As long as your PC has some extra power to play with, this process should go fairly smoothly.
Moonlight, for NVIDIA gamers
If you have a mid to high end graphics card from NVIDIA in your PC, your software came with an experience called GameStream. This service allows you to stream games from your PC to a supported device, and generally speaking it works very well. Because the service already exists as a part of your graphics card, there are no additional apps to install on your PC. The only hangup here is your iPhone and iPad, which are not technically GameStream supported by NVIDIA. The workaround for this is a third-party app called Moonlight. Install this on your phone, log in to GameStream, and you're ready to go!
If you're not sure your PC supports GameStream, the best thing you can do is look for the app on your computer. GameStream is supported on anything better than a GTX 650 GPU, so if your card was made within the last two years there's a good chance you have what you need to get going.
Remotr, for everything else
Not every game supports GameStream, and not every GPU is made by NVIDIA, so for everything else the app you want to use on for streaming games to your iPhone and iPad is Remotr. This app will allow you to stream basically anything from your PC, and gives you a nice set of virtual joysticks on the screen to emulate a gamepad while you play. Best of all, you have control over where those joysticks and all of the other buttons live. This makes creating more customized setup a lot easier, and makes playing on your iPhone or iPad a little less tedious.
While Remotr works better than any of the other "host" server apps we've tested for game streaming, there's still a little delay. This probably isn't the best configuration for twitch shooters or timed puzzles, but it maintains a solid connection throughout the house for just about everything else.
To make this work, you need to first install Remotr on your PC and set it up for gaming remotely. This app created a "host" server for the Remotr app on your phone to connect to. Unlike some remote streaming apps, Remotr gives you a nice visual interface for launching games instead of making you use the icons on your PC Desktop through what is undoubtedly a much smaller display. After you have it set up the way you want, you can launch a game and start playing right from your iPhone or iPad.
What's your favorite game to stream from your PC? Shout out in the comments below!
Master your iPhone in minutes
iMore offers spot-on advice and guidance from our team of experts, with decades of Apple device experience to lean on. Learn more with iMore!