How to switch from Evernote to Apple Notes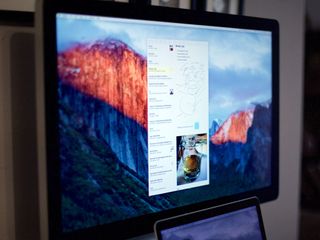 With the new that Evernote is limiting free accounts and hiking prices, it's only natural that some people will be looking for alternatives. Apple's new Notes for iPhone or iPad and Notes for Mac might just make for that alternative. But how to migrate all of those notes? It's easier than you think if you have a Mac running OS X 10.11.4 or higher. Here's how.
How to move all Evernote data to Notes at once using a Mac
You can migrate everything you have saved in Evernote to Notes via your Mac. You'll need to be running OS X 10.11.4 or higher and have Evernote for Mac (opens in new tab) installed.
Open Evernote on your Mac.
Sign in to your Evernote account.
Click on Edit in the Menu bar at the top left of your Mac's screen.
Select Select All from the dropdown menu.
Select File in the Menu bar at the top left of your Mac's screen.
Click on Export Notes from the dropdown menu.
Name the file anything you want.
Select where to save the file. I saved it to my desktop so it can be easily found.
Click Save. It will export as a .enex file.
Open the Notes app on your Mac.
Click on File in the Menu bar at the top left of your Mac's screen.
Select Import Notes from the dropdown menu.
Select the .enex file you saved from Evernote.
Click on Import.
Click on Import Notes when the popup window appears.
Your Evernote files will be saved in iCloud with the folder title "Imported Notes."
How to export individual notes from Evernote to Notes on iPhone and iPad
Currently, there is no way to migrate all of your Evernote files into the Notes app on the iPhone or iPad. If you absolutely have no access to a Mac computer with Evernote and the Notes app, you can export full notes (not just links to notes) from the former to the latter, but it is a work around and takes a lot of repeating steps.
Open Evernote on your iPhone or iPad.
Select a Note.
Tap the More icon in the upper right corner. It looks like three dots.
Tap the Share icon.
Tap Export Note. This will open a Mail window inside Evernote with a .enex file attached.
Enter your own email address.
Tap Send in the upper right corner of the mail window.
Close Evernote.
Open the Mail app.
Select the email you just sent yourself from Evernote.
Long-press on the .enex file until the Apple extensions window appears.
Tap Add to Notes.
Tap Import Notes when the popup window appears.
Close the Mail app.
Open the Notes app.
Tap the new Imported Notes folder. It might be designated with a number if you already have one or more Imported Notes folders.
You have to repeat this process with each note you wish to import from Evernote. It's a lot of steps to repeat over and over, but it is currently the only way to export full notes from Evernote to the Notes app using an iPhone or iPad.
Any questions?
Do you have any questions about how to switch from Evernote to Apple Notes? Let us know.
Get the best of iMore in in your inbox, every day!
Lory is a renaissance woman, writing news, reviews, and how-to guides for iMore. She also fancies herself a bit of a rock star in her town and spends too much time reading comic books. If she's not typing away at her keyboard, you can probably find her at Disneyland or watching Star Wars (or both).
Apple Notes is just adorable. When I'm done drawing pretty pictures and want to get some serious note taking done, I fire up OneNote.

You can chill with the passive aggressiveness. It's just a notes app. Sent from the iMore App

I can't wait for your tutorial on make notes serious.

Apple Notes keeps crashing under Windows 10.

Apple Notes doesn't exist on Windows 10, it's available on iOS and macOS

web based notes at icloud?

Thanks for the post. This was very helpful information. Exported all of my notes with no problems.

I use Evernote mainly for its web clipper that works on all platforms. So far, I haven't discovered a good alternative for it.

@corbey50 you could set up a service that sent selected text to a note via AppleScript (i have enough understanding to know it's possible but not enough to know what you'd need to do) that could then be set up as a righ click action. Plus you can use the share sheet to send a whole page to notes. PS: in attempting to click reply I accidentally reported your post! Sorry about that :(

The only thing I don't like about this process is that 90% of the links, don't stay in Apple Notes. Also most of the apps I use (news readers) etc, don't have a "save to apple notes" plugin like they do for evernotes. Since the announcement, I have been trying to justify paying for evernote but at my level I can't seem to get there. Currently playing with one note. I guess we shouldn't be surprised. I did notice over the past few months that the "YOU HAVE USED ALMOST ALL OF YOUR UPLOAD LIMITS, PLEASE UPGRADE" notices seem to have increased.

I've been using Evernote for years and was almost switched to Apples Notes, but Evernote is now offering a 50% discount on their premium tier, so I signed up because they still have the web clipper, note annotating, and document catcher that are all very great.
So looking forward to using Evernote again. Sent from the iMore App

It should not be lost that evernote's product was a huge staple for many of us in the early days of iOS. wish the company well. always rooting for the little guy

I've been an Evernote users for many years and they've made it barely usable for me, especially in iOS. A major issue is my Tag names are all truncated and therefore not usable. Lots of othe annoyances introduced over the years. Conceptually I really like Evernote, they've just messed up the design.

upload limit in which app?

This is the first sign. The next big Evernote announcement will be who they sold the company to. Maybe apple should buy them and call it the New Notes app.

Wow. I just did this and it took no time at all. Actually I'm really happy about this! Sometimes it gets difficult remembering where notes are so I never really kept anything sacred on Evernote. All my important things were on Apple Notes. Gotta say I'm impressed and I'm very appreciative of you guys for putting this out there! Love you guys!

The things I miss having made the move yesterday are
1. Being able to have favourite notes listed in the sidebar
2. Being able to search for notes with incomplete todos My clumsy workaround is to have a note with a unique name for my todos (I've called it "/todo" and the use spotlight to search for /todo to open it whenever I need to add a new thing todo. Feels like a hacky way of doing it though

Yes you do reminders app for your to do list. Sent from the iMore App

...Just use... Sent from the iMore App

That would make sense wouldn't it, but for some reason i don't like using reminders for work to-dos, it feels too heavy.

try wunderlist for to dos. between onenote for notes, and wunderlist for to dos its a pretty sweet set up

I have a number of Evernotes with numerous we links in them, and some with pics or graphs I've copied from wen pages. We links usually seem to copy, tho not all. The pics and graphs seem not to move Apple Notes app at all. Any ideas? I also tried opening one such note in the OneNote app. It was all there, but the text, on the iPad, was all on about 1/3 to 1/4 of the screen, all crammed to the left side. The web clipping at the bottom of the note was oversized for the iPad screen. These 2 factors rendered that note near unusable on Apple Notes or OneNote. Totally bizarre and I deleted it from both of those accounts. It's still on Evernote. BTW: Evernote sent notice today I had 29 days to upgrade or choose the 2 devices I wanted to have access to my notes. No upgrade coming from me when this is how they treat customers. Adios Evernote!

Maybe check out Notebooks app by Alfons Schmid, who has just released a blog post for getting Evernote notes into Notebooks - http://www.notebooksapp.com/notebooks-as-evernote-alternative/ Sent from the iMore App

Seriously folks, if you are looking for anything remotely cross-platform, take a look at OneNote which is free and runs on everything: MacOS, iOS, Android, and WIndows.

thanks for the great pointers! i haven't used evernote for along time! had a couple of notes left there which has now been moved over thanks to your great pointers!

I think that a lot of people tend to forget that Evernote is a lot more than just a note taking application. People that are using it as such are really only scratching the surface I think. Don't forget that if you add a PDF for example it is made searchable. Does Apple Notes do that? Then add a bunch of little extras like webclipper, the menubar note thing, an iOS app like Scannable for example... Maybe that's the largest problem for Evernote. It's difficult to see beyond the level of 'Evernote takes notes'...

Isn't search pdf also a paid option these days? Most people that use evernote just for saving notes don't care about the other features I think. So instead of limiting the device why not just limit some features, now these users will run to alternatives that are good enough for them instead of learning more about the possibilities of evernote and maybe upgrade their account in the end.

they do have a great product, a small company trying to make a living.

The Skitch and Scanable apps are built into Evernote now, and the web clipper still can't be beat so I just signed up for their 50% off premium deal.
Using the years, then kind of switching to Apples Notes, but now going back to using Evernoe more for their great features outlined above. I sure hope they stick around for a long time and others see the value in them. Sent from the iMore App

It's a pity the notes are not stored in their notebooks but all end up in imported notes. Now you have to manually drag and drop them in a notebook and delete them from the imported notebook.

Useful, thanks - I gave up on Evernotes before their most recent 'enhancements' — and while I use Notes on my Mac and iPhone, it's too proprietary. Keeping with the cross-platform accessibility of EverNote, I shifted over to Microsoft's OneNote so that I might use it not only on my Apple Devices, but Android, too. And OneNote is only of the few Microsoft apps that actually work on my Samsung Tab Lite running the 'old' Android 4.2.2, as well as my Mac and iPhone.

Other than OneNote, is there any other alternative apps that allow you to format the notes like Evernote does? I tried OneNote for months back then, but I don't really like it mainly because it's laggy.

Personally, I prefer OneNote because it syncs with Windows 10 and my iPhone.

I tried Apple Notes and Microsoft OneNote last fall as alternatives to Evernote. Notes has a more similar interface to Evernote. I migrated nearly 3,000 notes to both apps. What I found after using Notes for about a couple of weeks is that Notes' syncing is so slow and unreliable it's simply not usable when you have a large number of notes. I was met the with spinning ball for minutes on my Mac Mini and MacBook Pro almost every time I opened the Notes app. Sometimes it took more than a day for an note to show up on my IOS devices. Notes also does not have the ability to convert PDFs to readable (searchable) PDFs. You have to do that outside the app. OneNote's performance is superior to Notes and also includes web clippers and an ability to email notes to the app from any email client. Like Evernote. It's also usable on as many platforms as Evernote. However, OneNote's searches are slow and the interface takes some getting used to. If you have multiple OneDrive accounts, careful attention has to be paid to where OneNotes stores its notes. After a couple of months of trying Notes and OneNote, I'm back using Evernote because it's simply superior. It has the fastest sync, best search and easiest to get notes into the app.

On windows, the file>insert>screenshot or screen clipping is pretty useful in one note. Onenote also has a web clipper. I prefer to keep my To-Do items separate, and wunderlist syncs instantly from PC to iOS, which is a feature I have enjoyed with apple notes on ios and MacOS. yes, microsoft now owns both wunderlist and OneNote. With that said, Evernote is the reason OneNote and Apple Notes have the features they have today. If you can afford to support the little guy, you should. I do find it a bit frustrating, that OneNote is a far closer 1 to 1 replacement for Evernote, but the bias on this site had them run this tutorial with Apple Notes. OneNote has an Evernote import tool, however, I am not sure how well it handles Evernote notebooks.

Is there a way to migrate notes from "notes" to one note?

Yes, there's a tool to migrate. I did that last week because the latest changes to the policies with Evernote, even though they backtracked, was enough for me to finally abandon ship with Evernote. I am not really thrilled with OneNote, I don't like how it's laid out, and I am sure their policies are not any better. But til I replace my Mac (the iMac cannot run the latest versions without blowing up lol) I can't swap to Notes.

I wanted to finally leave Everynote so I followed the instructions, migrating my Evernote data file into Notes. It all worked the way it was supposed to but I wasn't pleased with the format of some of the notes, so I deleted all the imported notes. I'm not sure if this is always a mistake, but it certainly was in this case. Now my Notes on iCloud.com load painfully slowly, if at all. Once they're finally loaded on my devices, there are no issues, but I've been trying to resolve the problem with Apple and they've had me delete the notes on my iPhone and I've since reset and restored my phone a couple of times, not always importing all the notes back in but it always takes far longer than it should. Hopefully this is just an isolated issue and I'm able to one day get it resolved again.

I switch form Evernote to Apple notes. One like about Evernote creating notesbooks and how it is organized. One reason I hate Evernote is the upgrade for plus and premium that I am wasting my money. So I use basic that I hate about that I can not connect to all of my Apple devices. So after I read about this I m switching to Apple notes. But I don't know to organize and create notebooks in Apple notes. Can someone help me out please.

I also am looking for an Evernote alternative, to save money. I absolutely love evernote, but it appears that Notes may be a good substitute. I assume you create folders, and that these are your notebooks.
Thank you for signing up to iMore. You will receive a verification email shortly.
There was a problem. Please refresh the page and try again.