How to add an iCloud email alias and keep your email address safe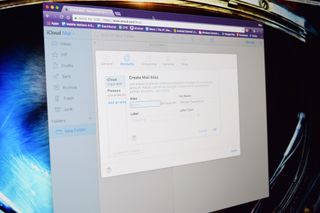 An iCloud email alias allows people to send email to your iCloud account without ever having to divulge your true email address. This not only helps secure your account against potential malicious users on the web, but you can also use aliases to signup for mailing lists and other miscellany — and kill them if the list turns into too much spam or junk.
Here's how you can create and manage your iCloud email aliases for your Mac, iPhone, and iPad.
How to create and manage iCloud email aliases
While you can create brand new iCloud accounts on your iPhone, you'll have to go to your Mac to create an alias.
Go to iCloud.com and sign in with your Apple ID.
Click Mail.
Click the gear icon on the bottom left of the window.
Click Preferences.
Click Accounts.
Click Add an alias…
Enter an alias for your iCloud email address. You can also choose to label the address to indicate how it's used (ex. for shopping or for business).
Click OK.
Click Close and Done or continue to make more aliases using the same steps.
To delete an alias, you need only select it and click Delete.
How to manage iCloud aliases on your iPhone
Open the Settings app.
Tap your Apple ID at the top of the screen.
Tap the iCloud section.
Scroll to the bottom of the screen and tap Mail.
Under Allow Sending From, toggle the email aliases you'd like to use on your iPhone or iPad.
How to manage iCloud aliases on your Mac
Open the Mail app.
Go to Mail > Preferences.
Select the Accounts tab.
Choose your iCloud account from the sidebar.
Click on the Email Address dropdown.
Select the Edit Email Addresses toggle.
You'll be transferred to the iCloud.com website. Enter your username and password and any two-factor authentication, if applicable.
Adjust your email aliases as necessary.
Questions?
Let us know in the comments below.
Mick is a staff writer who's as frugal as they come, so he always does extensive research (much to the exhaustion of his wife) before making a purchase. If it's not worth the price, Mick ain't buying.
very great How to. I didnt think this was possible.

Does MobileMe offer email aliases, or is this just a Gmail thing?

MobileMe offered aliases. We can't add or delete/modify existing aliases any more.

But how can you set up a MobileMe alias as your default?

Yahoo mail has aliases, but if you enter an other account, push doesn't work and pasting the aliases into the Yahoo account doesn't work. So to get push and aliases, I'd have to enter both a Yahoo and other account, which would result in duplicates of all my email which is not desirable. I can already receive emails to Yahoo aliases, I just can't respond.
Edit:
It looks like push does work if you set up Yahoo Mail that way. That's new. I wonder when that changed? It definitely didn't use to work last year.
In addition, I found that I can use Yahoo's SMTP server and it will still send the email from the selected alias. This is more desirable as some mail servers will flag messages coming from SMTP servers with a different email address as SPAM.
I have found that the mail program won't automatically select the alias when replying to email sent to it though, even if I use Comcast's SMTP. I have to remember to manually change then from field to the alias email address. This differs from what was written in the blog entry.
For those interested, Yahoo's servers are:
IMAP: apple.imap.mail.yahoo.com
SMTP: apple.smtp.mail.yahoo.com
imap.mail.yahoo.com and smtp.mail.yahoo.com also work, but the above are the servers used when selecting Yahoo when setting up accounts.

great tip thanks for sharing it with us

How does your phone have a listing for "Windows Live Hotmail"????

You mentioned, "Mail will choose the correct address when replying to emails." - my iPhone isn't doing that, it defaults to the first e-mail address added. I have to click From and choose which e-mail address I want to send from.
Did I do something wrong?

I remember those days when there were no computers in market and see now the technology has taken a great jump that we people can able to access our mails though our mobiles.

Thanks Leanna for the tips but partially don't work in my IPad. I can sending but not receiving, maybe is something wrong in the preferences.

Hello!
This all makes perfect sense, and I followed all instructions, but am still struggling...
After I followed all the directions to set up my
iphone 4s alias (gmail alias) I received an error message of "Cannot connect using SSL" when trying to enter a different Outgoing Mail Server than Google. Are there other Outgoing Mail Server options other than an ISP? I only ask because I do not subscribe to an ISP. I tried my family's bellsouth.net information and that gave me the "Cannot connect using SSL" error.
Please help!

Can this be modified to work with an Exchange account?

Leanna (and anyone using this tip to manage a Yahoo alia):
The problem I am having is that incoming emails to my alias (and my primary account) are showing up in both "mail accounts" on my iPhone and I need to mark each copy read to clear them.
Have I done something wrong? Is there a work around?
Also, is it possible to have emails addressed to the alias only show up in the inbox of the alias "mail account"?
Thanks for any help!!!

You are awesome!!!!!!!!!!!!!!!!!! i thought there was no way with this and was reaaaaaaaaaaaaaaaaaaaaaaaallllllllyyyyyyy fed up with my new ipad for the last half year!!!!!!!!! damn!!!!!!!!!!!! thank you very much

I can't work out what server to enter in the "Outgoing Mail Server" from step 9. I don't know my ISP's outgoing server information. I'm on an iPhone with a contract with talkmobile (UK) but I can't find any details for their SMTP. Can I put another SMTP in here?
I have my own domain which is being hosted by wordpress, emails going through google apps.
I'm really stumped with this and any help would be much appreciated.

There must be a way of doing this with HOTMAIL?? I cant find a solution anywhere!! PLEASE HELP!!!

There must be a way of doing this with HOTMAIL?? I cant find a solution anywhere!! PLEASE HELP!!!

Fantastic tip, thank you! I've been looking for a way to do this for nearly a year. BTW: I tried Yahoo for SMTP (I have a Pro account) and it refused to pass through gmail. I went back and changed the SMTP server to Google's, using the account tied to my alias, and this now works fine. I now have two Google accounts: the original one, with email disabled, for calendar integration; and the second for mail, where I use the alias.

Dear Leanna, I am aware this post is quite old but still hope for you to help me on this. I did what you suggested and it works just great, just that now I can only fetch the messages to my iphone and not push them. Is there any work around this? thanks,
Serban

Hi all, is it me or this is broken in iOS7 ?
on some machines, these settings won't work after the upgrade from 6.1.3 to 7.0.2, and trying to set up newly, even after the Google captcha trick, won't help either. any clue or help ?

I have same problem. Did you find a way to make this work? Frustrating....

I've been using aliases from the beginning with MobileMe. I actually never even use my base email address. Whenever I get to the point of being spammed I just switch it over. The only problem is you can only have 3 aliases at a time. Seems like I'm nitpicking I'm sure, but it helps having multiple addresses in this day and age.

It sounds like you're trying to put a band-aid over a crack, you shouldn't be getting spammed or your spam filter should be filtering it out. Make sure you unsubscribe from emails if there's an unsubscribe button at the bottom, and other than that, mark any spam emails you get that you can't unsubscribe from as spam
Get the best of iMore in in your inbox, every day!
Thank you for signing up to iMore. You will receive a verification email shortly.
There was a problem. Please refresh the page and try again.