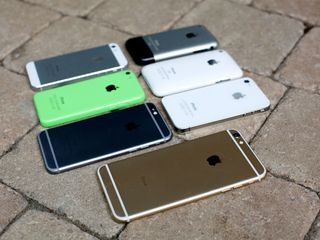 (Image credit: Rene Ritchie / iMore)
What should you do with an old iPhone? You could give it to a friend or family member, recycle it with Apple, or sell it/trade it in. Selling your old phone to help pay for the new one, though, can help you get part — or even most! — of the way there. Here's everything you need to know about how to sell your iPhone!
When should I sell?
Selling an iPhone isn't exactly like selling stocks, but there is one major similarity — you want to sell when prices are high. Typically that's right before the next model is announced. After that, everyone else is trying to sell or interest switches to the new models, and prices start to go down.
Apple usually shows off new flagship iPhones in early September and releases them at the end of the third or fourth week. You'll find no better time than right now to start selling your iPhone.
It's way less convenient, but if you have an extra phone lying around, even an old one, you can make more for your iPhone if you sell it ahead of the announcement than if you try to sell it after, especially after launch. Even if you use a cheap pre-paid phone for a few weeks, you can flip your iPhone for more than you might otherwise.
Anything I should do before I sell?
Several things, at least if you want to maximize the value of your old iPhone. And you do!
An iPhone that can be used anywhere, on any carrier, is an iPhone that can be bought by anyone, in any region. This is especially true for travelers or resellers who operate internationally. So, if your iPhone is locked to a specific carrier, find out if you're eligible to have it unlocked. Some carriers charge for it and some require a specific contract status before they'll unlock. If there is a charge, and it's not high, it could still be worth it to you to pay for the unlock since it could increase your resale value by an equal or greater amount.
Get the details, check the rates, and figure out if it's worth it or not for you. If it is, do that first. It can take a few days to process, and you'll want to make sure it works, and that's easiest if you do it before anything else.
Before you do anything else, make sure you have an up-to-date backup of your iPhone. That way all your data is safe and secure and you'll be able to easily restore it to your new iPhone when you get it. iCloud automatically makes a backup overnight, as long as you're plugged in, but a manual backup will make sure you're absolutely up to date.
Make sure your iPhone is connected to Wi-Fi. (If you're low on power, plug in as well.)
Launch Settings from the Home screen.
Tap on your Apple ID banner.
Tap on iCloud.
Tap on iCloud Backup.
Tap on Back Up Now.
If you prefer to use your computer, you should also trigger a manual update to make sure you have all of your recent data backed up.
Connect your device to your Mac.
Click the Finder icon in the dock.
Click on your device under Locations in the Finder sidebar.
Click Back Up Now to manually initiate a backup.
Click the button next to Back up all of the data on your iPhone to this Mac if you want your iPhone to favor backups to your Mac instead of iCloud.
3. Erase your personal data
Once your data is safely backed up, it's important to wipe all personal data from your iPhone you're selling so your personal photos, files, messages, etc. don't end up as a surprise bonus for the new owner.
Launch the Settings app from the Home screen of your iPhone .
Now tap on General.
Scroll all the way to the bottom and tap on Reset.
Tap on Erase All Content and Settings.
Tap on Erase iPhone.
Tap on Erase iPhone again to confirm.
Enter your Passcode.
Enter your Apple ID password to turn off Activate Lock and remove the device from Find my iPhone.
Your iPhone should be clean not only on the inside but on the outside as well. Whether it's in mint condition or its lived a hard life, take a few minutes carefully, considerately wipe it down with a damp cloth and making sure all dirt, oil, lint, and other stains, debris, and even fingerprints are gone from sight. Pay extra attention to the seams and ports.
This is especially true if you intend to sell your iPhone yourself and need to take photos, as you'll want it to look as good as it works. If you are taking photos, once your iPhone is beautiful and clean, handle it with care, make sure you have good lighting — indirect sunlight is best — and a neutral background. Then capture all the angles. You don't want anything dramatic; you want to show how your iPhone looks. If there are any scratches or nicks, make sure you photograph those too. An honest sale is a good sale.
4. Collect up the cables and cases
If you're selling your iPhone yourself, including the Lightning cable, AC Adapter, and even the original box, can give you an edge over other sellers. If you're upgrading from an older phone and have accessories you'll no longer be able to use, like iPhone SE, iPhone 7, or iPhone 8 Plus cases if you plan to upgrade to the new iPhone line, you can add those in to not only sweeten the deal but declutter your own house as well.
Once you have everything, put it all, nicely and cleaning in the box, and set it aside, so it's all safe and ready to ship.
Do you need to remove your SIM card? You might want to sell your phone or give it to someone else with the SIM card in it (although you wouldn't advise that), but if you need to remove it we have a simple guide that'll help you, how to remove the SIM card in an iPhone or iPad.
How should I sell my iPhone?
There are several different options for how to sell your iPhone. Typically the less work you want to do yourself, the lower the final amount you'll get for it. So, trading in or using a service will be quick and easy, but net you less. Selling directly and on your own will take more work but net you more cash. Figure out what's more valuable to you—time or money—and then you'll know what to do.
Apple Trade-In program
Apple will let you trade in your old iPhone when you go to buy a new one or get an Apple Store gift card at any time by mailing your old iPhone in. The in-store program is run by Apple, but you have to be ready to buy your new iPhone when you come in, so you can't make use of it in advance. The mail-in program is run by a partner, Brightstar, but you can make use of it any time. Sell your iPhone to Apple.
Amazon Trade-In Store
Amazon will also take trade-ins, though their system is, frankly, bizarre. Instead of letting you easily choose a model, capacity, and other details, they present a disjointed list of options. If what you have isn't there, there doesn't seem to be any way to add it. Sell your iPhone to Amazon.
Gazelle
Gazelle is well known thanks to active advertising. The company's website also works seamlessly and is simple to use. Tell them what you have and they'll tell you what they'll give you for it. If you accept the offer, you have 30 days to send in your old phone. Gazelle will check your old phone when it arrives. If there's anything different, they'll let you know and give you an updated offer. If you decline, they'll ship it right back to you free of charge. If everything looks good, or if you accept an updated offer, they'll pay you by check, Amazon, or PayPal.
Because of the 30-days (and they've sometimes increased it to 50-days when new iPhones are on the horizon), Gazelle is a good way to lock in a price before the market is glutted. Just make sure the condition doesn't change between when you get the offer and when you send it in, or the price will change as well. Sell your iPhone to Gazelle.
Swappa
Swappa is a way to get more money for your old iPhone than typical services provide, but in a way that's easier and more civilized than selling directly. You do have to have reasonable expectations and some patience. Sell your iPhone Swappa.
eBay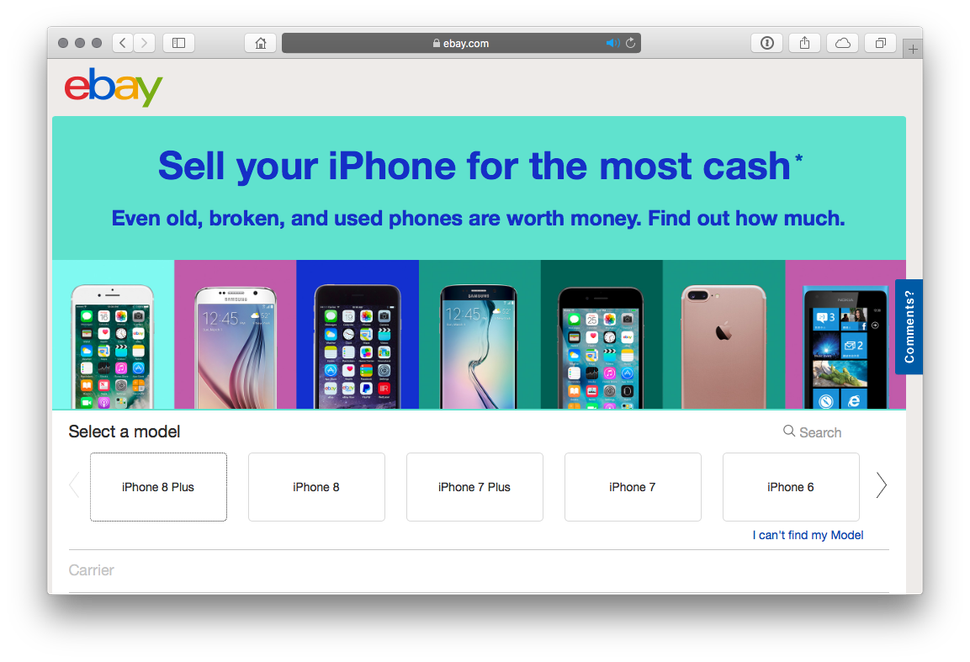 eBay can net you more money for your old iPhone but requires you to do a lot of the work and take some of the risk. If you're comfortable handling your own sales, and have the time to invest, you can get a better return than trade-in services. Before you sell your iPhone on eBay, make sure to take the following precautions:
Only ship to the buyer's confirmed Paypal address if using Paypal.
Price competitively, especially if you're using Buy It Now as an option.
Take great photos but show any defects so everyone knows what they're getting.
Take at least one photo showing the iPhone when ON, so everyone can see it works.
Use a fast shipping service and make sure you include that in your item description.
Use keywords in your title and in your item description to attract more potential buyers.
You may also want to consider insuring your item in case anything goes wrong during shipping.
Watch out for low-feedback buyers and also keep in mind that Paypal charges processing fees as well.
Craigslist
Craigslist is the old classified ads in new digital form, and all the wonder and dread that entails. The advantage of Craigslist is that you can sell locally, face-to-face. That greatly speeds up transactions and reduces overhead like shipping. Before you sell your iPhone on Craigslist make sure to:
Never put your personal or home address in an ad. NEVER.
Price your iPhone competitively. Find existing ads on Craigslist in your area for iPhones that are the same model, capacity, and condition as yours and price accordingly.
If you're comfortable, include a number to call or text. It can increase the likelihood of a quick sale. (If you have a virtual number, use it.)
Meet in a public place, preferably in the daytime. A coffee shop like Starbucks is ideal. Bring a friend with you, just in case.
Watch out for email scams. If someone offers a lot more money to encourage you to ship them your iPhone, they're just trying to rip you off.
What if I want to sell to a family member or friend?
The same general rules apply. Provided you don't just want to give it to them free and clear, you can always offer a friends and family discount if you feel like it, but making sure the device is in the best condition possible, and everyone is being treated fairly, is the best way to make sure everyone wins and no one leaves with hard feelings.
Wait, don't stop writing, I have more questions!
We're not going anywhere! If you have additional questions about how to sell your iPhone, leave them in the comments below. Also, you can check out our iPhone forums where you can get lots of great advice from people who've been buying and selling iPhones for years.
And, when you've sold, be sure to tell us what you did and how it worked out!
Updated September 2021: Updated for Upcoming iPhone launches.
Master your iPhone in minutes
iMore offers spot-on advice and guidance from our team of experts, with decades of Apple device experience to lean on. Learn more with iMore!
Joseph Keller is the former Editor in Chief of iMore. An Apple user for almost 20 years, he spends his time learning the ins and outs of iOS and macOS, always finding ways of getting the most out of his iPhone, iPad, Apple Watch, and Mac.