How to take better Snapchat and Instagram photos with iPhone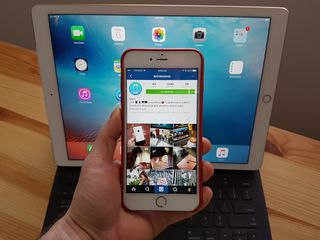 If you're on social media, it often feels like if you haven't photographed it, it didn't happen. And when you do photograph it, you want it to look as good as humanly possible. Better even. So whether it's for Snapchat or Instagram, Twitter or Facebook, here are some top tips to turn your iPhoneography into social media gold!
Pick up some cheap external lenses to experiment with
One of the easiest ways to start getting creative with phone photography is to pick up some inexpensive external lenses. You can buy a set of four on Amazon for less than $20; all you have to do is search for iPhone lenses.
Even cheap lenses will take good photos and if you're worried about breaking them because you're not familiar with using 'em, don't worry! It's better to break a $4 lens than a $200 iPhoneography-specific case (our favorite cheap lenses are the MEMTEQ 5-in-1, the Evershop Universal 2-in-1, and the Oldshark lens kit.
If you're stuck on what to get, check out our five fantastic iPhone lenses for under $100.
Figure out your favorite photography editing app
Forget about Photoshop or online photo editors – find a photo app that works best for you! Your Facebook friends will be thrilled that they don't have to look at the same boring photos over and over again.
There are hundreds of photo editing apps available to download. Some of them work by just laying a tinted filter over your image, while others allow you to adjust brightness, saturation, contrast, and more. At the end of the day, you want something that you're comfortable with, so having all the bells and whistles isn't always necessary.
Some of the most popular apps out there are VSCO, which uses vivid filters and adjustable presets to customize your snapshots; Mextures, which aims to bring professional grade photographic effects to your iPhone; Repix, an amazingly detailed filter that lets you 'draw' on your images, and many, many more.
If you want a bit of help deciding which photo editing app to try, check out our list of best photo editing apps for iPhone!
Pick up a flexible tripod
If you're new to iPhoneography, a tripod could potentially be your best friend. It seems like an unnecessary tool, but it's an amazing way to set up shots, keep things steady, and even get some tricky, hard-to-reach photographs.
While it's a pain in the butt to set up some big DSLR and video tripods, using up a flexible tripod like the JOBY GorillaPod Original is infinitely easier. The flexible or smaller tripods are easy to carry around and set up in a flash, so you don't ever need to worry about missing your shot or taking something blurry.
Another thing tripods are good for is getting shots you typically couldn't reach on your own. You could secure your flexible tripod to bike handlebars, wrap it around a light post and use a remote shutter to snap street shots, and much more. Get creative and you'll be racking up those likes like crazy!
Be sure to take a peek at our list of best iPhone tripods for stablizing and mounting for some more ideas.
Play with your phone settings
Did you know your phone has burst mode? Did you know you can secure and focus parts of your photo by tapping your screen? Did you know you can snap your photos with the volume button?
Get familiar and play around with the camera settings of your iPhone and you'll unlock an entire new world of iPhoneography fun. You'll find that there are settings and helpful tools – like a grid that appears to establish rule of thirds or frame-size options when you're taking your photo – hidden in your camera app already.
Play around with your camera app, snap photos with and without the flash, and figure out what looks best to you (and if you're stuck, check out our 10 tips for taking great iPhone photos.)
Follow your favorite photographers on social media
There are a ton of amazing photographers out there on social media who use both their iPhone or DSLR to shoot pictures. Instagram has almost become a hub for these photographers to follow and share their work, but it can also be a place where you can get your main inspiration for photography!
A few of our favorites to follow at iMore for their unreal social media photography are @safesolvent, @mostlylisa, @knatez, @meghanzahari, @carla_kristina, and @kickhisasscbass. While all of their styles are totally different and what they choose to shoot varies dramatically, each of their photos are unique, vivid, and memorable.
Any more tips?
Do you have any tips to help others become the coolest iPhone photographer? Any other great photos on Snapchat or Instagram? Let us know in the comments below!
Master your iPhone in minutes
iMore offers spot-on advice and guidance from our team of experts, with decades of Apple device experience to lean on. Learn more with iMore!
Cella writes for iMore on social and photography. She's a true crime enthusiast, bestselling horror author, lipstick collector, buzzkill, and Sicilian. Follow her on Twitter and Instagram: @hellorousseau