How to transfer data from your old Android or BlackBerry to your new iPhone 5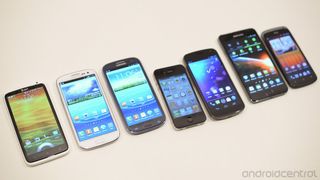 Switching to an iPhone 5 from an old Android, Windows, BlackBerry, or webOS phone, and not exactly sure how to transfer your data? Transferring old iPhone data is as easy as restoring from iCloud or iTunes, but crossing platforms can seem like a bigger headache. Here's the good news -- it doesn't have to be. There are lots of services available to help you get your data from one device to another.
There are two main ways to move all your data over to your new iPhone 5: desktop sync via iTunes and cloud sync via Google, Yahoo!, Exchange, etc.
Music and media
Depending on where you bought, or how you put your music, TV, movie, and video library together, you have several options available to you for getting it on your iPhone 5.
If you're already an iTunes user, it's easy to sync your information over to an iPhone. You can transfer large quantities of media from iTunes desktop over USB or over Wi-Fi sync, to your iPhone 5. You can also use iTunes in the Cloud to download specific media files directly to your iPhone over-the-air (OTA).
If you don't use iTunes, you can still move you music over that way. Just drag any DRM-free MP3 files into iTunes, and then sync away. If you have a very large library, you can even sign up for iTunes Match and move all of it into Apple's cloud locker.
You can sync multiple iOS devices (if you already have an iPad or iPod touch) with one iTunes library or set up multiple iTunes libraries to keep things extra neat and tidy.
Amazon and Google both have their music apps available for the iPhone, so if you've bought music from either of them, just download the appropriate app and you're good to go. Amazon Instant Video is available for the iPad, but not yet for the iPhone.
Mail, contacts, calendars, and data
Whether you use Gmail, Yahoo!, Hotmail, Exchange or another mail service, setting up your e-mail shouldn't be an issue. If you store your contacts, calendars, and other important data with Google Sync, Exchange, or Yahoo! syncing services, we can help you pull that over too. If you don't, you can still most likely import that data within iTunes as a last resort.
Here is a way to use Gmail or Google Sync to transfer your data. If you're already using a Gmail or Google Account to sync your mail, contacts, and calendars, this process is dead simple. Just make sure you've done a sync on your current BlackBerry, webOS or Android device.
On your new iPhone tap Settings and go to Mail, Contacts, Calendars.
Tap on Add Account...
Now tap on the Gmail option.
If you want full push, you can also set Gmail up as Exchange as well. Visit Google's Exchange page for instructions on setting up this way.
After your account is verified, you can simply choose to sync what items you would like to sync by turning those options On.
If a message pops up asking what you'd like to do with the data, choose to replace your iPhone data or merge data. Whichever is appropriate to your situation.
After you've done this you can continue using Google Sync if you'd like or disable it and use iCloud going forward. Just delete the Gmail account or disable it. If asked what to do with the data on your iPhone, just choose to keep it on your device. Then sign in with iCloud and it will now sync everything up and everything new from here on out.
Note: Google may have issues syncing your contacts unless they are in the "My Contacts" category in Google. He had some contacts listed in other groups and they wouldn't come down. So make sure all your contacts are filed under the general "My Contacts" group if you're having issues with your iPhone syncing into your Contacts app from Google.
To perform a sync with Yahoo!, you are essentially going to repeat the same steps you would for Google sync (see above), except you'll choose Yahoo when you choose your new account type. All the options should be identical when it comes to syncing contacts, calendars, and email accounts. And again, when you're done you can choose to continue using Yahoo! Sync or use iCloud.
If you're using Exchange at work, and/or Windows Live Hotmail at home, again the instructions are the same as above just choose Exchange ActiveSync as your account type, or hit the new iOS 5 Hotmail button and you're set. (If you have problems with a work Exchange account, check with your IT department for the proper settings).
If you don't use any Google, Yahoo!, Exchange or any online service and you're just looking to transfer your contacts to your iPhone, you can do that too. Whether you have Windows or Mac, you can transfer contacts from your current smartphone to your iPhone pretty easily.
Plug your old device into the computer and sync them with either Outlook, Exchange, or Mac Address book. This process is pretty easy but varies from device to device, so you may need to refer to your specific device instructions in order to do this. If you still have an issue doing this, head on over to the iMore Forums for some expert switcher advice and help.
Once your contacts are already on your computer, you can plug your new iPhone into your computer.
Open iTunes and click the Info tab under your iPhone sync settings.
You will see a Contacts option. Select that and choose what contacts you would like to be synced to your phone.
Click sync and wait for iTunes to do its thing. When complete, your contacts should now be on your new iPhone.
Note: You may have noticed iTunes has native options to configure Yahoo! or Gmail sync. You are more than welcome to use these options as well. They are just as easy. You can also choose to sync calendars via iTunes as well. Use whatever process is going to be more convenient for you on an ongoing basis.
Photos
The iPhone is super easy when it comes to photos. Regardless whether you use a Mac or a PC, all you've got to do is get pictures off your old device and onto your computer. Your iPhone and iTunes can do the rest.
Simply sync or transfer the photos from your old device into your photos on your Windows PC. Whether you choose to do this with your actual device, or from removable storage like an SD card is your choice.
Plug your new iPhone into the computer and open iTunes and navigate to the Photos tab.
Navigate your way to where you save your photos to your PC when choosing what photos to sync and make sure to choose the pictures you'd like on your phone.
Click sync and wait for iTunes to finish. Your photos should now show up in the Photos app on your iPhone.
Plug your old device into your Mac and open iPhoto. (If iPhoto doesn't recognize your Android, webOS, or Blackberry phone, simply transfer the pictures from the removable storage in your device, if you have that option.)
Your device should show up in the left navigation pane of iPhoto.
Name your album and import the photos. Alternately, you could select just the photos you'd like on your new device if you want.
Open iTunes and go to the Photos tab. Select the albums or events you'd like to sync to your new iPhone.
Click sync and wait for iTunes. After the sync is complete, you should see your new Photos in your Photo app on your iPhone.
Next steps
The iPhone is a pretty easy device to transfer data to. Once you've gotten all your data from your other device into a cloud service or on your computer, it should be easy as pie. If you guys have any issues doing any of this, feel free to check out the iMore forums for answers to many questions.
Additional Resources:
Master your iPhone in minutes
iMore offers spot-on advice and guidance from our team of experts, with decades of Apple device experience to lean on. Learn more with iMore!
iMore senior editor from 2011 to 2015.