How to sync your text messages to iCloud from your iPhone, iPad, and Mac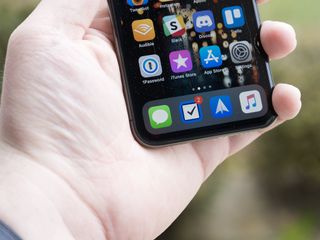 (Image credit: Joseph Keller/iMore)
Apple's Messages in iCloud feature encrypts your stored iMessage and SMS messages, keeps them in sync between your Apple devices, and backs them up. Messages in iCloud even lets you keep your messages, photos, and other attachments in iCloud, giving you more local storage space.
How is this different than iMessage currently works?
Currently, iMessages (and SMS messages, if you have SMS relay set up on your iPhone) get sent simultaneously to every device you own which you've also logged in to the iMessage system. But the system isn't perfect: Messages don't always make it to every device, especially if your device has been offline for a while. On top of that, if you log into Messages with a new device without restoring from a backup, you'll only see new messages sent to that iPhone, iPad, or Mac — you won't get any older messages.
Messages for iCloud eliminates those issues: If you choose to sync your messages to iCloud, you'll keep a constantly-backed-up archive of your messages that can be pulled down to any of your devices at any time. And when you log into a new device, even if you haven't restored from backup, you'll be able to get that whole archive in short order. (On the downside, if you accidentally delete a conversation in one place, it'll get deleted everywhere.)
How to turn on Messages in iCloud
Want to use Apple's sync service for Messages? You'll need to manually enable it.
Note: You'll need two-factor authentication enabled for your Apple ID to flip the switch on for Messages sync, so make sure you've followed those instructions first.
Open Settings on your iPhone or iPad.
Tap the Apple ID banner.
Tap iCloud.
Tap the switch next to Messages so that it flips to the green 'on' position.
And that's all there is to it. If your device is going to be downloading a lot of new messages, you'll need to plug it in so that the process can take place.
Open Messages on from your Dock or Applications folder.
Click Messages in the Menu bar.
Click Preferences.
Click Accounts.
Click the checkbox next to Enable Messages in iCloud.
Click Sync Now to begin syncing your messages.
How to troubleshoot when your messages don't sync
If you find that your iMessages and texts aren't syncing across iCloud, generally speaking, the best way to fix it is the old standby: turning it off and on again. By that, I mean turning off Messages iCloud syncing on all of your devices, then turning it back on again. Just use the steps outlined above for turning syncing on, just flip the switches to 'Off' and uncheck the box in Messages for Mac.
There are a couple of ways you can go about this. First, try turning messages syncing for one device off and on, then the next, and so forth for all of the affected devices. You could also try turning off messages syncing on all of your devices at the same time, then turning it back on at the same time. When trying these methods, it's important to give your devices some time to sync back up before moving on to another method.
Another way to try to fix a syncing problem, especially if only one of your devices seems to be affected, is to completely power off your device. On iOS devices older than the iPhone X, this means pressing and hold the sleep/wake button until the power off slider appears, after which, you swipe that to turn off your device. On the iPhone X and newer, there's just slightly more to it.
Press and hold the sleep/wake side button and one of the volume buttons until the power off slider appears.
Swipe the power off slider to the right.
After that, just press and hold on the sleep/wake button until you see the Apple logo on your iPhone or iPad.
If none of this works, you can sign out of your Apple ID on your device, then sign back in again.
Questions?
If you've got any questions about turning on Messages in iCloud, let us know in the comments.
Updated January 2020: Everything is up-to-date through iOS 13 and macOS Catalina.
Get the best of iMore in your inbox, every day!
Joseph Keller is the former Editor in Chief of iMore. An Apple user for almost 20 years, he spends his time learning the ins and outs of iOS and macOS, always finding ways of getting the most out of his iPhone, iPad, Apple Watch, and Mac.
Does this mean, when I delete a message on my iPhone X, it will also delete on my Apple Watch? Please for the love of god, tell me yes.

I believe so yes but I've not tested it myself

Unfortunately it will not.

This is working across my iOS devices, but Messages are not deleting from the Mac client. Is there something more you have to do to enable that?

I'm guessing wait for the macOS update to come out that supports it.

Looks like we need to wait for 10.13.5 for the option to appear: https://ios.gadgethacks.com/news/messages-icloud-is-working-for-ios-devi...

Does anyone know if this repolaces or interacts weirdly with the old Text Message Forwarding setting?

Hasn't acted weirdly in the months I've been using it. Forwarding still oddly exists.

What I thought would be the most obvious question is, how does it support multiple devices with multiple "versions" of iMessage... or rather, I have some devices that have quite a history of my iMessage conversations (Mac has years worth, iPhone has next longest, I have an iPad that has barely any...) If I turn it on the device that has the least iMessage history then enable it on my iPhone, will it combine them or is it first come first served? I'm really asking because I could enable it on my iPhone.. or maybe I should wait for macOS to update and turn it on there first since it has the longest history. Or doesn't it matter.

I'm in the exact same situation (2 Macs, an iPhone, and an iPad). I turned it on on my iPhone and iPad and it seems to be working, but I don't even have the option to enable Messages in iCloud on my Macs.

They will all upload and then merge based on date/time stamp.

I'm deleting messages from my iPhone and they aren't disappearing from the watch. Is this working for anyone?

Watch is not technically an iOS device. Syncing does not work. Status quo there.

On Mac you can click the x button and it closes the conversation but retains the history - does IOS allow you to hide conversations or dismiss them from people you chat with occasionally but just want to hide it and KEEP the conversation stored? I really really wished there was a setting that when you 'swiped' to delete it would add the option to ARCHIVE or delete and if you attempt to delete an entire conversation (years worth) that you would be required to type your iCloud password to CONFIRM you are deleting messages, and not an accidental swipe from a toddler. Swipe gestures are fine but when they are destructive there needs to be of a speed bump. Also there should be some sort of "TRASH" concept like Photos has where you have 40 days to rescue photos. This is a must have for messages in the cloud there needs to be a way to restore an accidental swipe. Also there needs to be a way from the contact card to review recent chats with someone and *unhide* these back to the message app with out having to re-engage the other party.

Great call-out, I hope they add a Messages "trash"!

It doesn't delete with just a swipe anymore. You have to tap to confirm.

Wondering how much iCloud storage would this take up. Especially for people who only have 5GB

It took up 7.4gb for me. (I text a lot of photos with my wife, thats probably part of it. Too bad they can't tie photos to iCloud stored and not charge)

Try google photos you can share pictures via the app so you dont need to text back and forth. its really nice for sure. Saves room and data, not that you are out of space or data but its a really good alternative.

If you backup your device to iCloud, then your messages are already taking up space in your iCloud account. As far as I can tell, enabling messages in the cloud means messages are no longer included in the backup, which means you shouldn't be using any more space than you were using before. In fact, if you backup multiple devices (e.g. an iPhone and an iPad), this should actually *save* space by removing redundant messages from the backups.

Yep for me it chopped my backups for my iPad and iPhone roughly by about 30% since instead of storing a copy of the messages from each device it only has to store one copy. Just a note though, at first it looked like it was still storing a copy from each devices (messages backup added up to the total of messages on each device) but when I woke up today it had cleaned it up and the space was regained. So it may take a bit for it to happen.

No more than the backup of your messages to iCloud was already taking up. They are removed from the iCloud backup when you turn on syncing.

I still backup to iTunes for various reasons so that's where the concern was in regards to how much space this will take up. But since I was only saving messages for 30 days anyway the space it takes up is minimal.

1) How does this affect the whole "government access to my data" issue? Can a government now access Messages history via iCloud backups with a warrant? Is this, in a way, giving the FBI some of what they want? 2) Have people had messages syncing get out of whack with this update? (before this update, all messages across my iPhone, iPad, and Mac were nicely in sync. Now they're not....again....it seems to come and go based on the update)

1) How does this have anything to do with that? Of course it doesn't.
2) Messages were never actually in sync. You could forward messages from one device to another but there wasn't any actual syncing happening.

1) It's a valid question, and does have something to do with it. An iMessage between 2 parties is fully encrypted and unaccessible by others. Once that data starts going elsewhere (synced to iCloud, backups, etc), it opens up the ability to access it. 2) Wrong. iMessages don't forward. Via Continuity, they deliver to all devices over IP, hence my question. SMS and MMS messages do forward.

My understanding is that the messages are still encrypted while at rest on iCloud and can only be viewed using a private key stored only on your phone. I had a similar problem with my devices only receiving some of my messages this week. I signed out of my Mac's Messages app and signed back in and all was well. Pre 11.4. I thought I would have to sign out of all my devices. But I did not.

Just installed latest Mac OSX and enable it. However the "SYNC NOW" button is greyed out. Anyone knows why?

hey, I have the same problem too.

I wonder what happens if you decide to turn it off and the size of all the cloud messages exceeds the available physical space on the phone... does it choose the most recent to keep?

I feel like I'm missing something here... I enabled Messages in iCloud and now Messages is using 4+GB of my iCloud storage space (fine because I have the 50 plan). But Messages is also still taking up significant space on my iPhone. I thought the point of Messages in iCloud was to free up device space??

This happened to me but it seems to have sorted itself out on its own.

After configuring both my iPhone and my laptop, why are messages which I erase on my laptop not erasing on my iPhone?

Does anyone know what the "conversations" tab is in settings go to iCloud -Manage storage -messages -conversations. I'm confused as iCloud says I've 236mb of messages in the cloud but this "conversations" tab is saying I've 96kb conversations but if I've 236 stored how could I have 95kb of conversations then

How about being able to schedule a message being sent? That is long overdue.

I loved the idea of this feature when it came out but now I dislike it. When I used it messages were taking up 4.5GB of storage on my iCloud account. After deleting ALL my messages on ALL devices I was still using up 4.5GB of data even days later. I just don't get how to free up that huge amount of space being allocated on my iCloud account. I only have the 50GB plan and typically have 20GB used up.