How to turn your iPhone into a Dash Cam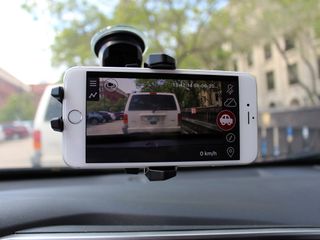 Dash Cams record the facts of a fender bender as well as those unbelievable moments on the road you have to see to believe. You'll need two things to turn your iPhone into a Dash Cam: a universal car mount and a Dash Cam app.
Universal car mounts
The best placement for a car mount when you're looking to record the road is the windshield. Make sure to look into your local laws governing the use of car mounts so that you're following the rules. We have three excellent car mount suggestions that work perfectly on the windshield and are ideal for iPhones:
Logitech Drive One-Touch smartphone car mount
All it takes in one twist to attach the Logitech Drive One-Touch to your windshield and it's just as easy to remove. If you often find yourself swapping out vehicles or you share a single car with multiple drivers, it can be helpful to have a car mount that's so easy to adjust.
A single magnet adapter locks your iPhone into place and the magnetic connection is strong enough to hold through most iPhone cases. No need to constantly take the cover off when you get into the car. Your iPhone will always be in a prime recording spot without intruding on your field of vision.
See at Amazon (opens in new tab)
iOttie Easy One Touch 3 (v2.0) universal car mount
If magnets aren't your thing, you can always go with iOttie's Easy One Touch car mount which uses a cradle to hold your iPhone. The cradle is minimal but strong and won't obstruct your view of the screen. One touch locks your iPhone into place, and another touch releases it.
The telescopic arm means that you can adjust your view easily; it pivots 180-degrees and even when your iPhone is being held portrait-style it has a clear view of the road ahead. The iOttie car mount can handle rough rides, too, and your iPhone will stay in place and keep on recording.
See at Amazon (opens in new tab)
Ram Universal X-Grip car mount
The car mount options from Ram Mounts are nearly endless and one of the best is the Universal X-Grip. The twisting lock suction cup holds onto the windshield no matter what kind of terrain you're tackling. The spring loaded cradle fits larger iPhones and bulkier cases easily.
The ball and socket system make the car mount adjustable at every angle and you can switch your iPhone from portrait to landscape with a simple turn. There are numerous additional mounting options available on the website if you want to take your Dash Cam out on your bike for a different kind of adventure.
Dash Cam apps
There are several well-reviewed apps available that will turn your iPhone into a Dash Cam with the greatest of ease. All of our selections have a free version that you can try before making a full purchase.
The app provides non-stop recording while you're on the road. Black screen mode means that your iPhone can record the details of your drive without anyone else knowing your phone is even turned on. Pretty sneaky. You can record in portrait or landscape mode, too.
You'll be able to run Apple Maps while recording, so you can navigate the city streets while your iPhone takes in all the action. Transferring your video from iPhone to laptop or desktop is done easily through your Camera Roll and AirDrop feature.
The name says it all. The loop recording on DashCam also tracks your speed so you don't have to divide your attention between your iPhone and dashboard speedometer. The app works in landscape and portrait mode and allows you to access maps while you record.
Playback is easy within the app and the moment you start recording, DashCam timestamps your video. A special in-app feature allows you to quickly share snippets of your footage on YouTube; just be sure to pull over to the side of the road before sharing your masterpiece.
A feature that sets Car Camera apart is the ability to embed data overlays in your Dash Cam footage, like time, speed, and coordinates. It even records audio. Your iPhone will record it all while giving you access to navigation maps, so that you know exactly how to get where you're going.
All of your footage stays stored in the app until you're ready to export it via AirDrop to compatible devices, or you can move footage from the app to your Camera Roll videos. Either way, it'll be easy to share your footage with the necessary parties.
After you're done recording with the SaveDrives app, you'll be able to make notes and attach them to the video file — helpful if there are details that you are afraid might get missed or things that happened out of your iPhone's view.
The user friendly interface features an SOS function unique to SaveDrives. While setting up the app, users can pre-program an emergency contact who will receive a notification if the driver is in an accident.
CamOnRoad is a little different because the app itself is totally free, as are the 2GB of cloud storage that automatically come with the app. If you want additional storage, you pay a subscription fee. Either way, you don't have to worry about exporting footage to another device or losing footage because you've run out of storage.
Your iPhone will be a black box and navigation system all in one device. The app is user friendly and well-reviewed, just keep in mind that a free app will allow the occasional pop-up. They won't interfere with your screen or distract you, but they will be there. Just a heads-up.
How do you dash cam?
Know of any other excellent car mounts or apps that will do the trick? We want to hear all about them in the comments!
Get the best of iMore in in your inbox, every day!
Car camera is not free...its $3.99. Sent from the iMore App

A lot of states don't allow devices mounted on the windshield. Some allow a prescribed area in the lower corners of the windshield. The back of the rearview mirror is a good place- not too obvious to anybody looking at your car. More obvious, is the, uh, dash. Check your state's laws first. Whether you choose to comply or not is your choice, but you should know where you stand.

Great way to ruin your phone from excessive heat. Sent from the iMore App

LOL, two down votes? Wow......apparently some people don't understand the heat that comes through a windshield and what it can do to a phone that is away from air conditioner vents. Go ahead, knock yourselves out and when your phone battery overheats and causes internal problems, I want you to remember what I said.

I've known plenty of people that attach their phone to the windshield, no problems whatsoever. Stop scaremongering

And I've seen quite a few have damaged batteries when they were windshield mounted. Tons of ******* ******** here this weekend. Sent from the iMore App

If you park your car and let the phone sit for awhile is total different then driving. Been using windshield mount for my phones and have never had phone shut down.

That'll depend on climate and which vents are on. If you're in a cold or moderate climate and have the windshield vent on all the time you'll never have to worry about overheating. If you're in southern California and only blast your feet with cold air you're going to have a bad time.

Are these or any other apps able to record on motion, GPS or in sudden stopping situations, or do you simply have to record the entire drive?

I use Vidometer - Free. Runs perfectly except when you get a call. Does not go back to recording even if you do not answer. Sent from the iMore App
Thank you for signing up to iMore. You will receive a verification email shortly.
There was a problem. Please refresh the page and try again.