How to unlock everything in Mario Kart 8 Deluxe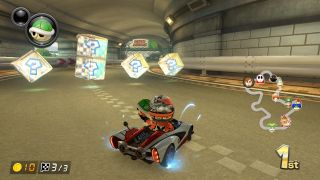 Mario Kart 8 has jumped from the Wii U to the new Switch, and gained the word "Deluxe" at the end of the title. What does that mean? A whole lot of little changes, the most significant of which is what you have to unlock and how you go about doing the unlocking.
In the past, you had to race and rank in order to unlock the next Cup to compete in and to unlock other players you might want to enjoy. This time all of that stuff is unlocked already, which means you can pick the character you want to race as and the Cup you want to race in out of the box, and instead focus on unlocking more important things.
Here's what you need to know!
Unlocking Karts, Tires, and Gliders
In Mario Kart 8 Deluxe, you start off with access to the following equipment:
Standard Kart
Steel Driver
Circuit Special
Sneeker
Streetle
Standard Bike
Comet
City Tripper
Standard ATV
Splat Buggy
Standard
Monster
Roller
Slim
Off-Road
Sponge
Super Glider
Parachute
Parafoil
Plane Glider
In order to unlock more Kart, Tires, and Gliders, you need to race in the Single Player Grand Prix mode. During each race of a four course Cup in the Grand Prix, you have the ability to collect up to ten coins before you cross the finish line. If you have collected 30 or more coins by the end of a Cup, a new item will be available to use in your next race.
If you have collected more than 30 coins by the end of a Cup, those coins are added to your total collected coins in your profile. If you have collected more than 30 extra coins over the course of several Cups, that rollover amount will count towards your next unlock.
Here's everything you can unlock this way:
Pipe Frame
Koopa Clown
Mach 8
Cat Cruiser
Tri-Speeder
Inkstrider
Badwagon
Prancer
Biddybuggy
Landship
Sports Coupe
GLA
W 25 Silver Arrow
300 SL Roadster
Blue Falcon
Tanooki Kart
B Dasher
P-Wing
Sport Bike
The Duke
Flame Rider
Varmint
Mr. Scooty
Jet Bike
Yoshi Bike
Master Cycle
Wild Wiggler
Teddy Buggy
Bone Rattler
Slick
Metal
Button
Off-Road
Wood
Cushion
Blue Standard
Hot Monster
Azure Roller
Crimson Slim
Cyber Slick
Retro Off-Road
GLA Tires
Triforce Tires
Leaf Tires
Cloud Glider
Wario Wing
Waddle Wing
Peach Parasol
Flower Glider
Bowser Kite
MKTV Parafoil
Hylian Kite
Paper Glider
You can unlock one other Racer, Kart, Tire, and Glider for Mario Kart 8 Deluxe, the Gold Set.
To unlock Gold Mario: Earn First Place in all of the 200cc Cups. Gold Mario replaces Metal Mario when done.
To unlock the Gold Standard Body: Earn a Star Rank in every Cup in the Mirror Grand Prix.
To unlock the Gold Tires: Beat all of the Staff Ghosts in every Time Trial race.
To unlock the Gold Glider: Collect 10,000 coins in Mario Kart 8 Deluxe
Master your iPhone in minutes
iMore offers spot-on advice and guidance from our team of experts, with decades of Apple device experience to lean on. Learn more with iMore!
Russell is a Contributing Editor at iMore. He's a passionate futurist whose trusty iPad mini is never far from reach. You can usually find him chasing the next tech trend, much to the pain of his wallet. Reach out on Twitter!