How to update the firmware on your AirPods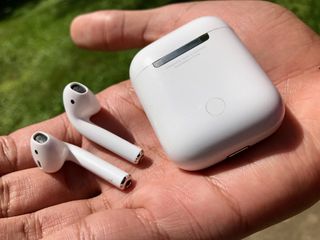 (Image credit: iMore)
Apple has released a new firmware version for the second-generation AirPods and the AirPods Pro, updating them from version 2D15 (second-generation AirPods) and 2D27 (AirPods Pro) to version 3A283. The company doesn't currently offer a list of changes present in the firmware, but that doesn't mean we don't know what's in it, at least for the AirPods Pro. With this firmware, AirPods Pro have gained the previously-announced Spatial Audio and quick device switching features, originally announced at WWDC 2020.
But Apple won't just install the firmware update willy-nilly (if your AirPods died mid-update it could cause all sorts of problems); you'll need to make sure of the following:
Your AirPods must be in the charging case.
The charging case must be plugged in and charging.
An iOS device that's been connected to your AirPods must be nearby.
Once all of those conditions are met, the firmware update should automatically begin at some point (yeah, it's that vague).
Now, while you can't trigger a firmware update with a button press or tap, you can check what firmware version your AirPods are running and view some other interesting information about the wireless earbuds. Here's how!
How to check your AirPods' firmware version
Checking the firmware on your AirPods is considerably easier than it used to be. Instead of digging though the About page in Settings, you just need to pop into the Bluetooth menu.
Open Settings on your iPhone and iPad.
Tap Bluetooth.
Tap the i button next to your AirPods in the Bluetooth device menu. The firmware version will be at the bottom of the list presented to you.
If your firmware version says something other than 3A283, your AirPods or AirPods Pro need an update! Put 'em in their case, plug it in, place your phone nearby, and keep your fingers crossed for that automatic update!
Questions?
If you've got questions let us know in the comments below!
Get the best of iMore in in your inbox, every day!
Mikah Sargent is Senior Editor at Mobile Nations. When he's not bothering his chihuahuas, Mikah spends entirely too much time and money on HomeKit products. You can follow him on Twitter at @mikahsargent if you're so inclined.
Does this same process work for BeatsX too?

Manual updating should always be provided, if you're having some issue with your AirPods, you don't wanna have them plugged in all the time hoping that the update is going to come at some point soon, otherwise you might as well just take them to Apple

I honestly wish I could go back to the original firmware when I first got these. I never used to have a single issue, nor a single drop out. Ever since the first article about the first firmware update and any since, I have way more regular drop outs or interference that I never used to have. It seems like they've managed to make them perform worse rather than be improved.

Luckily, I had the exact opposite happen. Have you called Apple?

Agree with Kendall here. Definitely put in a call to Apple and try to get that sorted. I've noticed far fewer issues since updating firmware. Don't know if you've tried forcing them into Setup mode, but that's a good bet if they're not working correctly.

I can't make a too in-depth assessment yet, but my first experience attempting to make a phone call from the AirPods (using Siri) while listening to a podcast after the firmware update was dropping the audio from the Airpods and only having it pipe through the phone directly. Funny thing was that when the podcast app came back in the forefront, audio from it was back to the AirPods.

I got that update pretty quick after plugging mine in.

Me too. Wish they'd add a warning when you walk too far away from your phone. I've left mine on the treadmill at the gym several times, walking blithely out to my car with the podcast still playing. The extreme range makes it possible for someone to walk away from a phone before you even realize you've left it. My shiny black phone and case against the shiny black control panel of the treadmill makes this easy to do. Also, I get distracted while dismounting by ending the workout on my Apple Watch!

I wish they published what the update provides

Not a very user friendly way to implement updates

That's strange, my airpods case wasn't connected to the power and it updated to 3.7.2, maybe it does the update if there is over X% of battery in the case. Similar to others that have commented my airpods worked far better on the original firmware version than it has since the previous update, since then one or the other will just drop off require me to take it out of my ear and reinsert it before it comes back.

Same here. Getting drop sometimes with new firmware.

Hey if I wanted to change my AirPods out to get new ones would the apple store let me do that? Because mines don't sound the same as when I first got them Or would I have to buy some new ones

I can't even get my AirPods to show up in General/About. AirPods connected to iPhone Max, playing music in my ears - AirPods do not show up. Wonder why? Any have clues? Edit - never mind, restarted iPhone - they show up. Sorry

Folks, I think you might have provided the wrong information regarding the current firmware version of the just released March 2019 AirPods. See this thread: https://www.reddit.com/r/airpods/comments/b6bo4e/airpods_generation_2_fi... Btw, you folks do this all the time where you overlay new stories in 1-2 year-old threads. It's confusing and misleading to your readers. Please consider creating a new article in your CMS even if you want to reuse much of the content. Thx!

Well, this is NOT a fix. It doesn't work. The only option I have after following your instructions is:
"Forget This Device". Any other "Fixes" you might have up your sleeve??

I have the latest version of AirPods Pro. Can anyone tell me what the latest version of its firmware should be, or where I can find out that information? Thanks.
Thank you for signing up to iMore. You will receive a verification email shortly.
There was a problem. Please refresh the page and try again.