How to update iTunes on the Mac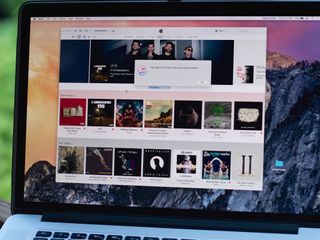 iTunes is included on your Mac, and provides you with access to your entire music library, along with videos, TV shows and movies you've purchased from the iTunes Store. iTunes lets you download apps for your iPhone, iPad and iPod touch, download audio books, course material for iTunes U and more. Periodically Apple updates iTunes on the Mac. Here's how to make sure you're up to date.
How to update iTunes on the Mac
Open iTunes.
Click on the iTunes menu.
Select Check for Updates...
iTunes will connect to Apple's servers and check for updates.


Sometimes Apple releases updates for iTunes through the Mac App Store, so if an update doesn't show up in iTunes, try the Mac App Store.
How to use the Mac App Store to check for iTunes updates
Make sure that you've quit iTunes.
Open the Mac App Store.
Click on the Updates tab.
The Mac App Store will check Apple's servers for updates. If it finds an update to iTunes, it will display an Update button. Click the button to download the update.


If, perchance, you've deleted iTunes and you need to download it again, just visit Apple's iTunes web site (opens in new tab) to download it again.
Get the best of iMore in in your inbox, every day!
Try the Mac AppStore first... that's how I got it. Seems the iTunes method lags... then there's the Apple Web Page method... go here: https://www.apple.com/itunes/download/#mn_p if nothing else seems to work for you...

Strongly suggest those with a large local library do some testing with a fresh empty library first. I installed 12.2 and activated the three months trial, and within less than half an hour iTunes has literally destroyed my music library. This includes completely messing up most covers and albums, creating duplicate files in my iTunes library and moving them to different (wrong) artists, and, yes, sure enough: iTunes has actively deleted music I have ripped myself and replaced it with some cloud files that have nothing at all to do with what has been deleted... I will need months to recover from this (a little over 4,000 albums here). I include a dropbox link for a nice example: https://www.dropbox.com/s/wfb4xdv4gdsni8w/Bildschirmfoto20...

Thanks for the warning. I feel for you.
I never touched iTunes Match for that exact reason and was hopeful Apple Music would not ruin an accurately maintained library. Sucks, because I was really looking forward to AM but I refuse to throw away years of work to stream some music.

I feel your pain. The same thing happened to me. It also destroyed all the music on my phone. I had to turn off Apple Music and bring back my music library from a backup. Unfortunately it was a couple of months old; for some reason I didn't back up before turning on Apple Music. Was a big problem.

I wish it explained more what it was doing or going to. After I agreed to the trial it popped up something saying it was uploading or delivering my music to Apple and a progress circle began moving but I hit the X to cancel it. I don't use iTunes Match or iCloud and don't want it to start messing with my music or uploading it anywhere. I wish in settings there was more options even just for Music and this service to have a bit more control.

Opening iTunes will pop up a annoying alert view asking user to update. Weird way.
Thank you for signing up to iMore. You will receive a verification email shortly.
There was a problem. Please refresh the page and try again.