How to use Android with your Mac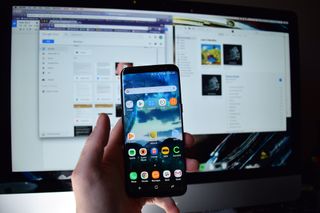 If you prefer the flavor of Android when you're mobile but like a Mac when it comes to laptops and desktops, then you'll want the two to work well together. The extent of using your Android phone with your Mac is pretty much file transfer.
You can download an app, which lets your Android talk to your Mac, or you can use some other options.
Here's how to use Android with Mac!
How to use Android File Transfer to transfer media from Android to Mac (and vice versa)
The beauty of Android is that transferring media (files, music, videos, etc.) is simple file storage; there's no painful syncing process like there is with iPhone.
Most hardcore Android users won't love this option, but I've had great luck with Android File Transfer.
Download Android File Transfer.
Unlock your Android device.
Connect your Android device to your Mac via USB. This should launch Android File Transfer automatically. If not, just launch it manually.
Tap Allow on your Android device when prompted.

You may also be asked to choose the connection type. Choose to transfer media files or whatever variation of that phrase your Android device says.

Open a Finder window on your Mac.
Drag and drop files from Finder to Android File Transfer. You can create folders in Android File Transfer that'll show up on your Android device.
If you have an SD card in your Android device, you can choose to drop files onto the SD card right in Android File Transfer. You can transfer files from your Android device to your Mac the exact same way — just drag from Android File Transfer to a Finder window or your desktop.
The thing about AFT is that it's quite hit and miss. Sometimes it simply won't recognize your Android. Always make sure you unlock your device before connecting to your Mac.
So continues the awkward dance between Android and Apple products. If your phone isn't recognized, just disconnect it from your Mac and connect it again.
Use Google Drive
Here's where an Android version of AirDrop would come in handy, but we unfortunately don't have that option. Your next best option for file transfer is to save stuff to Google Drive.
Your Google Drive goes with you wherever you have an internet connection, and you can download the files store there onto whichever device you're using. The best part is that you get 15GB of free storage and unlimited photo storage, so there's no need to use up space on your Mac hard drive or your Android device.
Here's how to save to Google Drive on your Mac:
Launch a web browser. (You can also download the Google Drive app).
Log in on Google.com.
Click the apps button on the upper right of the window.
Click Drive.
Click New on the upper left of your screen.
Click File upload. You can also choose to upload an entire folder.
Click Open or hit enter on your keyboard. Your file or folder will upload to Google Drive. It may take a few minutes, depending on how big your upload is.
Alternatively, you can just drag files or folders from a Finder window into the Google Drive window on your browser. In fact, Google Drive just becomes another folder on your Mac, so any time you want to make something available on your Android device, just drag it into the Google Drive folder. Simple as that.
Use another cloud-based service
In the end, connecting your Android device to your Mac via USB doesn't really get the job done. There are manufacturer tools, like Samsung Smart Switch and LG Bridge, but if you don't have a device from either of those manufacturers, then what do you do?
A cloud-based storage service is the easiest way to access files between your Android and your Mac. You can download the apps on your Android device and visit the corresponding websites on your Mac.
We recommend Dropbox, since it's easy to use and you get up to 2GB of cloud storage for free. Like Google Drive, Dropbox acts like just another folder on your Mac, so you can just drag files and folders over as you please and then access them via the Android Dropbox app (opens in new tab).
Use an SD card
Many Android devices come equipped with microSD card slot, which allows you to expand their storage. If you have a regular SD adapter, you can just pop that into your Mac and transfer files to and from the card like you would normally when transferring photos from a camera.
Some Android devices have an "adoptable storage" option, which lets you integrate the SD card as part of the phone's system memory. If you've opted for this, then you can't just remove your SD card at will, so be careful.
Can I do anything else with my Android and my Mac?
Not really, no. Since they're not a part of the same ecosystem, there isn't much else a Mac and Android can do together. That being said, if you don't mind the slight hurdle when it comes to file transfer, then there's no reason you shouldn't have an Android phone or tablet and a Mac together.
Questions?
Sound off in the comments below.
Get the best of iMore in your inbox, every day!
Mick is a staff writer who's as frugal as they come, so he always does extensive research (much to the exhaustion of his wife) before making a purchase. If it's not worth the price, Mick ain't buying.
That being said, if you have a Mac, seriously consider selling your Android phone and getting an iPhone 8 when it launches.

Or sell your Mac instead and get a Surface Pro.
:-)

If you want to use Windows…

It's possible to interact with your Android text messages on a Mac, although not through a desktop app. Pushbullet and PulseSMS both send your texts to a web portal. Open a browser, launch the Pulse website or the Pushbullet Chrome extension, and you're set. In addition, there are apps which allow wireless file transfer between a Mac and an Android phone. Doubletwist is the most prevalent example.

I was just going to say this. Pushbullet does so much, however costs some money for full features. Pushbullet can mirror notifications, send files, text and universal copy and paste. Yappy is another alternative that uses a Chrome Extension. Granted it's not a seemless as an iPhone and Mac, but the nice thing about Android is that there are ways of doing things.

Funny that as even way back in the day there was a desktop client for Nokia phones that allowed you to do this.

Nokia were the bomb back in the day, way ahead of the competition. I still remember my N95, with its front camera, 5mp back camera, expandable memory, app store and upgradable software. The N95 had video calling years before the iPhone

Actually, there's a desktop texting service called MightyText that has a deskop app for the Mac. It syncs with Android and works fairly well. It's not perfect but it's pretty good. There's both a free and a pro tier. Worth checking out for sure.

Why should Mac users ditch Android just because they have a MAC. I had had Android phones for years and had iPHones at the same time as Android phones just to mix it up. Neither platform is perfect and neither platform does it all. What Apple does it make it difficult for non-apple products to interact properly which is something they always accused MS of doing in the past. Perhaps that is why we will likely never see full MS Office/Emial integration for the MAC for another decade. Apple products don't play well with Windows either, try using iTunes for Windows pretty much a waste of drive space. There are a lot of great tools available for MAC users who hack and have fun with the Android devices and side load custom ROM's, boy that was fun stuff too, compared to having to wait weeks, months for the next Jailbreak to come around so you can upgrade your security patches.

The Mac has full MS Office integration. Also, iTunes for Windows works fine these days, it used to be pretty bad but it's fine now. One day I might go back to Android, I do like the freedom, we shall see :)

Airdroid is quite good too

I used to use this, it's nice and feature-full

"Can I do anything else with my Android and my Mac?
Not really, no. Since they're not a part of the same ecosystem, there isn't much else a Mac and Android can do together. That being said, if you don't mind the slight hurdle when it comes to file transfer, then there's no reason you shouldn't have an Android phone or tablet and a Mac together." This is one of the stupider things I've ever seen on iMore. There is so much more available for an Android-Mac marriage that wasn't listed here. Some of the responders listed a few, but a little bit of research would have unveiled more for the original article.