How to use the Mac's Help menu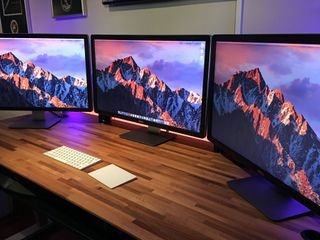 It's easy to overlook, but the Help menu can help you find just about any answer to your questions. It's built into Finder in your Mac, and it's present in most applications too. It isn't just for newbies either — even experienced Mac users can benefit!
The important thing to understand is the Help menu is contextual: The contents will change depending upon which application you have open. Looking at the Help menu from the Finder, for example, reveals two options: a search field and Mac Help. Inside a third-party application, you could find links to a manual, shortcut references, links to help forums on the developer's web site, and other content.
Here's how to access and use Help on your Mac!
How to use Mac Help from the Finder
Click Help in the menu bar at the top of the screen.
Type the subject or issue you'd like help with in the Search field.

If you have Finder selected (click on your desktop screen), you can check out What's new in macOS, New to Mac, and Get to Know your Mac, for more help.
Click a search result from the list.
Click on a related link to open a specific app or program relating to your issue.
How to use Mac Help from an application
Click Help in the Menu bar at the top of your screen. It appears with most apps.
Type the subject you'd like help with in the Search field.
The contents will change per application. Some apps provide complete user manuals and reference guides; others show you shortcut lists or provide links to helpful web resources. These screens are taken from the Help menu in Safari and Mail, respectively.
Useful things to know about Mac Help
Use the keyboard shortcut ⌘ - ⇧ - / (command - shift - /) to quickly access the Help program.
The Help program has a nifty built-in feature that'll help you find keyboard shortcuts and settings related to your query by pointing them out for you. Hover over an item in the Help menu and a corresponding arrow will appear.
Lory is a renaissance woman, writing news, reviews, and how-to guides for iMore. She also fancies herself a bit of a rock star in her town and spends too much time reading comic books. If she's not typing away at her keyboard, you can probably find her at Disneyland or watching Star Wars (or both).
Thank you once again Peter for this tip and don't have to remind you I am sure you remember my "Handle" by now or "Name" that wanted to have things like this done being a new Mac Book user and it has helped me greatly. Saves having to drive to the Apple store in my city when i can count on your precise answers and Pictorials that go along with it. Again thanks and keep up the great work on behalf of me and all the other newbies to Mac Book!!

+1 here. Been a MacBook user for just 2 weeks and in that little time I have used articles like these at least 4 times. Keep up the good work. Posted via the iMore App for Android

Really happy to hear this "Mastering the Mac" stuff is coming in handy for you folks! Thanks for the feedback.

Don't forget the keyboard shortcut
CMD+?
.
For what it's worth- the Help Menu used to be much more helpful and intuitive, now it seems harder to find what I'm looking for. Or maybe it's only bc those things I'm looking for simply don't exist anymore bc Apple loves to strip out features with their "updates". Sent from the iMore App

We've developed a habit to use the Start Menu more than anything else, thanks to Microsoft. But other OS like Yosemite have done the same things differently. Now we need to search hard to get what we want, or read some blogs to do the job. It will be somewhat inconvenient, but as we'll use these features more often, we'll develop a habit of this one as well.

Are you kidding Hunter? OS X & Macs since the early days have always been far more user friendly (even customizable!) than Windows could ever hope to be... from their search options to navigation abilities, shortcuts & dialogue windows. You will love yr ability to now NAME FILES & FOLDERS anything you want! Take screenshots, save any webpage as pdfs, make screencast recordings of anything on yr desktops or browsers without special apps etc, & the list goes on and on.
~~~~Some invaluable shortcuts you may wish to use daily are:
CMD+Tab =switch instantly to any open app
CMD+Z = Undo
CMD+F = Find (both on yr computer or on any browsers web page)
CMD+Shift+3 =Take a screenshot of yr whole screen
CMD+ Shift+4 =Take a screenshot of what you select
CMD+P =Print/Save as a pdf instead by choosing that on the left side of the pane before hitting the save/print button

Sadly this isn't the case with El Capitan, it still says Content Coming Soon. Mind you this GM isn't the final one so I guess that will change in due course.

You know having three big displays and one tiny Apple keyboard is an eyesore :)
Get the best of iMore in in your inbox, every day!
Thank you for signing up to iMore. You will receive a verification email shortly.
There was a problem. Please refresh the page and try again.