How to use Raise to Wake on iPhone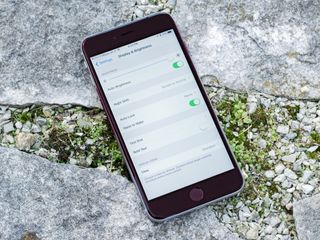 You can allow the display on your iPhone to awaken when you pick up your phone to look at it. Much the same as it is on the Apple Watch, Raise to Wake, lets you get a quick glance at your notification without a single button press.
Follow this guide to learn how to make use of this useful little feature.
Note that at this time, Raise to wake is only supported by the iPhone X, iPhone 8, iPhone 8 Plus, iPhone 7, iPhone 7 Plus, iPhone 6s, iPhone 6s Plus, and iPhone SE.
How to turn on Raise to Wake on iPhone
Raise to Wake should be on by default. If for some reason it is not already enabled, you can do so manually.
Open Settings.
Tap Display & Brightness.
Tap the switch next to Raise to Wake to 'on'. The switch should now be green.
Raise to Wake automatically wakes your iPhone or iPad screen as soon as you lift it up from flat on a surface. You won't have to press the Home or Wake screen anymore.
How to turn off Raise to Wake on iPhone
If you don't like the idea of having your screen wake up automatically when you lift your iPhone or iPad, you can disable the feature and go back to doing things the old way, like an animal.
Open Settings.
Tap Display & Brightness.
Tap the switch next to Raise to Wake to 'off'. The switch should now be white.
Get the best of iMore in in your inbox, every day!
Joseph Keller is the former Editor in Chief of iMore. An Apple user for almost 20 years, he spends his time learning the ins and outs of iOS and macOS, always finding ways of getting the most out of his iPhone, iPad, Apple Watch, and Mac.
You should mention this is only available for iPhone 6s, 6s PLUS, 5e

Oh! Thanks! Sent from the iMore App

Yea i find that to be a bunch bull considering jailbreak tweaks may this work. its their gimmick but hey whatever

You may find that it uses a lot of battery with the jailbreak tweak though, the A9 processor is designed to handle these things whilst using low power

A jailbreak can do ANYTHING without taking into consideration what might be affected by it. The M9 coprocessor in the Apple's latest devices has been designed to monitor more sensors and as such can react to different things without using the higher powered CPUs, thus killing battery life.

Yep, no work on the iPhone 6. Guess our phone is way too old...

Sadly a 2 year old telephone is now considered old. What a grotesque state of affairs.

And SE Sent from the iMore App

Yeah I can't see it on my 6 Plus Sent from the iMore App

What's the battery hit with this active?

None that I've noticed. 6S plus.

I have iOS 10 and no Raise To Wake option. Sent from the iMore App

Yeah it has to be an A9 processor or better :(

Which are iPhone 6S or better

Was bummed when I didn't see it either (6 Plus) wa-waaaaaaa... Must... wait... until... next... year...

How to use Raise to Wake? Seriously? 1) Pick up the phone. Good god.

If I can use raise to hear voice message through iMessage on my iPhone six, why am I prevented from raising to wake? It literally makes no sense. The phones clearly using energy stored to anticipate my lifting for a voice message so....

It saves home button. I raise my phone then rest finger on scanner and I never have to press a button Sent from the iMore App

There is an option to rest your finger to open, but even when turned on it doesn't work on mine. Still have to press the **** home button!! Probably because its just 5s. Lol and I dont have the this raise to wake option btw. Sucks. I lost my good set of emojis. I shouldn't have updated my phone

For next update; it can become faster, I think. Sent from the iMore App

What I would love to see is raise to wake work with the widgets (right now only visible when phone is unlocked). I would love to quickly pick up my phone and see my calendar, reminders and anything else I configured in the widgets screen.

Worked on my 6s. I turned it off pretty quick. I don't need my screen to come on every time I pick up my phone. Seems like a pretty useless/annoying feature to me. Are people really having trouble pressing a button to see their lock screen? I know... it's a real hassle...

That's strange? Raise to wake worked on my 6 plus iOS 10 Beta version!? Sent from the iMore App

Not working on my mini 2 either. Sent from the iMore App

Should have made clear this is ONLY available on the IPhone 6 and newer.
The device must have at least the series A9 processor. Even on a 5s it not an option.

Here's something I just realized: If you enable Raise to Wake, then setting Rest Finger to Open either on or off won't make any difference: resting your finger on Touch ID will always unlock your phone (pressed or not)

I use to like this feature in iOS 9 but I've had to switch it off in iOS 10 because I kept finding when listening to music, it would get paused as the screen would get woken up on movement (in pocket) and the media controls would get pressed.

All I see in the raise to wake glitch(not a feature) is a dead battery. Sitting at my desk doing work and every time I stand up the screen turns on wasting power.
Thank you for signing up to iMore. You will receive a verification email shortly.
There was a problem. Please refresh the page and try again.