How to use Stories and Discover on Snapchat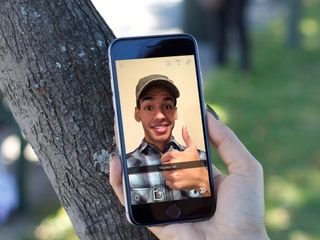 Updated February 2017 to reflect changes in the most current version of Snapchat.
Snapchat Stories and Discover give you a way to follow the activities of people you follow, and of major publishers, all in one place. If you're not sure what all the colorful, tappable circles, mean, we'll walk you through it. Let's dig in!
How to use Snapchat stories
Snapchat stories are a collection of Snaps (photos and videos) that you and your friends publish over the course of a 24-hour period. It's essentially a glimpse of your day. We say 24-hour period, because stories will disappear after 24 hours.
You can view your friends' stories by tapping on any of the names in either the "Recent Updates" or "All Stories" list. Just like a normal snap, you can tap to skip a photo or video. But unlike snaps, these don't disappear after you watch them; as long as you watch within the 24-hour period, you can replay as many times as you like.
How to add Snaps to your Story
If you'd like to craft a Snapchat Story of your own, you'll be happy to know it's rather simple. When you take a photo or video, there's a button in the bottom left corner of the screen with a plus sign. Just tap that button to add snaps to your story. (Hint: You can change who can see your Snapchat Story in the settings menu.)
How to use Live Stories
You may have seen a section called "Live" in the Stories screen. Live Stories are curated snaps surrounding a particular event. Snapchat pulls user-submitted photos and videos from Snapchatters around the world to craft these Live Stories. So, a Live Story about Paris, for example, would include snaps from people in Paris.
How to use Snapchat discover
Snapchat Discover is unlike any other part of Snapchat in that the content posted here comes from editorial entities — CNN, Mashable, Vice, etc. — not Snapchatters. Each "channel," as they're called, contains loads of interactive content — tapping a rectangle launches that channel. From there you can swipe, tap, scroll, read, and share all the goodies. (Hint: To leave a channel, simply swipe down from anywhere on the screen.)
Channels — like Stories — are refreshed every 24 hours. Snapchat says each channel typically includes 5-10 pieces of content.
Snapchat Stories and Snapchat Discover are an entertaining addition to the core messaging experience. You can get a quick, entertaining rundown of your friend's day and you can read the latest headlines from CNN, Mashable, and more — all within one app. Make no mistake, Snapchat likes it that way.
○ Download Snapchat (opens in new tab)
○ How to use Snapchat for iPhone
○ How to delete your Snapchat account
○ Snapchat help
○ Shapchat news

Get the best of iMore in in your inbox, every day!
Mikah Sargent is Senior Editor at Mobile Nations. When he's not bothering his chihuahuas, Mikah spends entirely too much time and money on HomeKit products. You can follow him on Twitter at @mikahsargent if you're so inclined.
The worst UI on the planet and the main reason why it became famous because dumb people want to send nudies to each other over internet.
it may be popular and cool but after trying several times its just exhausting.
No thanks.

If you've got friends who use it a lot it can be fun, a nice way of messaging, but yeah the UI is very strange

Speaking of the wonky UI, what I can't figure out in Snapchat Discover is how to locate a particular channel. SNL just launched a channel, but it's not included among the featured channels under Discover and I've tried umpteen different ways to search for it. Hoping someone can offer suggestions.
Thank you for signing up to iMore. You will receive a verification email shortly.
There was a problem. Please refresh the page and try again.