How to use Wi-Fi calling on Apple Watch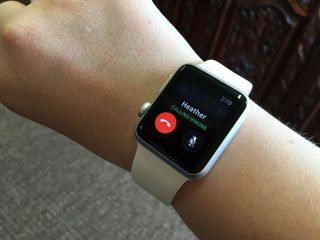 Sometimes, cellular reception can be weak, spotty, or even non-existent. Regardless of which Apple Watch model you have, you can improve the quality of phone calls by using Wi-Fi calling, which allows your Apple Watch to automatically make and receive calls through a Wi-Fi network instead of a cell tower.
First things first. An Apple Watch must be paired to an iPhone and for the Wi-Fi calling switch to appear in the Watch app for you to turn on, the feature must first be enabled on your iPhone.
How to set up Wi-Fi calling on your iPhone
Not all carriers support Wi-Fi calling on noncellular devices. Apple publishes a list of carriers that provide this service (opens in new tab). If you don't see your carrier on the list, you can't use Wi-Fi calling on your Apple Watch.
Here's another thing to keep in mind: When you place an emergency phone call, the iPhone will attempt to use the cellular network, which makes it easier for your location to be determined. However, location information may not be as accurate when an emergency call is placed over Wi-Fi. For that reason, when you turn on Wi-Fi calling, you'll be asked to provide an emergency address. If emergency services can't locate you, they'll go to the emergency address you provide.
Once you turn on Wi-Fi calling on your iPhone, be sure to turn on Wi-Fi calling on other devices that are signed into your iCloud account — that will enable you to add your Apple Watch to the service.
How to enable Wi-Fi calling on Apple Watch
Make sure Wi-Fi calling is set up on your iPhone.
Tap the Watch app on your iPhone.
Tap My Watch.
Tap Phone.
Turn on Wi-Fi Calling.
With Wi-Fi calling turned on, calls in and out of your Apple Watch will go over Wi-Fi instead of a cellular network that has poor signal strength, even if your paired iPhone is not near your Apple Watch, or the iPhone is turned off. Your Apple Watch must merely be within the range of any Wi-Fi network to which the iPhone has connected. This magic can happen because the iPhone automatically shares with the Apple Watch information about Wi-Fi networks it has joined in the past.
Questions?
Sound off in the comments below!
Updated October 2018: Updated to clarify steps and added link to carrier support.
Mike Matthews is a writer at iMore.com. He has used Apple products all the way back to the Apple II+. He appreciates no longer having to launch apps by loading them from a cassette tape recorder.
RE: "or the iPhone is turned off" Can you confirm that's the case? I'm pretty sure it wasn't until recently.

I'm not seeing those options on iPhone X iOS 11.3 beta (series 3 non-cellular watch). However, the watch already has the phone options available - always there on series 3 perhaps? But it doesn't work without the phone powered on (in my experience)

WiFi calling doesn't show up for me. I have it enabled on my phone but when I go into the watch app I got nothing. I'm running iOS 11.3 beta and watchOS 4.2.2

Not available for me either. iPhone X 11.2.5 and Watch 4.2.2, despite Wi-Fi Calling set up and working on phone.

Not available to me on Apple Watch either.

I can't see it on my Series 3 Apple Watch w/latest iOS and WatchOS installed. Is it only certain carriers that work with it? My iPhone 8+ works great with wifi calling on the Sprint network.

In order for Wi-Fi calling to work from your Apple Watch (or other iCloud connect devices) your carrier has to support "Wi-Fi Calling on supported iCloud-connected devices". (not just Wi-Fi calling) This capability is only supported by a few carriers in the US, (none in Canada 😕 ) You can check your carriers support here: https://support.apple.com/en-us/HT204039

Very sloppy writing and research, and the article should be edited to reflect the limited availability of this feature.
Get the best of iMore in in your inbox, every day!
Thank you for signing up to iMore. You will receive a verification email shortly.
There was a problem. Please refresh the page and try again.