HQ Trivia FAQ: Times, Chat, How to Win, Extra Lives, & More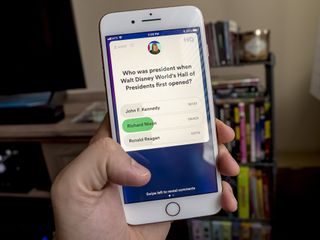 HQ Trivia has blown up in the past few months and it shows no signs of slowing down. With hundreds of thousands — sometimes over million — people using the popular live game show app, the potential payouts seem to be increasing!
With so many people playing the game, lots of questions have surfaced about how it all works, and I'm here to help. Here are the answers to some of the most frequently asked questions about HQ Trivia!
What's new with HQ: Trivia?
August 14, 2018: HQ Trivia lands on the Apple TV
HQ Trivia has officially launched on the Apple TV. The app is available in the App Store on Apple's media streaming box, letting you participate in each live game, while also showing you your winnings balance, weekly rank, and extra lives.
Because this is a universal app, if you previously download HQ Trivia on your iPhone, you can find it under the Purchased tab in the App Store on Apple TV.
June 25, 2018: HQ Trivia is trying new times
If you tried to play HQ today at 3 PM ET, you may have noticed the game didn't happen! HQ Trivia announced on Twitter that they are trying out some new times!
Looks like the afternoon game has been move into the evening for the time being. HQ Trivia will now be live at 8 PM ET and 9 PM ET every weekday, and still the same 9 PM ET time for weekend games. No word on how long these time changes will be in effect.
March 28th, 2018: HQ: Trivia gives out free extra lives! Here's how to claim one!
Have you invited everyone to HQ: Trivia you know and you still have no extra lives? You're not alone! HQ: Trivia sent out a cryptic tweet this morning hinting at a way to get free extra lives.Soon thereafter fans of the game discovered how to get a free extra life!
When you open the app and go to your profile page you can swipe up from the bottom of the screen with two fingers rapidly a couple of times in a row. Apparently, this trick works once a week — enjoy your free extra lives!
January 26th, 2018: HQ Trivia gets a big update
HQ Trivia release a major update to the app that focused on verification issues, technical glitches, an upgraded extra life system, and changed its cash out policy.
Now you can choose when to use an extra life or not, meaning you can save them for Sundays when the prize money is a much larger sum! Plus, you can also cash out immediately after winning any amount of money. You no longer have to wait until you have $20.
What is HQ Trivia?
HQ Trivia is a live trivia game show that you can play on your phone or tablet by downloading the HQ Trivia app (opens in new tab). Once the game starts, the host of that game (they change hosts pretty often) will appear on your screen and start talking. Usually, they crack a few jokes, explain the rules very briefly, and then start asking you (and the hundreds of thousands of other people) questions.
The question along with the three potential answers will pop up on your screen, tap on the answer you want to choose, and if you get it right you move on to the next question. If you answer all 12 questions correctly you will win money.
What time does HQ Trivia go live?
Typically, HQ Trivia goes live twice a day on weekdays — 3 p.m. ET and 9 p.m. ET — and usually just once each day on the weekend — 9 p.m. ET. Make sure you know what time HQ goes live in your time zone, so you don't miss out.
If you load the app at any time, it should tell you what time the next game is scheduled to go live. You'll notice in the picture above, it tells me the next game is at 2 p.m. central time, so I know when I can launch the app and play!
Sometimes they will have surprise games at different times, so be sure to have app notifications turned on for HQ!
What countries can play HQ Trivia?
The HQ Trivia app is worldwide, so you should be able to play it no matter where you reside; however, it is geared towards an American audience. The prize money is always in USD and there are often quite a few questions that are American-centric.
There is a U.K. version of the app that just launched, which runs games every Monday and Wednesday at 3 p.m. and 9 p.m. U.K. time. The U.K. version features questions more specific to the U.K. culture and history. As of right now, it has smaller payouts, but a much smaller audience as well.
What do I need to play HQ Trivia?
You need an iOS or Android device. iPhone, iPad, and Android phones and tablets call all download the HQ Trivia app!
How do I get rid of the chat?
HQ Trivia has a chat room on the bottom of the screen that allows users to type messages to everyone in the room. Unfortunately, with so many people playing and typing, it's nearly impossible to actually read the messages, and it's mostly a distraction.
You can get rid of the chat by swiping right on it at any point during the game, so you can focus on the questions better.
How do I get money?
If you're lucky enough to answer all 12 questions correctly, you will win your share of the prize money.
When you win, the money will be added to your HQ account, which can be connected to a PayPal account of your choice. As soon as you win any amount of money, you can transfer the funds from HQ into your PayPal.
How do I get an extra life?
If you get a question wrong — or don't answer in time — you're automatically eliminated from the game; however, you can receive extra lives by inviting people to play. An extra life allows you to stay in the game even when you answer a question wrong.
When HQ isn't live, hit the invite button to share the app with a text message, social media post, or email and invite your family and friends to download the app. They also will need your referral code, which is just your HQ username. My HQ username is iMoreLuke, if you catch my drift wink wink.
The first time a new player plays after using your referral code, you will be rewarded an extra life.
How do I use an extra life?
When you're eliminated from the quiz and you have an extra life, you will be asked if you want to use it or not. If you choose to use it you will get back into the game, if you don't, you'll have to wait until next time.
You can only use one extra life per game, so choose when to use them wisely!
The app froze, what can I do?
Unfortunately, not a ton. With so many players in the game at once, and with how fast HQ Trivia has been growing, the app has its problems. The app has frozen on me many times in the middle of a game and caused me to lose.
Even if you close the app and try to launch it again, you will likely be kicked from the game. My best advice is to always play connected to the fastest and strongest Wi-Fi signal available to give you the best chance at a smooth experience.
Want to know more?
If you're dying to know more about HQ Trivia, want a detailed guide on how to play, or want the best tips and tricks to win cash, check out our other coverage!
Any other questions?
Let me know in the comments below!
Luke Filipowicz has been a writer at iMore, covering Apple for nearly a decade now. He writes a lot about Apple Watch and iPad but covers the iPhone and Mac as well. He often describes himself as an "Apple user on a budget" and firmly believes that great technology can be affordable if you know where to look. Luke also heads up the iMore Show — a weekly podcast focusing on Apple news, rumors, and products but likes to have some fun along the way.
Luke knows he spends more time on Twitter than he probably should, so feel free to follow him or give him a shout on social media @LukeFilipowicz.
I actually stopped using the app. It seemed to be killing my battery according to my experience and the settings app "battery shaming" data. A single game was eating up to around 20% of my battery. YMMV of course.

Does this app have ads? Half the time, it's the ads that suck your battery, hence why I hate freemium games and buy apps without ads

I totally understand your comment was months ago, but another thing that consistently eats up battery life is bluetooth and auto-lock levels. But mainly blue-tooth though. For ex: If my auto-lock is on 5 minutes, it eats up the battery, but if it's on 2 minutes and don't use my phone very often throughout the day, I'm still sittin' at around 80% on battery life.

If you have an account already and you accidentally unstalled it, how do you log back in with the same account?

How do you go to login? Cause when i press get started then it brings me up to where I have to put my phone number but it says invalid phone number.

I've not used this app, but maybe the phone number requires the country code? I'm in the UK so sometimes I have to enter +44 at the start of my phone number instead of a "0" which would be the local number

I was playing this game tonight ans at 3 seconds I clicked on the 3rd questioms hello kitty and it registered as I clicked it and then eliminated me even though thats the answer I'm about to tell people the game is rigged and not to play. I used to love thid game i play everyday but the last 3 times I have had an issue and I'm done now.

So, this game is still new to me where if you play 5 days in a row, you can also earn an extra life that way as well. I played 5 days in a row and the app said I had earned an extra life, but I never actually received my extra life after playing 5 days in a row. Is there any possibly way to contact HQ Trivia directly Other than Twitter?