If you love Hyrule Warriors: Definitive Edition you should try these games!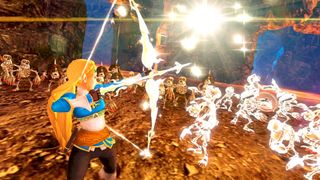 (Image credit: Nintendo)
Hyrule Warriors: Definitive Edition is a bit singular on the Nintendo Switch right now, which doesn't have a huge library of hack-and-slash titles yet. Fire Emblem Warriors is just around the corner, but don't worry if you're starved for satisfying combat. There are plenty of other Nintendo Switch games perfect for fans of Hyrule Warriors. Here are just a few:
The Legend of Zelda: Breath of the Wild
Everyone who owns a Nintendo Switch should play Breath of the Wild, but it's an especially good choice if you skipped it for Hyrule Warriors. Legend of Zelda lovers will be right at home in this version of Hyrule, which brings together elements from many different entries in the franchise. The game is packed with references to games like Twilight Princess, Wind Waker, Majora's Mask, and even the original Legend of Zelda.
In addition, Breath of the Wild has the best combat of any game in the series. With so many weapon choices, enemy types, and strategies for taking down foes, you'll feel right at home fighting moblins in the wild. Though the mobs don't keel over quite as easily as they do in Hyrule Warriors, the boss fights are just as much (if not more) of a climactic challenge.
Xenoblade Chronicles 2
Xenoblade Chronicles 2 is an action RPG, but its gorgeous overworld is stuffed with tons of unique monsters to take down. As you learn the game's systems and gain more powerful Blades, you'll be able to return to areas you've visited already and defeat behemoths you had to flee from earlier on in the game. Complex, technical combat is one of the Xenoblade series' strongest features, but you'll also get a chance to experience a lengthy and moving story with a fun cast of characters.
Bayonetta and Bayonetta 2
Probably the closest game mechanically to Hyrule Warriors on the Switch is Bayonetta and its sequel, Bayonetta 2. The smart, skilled, and sexy witch Bayonetta is your only playable character unlike in Hyrule Warriors, but her arsenal of magic abilities is the best follow-up to any Warriors game if you want to bring the pain to some demons. You'll use chainsaws, guns, whips, swords, candy, Bayonetta's luscious hair, and far, far more as you hone your combat skills. Both Bayonetta and its sequel are on the Nintendo Switch now, meaning you don't have to stop when the first game's witchy time runs out. Plus, brushing up on these is the perfect way to prepare for Bayonetta 3 on the Nintendo Switch, coming soon!
What did you play after Hyrule Warriors?
If I missed a game you loved after playing Hyrule Warriors: Definitive Edition, let me know in the comments!
Master your iPhone in minutes
iMore offers spot-on advice and guidance from our team of experts, with decades of Apple device experience to lean on. Learn more with iMore!