If you use the Reminders app a lot, read this before updating to iOS 13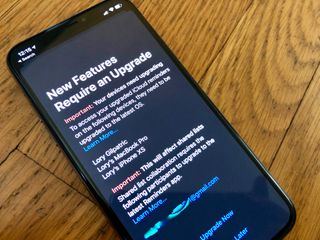 If you're ready to mash that install button and update your iPhone to iOS 13, there is one thing you should be aware of before you jump into the new features of Reminders — you can't update iPadOS 13 or macOS Catalina until later and iCloud Reminders in iOS 13 won't sync until they do.
The biggest sync issue is with iCloud. If you update Reminders to iOS 13, but your iPad isn't running iPadOS 13 or your Mac isn't running macOS Catalina, your reminders won't sync across all devices.
Other people you're sharing Reminders lists with will also need to update to iOS 13 if they want to see the changes you've made to a reminder.
The good news is that Apple has provided a way to postpone updating just the Reminders app to the new features.
The first time you open the Reminders app after installing iOS 13, you'll see a notice that some of your devices need to be updated before they can access changes made in Reminders via iCloud. You'll also see a list of the iCloud addresses you share Reminders with that also need to update in order to access any changes you make.
If you don't want to install the iOS 13 Reminders features, just tap "Upgrade Later" to postpone the update. I highly recommend you do this if you use reminders on more than just your iPhone and Apple Watch.
If you choose to upgrade later, you'll see a button next to your "My Lists" section. When you're ready, you can make the switch just by tapping "Upgrade" and following the instructions.
Don't jump the gun on this and make the switch too early. You can't un-upgrade once you've upgraded Reminders to iOS 13.
Lory is a renaissance woman, writing news, reviews, and how-to guides for iMore. She also fancies herself a bit of a rock star in her town and spends too much time reading comic books. If she's not typing away at her keyboard, you can probably find her at Disneyland or watching Star Wars (or both).
Thank you so much for the heads up!

Thank for this but I already did the updated to IPAD OS 13 Beta and didn't skip the Reminders update. Still waiting on updating IOS to IOS 13 (few days from now) and Mac OS Catalina (unknown). So reminders are still syncing between my current Mac OS (Mohave) and IOS 12.4.1. Is there anything I can do at this point to sync my current IPAD reminders with Mac and iPhone so they are all the same time? Or will it not sync until I'm updated on Mac OS Catalina, IOS 13, and IPAD OS 13. I guess once I install IOS 13 this week, I'll use the Update Later tab on Reminders to minimize the damage. Agree? Comments? Thanks, Raj

I figured that I'd save some money and switch from Todoist. I was excited about the new Reminders app but soon found that I can no longer edit or even view any details on the Reminders iCloud app. The new interface is there but I can't do anything whatsoever with the tasks. Am I pretty much screwed?

Wish I knew this sooner. Thanks for sharing! Now that my wife and I have upgraded we discovered I can't add a second iCloud to her phone for reminders. Sharing a reminder list crashes. So now we have no groceries and our bills are going f out late - j/k 😂

Sharing a Reminders list using the Add People function does not work currently in iOS 13. Apple is aware of this issue, and it will be resolved in a future software update.
https://support.apple.com/en-us/HT210220

I upgraded a spare iPhone SE (being extra cautious) to iOS 13 yesterday and did not upgrade Reminders. What I have found is that the iOS 13 Reminders app does not sync with iCloud to my other devices. The "Upgrade" button is still present on the main Reminders screen, so I know that I have not actively upgraded Reminders. Hopefully, this is one of the bugs fixed in 13.1. Otherwise, I will not be upgrading my primary iPhone to 13.1 until this is fixed. Perhaps this has to do with all of the changes to made to iCloud in iOS 13 and Catalina?

Regrettably, 13.1 also did not resolve Reminders. Like you, I did not upgrade Reminders under 13.0. I checked to see if Reminders was syncing after I went to 13.1; but still no go. I then upgraded all of my family's applicable devices to 13.1, and finally tried upgrading Reminders; but I still can't get Reminders to sync to iCloud or to any device that should have access to the shared Reminders my family previously used. In the interim, I've been forced to move our grocery list to a shared Note containing a checklist.

I ran into this problem after updating my iPad Pro, reminders on my iPad no longer were syncing with iCloud. The solution is to go to your iCloud settings and turn off Reminders. Wait a few seconds, then turn it back on. This forced Reminders to re-sync with iCloud. It went very slowly for some reason, but it did work.

NOTE: GoodTask offers the ability to back up your reminders, and restore from them. This is what happened to me, and the GoodTask backup restored my iOS/iPadOS reminders perfectly. I had to wade through some duplicates, but that's way better than starting over.
Get the best of iMore in in your inbox, every day!
Thank you for signing up to iMore. You will receive a verification email shortly.
There was a problem. Please refresh the page and try again.