iMore show 624: Devil's Advocate for Neanderthals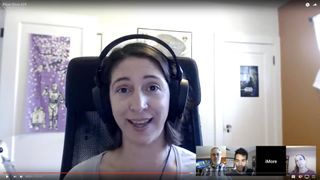 The cat's out of the bag! Apple has officially announced a presentation on September 12th for new product announcements, so Rene Ritchie, Lory Gil, Mikah Sargent, and Georgia Dow are here with a preview of what rumors are likely to become reality. They also cover AirPlay 2 support of the venerable AirPort Express, along with Siri Shortcuts on HomePod and Apple Watch.
They also share insight into a report showing that Android devices collect a lot more of your data than iPhone. 10x more!!!
Finally, they share their favorite product announcements from the IFA trade show in Berlin. Join us!
Listen now
Watch now
Show notes
AirPlay 2 supports AirPort Express
Picks of the week:
Sponsors
Thrifter.com: All the best deals from Amazon, Best Buy, and more, fussily curated and constantly updated.
Hosts
Be part of the show!
Send in your comments, questions, feedback, or follow-up to:
Get the best of iMore in your inbox, every day!
Jim Metzendorf has been using Macs since 1994. He is a podcaster, freelance audio/video editor, and author of 'The Professional's Guide to Audio Podcast Production'. Jim also teaches audio production at a college in Cleveland, Ohio. Follow him on Twitter: @jmetzendorf