iPhone Xs (2018) rumors: Specs, price, and features!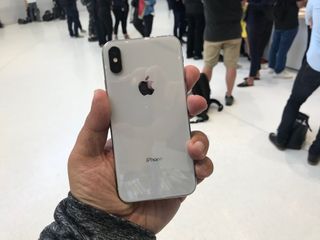 iPhone Xs — or iPhone 9 or iPhone XI or X2, or whatever Apple ends up calling the 2018 iPhone — is widely expected to come next fall. But with iPhone 8 and iPhone X both on the market now, there are several ways Apple could go for the next generation. This article is continuously updated to include the latest news and rumors so you can be among the first to find out. Bookmark it, save it, share it, and check back often!
Don't want to read? Watch the video above and subscribe for more!
September 12, 2018: New iPhone names, colors, capacities, accessories leak just hours ahead of Apple Event
iPhone Xs, iPhone Xs Max, and iPhone Xr are all listed in XML product site files discovered on Apple.com, along with a bunch of details.
From Anything.how:
iPhone XS Display Size: 5.8-inch
iPhone XS Max Display Size: 6.5-inch
iPhone XS and XS Max Storage Options: 64GB, 256GB, and 512GB
iPhone XS and XS Max Color Options: Silver, Black, and Gold
iPhone XR Display Size: 6.1-inch
iPhone XR Storage Options: 64GB and 256GB
iPhone XR Color Options: Black, White, Red, Yellow, Blue, and Coral
Also listed are iPhone cases in black, white, midnight blue, stone, taupe, and saddle brown, and more.
We're just hours away from Apple's official announcements.
September 11, 2018: Supposed iPhone Xc SIM trays in
Tomorrow's event can't come soon enough.
September 10, 2018: iPhone Xs might stick with old 5W USB-A charger
Ming-Chi Kuo is back, back again, with more iPhone (2018) rumors. This time a bit of a buzzkill for those hoping for a bigger, faster charger in-box for this year's iPhones.
Via MacRumors:
Slow, wired chargers are still technically better for overall battery health, but the difference isn't so significant that the convenience of faster charging should be ignored.
It's unclear if that's for just the lower-end iPhone Xc/iPhone Xr model, or for all 2018 models, including iPhone Xs and iPhone Xs Plus/Max.
We'll find out on September 12, 2018 when Apple holds its annual event.
September 9, 2018: These might be the iPhone Xc name, colors, and pricing
A China Mobile presentation — or at least a snapshot of a slide from what's being claimed is a China Mobile presentation — shows the names iPhone Xs, as has been recently rumored, as well as iPhone Xs Plus — as opposed to the previously rumored iPhone Xs Max — and the widely assumed but thus far less frequently leaked iPhone Xc.
From Weibo via Mac Otakara:
MacRumors did the math, and those prices work out to:
Separately, purported colors have been shown off on Twitter.
Apple's event, schedule for September 12, 2018, is just days away.
September 5, 2018: iPhone Xs Max name gets rumored. Twice. Seriously.
iPhone Xs may be the rumored name for the next-generation iPhone X, but what about the bigger version? iPhone Xs Max, according to a couple sources from a couple sources.
From BGR:
From 9to5Mac:
And, from VentureBeat:
The event — and a stop to all this name angst — can't come fast enough.
Seriously.
August 30, 2018: The next iPhone will (probably) be called iPhone Xs
Apple might have settled on the name iPhone Xs for the next-generation flagship phones.
From 9to5 Mac:
They also snagged what looks like a marketing image.
Apple's iPhone Xs event takes place on Wednesday, September 12, 2018 at the Steve Jobs Theater in Cupertino, California. We'll be there to bring it to you live.
August 27, 2018: Apple's three new iPhone (2018) codenames are...
... Just about as routines as you'd expect. It's rumor round up time. As we get closer to Apple's annual September iPhone event, all the speculation is coalescing around a few, now-familiar themes.
From Bloomberg:
On iPhone Xs Plus:
On iPhone Xs:
On the 6.1-inch less-expensive iPhone 9:
And, yeah, I'm just using random names for all three phones because, following iPhone X, I'm not sure how Apple will play the next-gen name game this year.
August 27, 2018: Apple A12 SoC expectations
Last year we got the Apple A11 Bionic system-on-chip (SoC), with its neural engine block and custom graphics core (GPU). This year, it'll be the A12 (Redacted), fabricated on Taiwan Semiconductor's new 7 nanometer process. So, never mind architecture, what could that mean for process improvement alone?
From Macworld:
August 16, 2018: Yet more Apple Pencil rumors for iPhone (2018)
I'd be so happy if this turns out to be true.
From Economic Daily:
It would be good on iPhone. It would be great on iPhone Plus.
Grain of salt, yeah, but sometimes salt tastes so good.
August 14, 2018: $699 LCD price and Apple Pencil support get fed to the rumor mill
Obviously, I'm a huge fan of Apple Pencil on iPhone, but it's unclear that these rumors have any real sourcing behind them. Still, it's silly season so they're bound to get pickup.
From TrendForce:
Also:
The LCD model should slot into where iPhone 8 currently sits, which is at $699 for the non-Plus model. So we'll see what 6.1-inches of screen do to those numbers.
August 4, 2018: Apple chipset supplier TSCM hit by computer virus
Taiwan Semiconductor Manufacturing Company (TSMC) has been attacked by malware, resulting in the disruption of its production lines.
From Bloomberg:
No word yet on how, if at all, this might affect the ramp up for Apple's A12 System-on-Chip, widely expected to power the next generation of iPhones coming this fall.
August 3, 2018: iPhone X Plus icon found in latest iOS beta
No idea how this keeps happening. But, for fans of spoilers, it does.
July 31, 2018: iPhone (2018) 'dummies' gets shown off on video
First, you get the photo. Then, you get the video. That's how "dummy" hype works.
Just over a month to go until Apple announces the real thing.
July 30, 2018: Here are your alleged iPhone (2018) 'dummies'
Ben Geskin has shared what are purported to be iPhone X Plus and iPhone 6.1-inch "dummies":
A "dummy" is something that gets built based on alleged schematics for actual devices. It's not uncommon, for example, for a case company to build a "dummy" iPhone so they can try and get product ready as soon as possible following the actual launch.
Given how much money is involved, and how much the supply chain can leak, some years the dummies are pretty accurate. Other years, like with the Touch ID-on-the-back dummies from last year... not so much.
Consider these iPhone (2018) "dummies" for what they are — fun signs on the road towards iPhone (2018) launch.
July 24, 2018: Multiple colors once again predicted for 6.1-inch iPhone (2018)
It's often hard to tell what's rumor and what's regurgitation of rumor, especially from the financial analyst community. Keep that in mind as you read the latest on iPhone (2018) color variants for the 6.1-inch model.
From Makotakara:
If this pans out, it'll be interesting to see how well the colors sell, and which colors sell the best. Nailing demand forecasting for that many SKUs is tough.
July 23, 2018: Fast charging on iPhone 9 may require USB-C authentication
These sound like minor implementation details, but because everyone cares so much about the next-gen iPhone, it may be worth a read .
From Macotakara:
In other words, non-certified knock-off chargers may not deliver as much juice. Good to know!
July 17, 2018: Front panels of 2018 iPhones supposedly leaked
Leaker Ben Geskin has tweeted out photos of a set of supposed iPhone front display panels for this year's new models. The panels are supposedly for the new version of the 5.8-inch iPhone X, as well as the rumored 6.1-inch LCD iPhone and 6.5-inch iPhone X Plus.
July 5, 2018: Next-gen iPhone rumored to come in silver, space gray, gold, red, blue, orange, gray, and white — oh, my!
Ming-Chi Kuo isn't back with new Apple rumors. Dude never left. He simply switched companies.
From Economic Daily News, Google translated:
When Apple chose not to price drop iPhone 5 and, instead, replace it with iPhone 5c, it when full-on rainbow with the color options. Now that Apple is reportedly choosing not to price drop the iPhone X, it might be doing the same thing with the 6.1 replacement.
Nothing is official, though, until we see it on stage.
July 2, 2018: Rumored iPhone 9 USB-C charger purportedly caught on camera
From Chiang Dian Tou, translated by Google:
The photos show pretty much exactly what the rumored specs showed previously: A wide, flat 18W charger with USB-C on one end and AC plugs on the other.
Again, nothing is official until Apple announces it, but a USB-C fast charger in the box makes the kind of sense that does.
Tap/click through for all the pics.
June 4, 2018: All 2018 iPhone models will reportedly launch in September
Ming-Chi Kuo, noted Apple analyst now working for TF International Securities, is back with a new supply chain report for investors, claiming that Apple will pursue an "aggressive" pricing strategy with this year's iPhones, which will apparently all come to market in September of this year. According to Kuo (via MacRumors), Apple will offer lower comparative prices following concerns that price had a negative impact on sales of the 2017 iPhone lineup, despite the iPhone X being Apple's single best-selling iPhone in the last few quarters.
The second generation of the iPhone X will reportedly now start between $800 and $900, rather than the $999 starting price of last year's model, while the large "iPhone X Plus" model will start between $900 and $1,000. The rumored 6.1-inch LCD iPhone will apparently adopt a more traditional pricing point in Apple's iPhone pricing structure, starting between $600 and $700.
June 1, 2018: LCD version of iPhone (2018) might be delayed... but far more likely, market manipulation has started!
Every year it's the same thing: Before a new iPhone is announced, rumors start to spread about yield rates and delays. This year, for the iPhone XI — or whatever Apple ends up calling it — those rumors are starting super early.
"An analyst" doesn't really say much since, absent a name, we can't consider their trackrecord, if any. Given the general history, though, it's also very possible this is less a rumor and more yet another attempt to manipulate Apple stock.
So, don't take it even with a grain of salt. Don't take it at all unless and until quality information becomes available.
May 23, 2018: TSMC reportedly starts spinning up Apple A12 chipset for next-gen iPhone
Taiwan Semiconductor Manufacturing Company reportedly edged out Samsung's silicon fab for iPhone (2018) chipset production. And now, it sounds like A12 is ramping up.
Mark Gurman, writing for Bloomberg:
Intel is still struggling to solidify its 14-nanometer process and move to 10-nanometer for future chips, so getting A12 up and running on 7-nanometer this year shows just how different the mobile (read; ARM) and traditional (read: x86) platforms have become.
We should see A12 launch alongside the 2018 iPhones this September. The real question is, after A10 Fusion and A11 Bionic, what will Apple call them?
May 16, 2018: Apple's next iPhones could come with 18-watt charger standard
Apple might be packing an upgraded charger with this year's iPhone lineup, as least according to a new report from ChargerLab. Citing supply chain sources, ChargerLab claims that the 2018 iPhones will have an 18W USB-C-to-Lightning charger in the box.
This would be an upgrade of the 5W charger currently packaged with all iPhone models.
May 10, 2018: LCD iPhone (2018) display might be just what you ThinQ (sorry!)
Due to continued OLED supply limitations and pricing, the less-expensive of the three rumored new iPhones for 2018 is widely expected to use an LCD display. A new rumor suggests it might even be the same as the one found in the new LG G7.
From Business Korea:
Here is it, in action, on the G7:
May 7, 2018: iPhone X Plus (2018) will — wait for it — be iPhone Plus sized!
From Macotakara:
I think it's safe to say this has always been the assumption. Same as iPhone X is regular iPhone size-ish, iPhone X Plus would be Plus iPhone size-ish.
Camera improvements happen every year because they help sell iPhones. Hard.
The portrait restriction was to get Face ID solid faster. It helped to have a known orientation and optimize for it. As the technology improves, restrictions can be removed. So, this makes sense.
So does horizontal support for the next-generation iPads Pro, of course.
May 2, 2018: Apple rumored to include 18W USB-C fast-chargers with next-gen iPhones
Apple currently includes 5W USB-A chargers in every iPhone box. But that could leap to 18W USB-C fast chargers with iPhone 9 / iPhone XI as soon as this year.
MacRumors picked up the rumor from Weibo:
There's no track record for this source but it does feel like a step Apple should be taking. The existing USB-C charger, sold separately, will get you to 50% in about 30 min. An in-box version should be similar.
Speed comes at the expense of longevity, of course. Faster charging creates more heat which breaks down batteries faster, but Apple is really good at managing the charging process and most users shouldn't see much difference over the life of the battery.
Nothing is official, though, until Apple announces it.
April 24, 2018: Dual SIM-card 6.1-inch LCD iPhone rumored for 2018
Supply-chain information exfiltrator Ming-Chi Kuo of KGI Securities is back in the news with another note to clients. In it, he claims Apple could be prepping two versions of the lower cost 6.1-inch LCD iPhone for 2018: One with a single SIM-card slot, and one with dual slots.
From MacRumors:
Dual SIM-card slots are popular in Asia, where connecting to multiple carriers is a far more common requirement than in is in North America. Offering the capability could enhance Apple's appeal, especially at the lower price tier.
April 13, 2018: FCC leaks unreleased gold iPhone X —could we see it for iPhone XI?
A gold iPhone X could be on the horizon … if Apple's FCC filings are to be believed, anyway. The documents, which were filed back in September of last year, show a gold iPhone X with a gold stainless steel band, a gold(ish) backplate, and a black display.
It appears the documents were filed as part of Apple's planned launch of the iPhone X, which is available in both black and white. It's unclear why this gold iPhone X isn't included in Apple's lineup, but folks on Twitter are speculating this could be a hint at whatever comes after the iPhone X.
Maybe there's a rose gold iPhone X hiding somewhere in those documents! Hey, a person can hope, right?
January 19, 2018: KGI once again predicts larger iPhones (and larger Chinese appeal)
KGI Securities financial analyst Ming-Chi Kuo, who has a solid record when it comes to getting supply chain-sourced information on Apple's upcoming products, reiterated his previous predictions for the 2018 iPhone lineup.
From MacRumors:
Those sizes would be in addition to an updated version of the current 5.8-inch OLED iPhone X. Kuo believes both the larger size 6.5-inch and lower priced 6.1-inch would help Apple boost interest in China.
December 8, 2017: 2018 iPhones may get an energy boost from new battery design
According to KGI analyst Ming-Chi Kuo, Apple's rumored 2018 iPhone X will feature a new, L-shaped battery that comes in a single cell and has increased capacity over current iPhone batteries, while the rumored 6.5-inch variant will supposedly adopt the current two-cell design. Additionally, Apple's LCD iPhone for 2018, rumored to be a 6.1-inch all-screen design similar to the iPhone X, will reportedly also see a bump in battery life over previous LCD phones. From AppleInsider:
November 14, 2017: Apple reportedly considering new time-of-flight 3D sensor for rear iPhone cameras
Apple has already deployed a front-facing TrueDepth camera system, which uses infrared mapping to deliver 3D data to iPhone X. Now, Apple is rumored to be considering a laser-powered time-of-flight system to do similar for the rear camera(s).
From Bloomberg:
Apple is all-in on augmented reality (AR) so, regardless of the technology used, expect the company to keep increasing capabilities and pushing boundaries — in existing product lines and beyond.
November 13, 2017: As many as three full-screen iPhones could be coming 2018
KGI analyst Ming-Chi Kuo claims that Apple is planning three full-screen iPhones for 2018. In addition to an updated of the 5.8-inch model of the iPhone X, the company will also reportedly launch a bigger 'Plus' variant with a 6.5-inch OLED display, along with an all-screen LCD model with a 6.1-inch display. All of this comes in a KGI note to investors (via MacRumors):
October 9, 2017: All 2018 iPhone models to sport TrueDepth camera systems
Apple is all-in on Face ID, face tracking for AR, and the TrueDepth camera system launching alongside iPhone X. So, to the surprise of no one, new rumors suggest that TrueDepth camera system will be making its way to all iPhones launched in 2018. (Namely, a second generation iPhone X and whatever smaller and/or larger version comes with it.)
Ming Chi Kuo, as quoted by MacRumors:
July 6, 2017: Three OLED iPhones rumored to be coming in 2018
According to Nikkei, Apple may be planning on releasing three new iPhones in 2018, each sporting an OLED display. Apple is currently rumored to be producing one iPhone model this year with an OLED display.
What will the next iPhone be called?
Up until this year, Apple's naming pattern had been consistent: iPhone [Number] followed by iPhone [Number + s].
iPhone: 2007
iPhone 3G: 2008
iPhone 3GS: 2009
iPhone 4: 2010
iPhone 4s: 2011
iPhone 5: 2012
iPhone 5s: 2013
iPhone 6: 2014
iPhone 6s: 2015
iPhone 7: 2016
But 2017 changed everything. Instead of iPhone 7s, we got:
iPhone 8
iPhone X (iPhone "Ten")
So, what follows iPhone 8 and iPhone X? Will it be iPhone 9 and iPhone X2? Just iPhone 9 or iPhone X2? Something else entirely?
Apple can name the next iPhone anything it wants. iPhone 9. iPhone X2. iPhone Edition. iPhone Pro. iPhone Mother of Dragons. It's purely a marketing decision.
For the sake of simplicity, iPhone 9 will be used in our rumor roundup until we hear otherwise.
Will there be an iPhone 9 Plus or an iPhone 9 SE?
Quite possibly. The advantage of iPhone X is that it puts a bigger-than-iPhone-Plus display into a roughly the same size casing as a regular iPhone. That leaves open two possibilities:
iPhone 9 Plus: Same size as iPhone 8 Plus but with an even bigger, 6-inch (ish) display.
iPhone 9 SE: Same size as iPhone SE but with an iPhone 8-like 4.7-inch (ish) display.
When will the iPhone 9 be released?
Since the iPhone 5, Apple has announced every flagship iPhone during a special event held the first or second Tuesday or Wednesday of September.
iPhone 5: September 12, 2012
iPhone 5s: September 10, 2013
iPhone 6: September 9, 2014
iPhone 6s: September 9, 2015
iPhone 7: September 7, 2016
iPhone 8: September 12, 2017
iPhone X: September 12, 2017
Likewise, since the iPhone 5, Apple has shipped every flagship iPhone the second Friday following the event, with the exception of the iPhone 6s in 2015, which shipped the third Friday following the event, and iPhone X, which shipped on November 3:
iPhone 5: September 21, 2012
iPhone 5S: September 20, 2013
iPhone 6: September 19, 2014
iPhone 6s: September 25, 2015
iPhone 7: September 16, 2016
iPhone 8: September 22, 2017
iPhone X: November 3, 2017
Past patterns are the best indicator of future events, but they aren't perfect. Apple can and will throw curveballs whenever the company's logistics or strategy demands. So, be aware of the dates but don't be bound to them.
What can we expect in the iPhone 9 design?
Now that Apple has debuted an all-new design language with iPhone X, it's possible the company will stick with it for at least another generation. That was the pattern with iPhone 3G and iPhone 3GS, iPhone 4 and iPhone 4s, and iPhone 5 and iPhone 5s. With iPhone 6 through iPhone 8, Apple changed materials and manufacturing processes but stuck with the same design language for four years.
iPhone 3G: 2008 — Plastic shell.
iPhone 4: 2010 — Antenna band and glass back.
iPhone 5: 2012 — 16:9 aspect ratio, chamfered edges.
iPhone 6: 2014 — Bigger screens, rounded edges.
iPhone X: 2017 — Edge-to-edge display.
There's always a possibility Apple will iterate more quickly following iPhone X, but it's likely what we'll see with iPhone 9 is multiple sizes of the same design.
Will touch ID make a comeback?
With iPhone X, Apple deleted the Home button and Touch ID along with it. Instead, we got Face ID. It's always possible Apple will bring Touch ID back, implementing it below the OLED display.
What colors will the iPhone 9 be offered in?
So far Apple has saved the new iPhone finishes for the years absent big redesigns, save for 2017's iPhone 7 Project RED special edition.
iPhone 5s: 2013 — Gold.
iPhone 6s: 2015 — Rose gold.
iPhone 7: 2016 — Black and jet black.
iPhone 7: 2017 — (Product) RED.
iPhone 8: 2018 — "New" gold.
Here again, Apple can do anything the company wants, any time the company wants, including introducing new colors at any time.
Apple Watch Series 2 being released in white ceramics sent the internet atwitter with thoughts of iPhone 9 being made out of the same material. Tougher than stainless steel, it still remains to be seen if it would hold up in a device as big as an iPhone or iPhone Plus.
Notably, Greg Koenig of Luma Labs thinks it unlikely, writing on Atomic Delights:
What specs will the iPhone 9 have?
Since Apple introduced the company's first branded system-on-a-chip (SoC) in 2010, every new iPhone has come with a new A-series chipset. If Apple sticks to that pattern, the iPhone 8 and iPhone 8 Plus will ship with Apple A11 processors. New SoC typically take advantage of better processes that let them be faster and more powerful but also more energy efficient.
Apple has also been adding coprocessors to handle motion voice activation, fusion cores, and neural engines. A12 will continue to push Apple silicon forward. That inclues a second generation custom GPU as well.
What about an iPad Pro-style Smart Connector?
Apple typically introduces a technology in one device and then rolls it out across the lineup. Retina was like that with iPhone 4 and Touch ID with iPhone 5s. The Smart Connector, which debuted with the iPad Pro in the fall of 2015, attaches via a magnet and runs power, data, and ground directly from the device. It currently powers Apple's Smart Keyboard and a similar keyboard from Logitech, with more expected to follow.
Apple could certainly engineer a Smart Connector for iPhone 9, but what it would be used for is a more interesting question. Apple made a smaller Smart Keyboard for the 9.7-inch iPad Pro, but would the company make an even smaller one for iPhone 8 Plus? For iPhone 8 standard?
What about the display? Will we get ProMotion?
With iPhone 8 and iPhone X, Apple brought TrueTone to iPhone. It makes sure the color temperature of the display matches the ambient color temperature. That way, whites don't look yellow or blue — they look white. Like paper.
What iPhone 8 and iPhone X didn't get was ProMotion.
Introduced with the 2017 iPads Pro, ProMotion allows dynamic refresh so the display can ramp up to support Apple Pencil and impossibly smooth scrolling, and ramp down to conserve power.
Like TrueTone, once you see it, you want it everywhere. Including the next-generation iPhone.
Will the iPhone 9 be waterproof?
iPhone 7, iPhone 8, and iPad X are water resistant but not waterproof. Rated IP67, they can survive accidental splashes, dunks, and floods, but isn't rated as highly as some competing phones from Samsung and others.
Although swimming with an iPhone may not be on everyone's wish-list, those whose jobs or pastimes expose them to the elements, and even those who want to do underwater photography at shallow depths would be thrilled by IP68.
Will the iPhone 9 have distance charging?
iPhone 8 and iPhone X introduced inductive charging to iPhone. It uses the Qi-standard, though, and currently requires the iPhone to be placed in direct physical contact with the charging pad.
There have been rumors for a while that suggest Apple is also working on resonant inductive coupling, which would let devices charge even at a distance. (The greater the distance, the lower the efficiency.) So, instead of having to put the iPhone in direct contact with the charging pad, you can simply put it down anywhere nearby the power station.
It would make charging even more convenient and less error-prone. If Apple can nail it.
Okay, what do we know for sure?
Only that nothing is confirmed until an Apple executive holds an iPhone 9 up on stage!
Get the best of iMore in in your inbox, every day!
Rene Ritchie is one of the most respected Apple analysts in the business, reaching a combined audience of over 40 million readers a month. His YouTube channel, Vector, has over 90 thousand subscribers and 14 million views and his podcasts, including Debug, have been downloaded over 20 million times. He also regularly co-hosts MacBreak Weekly for the TWiT network and co-hosted CES Live! and Talk Mobile. Based in Montreal, Rene is a former director of product marketing, web developer, and graphic designer. He's authored several books and appeared on numerous television and radio segments to discuss Apple and the technology industry. When not working, he likes to cook, grapple, and spend time with his friends and family.
I think we'll see an iPhone X Plus next year (maybe before fall in spring 2018.)
In Fall 2018 we'll see a minor itteration of the iPhone X (spec bump and at most very slight design changes.)
Another iteration of the iPhone 6/7/8 with potentially reduced bezels at the top/bottom, but it will still be LCD. They could add FaceID, but OLED and FaceID are expensive so they may not. I think if they add FaceID it's to ween people off of TouchID so that they can eliminate it completely in the future.
So to summarize, an other iPhone X/X+ like phone at the top price tier with OLED. Another iPhone 8/8+ at the power price tier with LCD.
Either that, or the 2017 iPhone X drops in price and takes over the lower cost market as they introduce 2018 models thus eliminating the iPhone8 design altogether, but I don't think that'll happen until 2019. I think we have one more year of new design plus old design.

I think this is a biggest BS click bait ever.
But what the he11, iPhone X is not even available for sale, why not to talk about iPhone XV - what do we know so far... it will have some kind of screen... and processor, there will be battery for sure...some cameras, maybe on the edge so we can have proper optical zoom x100...

You forgot it'll have a drone function so it'll fly next to you so you won't have to hold it - and it'll improve those selfie shots.

One things for sure it'll be a rip off

Apple has an iPhone release. an iPad release. a watch release. and once in a blue moon; a mac update.
Apple sites, at best, have 4 months of content to talk about. the other 8 months is filler material. Rumors for the "next" iPhone start about 8 minutes after launch of the current iPhone. Not click bait. you just must be new to apple sites.

Does not matter I will be upgrading to the next one like I do every year. Thanks to the upgrade program. Cant wait to see that next screen, camera and processor. HEHEHEHE

This year they sell SE, 6s/+, 7/+, 8/+, X
My prediction:
Next year: a new SE, 7/+, 8/+, 9/+, X, 11/+
The following the: the rev-ed SE, 8/+, 9/+, X, 11/+, 12/+

It's a bit of a mess really, isn't it?

This is why I wish Apple were using a more Mac-like naming scheme: 'iPhone 4" (2016)' instead of 'SE', and 'iPhone Pro 5.8" (2017)' instead of 'X'. It's just so much clearer to prospective purchasers, I think.

I'm over the ip6 look. Can't wait to check out the x. I'm sorry ready for an upgrade but I have a 6sp and it still runs great except battery life. I just rather replace battery than pay another 800$ for the same phone I already have. And 1000$ ? Man that's steep for a new design. Samsung phones look awesome maybe android is rough but the galaxy series of phones look really sweet. Apples should have launched 3 of the new design iPhones this year! All oled 4.7, 5.8, 6.2 all bezeless and just keep 6s and 7 as cheaper solutions.

Oh God... As dumb as this sounds, can we at least get passed the 10 launch before we start talking about the 9! I really can't believe I just typed that sentence and it actually makes sense...

They do this every year, they talk about the next iPhone as soon as a new one is released

What else are they going to write about? It's a site about Apple who only do about 3 special things per year! IMore has a lot of time to fill.

They do articles about accessories, iOS/macOS/tvOS/watchOS updates, new apps, new product updates, rumors, and much more

iPhone X and iPhone XPlus (XPlus is 6.4" with pencil support) spec bump; camera bump; more colors
iPhoneXse (all glass iPhone SE with 4.7" LCD; 64/128gb)
iPhone 7 and 7Plus (because twice was not enough; stil LCD)

I'd love to see a X plus with about 6.2" screen (same physical size as the current plus models). I bought an 8 plus as I like big phones for typing.

Typing is the main reason I buy a big phone. I love physical keyboards but since they're not really available anymore, I make do with the touch screen keyboard. I hate autocorrect because it replaces words I don't want it to, so I have to rely on making sure I touch each key as accurately as possible, and a bigger screen is always better for this

Same here. I still miss the BlackBerry Passport keyboard but the iOS one isn't bad. (Not an Android fan so I can't go for the latest physical keyboards).

Even most of the Android phones don't have physical keyboards sadly. But yeah, in terms of touchscreen keyboards the iOS one has always been my favorite. I was never a fine of swipe to type

Not really, it's part of a schedule. Every year after a new iPhone is released, they post this rumors article about the next one

I really hope for the sake of your dignity and self-worth you are getting paid by Rene, otherwise you have made a complete circus clown of yourself by giving Rene a full prostate checkup on a daily basis

Slight article correction - should be: iPhone 8: 2017 — "New" gold.
Not 2018. Really nice article, regardless!

This is one of the lamest writeup I've ever seen. iPhone 9, really? Rene, this was certainly not needed. Running out of ideas what to write??

Michael Fassbender as Steve Jobs to Craig Daniels as Scully: "You know why I killed the Newton? It was the stylus!" So, sure. Include a pencil.
That which is old is new again.

Yet another feature Apple is copying from Android OEMs.

But we don't talk about all the features Android copies from iOS, right? 😉

It's 50/50, like returnmyjedi said below

It's pretty much 50/50 these days (in the early days Android definitely pilfered more from ios), and both ecosystems are far better for it.

I would totally buy an iPhone Mother of Dragons.

"9"? No way.
The gaping hole is the product line is lower cost OLED phones. I'll leave all the speculations about when and what dimensions to others.

This is THE example of clickbait.
There is no news or any semblance of story to this story.

Let's get the inotch out first then we can start 2018 rumors. Not 2019.

The notch seems like a purposeful design decision. What I mean by that is, it's unlikely it's going to go anywhere anytime soon

"Who wants a stylus? You've got to put it away, you lose em, YUCK. Nobody wants a stylus." I'm waiting for the usual suspects to explain away that: A: The Pencil isn't a stylus B: That's not what Jobs meant (even though that's clearly what he DID mean)

Jobs was referring to controlling the iPhone. The Pencil is for drawing, sketching, making handwritten notes. Not for navigating the iPhone

When did Samsung promote the pen as a way to only navigate your phone?!!!! you want a stylus that can only draw but cannot navigate the phone as opposed to a stylus that can do both? great thought process, as always.

I didn't actually say that, did I? I was answering Narthalus's point B

Then either you didn't understand what Steve Jobs meant or he made a completely irrelevant comment since no company promoted their Stylus primarily as a tool to navigate phones so not sure what "Jobs was referring to controlling the iPhone" means.

Are you drawing/handwriting notes on your phone? Then you want a stylus. Are you navigating your phone? Then use your finger. That's what Jobs meant. I can't put it any clearer than that

That's exactly what he meant

iPhone 9 already. I am that good.

Somebody let me know when iMore writes yet another article in which it castigates other web sites for producing "click bait" please. I'd like to reference this as the best example of the genre.

I bet Apple releases an iPhone 9 and an iPhone XI next year. 9 will keep touch ID and the home button and X1 will be the next iteration of the X with no home button and FaceID.

Number one on my wishlist, above fancy cameras and Face ID shenanigans, are better antennae. Dunno about the X, but my work phone has been upgraded to an 8Plus and it still struggles to get 4G and sometimes even a connection where my personal phone (Pixel 2) manages. I was hoping the glass back would improve matters over the similarly woeful 7 Plus but alas no. Hopefully the rumoured move to Intel chips will improve things in the future.

If there was a poll, I would vote for this: "iPhone 9 SE: Same size as iPhone SE but with an iPhone 8-like 4.7-inch (ish) display"
Or may iphone 8 physical size with a 5.5 -inch (ish) display.

I "hope" they take the X 'notch' display to all iOS devices.
an SE that is 5S "size" but full X-like screen making it closer to a 4.5"
Keep the 5.8" mid-sized
Add a 8+ sized 6.4" X
3 phones: a size for everyone, small, medium, large.
3 colors, silver, rose, and Gray.

Ah yes the yearly rehash of the same article with year old comments...

At least this one is new :)

So... what do we do? Buy an iPhone X now, or wait until we see what's new in September?

I mean it's really down to you. For me personally, I skipped the iPhone X because it seemed like Apple were introducing a lot of new things and I wanted to get the one after so any problems would be fixed by then.

I kinda want to see the
iPhone XE
iPhone XIE
etc... smaller versions of the X but more affordable. curious if they will do it

iPhone Xie sounds Chinese, which generally makes me think of Chinese fakes and that's probably not a good thing

The iPhone 8 size is the max size physical I will get. I feel that Apple are penny pinching with the 8 having 2gb ram and the 8 plus having 3gb ram.
I'll be interested in a smaller iphone as long as the specs are what is should be for storage, ram, cpu, etc.

iOS has good memory management, and even with 2GB you shouldn't experience any issues

I decided to skip this round. I wanted the X originally but like many people I believe have is $999 is a ludicrous amount to pay for the entry level of a new model. Until the next iteration in 2019 I will stick with my iPhone 7. If Apple wants to continue down the $1000+ price point, I will migrate to Android or go back to a flip phone.

I honestly don't think they will change the price point. Apple products are considered "premium" products, which to them means they can charge whatever they like as long as people will buy it. Apple products have always been expensive, so it comes to no surprise to me, but the iPhone X certainly didn't struggle in sales so Apple knows they can sell it for $999. For me personally I skipped the iPhone X because Apple introduced a lot of new things which I imagined there might be some teething issues, that would get fixed in the next iPhone. I'm aware that the next iPhone will probably be at the same price point, so I'll have to deal with it (and most importantly, protect it)

I think Apple will call the next iPhone X.1 or 10.1 and move to a Major .Minor naming scheme for their phones. With the Major version indicating the overall look-and-feel of the phone and the iOS iteration of that moment.

I'm not so sure, isn't that what the "S" models are for? E.g. the iPhone 6S is the iPhone 6.1

I only care that it supports Band 71 for Tmobile!

It might be called 'iPhone 10 Fall Creators'. They skipped iPhone 9 because of no Windows 9 :D :D

The iPhone lost count after the iPhone 4, which was actually the 4th iPhone. Them skipping 9 is no surprise, I still hate how people say the letter X for the iPhone X

After years of referring to OSX as Oh Es Ex, I'm kinda used to folks saying iPhone Ex.

So if your friend is wearing a nice watch with roman numerals for the numbers, does he tell you it's "eks"-o-clock? Quarter past X?

Just gotta love these rehashed articles with year old comments...

eBay. I recently get a 10.5 DVD for a PPC Mac.

"iPhone Xs Plus" for 2018 would stick to the naming convention.

Can't wait for Rene's article about how the new iphone isn't symmetrical. Jk he only does that for android phones, it will be ok when apple does it. https://9to5mac.com/2018/09/11/rumor-iphone-xs-max-weight-apple-watch-64...

Which part of the iPhone XS is asymmetrical? It says it in the title of the article but I couldn't see anywhere in the article itself where it describes what part is asymmetrical

Make your Zune jokes now? Huh?

Brown was one of the color options available from Microsoft for Zune.

i have so many pages saved from imore about what will be announced and so many times everyone was wrong. nobody really knows and stupid to talk about it. but i guess it sells.

This was an iPhone/Apple Watch event, I don't know why anyone would expect MacBooks. I was expecting AirPods, but I guess predictions can't always be correct.
Thank you for signing up to iMore. You will receive a verification email shortly.
There was a problem. Please refresh the page and try again.