iMore show 687: Diaper Cam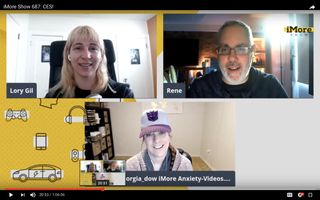 (Image credit: iMore)
Lory reports on her adventures at CES in Las Vegas as the gang chat about the best, worst, and most absurd ideas from the show. It's not just creepy robots, but there are a lot of creepy robots.
On a much more serious note, they also discuss the US Justice Department's findings on the Pensacola shooting and Apple's participation in the case.
Listen now
Watch now
Links
Justice Department announces findings on the Pensacola shooting
Sponsors
Lightstream: You know what feels great? Paying off high-interest credit cards, getting a lower rate, and saving money. Refinance your credit card balances and save with a Credit Card Consolidation loan at lightstream.com/imore.
Hosts
Be part of the show!
Send in your comments, questions, feedback, or follow-up to:
Jim Metzendorf has been using Macs since 1994. He is a podcaster, freelance audio/video editor, and author of 'The Professional's Guide to Audio Podcast Production'. Jim also teaches audio production at a college in Cleveland, Ohio. Follow him on Twitter: @jmetzendorf
Get the best of iMore in in your inbox, every day!
Thank you for signing up to iMore. You will receive a verification email shortly.
There was a problem. Please refresh the page and try again.