iMore show 724: A Donut Ring of Magnets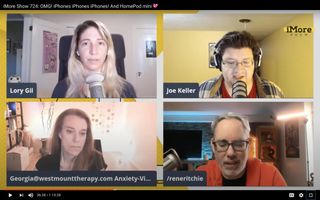 (Image credit: iMore)
The glorious horde of iPhones 12 are finally upon us as the crew are joined by Rene Ritchie to discuss each model along with the adorably smol HomePod mini. Which model and color are your favorite?
Listen now
Watch now
Links
Apple just brought MagSafe back baby! Attach all your accessories to the back of your iPhone | iMore
Sponsors
FightCamp: On Demand Boxing Workouts — Try FightCamp for 30 days, and if you don't love it, they'll refund your money! Train like a fighter and turn your sweat into results. To try Fight Camp for 30 days, just go to: joinfightcamp.com/imore
Hosts
Be part of the show!
Send in your comments, questions, feedback, or follow-up to:
Get the best of iMore in in your inbox, every day!
Jim Metzendorf has been using Macs since 1994. He is a podcaster, freelance audio/video editor, and author of 'The Professional's Guide to Audio Podcast Production'. Jim also teaches audio production at a college in Cleveland, Ohio. Follow him on Twitter: @jmetzendorf
Thank you for signing up to iMore. You will receive a verification email shortly.
There was a problem. Please refresh the page and try again.