iMore Show 767: An EPIC event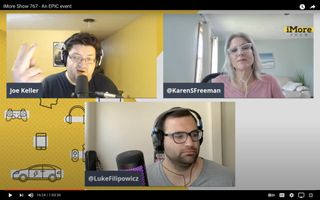 (Image credit: iMore)
This week on the iMore Show, we'll talk about Apple's imminent 'California Streaming' event, as well as the big news out of the Apple/Epic trial!
Listen now
Watch now
Links
Sponsors
Setapp

(opens in new tab)

: The best apps for Mac in one suite. Try Setapp free for a week. If you like Setapp, pay just $9.99 per month as long as it's useful to you.
Hosts
Be part of the show!
Send in your comments, questions, feedback, or follow-up to:
Get the best of iMore in in your inbox, every day!
Jim Metzendorf has been using Macs since 1994. He is a podcaster, freelance audio/video editor, and author of 'The Professional's Guide to Audio Podcast Production'. Jim also teaches audio production at a college in Cleveland, Ohio. Follow him on Twitter: @jmetzendorf
Hi, I enjoy the more show and recognize that you did not have much time to analyze the Epic decision before the show but I think you repeated what I believe are some common misperceptions about the decision. As far as I can tell the ruling actually said Apple had to get rid of its "anti-steering provisions" in its developer agreement. Apple has already done some of that.
It does not allow the creation of additional app stores or side loading, and I don't believe it allows developers to use their own payment mechanism for IAP (although reasonable people can disagree about this). It would allow the Netflix app to say "follow this link to sign up for Netflix" in the Netflix iOS app.
Also, Apple's right to a 30% commission on In App Purchases is not contingent on Apple processing the payment. It makes it easier for Apple to collect but even if this ruling allows Amazon to let you buy Kindle books in the kindle app, I doubt they will do it since they would still owe Apple their 30%. If the decision ends up allowing alternative payments methods for IAP the developer would still owe owe Apple the 30%. Also, I was entirely unable to comprehend how the Apple commission could be viewed as regressive since developer who give away their app pay nothing except for their Developer Program membership fee. Apps that makes less than $1M/year pay 15% (agree this should be simpler). And beyond that everyone pays 30%. This is almost by definition a flat tax rate not a regressive one. I suppose 30% of $2M could be considered a bigger impact on the developer than 30% of $50M but that is not typically described as regressive. The best and most detailed coverage I have seen on the is the Virtual Legality podcast and YouTube channel by an intellectual property attorney. He has done 50 some episodes so far including a two hour episode on the latest decision. Highly recommended.
Thank you for signing up to iMore. You will receive a verification email shortly.
There was a problem. Please refresh the page and try again.