iMore's favorite all-around tech bags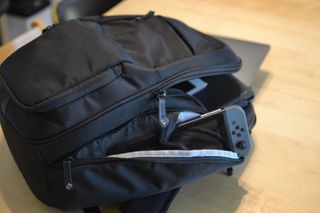 When you're a tech writer, you tend to be on the road more often than you ever thought you would. You also end up bringing practically every single tech gadget you own with you everywhere you go, which can really weigh you down. With much experience, we've all come to love and cherish a specific tech bag that becomes our go-to carryall for our most important gadgets and gizmos. Here are our favorite all-around tech bags.
Joe: Peak Design Everyday Messenger
I've talked about the Everyday Messenger here before, and it's a great way to carry around the tech you need each day. One of the best features about this bag is how customizable it is. The main compartment comes with foldable dividers that can be adjusted to accommodate whatever you need or removed altogether. You can change the strap to suit one of three different positions as well: high on your back, low on your back, or in a shoulder bag position.
While the main compartment is meant to hold equipment like a camera and lenses, the Everyday Messenger has a plethora of pockets that can hold everything else. Behind the compartment is a pouch for your laptop, which has its own pocket for a 10-inch tablet. Pockets in front can hold chargers, earbuds, pens, whatever you want. The bag itself expands and contracts based on how much it has to hold, and it's all secured by a magnetic clasp that's easy to open one-handed, yet still secure.
You can get the Everyday Messenger for $249 on Amazon.
See at Amazon (opens in new tab)
Susie: Tom Bihn Synapse 19
Tom Bihn's bags are made to last—hopefully, the Synapse 19 is the last laptop backpack I'll ever need to buy. It has pockets for everything, and I love how the water bottle pocket is dead center so it doesn't weigh down one side. It's also very customizable, offered in three fabrics and lots of color choices, and the optional laptop sleeve makes it security checkpoint friendly. It's lightweight but fully organizable. It's actually designed to be super lightweight for hiking, but also versatile enough to be your everyday commute bag. The Synapse 19 is the smallest version of the bag and is meant to fit persons sized 5'0" to 6'0". Tom Bihn makes different sized laptop bags for different sized people, so it's practically customized to fit you. The Synapse 19 costs $190.
Mikah: TIMBUK2 Division backpack
I do. not. like. big backpacks. I don't like the way they feel, I don't like the way they look on my back, I don't like looking like I'm carrying a bunch of stuff. I just don't like big backpacks. And that's why I love The Division Pack from Timbuk2.
It's a slim, protective, good-looking bag with plenty of storage space despite its thinness. It can hold my MacBook Pro, an iPad, a battery pack, charging cables, and other small accessories with ease, and — most importantly — without showing it. The backpack has really nice straps and a ventilated back panel (so your back doesn't get too warm while you're wearing it), it's got sternum straps (if you're into that kind of thing), and it's got a handy-dandy pocket for carrying a water bottle. Whether I'm doing on-the-go reporting or just regular ol' travel, my Timbuk2 bag is one of the first bags I make sure to pack up! It's also only $109, so you're not breaking the bank with this one.
See at Amazon (opens in new tab)
Lory: Booq Shock Pro travel backpack
I know, I know. I've already talked about the Booq Shock Pro backpack. But, seriously, that's how good it is. It's got all the compartments, all the pockets, and all my love. The padded backside pocket protects your laptop secure. The side pockets perfectly fit a bottle of water or Nintendo Switch. The main inside pocket has an additional mesh pocket for securing your tablet, your school books, your magazines, your Star Wars toys ... whatever! There are also separate compartments for your iPhone, your pens, and everything you might normally keep in your wallet or purse, but don't have to because you can put it in the Shock Pro. There is a bottom pocket that's specifically designed to fit a DSLR camera with a CamShell, which you can purchase with it, but I just stuff my sweater or other extra clothing I might have brought with me in it. The Book Shock Pro costs $195.
See at Amazon (opens in new tab)
Get the best of iMore in in your inbox, every day!
Lory is a renaissance woman, writing news, reviews, and how-to guides for iMore. She also fancies herself a bit of a rock star in her town and spends too much time reading comic books. If she's not typing away at her keyboard, you can probably find her at Disneyland or watching Star Wars (or both).
I also like carrying as small of a back pack as possible, but want something that I can put a ton of stuff (MacBook Pro 15" 2013 vintage, 12.9" iPad Pro, Bose QC35 Headphones in their case, hard drives, every cable I could ever need, ever, and lots of files I've been too lazy to scan). For this I use the eBags Professional Weekender. I love it because I can pack all the tech I could possibly need and can pack enough clothes/toiletries for a weekend trip. It can be carried as a backpack or when I need to appear more professional (I work in finance,l where the definition of professional is pretty conservative) I can tuck away the backpack straps, attach a single shoulder strap and carry it like a messenger bag. When I don't need all that space I my eBags Professional Slim Laptop bag. Nearly exact same design and the Weekender, but significantly more compact. It only comes with backpack straps, but I had my tailor sew on another anchor at the bottom so I can attach a single shoulder strap and carry it like a messenger bag for a more "professional" look.

Just got a Tenba DNA 11. Great alternative to Peak Design for half the cost.
Thank you for signing up to iMore. You will receive a verification email shortly.
There was a problem. Please refresh the page and try again.