Aria for jailbreak makes the iOS 7 Music app come to life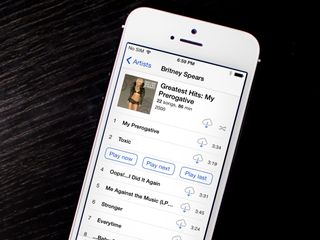 Aria is a jailbreak tweak for iOS that makes the iOS 7 Music app really come to life. Not only can you tweak and customize views, Aria also adds the ability to queue music just like you can in iTunes!
A lot of people didn't like the stock Music app in iOS 7, which looks to be largely influences by the iPad Music app. Luckily, if you're jailbroken, Aria can help you tweak the Music app to your liking again. Design wise you can change the grid views, change some of the interface colors, and more.
More importantly, Aria adds some functionality that makes the Music app better than ever. For starters you can queue music by holding down on any song and choosing to play it now or queue it for next. As you do this, the songs just line up. You can also choose to shuffle music once albums or a playlist is finished. That way you don't have awkward gaps of silence where you need to go back into the Music app in order to turn something back on.
If you happen to give Aria a try, let me know what you think of it in the comments. If you aren't jailbroken, are any of these features something you'd like to see come to stock iOS? Let me know that too!
Get the best of iMore in your inbox, every day!
iMore senior editor from 2011 to 2015.
Can this please be in ios 8!!! Sent from the iMore App

I doubt we'll be given the option to actually customize the player but I hope that some of the features are included. Basically the stock player looks/acts dated and we need more functionality than anything, but I kind of hope Apple takes inspiration from Google Music because the panning of and larger album art is a nice touch! Also, I HATE the new cover flow. Absolutely hideous. I would also like Apple to add label and MM/DD/YYYY information in album view when using iTunes Match (currently only works if you sync manually, blah). Basically we need an entirely new Music.app in iOS 8 haha Sent from the iMore App

At least add the option to customize color of music app in iOS 8! Won't happen though, thats not Apple. Sent from the iMore App

Funny that the most common opinion of apple is that they will most likely not give you "choice."

i would like apple to add the option lyric in the music, when playing music i need the app to take the lyric automatically from the internet, it will be good for me. and others i think. Daniel Dorilas
Editor @ http://cydia-jailbreak.com

I love Aria. The grid view is amazing. And I love that the music app is just like remote or iTunes where you can as songs to up next. Simple and the way the music app should be done. I cannot imagine not being jailbroken. This tweak and sooooo many others. I hope they can jailbreak iOS 8 or I'm stuck with the iPhone 5s! Sent from the iMore App

The ability to pick what's next makes it worthwhile alone. Hooking it up now! Sent from the iMore App

I've been using Ecoute as my Music app alternative for a long time. No need to jailbreak. Great app.

Is there still no way to crossfade songs on an iPhone like you can on an iPod??? Baffling this functionality was withheld from the wide-selling device??

God i so wish Apple would give you options in the music player to alter the color, and remove the album art from lists so that you get more entries per page. I like art but only on the now playing screen. I like options. Apple why do you hate options? i actually inquired about learning to make ios apps specifically to make a music player i liked. But that went nowhere because apple doesn't make the development app for windows and i don't have a mac.