InkyPen for Nintendo Switch: Everything you need to know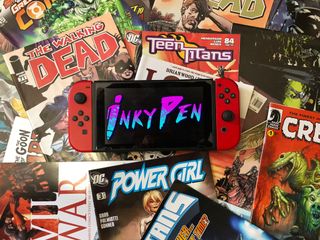 This year at Gamescom, we were introduced to InkyPen. If you are interested in what this comic book service on you Nintendo Switch is all about, here is everything you need to know!
Developers don't really seem to be crawling over each other in order to create applications for the Nintendo Switch. As it stands, Hulu is just about the only thing you can do on your Switch that isn't a video game. However, that will be changing in the not too distant future.
What is InkyPen?
InkyPen is a subscription-based comic book service that will be launching on the Nintendo Switch. Unlike other comic book services, you will not have to buy individual titles to read. It is a bit more akin to something like Netflix. You will pay a flat monthly subscription fee and be able to access the entire InkyPen library. I find this idea in and of itself to be an awesome and ambitious concept.
What comics can I read with InkyPen?
At the moment the InkyPen folks have announced that they will be working with publishers like IDW, Dynamite, and Valiant comics. Both IDW and Dynamite have acquired a broad library of licenses for various intellectual properties like Transformers, Rick and Morty, Game of Thrones, and James Bond. After a relaunch a little over a decade ago Valiant comics has made a big push toward quality titles and have done a great job ensconcing themselves in the comic book market. There are a handful of other international publishers that InkyPen has partnered with but with the three previously mentioned, there should be a good amount of fun titles to read.
All that being said, the elephant in the room is the conspicuous absence of the big three. With the bulk of all comic book sales belonging to DC, Marvel, and Image comics, their lack of presence on the InkyPen platform is bound to be a disappointment to many comic fans. It is entirely possible that the folks at InkyPen are still actively trying to come to an agreement with DC, Marvel, and Image but I have heard nothing about that one way or the other.
How much will it cost?
As I previously mentioned, one of the most interesting things about InkyPen is their subscription service concept. For a monthly subscription cost of $7.99, you will be able to read all the comics your heart desires. Depending on the strength of their library, this could be a totally amazing deal.
When can I start reading?
We do not have a specific release date yet for InkyPen. However, we do know that we will have access to it sometime in November. That is perfect timing to curl up and read some comics when the chilly months start.
Other questions.
The announcement of InkyPen is pretty new and we don't have all of the pertinent details yet and I do have a few unanswered questions at the moment. The biggest unanswered question being whether or not will users be able to download titles to their Switch and read offline or have to stay connected to the internet to enjoy comics?
I am sure that more information will become available as time goes on and we will be sure to keep you in the look right here.
What do you think about the idea of comics on your Switch?
Let us know in the comments!
Master your iPhone in minutes
iMore offers spot-on advice and guidance from our team of experts, with decades of Apple device experience to lean on. Learn more with iMore!