The internet hath spoken: How social media is reacting to the #AppleEvent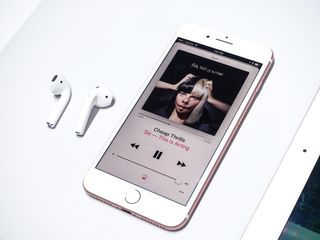 Yesterday, a lil', itty-bitty tech company (that has to do with fruit or something??? The details are fuzzy. Clarifying for a friend…) announced a couple of neat features on their shiny new toys – and if you missed if, them oh my god you're in for a treat.
After Tim Cook pulled up to the #AppleEvent with James Corden and Pharrell for some reason (not complaining, he looks like he's a lovely man), the two hour show-and-tell began.
Apple touched on a ton of new features, covering everything from new designs & innovations for the Apple Watch Series 2, to water-resistant capabilities, to the lack of headphone jack on the new iPhone, which will force users to use wireless headphones...
… which seems to have the internet really, really mad for whatever reason.
Here's how social media is reacting – or over-reacting, depending on where you stand – to the new announcements from yesterday's #AppleEvent!
1.
2.
3.
4.
5.
6.
7.
8.
9.
10.
11.
12.
13.
14.
15.
16.
17.
What do you think about the new #AppleEvent announcements?
Are you excited for the iPhone 7 and iPhone 7 Plus, or do you think you're going to pass? Let us know what you think!
Get the best of iMore in in your inbox, every day!
Cella writes for iMore on social and photography. She's a true crime enthusiast, bestselling horror author, lipstick collector, buzzkill, and Sicilian. Follow her on Twitter and Instagram: @hellorousseau
If Apple had announced they were switching to USB-C and getting rid of the headphone jack, I would have a lot less of a problem with it. The fact they are staying with Lightning (which really isn't a shocker) really bugs me since it separates the industry even further and makes their devices even more proprietary than they use to be.

How is that? Apple's products have NEVER been with the industry. 30 pin connector was never micro usb and lightning is not now usb-c. Don't see the problem here.

Sure, but that was in a time that multiple cables were in everything (USB-A, HDMI, Ethernet etc). We're now transitioning into a period where USB-C can be and will be used in everything. Apple sticking with Lightning limits how much universal access USB-C can actually have. Apple is even limiting themselves on "ease of use" with their Lightning products. Try using Lightning EarPods with a MacBook...it can't be done without adapters.

Bizarrely you'll need an adaptor to use Lightning cables with a MacBook. Real courage would have been to abandon Lightning for USB C.

Is there really a need for blog sites like iMore? I mean, Apple's news is blah and trying to make something more out of it is kinda pathetic. Maybe like a blog that reports that LG has a new Washer-Dryer combo? About that exciting. Well, actually the new washer-dryer combos have more innovation than a watch that dribbles water like a 18 month old with a sippy cup!

Or you could do something more productive with your time and stop annoying people who want to read these stories, "cc3d".

You know what's more pathetic? Comments like cc3d.

I just bought a new LG washer/dryer set...fuking really nice too! Way more useful than anything from the fruit company. Losing the headphone jack is just totally idiotic. Just another sign the fruit company is just making shlt more difficult for its users (which I ain't). Srsly, what's the fuking point? It's not like the phone is that much thinner/lighter than its predecessor or other competitors.

This is no different than the removal of CD drives in laptops years ago. How often do you hear people ******** about that nowadays? The fact that the headphone jack removal has never been done before is why everyone is scared and freaking out. It's a step towards the new norm. You either adapt to the new standard or you'll be left behind. There's nothing anyone can do about it at this point so complaining isn't going to accomplish anything. Besides, it's a headphone jack. It's not the be all end all of the iPhone. I get wanting to listen to music. I do it myself. But I'm just going to buy a pair of wireless headphones and be done with it. It's really not that big a deal. Sent from the iMore App

You're missing the point though, this ISN'T a step towards a new standard as lightning is proprietary. As is the wireless W1 or whatever Apple is calling it. If the lightning port had been replaced by a port used across the whole industry, then yes, it would have been easier to swallow, but it hasn't and this reeks off Apple locking people further into its ecosystem and subtracting as much money as they can. I realise they have a business to run and profit comes first, but I do hope people talk with their money and choose not buy this if they're really so unhappy about these changes! Sent from the iMore App

Other companies are planning to use USB-C to replace the headphone jack, Apple's just doing their usual thing and using their own connector, it's nothing new, but as for getting rid of the jack it's a step in the right direction

Where is all of the questions of Samsung's true wireless earbuds costing $199 and have these requirements : Compatible with devices that run Android 4.4 KitKat and above, and have a minimum of 1.5GB RAM Oh yet its apple so they are over priced. I get it.

You do know that the gear icon x has fitness features Heart rate, speed, distance,
calories burnt, water resistant and sweat proof also has 4gb of internal storage so you really don't need you're phone. It also looks a lot better then these cut off ear pieces.

I agree the IconX look a lot better. Even though they have a much shorter battery life I would choose those if they were compatible with iOS. I've been getting conflicting reports about that.

Unbelievable. How much has changed over the years technology wise, for the better... But don't touch the headphone jack??? Do we really want to go back to a day of speaker wires, RCA jacks, etc??? I wonder if those complaining don't use HDMI cables. These are the same people using iPhones instead of cassette players and CD players! Sent from the iMore App

Oh my gosh, thank you for this reply!! It's like the technological world turned on it's ear!! Big friggin' deal!!

It is to someone that uses that headphone jack 7 days a week who will now have to tape the adapter into the lightning jack after it gets worn out from having to plug it in every day.

It won't get any more worn out than plugging your headphones into the jack every day

You describe many standards that had improved options available at the time. If this was two years from now this likely wouldnt be as big a deal. Right now wireless quality is very hit and miss. Posted via the iMore App for Android

This is improved, did you miss the keynote?

Your a moron and believe the crap fed to you by a marketing machine. Others see real life. Posted via the iMore App for Android

I'm a moron for working in the tech industry and doing my research on the removal of the headphone jack and also listening to Apple's explanation and, with both, coming to the conclusion that removing the headphone jack is better for everybody in the long term? Whatever you say…

Apple says it has improved, but that remains to be seen. Isn't it a bit foolish to just believe, without evidence, what it is you're being told by the company that's trying to sell you something? Sent from the iMore App

Which is why I did my research before the keynote and found other people saying almost the exact same thing http://www.theverge.com/2016/8/17/12519936/intel-usb-type-c-headphone-ja... Also, the Moto Z doesn't have a headphone jack either. There's a pattern here so obviously there's a good reason as to why it's being removed

Rumors are that Motorola may bring it back. No doubt the 3.5 will go away but only at a time when good quality BT heads come at a price less than $50. Anything under that price point today is disposable.
No one is rushing to eliminate the back because there are no advantages other than freeing space. There are far too many disadvantages to do so at this point. 2 years from now, different story. I'm sure there won't be any 3.5s. Posted via the iMore App for Android

I think Motorola may have brought it back had Apple not also removed the headphone jack, but with Apple being one of the biggest names in the industry, I think Motorola will be fine with leaving the headphone jack out of their future phones now, at least their high-end devices anyway

Speaker wire still gives you the best fidelity, where were you going with that? Are you trying to say wireless speakers for home audio are better quality? They are easier to set up, I will give you that.

Nobody wants to have to charge their fricking headphones after 5 hours. Also some people have long hair and wear headphones so people don't talk to them. If you use Apple's headphones then no one will see them. Posted via the iMore App for Android

Then use the free included wired lightning headphones

Oh you mean the ones I can't even use on my Mac because the Mac doesn't support lightning?? Let me guess just buy another to use with my non-lightning devices?? Pfff.

Then use the free included adapter

And if I'm at my desk at work and want to charge my phone while using wired headphones? Posted via the iMore App for Android

Then you complain about it and then move on with your life?

Sounds about right. Posted via the iMore App for Android

Apple should abandon the keyboard since its old technology, too.

The headphone jack has something better in its place, the keyboard doesn't

It really doesn't. It's just apple trying to squeeze every penny out of their users to combat their falling iphone sales Posted via the iMore App for Android

The digital Lightning port for audio offers a variety of extra features that the audio-only headphone jack does not, therefore the headphone jack has something better in its place

progressive interpretation with simplicity!!!

It looks like the AirPods don't have a volume control - instead you use Siri to change the volume - awkward. This also means that you'll need an internet connection to control the volume without having to reach into your pocket (presumably). Is that about right?

Volume is controlled from iPhone volume bar- no internet needed Sent from the iMore App

These are hysterical! Still buying the iPhone7+/airpods.

Have fun charging your headphones all the time lol. Good luck finding them too. Posted via the iMore App for Android

I think he knows how wireless headphones work…

...but how waterproof is the iPhone 7 really? Will it survive a day at a waterpark while I take photos and the occasional 10 seconds of being submerged?

Splash proof Posted via the iMore App for Android

.... But IP67 is way more than splash proof...

IP68 is water proof. IP67 is water resistance.

I'm just enjoying watching all the people complain about change. this gives me an excuse to buy those Bose Bluetooth headphones I've been eyeing up....

Are you talking about the QC35? That's what I'm looking forward to as a small birthday gift to myself!

Yes sir! My birthday is in two weeks and that's what I'm getting myself.

If you are unable to keep track of your airpods you probably shouldn't be allowed out unsupervised.

Here we go again!!! People whinning about Apple making a jurassic technology obsolete. This is a first... No wait! It's not... 1998 iMac has no diskette drive
2001 iPod comes with a 30-pin proprietary connector
2007 Dropping the physical keyboard on the smartphone
2008 MacBook Air has no optical drive
2012 Apple drops the 30-pin connector In every single of these cases, the tech media and people complained... Who's complaining about those obsolete technologies now ? Apple has always been at the forefront of advancing technologies that are past their prime instead of waiting for someone else to do it, so I have no idea why people are surprised by this! If what you want is a phone that is compatible with the maximum number of devices and you do not care about design, security, reliability, stability, etc. then you are not short of other choices for phones, but if you buy Apple and you get frustrated this easily by them dropping old tech... From 40+ years of history, what were you expecting ?

I can't +1 this enough. It's amazing how people seem to wipe blank their memory of the fact this same situation has happened in the past and for good reason. The only thing I don't agree with is proprietary connectors, but again people only moan about it when they first change it then they don't care, but the rest of the changes have been good changes and I see the headphone jack following this pattern

I don't deny that eventually the headphone jack was going to change. In my opinion tying it into the charging jack is a mistake though. I can't say what the best implementation is but I just don't think the way Motorola and Apple have done it is the best way. Posted via the iMore App for Android

I think Motorola did it the right way, they used USB-C, so they essentially not only used a standardized port, but got rid of the headphone jack which is one less standard to worry about (relatable comic: https://xkcd.com/927/). Apple however have used the Lightning port, which is getting rid of the headphone jack to make people use something non-standard. The Lightning port is definitely better than the headphone jack and I'm still glad they got rid of it, but they should've used USB-C

I'm a bit bummed they didn't go with wireless charging but I guess the ceramic material possibly coming used in next years phone would allow it better then the metallic case today. I have used BT headphones for 5 years and couldn't care less about the 3,5 mm jack going away. Sure I use wired headphones sometimes but that's because my wireless are a bit big and clumsy. Not for the sweating workouts. Then I have a some small regular in ears with a BT adapter. I will have to try out the new airpods and then decide if they are okay for me or if I should go with the powerbeats instead. They should sit tighter for runs and intense workouts.

Fascinating!
All this fuss about the audio jack and the AirPods distracted them all from complaining about Sia the way they did about U2 and The Weeknd...
Thank you for signing up to iMore. You will receive a verification email shortly.
There was a problem. Please refresh the page and try again.