iOS 8 wants: Interactive notifications and push interface redux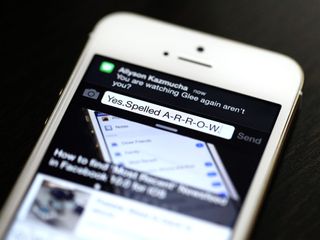 Another of my longstanding desires for iOS is interactive (what some call actionable) notifications, which takes interface from being pull — I have to go find what I want to do — to push —the system brings what I want to do right to me. Home screens, widgets, apps are all pull interface. I have to go to switch out of what I'm doing in order to go do something else. Interactive notifications are push interface. No matter what I'm doing, they come right to me. Depending on implementation and settings, that can be convenient or annoying, but it's inarguably powerful. OS X Mavericks got it last year. It'd be great of iOS 8 got interactive notifications this year.
Back before iOS 6, in an article explaining why widgets weren't the answer, I outlined the problem like this:
Another problem is that, while tapping on a notification can quickly and easily send you to the appropriate app, there's no symmetrically quick and easy way to get back. Tap and you're taken from where you are to where you need to go to act, but then you're left to double click the Home button to get to the app switcher cards, tap the card, and only then go back. It's like being teleported to the bottom of a hill and then left to climb back up on your own.
Back before iOS 7 I started to try an imagine how Apple could implement interactive notifications on iOS:
And, of course, keep dragging to get the full Notification Center, just like in iOS 7.
Notification Center lost the Twitter and Facebook buttons — hopefully they'll reappear in Control Center — and, as mentioned above, Mavericks got the interactive notifications instead of iOS.
Apple did address two important areas in iOS 7, however:
Now, at least, when you hit a notification, iOS 7 background refresh means you can be reasonably certain the message or other content will already be downloaded and there waiting for you.
Basically, I wanted to fast app switch dock media controls in Notification Center, along with quick toggles and Google Now-style contextual information. Control Center took over the media controls and toggles, and the Today video added the beginnings of contextual data with Next Location.
So that's better, but it's still missing the interactive part.
Messaging
Instant messaging, be it iMessage, Twitter, WhatsApp or any short, concise bit of text on iOS currently suffers from the exact problem described above. Notification Center banners can show you a message has arrived but in order to reply you have to carrousel over to the originating app.
With OS X Mavericks active notifications you can now click on a reply button within the notification and be given a reply field within that notification. No more switching apps, not more having to figure out how to get back.
That same system is what pretty much everyone wants on iOS. Notification Center banner comes in, choose to tap on it and it expands with a reply field you can use to respond immediately, right where you are, and get right back to doing what you were doing a moment before.
Setting
Last year I described push interface applied to re-setting clocks and timers like this:
It's a more challenging interface to push, but one that greatly increases convenience.
Playing
The same thing could be applied to audio notifications. If a new podcast is available to download, for example, the notification that tells you about it could be expanded to show basic media controls so you could play the episode immediately without having to change apps and find your way back.
With video, for example a new episode of Mad Men becoming available on iTunes, you probably want to go to Videos and watch it when you're ready. New audio you can just start listening to as you keep doing whatever it is you were doing when you were notified.
Dynamics
iOS 7 felt to me like the beginning of dynamic interface. Really, however, it started earlier than that. It started with AirPlay and CarPlay. It started with the embeddable Mail and App Store and Share sheets Apple has been building up over the last few years. We're seeing it everywhere. Hell, it started with webOS notifications, BiteSMS, and JellyBean active notifications.
That's the future interface seems to be hurtling towards and it'd be great if we could get even closer to it come iOS 8.
Get more iMore in your inbox!
Our news, reviews, opinions, and easy to follow guides can turn any iPhone owner into an Apple aficionado
Rene Ritchie is one of the most respected Apple analysts in the business, reaching a combined audience of over 40 million readers a month. His YouTube channel, Vector, has over 90 thousand subscribers and 14 million views and his podcasts, including Debug, have been downloaded over 20 million times. He also regularly co-hosts MacBreak Weekly for the TWiT network and co-hosted CES Live! and Talk Mobile. Based in Montreal, Rene is a former director of product marketing, web developer, and graphic designer. He's authored several books and appeared on numerous television and radio segments to discuss Apple and the technology industry. When not working, he likes to cook, grapple, and spend time with his friends and family.
That is a much needed add on, even my z10 does this. It doesn't seem like it would take much to make that happen.

Yes yes and yes... Interactive notifications it's well overdue......

How iOS doesn't have something as simple as actionable notifications is beyond me. The in-and-out to reply to different apps is kind of lame. Posted from my TARDIS!

Bravo, sir. Brav o.
This is one of the biggest wants people have requested after the screen size increase. If they can nail these and other big feature requests then this surely will be a great year for iOS.

I think that this definitely needs to be incorporated within iOS 8, for the jail real community BITESMS has enabled one to quick compose/reply this should be part of iOS 8. No more waiting... Sent from the iMore App

Why aren't people complains about this:
When you get a notification at (at the top) AND you change app (double tap home button) or just go to homescreen, THE notification gets nullified! I bet you all have noticed it! So many times when I change to another app at the VERY SAME second the notification pops up, the notification gets nullified/canceled! That means I totally miss the notification, unless I pull down the notification center! This didn't happen in ion pre ios 7! Why aren't people complaint about this? This is an iOS 7 mistake, not a bug?! Example: let's say you get a notification now at the top, and you change to another app at that very same second, you'll notice THAT notification will pull back (get cancelled)! Why the hell aren't notifications consistent? Why do they "have to" being cancelled!? I've missed so many notifications because of "bad timing" when changing to another app at the VERY SAME second Sent from the iMore App

In ios 8 background mode download ?? Sent from the iMore App

Why all the developer don't go and ask Apple to include this on the next version of iOS? All of those could get together and let apple know so may be apple can bring me! Because we all can wish for something new but we can't get it since Apple will never listen to us Sent from the iMore App

Without background mode apple is dammy iphone. so next ios updated to them Sent from the iMore App

You mean like Windows 8, where notifications take you to the new app and the back button takes you back to where you were in the old one. ;)

It isn't avante garde, it's blackberry 10, which I miss except for the sucky apps and lousy ports. However, I agree with you. Apple is still behind on this.