The iPad 2 is dead...long live the iPad 4!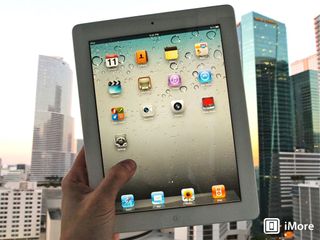 Following recent speculation, Apple has this morning finally laid the iPad 2 to rest. Replacing it, is the iPad 4. That's right, Apple's "iPad with Retina Display" is back on sale starting at $399 in black and white for the Wifi only version, and from $529 in the same colors for the cellular model.
We first heard about the possible retirement of the iPad 2 just over a month ago. While it's enjoyed a long life, there's no doubts it was getting a little long in the tooth, and the iPad 4 is a much better proposition. It also now kills off the old 30-pin dock connector from the iPad lineup. We're all Lightning, all the time now.
So, thanks iPad 2, you served many of us well. But if you were looking at picking one up on price alone, you now have a much, much better option in the iPad 4. Anyone running out to pick one up?
Update: Here's Apple's official press release on the iPad 4's return:
Apple Updates Most Affordable 9.7-inch iPad with Retina display, Improved Cameras & Enhanced Performance—Now Available Starting at $399
CUPERTINO, California—March 18, 2014—Apple® today announced iPad® with Retina® display replaces iPad 2 as the most affordable 9.7-inch iPad at $399 for the 16GB Wi-Fi model and $529 for the Wi-Fi + Cellular model. The fourth generation iPad features the amazing 9.7-inch Retina display, the Apple-designed A6X chip, ultrafast Wi-Fi, a 5MP iSight® camera which also captures 1080p HD video, a FaceTime® HD camera, and support for LTE carriers worldwide,¹ all while delivering up to 10 hours of battery life.² iPad with Retina display comes with iOS 7, featuring hundreds of great new features, including Control Center, Notification Center, improved Multitasking, AirDrop®, enhanced Photos, Safari®, Siri® and iTunes Radio℠.³
"Now for $399 customers can get iPad with a stunning 9.7-inch Retina display, fast A6X chip, and 5MP iSight camera, offering a dramatic upgrade in power, performance and value compared to the iPad 2 it replaces," said Philip Schiller, Apple's senior vice president of Worldwide Marketing. "The iPad line sets the gold-standard in mobile computing and all iPads have access to the largest and best ecosystem of more than 500,000 iPad optimized apps from the App Store."
iPad customers have access to the revolutionary App Store℠, which offers more than one million apps to iPhone®, iPad and iPod touch® users in 155 countries around the world, and more than 500,000 apps are designed specifically for iPad. More than 65 billion apps have been downloaded from the App Store, which offers customers an incredible range of apps in 24 categories, including newspapers and magazines in Newsstand, games and entertainment, kids, education, business, news, sports, health and fitness and travel. The iLife® suite of creative apps, including iPhoto®, iMovie® and GarageBand®, and the iWork® suite of productivity apps, including Pages®, Numbers® and Keynote® are essential to the Apple experience and are now free, so more iPad users have access to these great apps that are optimized to support 64-bit technology and include hundreds of new features.
Pricing & Availability
iPad with Retina display models in black or white are available for a suggested retail price of $399 (US) for the 16GB Wi-Fi model and $529 (US) for the 16GB Wi-Fi + Cellular model for either AT&T, Sprint, T-Mobile or Verizon. Smart Cover® and Smart Case for iPad with Retina display are available in dark gray for $39 (US) and $49 (US) respectively through the Apple Online Store (www.apple.com), Apple's retail stores and select Authorized Apple Resellers. iPad Air™ with Wi-Fi models are available in silver or space gray for a suggested retail price of $499 (US) for the 16GB model, $599 (US) for the 32GB model, $699 (US) for the 64GB model and $799 (US) for the 128GB model. iPad Air with Wi-Fi + Cellular are available for a suggested retail price of $629 (US) for the 16GB model, $729 (US) for the 32GB model, $829 (US) for the 64GB model and $929 (US) for the 128GB model.
Get more iMore in your inbox!
Our news, reviews, opinions, and easy to follow guides can turn any iPhone owner into an Apple aficionado
Jeepers Richard, don't you ever sleep? Regarding the iPad news, so I guess that means somewhere between 7.1 and 8.0 I will no longer be able to upgrade my iPad 2 to the latest OS. Oh we'll, guess that was only inevitable.

Just turned 9am where I am ;-)

The really horrible thing is that the iPad 2 is capable of carrying the updates, but Apple is choosing to make the device obsolete, well that's the last time I buy into a company with that kind of ethos!

Yeah I hear you, but I have no regrets, I just got myself an iPad Mini retina and I'm very happy with the smaller size, suits me just perfect.

I'm content with my iPad 2...for now... Sent from the iMore App

The new 'old' iPad. __________ Sent from the iMore App

So that leaves the Free on Contract iPhone 4s (in general that is) and the iPod classic as the only devices hanging on with the 30 pin.

I believe the 5c 8GB will replace it

I'm on iPad 3. No one cares about that model anymore. Sent from the iMore App

Ditto. Using it now. Just fine, as it should be.

Apple seems to spending their time just moving the deck chairs around at this stage. Reintroduce an older, 'cheaper', less-capable iPad, produce a less-capable version of your less successful iPhone, reintroduce the production of the iPhone 4 for 'emerging' markets, dust off the 7 year old iOS with more 'improvements'... Desperately missing the 'Insanely Great' at this stage - especially when their hardware is lagging behind the competition.

Exactly what 'insanely great' thing do you want to Apple to do to appeal to the lower end value market? Or did you actually have a point besides reading the same 'Apple is doomed because they don't make cheap junk' script?

Don't get me wrong. If Apple can continue to resurrect older, less-capable tech at a premium price and sell them via the P.T. Barnum mandate (There's a sucker born every minute), then more power to them.
However (and before Jobs' passing), Apple seemed to have lost any wildly creative spark and are simply (short of doing long-delayed patches - sorry, 'updates') pushing old ideas at us in the hope that we won't notice - or worse, care. Hey, its not my job (nor reputation) to think of the next 'Insanely Great' thing. Its just a pity it doesn't seem to be Apple's anymore, either.

So basically you were using the change in value product line as your soapbox for yet another tired 'Apple is doomed with Steve Jobs' rant, even though I see absolutely zero correlation between the two. Apple has offered a lesser priced iPad for years, only difference being that they replaced the iPad 2 with an iPad 4. And yet that solicits a DOOOMED! comment. That's like saying "the sky is blue, therefore Apple is not wowing us anymore and is doomed". That has as much correlation between the two as what you said. They're replacing an older cheap iPad with a newer cheap iPad. That's it. You're reading way too much into this.

DOOOMED!?
I checked, I didn't say that. Especially with the intended typo. What I did say is that Apple is using old product (including restarting manufacturing of their previously-intended obsolete products) to stay in the loop with consumers, while we wait for the next best thing from them - and that have some considerable catch up to do. Hey, I like my iPhone 4 (3+ years old) and MacBook Air (nearly 3 years old) - but they've done nothing since that convinces me to buy into an 'upgraded' product from them. That sort of behaviour is bad news for any company - and more so for one that prided itself on leading, not following. DOOOMED? No. But Ennui doesn't look good on Apple, either.

Fair enough. I guess I took issue with the fact that you were using a change in value priced products as an indication of Apple losing their way. Now, if the upcoming iPhone 6 were a dud, which is supposed to be an indication of their latest and greatest ideas, then I could possibly see that being an indicator of problems. But a change in value product line? Naahhhh. That being said, we're starting to enter a phase in the smartphone world where the 'wow' features have run their course, and entering a phase of continued refinements over huge leaps. There's only so much more features that can be added to a slab before it's considered to be gimmicky. The next 'wow' moment will likely have to be in either new product categories, or maybe new infrastructure services that run behind the scenes (maybe improvements to iCloud).

"we're starting to enter a phase in the smartphone world where the 'wow' features have run their course, and entering a phase of continued refinements over huge leaps. "------ that is an excellent statement there not many will catch but says so much

I think I'm going to get a iPad 4! Sent from the iMore App

I'm think Apple is going to sell a boatload of iPad 4's at that price. Good move Apple! Sent from the iMore App

So no iOS 8 for iPad 2 I presume. Curious about what will happen to iPad 3. Sent from the iMore App

It's served its purpose but retina & lightning ports need to be standard now. The iPhone 4s will probably go when the next iPhones are announced. Sent from the iMore App

What chip does the iPad 4 have?

Did you not see the update to the article?
And not to be mean but google searching is an amazing idea.

This is how it should have been when the iPad Air was released. Only because the iPad 2 was the odd man out with the old dock connecter.

Alas, I will go on with my iPad2 for a while longer. Serving it's purpose well for now. How is it the 3 became the ugly stepchild and was passed over, much like the iPhone 5? Fingers crossed that we will get some 'type' of iOS 8 as they are tons of us still out here and they after all made the new 7.1 available for the 4.

I guess this means the writing is on the wall for the iPad 3 as well? It really did get treated like the bastard child of the line. It introduced their game-changer screen to the iPad, then it was straight to Hell!

O, hmm wonder how this will effect my iPad 3 Sent from the iMore App

My Uncle Xavier got blue BMW X5 SUV just by some part time working online with a macbook. you could check here keptcash.com

This should've happened when the IPad Air launched, not this late...

$399 is still a ripoff. Sent from the iMore App

So they've sold truck loads of these to schools and are now (probably) going to say no more upgrades for it.

Retina screens are great ill admit, but as above^ screwing alot of people off the market place by just making the system obsolete! Its one thing to do it with technology just not being up to scratch and having better things available, its your choice.
But being forced upon you?! How about a rebate when you send in the technology, if Apple really are keen about sustainability and going green