New iPad Retina display tested, found to "better and more accurate than any display you own"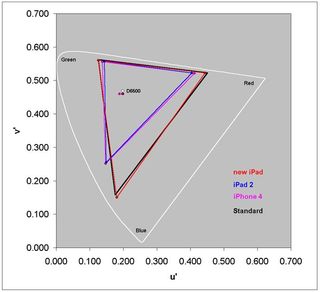 DisplayMate has just run through a set of vigorous tests that compare the new iPad with the iPad 2 and a bunch of other tablets, and have confirmed many of Apple's tall claims about the new Retina display.
While the iPad 2 and iPhone 4 had weak blues and purples, DisplayMate reported that the new iPad reproduced 99% accurate color reproduction. Though the sharpness is incredible and approaching overkill, the "Retina" quality is being disputed slightly; in order for the human eye to be unable to distinguish pixels at a distance of 12 inches, a screen would have to cram in 573 pixel per inch, which is a far cry from the new iPad's 264 ppi. Further, he notes that at a viewing distance of 6 feet, your HDTV technically counts as a retina display, too.
The only areas Apple can really improve on, according to DisplayMate, are separated backlights for red, green, and blue pixels for even more accurate colors, reduction of reflection, and smarter automatic brightness handling. Eventually, they expect Apple to switch to OLED screens of varying sizes, but cost remains a big factor.
At this point, it seems like it will actually take content creators some time to catch up to the new standard of high definition. That said, Apple is now freed up to improve different parts of the device while the rest of the tablet world scrambles to catch up. Maybe they can get in on that textured display technology that was rumored just before the announcement...
Be sure to take a look at the source link for all of the technical nitty-gritty of the new iPad's tests. The guy who wrote it has been in the business for over 20 years and definitely knows what he's talking about.
Source: DisplayMate
Editor-at-very-large at Mobile Nations, gamer, giant.
Nice to know we made a good choice.

One of the first apps I looked at was Words With Friends. I immediately noticed a greenish/yellowish tint to the display. It's pretty noticeable. What I don't know is if it's just my new iPad or if some of these apps are compensating for the deficiencies of the older units and adjusting their color balance. Most websites look OK but sites like WebosNation mobile forums have strange yellows.

At first I was somewhat having buyers remorse with a near $700 price tag (-$200 I received when I sold my iPad1)...
But damn it, the retina display IS that much worth it. Lovin my new iPad though I wish it could have still gotten a bigger and bolder upgrade somehow. I.e change in appearance.

Its so accuratw that a lot of people are complaining about how yellow the whites are or how color spottings appear on the screen. I understand nothing can be perfect but the amount of reports is shocking

If it weren't for all the complaints coming in about what appear to be faulty displays, this might be the first iPad actually worth the asking price.

Sneaker News is your complete source for Air Jordans. Click in for for more info on Air Jordans including release dates, prices & purchase info.air jordan 1 22
Get the best of iMore in in your inbox, every day!
Thank you for signing up to iMore. You will receive a verification email shortly.
There was a problem. Please refresh the page and try again.