iPad Air: My constant companion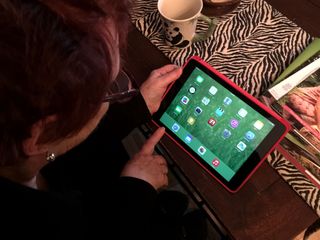 My mom is a retired university and elementary school teacher. She's had an iMac for years, received her first iPad in 2011, now has an iPhone and Apple TV as well, and is looking forward to adding an Apple Watch to her setup this April. Since the iPad has replaced the Mac as her primary computing device, she thought it might be interesting to explain how and why. Needless to say, we agreed immediately. — Rene
I wake up early and, as I am retired, I can afford to spend the first couple of hours curled up reading the news on my iPad. I've collected several newspaper apps, including the Montreal Gazette (opens in new tab), La Presse (opens in new tab), and the New York Times (opens in new tab) that let me stay informed in two languages and across two countries.
I sometimes also catch up on television using the CBC (opens in new tab), CTV (opens in new tab), or Global (opens in new tab) apps. I especially enjoy that I can immediately check on people and facts mentioned in the articles or on the shows. The Safari browser and Google search engine are only ever a click and a tap away.
Following my One on One session at my local Apple Retail Store, I now use the Calendar app to keep track of all my appointments and upcoming events. I also keep a running record of shopping items and gifts to get. I use Notes instead of Reminders because I don't really need to be reminded of the items, I just need to know they're safely stored. Maybe I'll try Reminders at some point, though.
Both sync with my iPhone 5c so I know I'm always up to date and ready for the day ahead.
After breakfast, I check and answer emails and send iMessages to my family and friends so they know I'm thinking of them.
I love that I can stay in almost instant contact with the people who are most important to me, regardless of whether they're down the street, in the next city, across the country, or across the ocean in Europe or Africa.
I'm also very fond of emoji.
During the day I get creative. I have great fun using Waterlogue (opens in new tab) in combination with Martha Stewart's Craftstudio (opens in new tab) to create personalized cards and thank you notes for special occasions and special people.
While I'm tidying up or while driving long distances, I listen to books on Audible (opens in new tab) or the music I've downloaded from iTunes. It keeps my mind busy and helps pass the time.
If I'm out of the house, I typically use my iPhone. If I know I'll be out of the house or traveling for an extended period of time, I bring my iPad.
One of my favorite things to do is read iBooks. I do it whenever I have time between appointments or when waiting for a rendezvous. It's immensely enjoyable to always have my favorite authors with me, and like my calendar, it syncs with my iPhone so I can always pick up right where I left off no matter which device I have with me.
When my god children visit, I let them work with Reading Rainbow (opens in new tab) or play some educational games as a reward for good behavior. I've also bought some videos to show them as a special treat.
I go to Taiji class twice a week. In between sessions, I use the Taiji videos on my iPad as well as a cardio video to make sure I get some exercise in every day.
As evening falls, I check the news again, and my mail and messages. Sometimes I AirPlay shows I've missed to my Apple TV.
And when I go to sleep at night, if I'm not too tired, I read a little more in iBooks to relax and wind down.
Like I said at the beginning, it's become my constant companion.
Sounds like some family I have.. They have computers, but rarely use them these days. I wonder if a 12" iPad Pro was released how many of those who use the iPad as a primary computing device would be tempted to upgrade?

Hi Mrs. Ritchie!!!
Rene, can we expect to see more articles from Mrs. Ritchie?!

Probably a couple times a year, yes :)

I loved this post. As someone who works in IT and loves technology the one thing I hate is when people say "I just don't have the time to learn how to use technology". I love learning about new things and having new experiences. So it hard for me to understand why anyone wouldn't want to learn something new. So I'm glad to see this post about someone not being afraid of technology but using it as a tool in their lives. Bravo!

Wow, my mom could easily be the subject of this article! She loves her iPad 2 (hope to upgrade her soon) and her iPhone 5c. She hasn't touched a laptop in a couple of years.

I think it's something that's not uncommon but tends to be overlooked in a lot of tech-centric conversations, which is part of the reason we started the backpage and other features here.

I just watched the Modern Family episode - Connection Lost - in bed on my iPhone 6 Plus. I'm wondering if your mom keeps an eye on the family in a similar way - albeit from her iPad instead of a MacBook :) Sent from the iMore App

When are you guys going to get married and have Android babies :-) Posted via the iMore App for Android

A very nicely done article. My sister is very intelligent, but at age 88, is hesitant to try much with her iPhone or iPad that her children gave her. I have mentioned iMore.com to my family as a very informative place I always stop by each day (usually one of the first links in my day). I will certainly point out your article to her! Thank you! and Thank you for lending us your Mom, Rene! Well done!!! Sent from the iMore App

ios is made for easy use or in apple ways simplicity! That's what people buying iPhones and iPads not they are better and I don't even think they are better for power user but for normal user iOS devices are just fine and for me I want a phone that I can use with one hand! But reading on my iPhone !? Just forget about it! Just to small and an iPad is to big! So ether way the best option is an iPhone 6 that works for everyone

I usually leave my iPad at home, and it is pretty much a Kindle and Feedly reader. I spend most of my time on my Phone (Moto X) and my computer (MacBook Air). My wife on the other hand rarely touches a computer. She is a teacher and prepares classes and presentations and connects her iPad to the screen in her classroom via a HDMI connector. She has applications for grading work, her students hand in their assignments electronically. When she forgets her iPad, she connects her iPhone 5 (same cable which she always leaves in her work bag) and uses that. I cant seem to be able to live without a computer, but people seem to be doing so willingly and getting along just fine. Who says the face of computing is not changing. Nice write up Mrs. Ritchie.

Hi Mrs. Ritches, great article and I love my iPad as well. Thank you for the article and I hope we see more from you !!!!!

Very cool article. My mums (yes, I have 2 mums, and a dad, it not what you think but whatever you think it's cool :) and both have iPads. One of them is a OS X user the other one stuck to Windows. What's funny is that the one of them that keeps using her computer as a primary computer mostly is the Windows user. Maybe Apple did cannibalise a part of their user base, after all.

Very good article, and very realistic for many people these days, including myself.
I have a very high tech Vaio I almost rarely use since getting my iPad 2 when it first came out. After getting the iPad Air, it is now collecting dust.
This is coming from a professor of astrophysics in Scotland, who also runs a full time cross stitch design business online and has two blossoming hobbies;the first in photography and the second as an amateur writer....everything of course, done on my iPad.
Though I started many of these things on my Vaio laptop, I found myself using it less and less over time. Not deliberately, mind you, but as more really good apps which catered to my individual needs began to appear, it was far handier to be able to do the same things I used to do on my laptop on the convenience of my iPad: anywhere-anytime.
I suppose you could say, it was definitely 'freeing'. (It also didn't help my lonesome Vaio that many of the apps I now use are superior to what my cumbersome Windows 7/10 laptop had to offer.)
I now have a full setup for my iPad complete with a back lit keyboard case that basically turns it into a laptop in its own right.
I honestly haven't looked back since.
In case you're wondering about the Vaio, it now has a new life as a virtual fireplace when the days are too hot to light a real one. You can find me on most school evenings cozily marking class essays, or reading with my iPad by my 'virtual fireplace'.
Thank you for signing up to iMore. You will receive a verification email shortly.
There was a problem. Please refresh the page and try again.