iPad Pro vs Microsoft Surface: A tablet showdown for writers and artists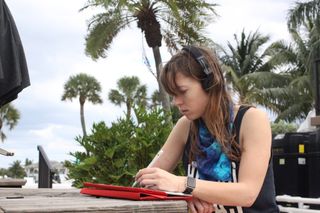 Last week, I took a trip to the offices of our sister site, Windows Central with my iPad Pro and Pencil. I hadn't used the Surface tablets to draw on since the original Surface premiered in 2012, and was very curious to compare the new Surface Pro 4 and Surface Book with Apple's tablet.
First, let me get this out of the way: This isn't a comprehensive review of either iPad nor Surface. In this comparison, I'm looking at both tablets as artist and writing tools, testing pen-related activities and the software that supports them. If you want speed tests and more comprehensive deep dives of how each works as a computer, you'll want to read WC's reviews of the Surface Pro 4 and Surface Book, and our iPad Pro review.
The specs (that matter)
Both the Surface Pro 4 and the Surface Book are marketed as whole computer replacements, and as such, have the capacity for an impressive amount of power—power that rivals MacBook Pro standards. The iPad Pro, in contrast, has an impressive amount of power for a tablet device, but it can't compete against 16GB of RAM or a Core i7 processor.
When it comes to using either device as a sketchpad/writing platform, however, I don't really care about 60FPS gaming possibilities: I want long battery life, smooth interaction with the tablet's stylus of choice, fast brush rendering in artistic apps, and comfort on my lap and in my arms. My ideal tablet should work in tandem with my desktop computer, rather than replace it entirely.
If your goal is to do all your artistic work on your laptop—no desktops allowed—then the Surface is going to be a lot more appealing to you. If you're looking for something to replace to your laptop and work alongside your desktop powerhouse, the iPad Pro is a much more compelling option.
If you want a desktop replacement: Surface Book
If you want a laptop or second screen replacement: iPad Pro
In terms of weight, the iPad Pro comes in at the lightest of the three tablets (unsurprisingly, given its lack of additional chips), at 1.57 pounds (1.59 if you have the Wi-Fi and Cellular model). The Surface Book sans keyboard is a few ounces heavier at 1.6 pounds, though if you attach its keyboard base, be prepared for a whopping 3.34 pound total; the Surface Pro 4's base model comes in at the heaviest of the three tablets at 1.74 pounds.
As I picked up all three tablets sans their keyboard options, there wasn't a noticeable difference in weight, but I do prefer the overall feel of the iPad in both landscape and portrait mode. The tablet feels much more well-balanced, even when holding it with a thumb and forefinger by a corner; in contrast, both Surface models feel much more weighty when held lightly in one hand. All are pretty comfortable when writing or drawing sitting down.
If you plan to carry your tablet in-hand: iPad Pro
If you plan to use it chained to a desk or in a lap: Three-way tie
Battery is a big deal here: The Surface Pro 4 and iPad Pro have pretty comparable battery life, packing a 38.2 and 38.5-watt-hour lithium-polymer battery, respectively and promising 9-10 hours of battery life. (Buy a more powerful Surface, however, and expect that battery estimation to go down.) The Surface Book's a different story altogether: It stores most of its battery in that gigantic keyboard. Detach to use as a tablet, and you're looking at just 3-4 hours of battery life.
I didn't do extensive battery testing on the Surface or Surface Book, so I'm taking Microsoft at its word on battery life (and for more on that, you can always visit Windows Central). In my personal experiences with the iPad Pro, the tablet's had incredible battery performance—I've regularly been getting 14 total active hours without recharging when sketching, writing, and listening to music.
If you want great battery life on the go or at a desk: iPad Pro / Surface Pro 4
If you work a lot at your office or don't mind the extra weight: Surface Book
Software differences
No surprises here: Tablets made by Microsoft and a tablet made by Apple are going to run different operating systems, and offer different program compatibility.
The Surface Pro 4 and Surface Book run both Microsoft's Windows 10 tablet operating system and the full desktop version of Windows 10: This means that you can switch from Microsoft's touch-designed environment to the full desktop workflow of Windows 10—and all the awkwardness that comes with small touch targets designed for pointers. Despite not-ideal interactivity, this does mean that you can run full desktop applications on the tablets—like Adobe's Creative Suite.
The iPad Pro, in contrast, is limited to running iOS (though it can also be used very effectively as a second screen for your desktop computer with apps like Astropad (opens in new tab) and Duet Display (opens in new tab). As such, the iPad is primarily limited to programs available in the iOS App Store.
I will say this, however: The traditional version of Photoshop may not exist, but don't discount non-Adobe apps. There are a ton of great photography and graphics applications hiding away that can do just as much as what you might use Photoshop and Illustrator for, if not more. On the sketching side, apps like Paper (opens in new tab) make for the best unlimited sketchpad you could want; more pro-level apps like Procreate (opens in new tab), Pixelmator (opens in new tab), Sketch Club (opens in new tab), uMake (opens in new tab), and others provide high-quality canvases, layers, vector tools, 3D modeling, and export to Adobe-compatible formats like PSD.
I doubt an iPad fits in every creative professional's software workflow right now, but it's worth an investigation. Do you really need the full power that Photoshop or Illustrator offers, or do you mainly use brushes, vectors, layers, and repair tools?
If you do want that pressure-sensitive sketching experience in Photshop, you can turn your iPad Pro into a pressure-sensitive second screen for your desktop Mac—with or without wires!—using Astropad (opens in new tab). Astropad currently supports the Pro and Pencil in beta, offering pressure-sensitive drawing with almost no latency between iPad and Mac, thanks to smart refresh tricks from the developers.
Officially, there's been around a half-second delay in my past tests between lines made with the Pencil and when they appear in Photoshop. Astropad combats this, however, by providing a native pink "guide" line on the iPad as you draw: This guide line is as fast as native sketching in Notes or Paper or Procreate, and it tricks your brain into not seeing the latency while you draw.
If you need Adobe apps on your device no matter what: Surface Book
If you want to end up in an Adobe app but do initial work on your device: iPad Pro
If you want a Cintiq-like second screen experience for your Mac: iPad Pro
The Pen and Pencil
Both tablets have their own distinctive stylus: for the Surface, it's the black, blue, or silver Pen; for the iPad, it's the white-and-silver Pencil.
Unlike the Pencil, the Surface ships with the Pen—you don't have to buy one separately, though you can upgrade your older Surface tablet's pen for $60. Microsoft acquired N-Trig and its active pen technology last year, and used it to upgrade the Pen significantly for the Pro 4 and Surface Book. For those not in the know, N-Trig's secret sauce is much like Wacom's—a combination of pen input with an integrated digitizer and controller built into the tablet.
The Pen now sports 1024 levels of pressure—similar to an entry-level Wacom tablet—and offers multiple pen tips to draw with. (In my tests, those tips seemed to be based solely around artist drawing comfort, rather than changing the line style or width of the Pen.) It connects to the Surface Pro 4 via Bluetooth, is powered by a sole AAAA battery, and attaches to the tablet with magnets for easy (ish) storage. Oh, and there's a small slender button and an eraser, though I didn't take much advantage of either while drawing.
Apple's Pencil contrasts in a number of different ways. It ships separately from the iPad, for $99. It uses a very different technology than either Wacom or N-Trig, relying on the iPad's refresh rates, special software, and internal chips within the Pencil to get the most accurate line. Apple hasn't stated any official pressure levels for the Pencil, nor has it even made an indication that it wants to use that metric to compare the Pencil with the Surface or Wacom pen technology.
There's just one tip currently shipping with the Pencil—a hard rubber pencil-like nib—though you get a spare in the box, and there's no digital eraser, pen clip, magnetic storage, or extra buttons to be found. And the Pencil needs no batteries: Instead, it charges using a built-in Lightning Connector.
Given the Pencil's extra cost and lack of extra bells and whistles, it's easy to write it off and declare the Surface Pen the better tool on looks and outward function alone. But 90 percent of a stylus's job is drawing and writing, and this is where the Pencil dominates.
The Surface Pen feels like pretty much every Wacom or N-Trig pen before it has felt: plastic and click-click-clicky. It's a motion artists have gotten used to over years of digital drawing, but it doesn't come close to the natural drawing experience on paper. The Pencil, while still not a true replacement for the texture of paper and pen, is much more solid in your hand—its weight, length, and balance feels right for this sort of tool. It doesn't eliminate the "drawing on glass" feeling, but the nib is much more muted on the glass surface, and pressing into the screen feels much more natural than it does with the Surface Pen.
Did I notice not having an eraser and extra buttons? Honestly, no. Like Rene, I haven't worked with a built-in eraser for drawing or writing since grade school—and even on my Wacom, the eraser was clunky. It also encourages me to use actual art techniques when I do digital pencil drawings—shading with lighter greys and whites to remove strokes rather than using a blunt (and, honestly, very digital in its execution) eraser.
Similarly, buttons remind me that I'm drawing digitally: I'd much rather physically touch or swipe on the surface to undo. Gestures make undoing a stroke feel like brushing away charcoal fragments; pen button clicks are much harsher—and worse, easier to trigger accidentally.
I didn't miss the eraser on the Pencil. But I quickly missed the Pencil's tilt-to-shade technology when drawing on the Surface. It, above all else, makes the Pencil feel natural in a way the Surface Pen does not. Digital artists have become accustomed to relying on the same tiny nib for all tools, whether we're using inks, pencils, big brushes or little. With tilt-to-shade, the Pencil isn't just a dumb-but-pressure-sensitive tool: It reacts to your movements on the digital paper in the way styluses of old just can't. It's a glimpse of the future.
Is the Pencil more expensive and more limited? Absolutely. But to me, both of those were the right calls: The Pencil is the best digital stylus I've ever used by a mile. Apple's unique take on pressure-sensitive drawing makes it feel different and more comfortable than the Surface Pen or a Wacom stylus, and tilt-to-shade is a very comfortable way to color and enhance drawings. And while Lightning port charging looks odd, I vastly prefer not having to stress out looking for a AAAA battery if my stylus runs out of power while on the road.
If you like eraser nibs and Wacom-style pens: Surface + Surface Pen
If you want a better drawing and writing experience: Apple Pencil + iPad Pro
The writing and drawing experience
During my tests, I used a few different programs on the Surface and iPad Pro. I wanted to compare the company's entry-level drawing apps, so my initial round of tests were done in Fresh Paint on the Surface, and Notes on the iPad Pro.
I also took a look at the Adobe experience on both platforms: On the Surface Book, that meant Photoshop Express; on the iPad Pro, I tried both Adobe Sketch and Astropad while running Adobe Photoshop on a MacBook Pro
You can see my full tests below. If I were to do these again today, I'd probably have added OneNote, as well, since the app is available on both platforms.
Don't want to watch the video? Here's the skinny: Both tablets are great at writing and drawing, but the iPad Pro edges out for me in terms of overall experience.
Writing and drawing is about as precise on both the Surface and iPad Pro, though I did find that writing in small letters was much more comfortable and readable on the iPad. Overall, the tests were mostly draws (no pun intended): You're going to get a pretty good result whatever tablet you use.
But if you care just as much about process as results, the Surface may let you down. The tablet's insistence on hovering cursors (a default holdover from the mouse-based Windows environment) in many of its apps is frustrating—it doesn't feel nearly as natural as working directly on the screen. I don't want to see where the pointer is, because I should trust that both pens are going to be precise and mark where I'm pressing. While you can disable this setting, it's still odd that Microsoft makes it the default when it has a pretty precise engine in place.
As I mentioned in the stylus section above, Microsoft's tablet reminds me a lot of digital drawing experiences past. It feels like a Cintiq—which is awesome for those looking for that Cintiq experience—but again, that's a continuation of the old guard. Not a reinvention for the better.
In contrast, the iPad Pro and Pencil is a step forward in drawing technology. There are no pressure ratings, because the stylus just works the way you want it to. It's more comfortable to draw with: There's no faux pointer showing where your pen's cursor is because you just don't need it. And when it comes to default apps, Notes just smokes Fresh Paint. Even with a more limited color palette and tools, the app looks so much more natural.
If you need to work in the full version of Photoshop or Illustrator on your tablet and you're used to the Cintiq-style experience, the Surface is going to win out. Adobe's apps are scattered to the winds on the iPad, and their tools, while great, are limited. But the iPad Pro is a great excuse to step forward and embrace digital drawing both on the go and at your desk, especially if you work in tandem with a more powerful desktop computer. (Unlike iOS's Astropad, the Surface Pen won't work with pressure sensitivity if you run a second monitor app on your Surface Pro or Surface Book.)
If you're comfortable with the old Cintiq-style experience: Surface Pro or Surface Book
If you want a more natural digital drawing experience: iPad Pro
What should you get?
This brings us to the big question: Which tablet is the right one for you? Ultimately, it's going to be the one you enjoy working with and that meets the requirements you need for your artwork or writing.
The Surface Pro and Surface Book are great machines, and I don't begrudge anyone in the art community for picking one up. If you want something that's going to act as your primary computer while on the road or at home, the Surface line has a lot going for it. The Pen feels like a Wacom-style tool, and you can get incredibly precise lines and strokes when you write with it. And you can use any desktop apps natively, which can be a huge boon for your workflow.
Where the Surface fails, however, is where the iPad Pro shines. The Pro may not be as powerful but has better battery life, a more natural-feeling stylus, superior entry-level apps, and is an outright joy to draw with. It's a digital sketchbook and idea machine, and you can hook it up to your desktop Mac using third-party software to get a very close approximation of a true Cintiq drawing experience.
To borrow an oft-quoted metaphor, the Surface Pro and Book are the trucks in the drawing tablet world—great, reliable machines that revere and model themselves after digital sketching tablets of old. The iPad Pro is the upstart electric car—it may not be as full-featured as the Surface, but it doesn't need to be to achieve its goal. It wants digital drawing to feel as fun and energetic as drawing in a real sketchbook, and it does.
Right now, there are going to be artists who still need or want trucks for their daily drivers, and that's fine. And if you have a Surface Pro already, I don't think you need to trash it and go running for an iPad. It's an excellent tablet for drawing and writing as-is. But for me, the iPad Pro's drawing experience is so obviously the way of the future that—at the very least—trying one is a no-brainer.
Serenity was formerly the Managing Editor at iMore, and now works for Apple. She's been talking, writing about, and tinkering with Apple products since she was old enough to double-click. In her spare time, she sketches, sings, and in her secret superhero life, plays roller derby. Follow her on Twitter @settern.
"...the iPad Pro comes in at ...1.57 pounds ...the Surface Pro 4's base model comes in at the heaviest of the three tablets at 1.74 pounds....
...in contrast, both Surface models feel much more weighty when held lightly in one hand...." If one struggles with a 0.17 lbs weight increase. One should look into a regular weight training regimen.

Less about weight difference than how the tablet is balanced. If you hold a flat, clipboard-sized screen in one hand and one is well-balanced overall while the other has all the weight on one side, you're going to notice a difference. The Surface is a little (though not much) less well-balanced than the iPad.

did you "accidentally" forget to mention a number of clear advantages of Surface pro 4 over ipad pro such has option of having up to 1Tb of storage, USB port and microSD port?

Did you 'accidentally' forget to read the title of the article? It's a tablet showdown for writers and artists. How does a USB port help in either of those two?

You joking? you don't think having a USB port that you can use to access large files on a storage media is useful especially with the embarrassingly low starting storage of 32gb of the ipad pro and the fact that you can't even finish a project on ipad and need to transfer your stuff to a real computer? Does anyone really not rather have a USB port than having it? You don't think having the option of having up to 1TB of storage for professional artists is a bonus? fanboyism before logic seems to be the theme of this website, either that or you all already know ipad can't do much more than doodling and writing diaries that it doesn't need proper specs and accessory ports.

None of what you said makes ANY difference if the tool (stylus) on the Surface Pro 4 is inferior to the Pencil on the iPad Pro.

I would have to agree... USB is a HUGE plus. I use my Passport on my Surface everyday to transfer huge files for digital painting. Surface's Pen rocks..... its got a great feel and it sticks right to the tablet as well. Plus... the eraser on the top "feels" like an actual eraser. I like the apple pencil, but it feels not as quite up to par to the Surface Pen, especially for precision or sculpting. I also hate the tip... people rave about this so called "shading"... but honestly, if your coming from a Wacom background like most professionals... you'll get annoyed when you accidentally start shading after trying to draw a nice line. Astropad for Ipad is so laggy its a joke. Its far from getting there, you might as well just bite the bullet on some basic art apps available on the app store if you really need to draw. For the price, Ipad Pro is nice, but for real productivity, do yourself a favor and get either a Surface Pro 4 or a Cintiq Companion. (16gb models)... you'll thank me later.

It's not, the only advantage the Pencil has is that you can shade when using the side of the Pencil. Writing, sketching is identical, I have both and have tested them vigorously. You also can't use the Pencil to navigate the UI, which really just absolutely sucks.

Supposedly will be possible to connect external devices with right accessory (eg. an adapter)
But my goal in getting a device like this would be to eliminate cables altogether. I hate them. http://www.theverge.com/2015/11/13/9732454/apple-ipad-pro-usb-3-0-lightn...

Thanks for the clarification.

You're kidding, right? A weight difference for a tablet you're going to be holding for an hour or more isn't the same as how much you can bench press. Of course, fanboys have their own logic pathways... Smh

Well tbh I don't highly value the opinions of someone who couldn't even figure out the 3 taps required to turn off a setting they fuss about in the review, and says how the Surfaces feel like a Cintiq experience (a bad thing), then says you can hook up your iPad to your Mac and get a Cintiq-like experience (a good thing.)

I know you can turn it off, I'm just commenting on its default state. And where did I say a Cintiq experience is a bad thing? The Surface is great, and I say so multiple times in the comparison. Just because it draws like tablets of old doesn't mean it's not a good tablet. The iPad and Pencil, to me, feels like the future because it feels more natural to draw with and I can use it (like a Cintiq) with my Mac. But that's not insulting the Surface. It does plenty well with the tech it uses, which I make pretty clear in my piece.

You said of Cintiq with Surface: "but again, that's a continuation of the old guard. Not a reinvention for the better."
Doesn't sound like a compliment to me. My apologies if I misunderstood. Also, IMO, if you're going to complain about the cursor in the review (which, to me, shouldn't even be in since I could fuss about a multitude of default settings on any device), you should at least mention it can be turned off. As is, it leaves the impression it's a permanent condition.

The other thing is that the title says drawing *and* writing, but there's barely any mention of writing (most likely because a true writer would choose the pen...)

She did mention it can be turned off

By updating the article, yes. Originally there was no mention of it.

So? It _now_ mentions it. Let it go, man. Go find a more Microsoft-favoring article if this one isn't the conclusion you prefer.

Lets be honest here, 90% of the real artists who are going to consider these two options are going to end up with the iPad pro.

Said no artist ever. And if you're thinking about just how it draws, you're not an artist. Doesn't matter how good it feels if it can't handle large file sizes or lags when using certain features.

Facts, Marden. Good news is, both Surface and iPad Pro handle large files like champs and don't lag.

Yes they do, and I'm saying this as a Surface owner. Maybe what I'm doing is more intense, but i wouldn't call a champ yet. Both have flaws but whats more important is the software and right now, ios mobile software isn't anywhere close to what desktop software can provide. Again, I'm talking about using these two hardware and software to it's fullest capabilities.

Facts? Simple. There's no software available for iOS that lets you finalize your artwork. You might be able to do simple sketch work or web comics, sure, but can you finish a painting you intend to display/sell in a gallery or a photograph for a fine-art magazine? The Pencil may be better than a standard Wacom stylus (the one that comes included), but still lags way behind Wacom's dedicated art and airbrush pens. More importantly, there's absolutely no software suite on iOS that's even remotely at the level required to proof, finish and print (lab profiles) on iOS. Heck, as far as I know there isn't even a solution for calibrating iPad displays. Till all those solutions come to iOS, what Marden says stands. Sure, you can export to a Mac which has all the software required, but that's a cop-out response if you intend on pitting the iPad Pro against a Surface Pro, which already has access to a full range of professional grade desktop software.

Word. And I say that in the piece. Surface is the tablet you want if you plan to use it for 100 percent of your computer work.

You are right. But then again, I am pretty sure real art producers whose output is going to make professional production are going to have one surface as their only computer. Its just not going to happen. At this time, these people need a large enough, portable, powerful, long lasting drawing canvas that can accompany their computer. How well it draws will be critical. Having some fun with it will be an added bonus.

and pick up the iPad for what? if you wanna pay more and be able to do less? if you want something incomplete that costs more than something that is complete?

Can do more and will be used to do more are two separate things. A master cannot use a jack of all trades, but master of none device. A retina iMac/Mac pro + iPad pro combo is what most professionals need. Not some try hard all in one device that does nothing good enough for professional use. Sure a surface will be cheap illusion of a pro all in one device, but common, which real professional is going to be fooled by that.

so spend $3000-$4000+ (ipad pro + macbook pro) for something that surface pro can do for under a $1000 without needing to be chained to a desktop. It's the ipad pro that is the master of none with half-assed specs and limited software availability ..why would anyone buy a tablet that can't finish the job without using a desktop when there is a tablet that gets all the job done without needing to run home and finishing your job on another overpriced device

Lol. A professional using a surface pro as his only computer will be real fun to watch. Imagine artists from DreamWorks studios saying that they need a surface pro and nothing else.

I think a professional that can only do basic doodling on his $1000 ipad pro and needs to run home to a desktop to finish the job is even funnier...beats the idea of portability. If you can't even have a fully functional design software on a "pro" device aimed at "masters" of art design as you claim , then the joke is on whoever "master" that purchases it

Some people want racecars to have back seats and ask: "what kind of pro driver will need another car to go to Costco?"
I don't have the time or patience to talk to such people. All I can say is that the people who ask these questions are called dummies in the pro world.

Well didn't take long for you to show your true fanboy colors and resort to insults as soon as you run out of arguments against common sense. "what kind of pro driver will need another car to go to Costco?" so basically you admit that what you can accomplish with the ipad pro is equivalent of a simplistic and unimpressive drive to the nearby costco..something that can be done with anything on wheels...well I agree with you on that one bud! "pro world"? unless you're a designer for the Pixar, please don't try to describe of a world that you yourself have no knowledge of.

Good one ;) Posted from my Samsung Galaxy S6

Here's a suggestion, if you don't like the iPad Pro then don't' buy it, if you you don't like the Surface, then don't buy it. This is actually Serenity's opinion and I can't say that I don't disagree with her. I don't think anyone is actually saying a Wacom tablet is the same as the iPad Pro, but it can be used as one. I've played around with both the Surface and the iPad Pro and I honestly have to say that the Apple Pencil is the best writing experience I've ever had in a tablet. Personally, I enjoyed her piece and thought it was informative. In the end, if neither is right for you then go buy a Wacom. Problem solved.

The problem with your suggestion is that it's beyond rhetorical, beyond obvious, and goes without saying. People don't buy things they don't like. That's usually how things go. However, I find the iPad Pro to be a hard sale at $799 when a Surface Pro 3/4 can be had at largely the same price, or you can get an upgraded up Surface 3 for cheaper (with all the accessories). You pay less for a less capable device. It's not like the hardware is any better than the Surface devices. Those are not Samsung Galaxy Tab devices. Full USB 3.0 Port, Micro-SD Card Expansion, etc. There is a lot of value in those devices that the post simply does not touch on, as well. And really, Pixelmator is definitely not a "Pro-Level App." Affinity Photo (OS X only) is approaching Pro-Level. Paintshop Pro is Pro Level. Pixelmator and Acorn... are not Pro-Level apps. Sketch Club... uMake... Procreate? This post exhibits an astounding level of disconnect from the real world...

If you have the luxury to spend $799 + $99 (for that apple pencil) to just enjoy the occasionally better writing / canvas drawing experience, by all means go ahead.

They don't, like the iPad Pro it's an as well as product. No professional in their right mind would use only an iPad Pro either. Please stop creating fictional scenarios.

If I spend $3000-$4000 on an ipad pro and a mbp, the surface pro model "for under a $1000" won't be much of a match.

Apparently workstation class software that begs to be on dual 17 inch monitors and the most precise mouse available, can be run on a touch screen surface and be called a day. One surface. Thats it. Not even a 15 inch MBP. One surface to do it all. Thats the big claim they are making here. Apparently some developer is going to use visual studio for development on a surface 4. Wow. What can you say?!?!
Muggles....

Where in this article does it talk about Developers? Key words "Artists" "Writers". Its in the title and called reading comprehension Professor Snape!

You should ask that question to the commenters in the comments section who said the surface can run visual studio. My comment was directed to these commenters. And me referring to developers was just an example of the ridiculous use case
claims that people say the surface will be used in.

In that context it would still be very easy to hook up to a larger monitor with a keyboard and mouse multiple ways. Wireless display, dock station, or hardwired. I'm sure a 16gb ram i7 can handle that and even a 8gb i5 could. Not really sure what your argument is?

Oh dear Lord.
You win, I give up.
I am sure the cooling system will be able to handle it and the OS will not knock down the processor speed in extended use. It will all be a prefect system and pretty soon be used in whatever/whichever way you suggest or going to suggest.

I've used it over 8 hours designing in Autocad, 3dmax and the Adobe suite with no over heat what so ever. I know you want so badly to not like the surface pro but your assumptions aren't truths and your arguments are illogical. Seems like you are trying to talk everyone into wanting their portable device to do less because you refuse to believe there is one capable of doing more all based on the grounds that Apple hasn't done it yet. I'm sure when they do have a truly comparable device your argument and needs will change completely.

I already totally agreed with you.
Hey, now that Apple has released something that can be compared to it, obviously its going to be awesome in the eyes of Apple haters. Fitbit, Samsung, LG, Microsoft, Amazon, Hulu, Huawei. the company doesn't matter. If Apple releases a product, the haters will become fans of the most worthy competing product and overhype it. I even heard NASA is using the surface as a super computer. Totally agree with every claim you are going to make.

Most would disagree with you is what I'm saying. A tablet for doodling shouldn't be compared with a tablet/laptop that can run professional software with high powered specs. Not an apple hater at all. I've been typing these responses from my iPhone 6 + and iPad mini 2. If anything you have proven to be a fanboy that has lost all logic due to your dedication to Apple.

I agree with what you're saying here. I've often said as much myself. That you can install desktop class software on a small screened device, but that actually using it is a different story. Desktop software has it's large and many palettes, small icons and interface chrome. Photoshop leaves you with a fraction of that 12" screen to work in. And if you buy a Surface Pro for $1000.00, you're getting a laggy experience. Maybe you're getting a laggy experience no matter which Surface model you buy. Photoshop right now is lagging on my fully loaded iMac with, i7 processor and 16gigs of ram. You can see videos of Photoshop lagging on Surface Pros on Youtube. I think, if a person is serious about drawing, particularly if they're going to make money with it, then it makes sense to go for the iPad Pro where you're going to get a much smoother experience than any of the programs running on desktop Windows. Apps like ProCreate are kind of amazing actually. I've been thinking a lot about these devices. The Surface Book, and the iPad Pro. Since I wouldn't be making money directly with the iPad Pro, it's really a tough sell for me. iOS is so limited. On the other hand, I'm not a fan of Windows at all, but the stylus experience might be "good enough". Plus I would have a regular unrestricted experience when doing things like managing files. The iPad makes everything difficult. You just get a really smooth experience with the iPad, but it's a relaly limited experience. I can't make up my mind which of these devices I would buy, but it might be the Surface Book. I believe the iPad Pro, and it's smooth apps are a better drawing experience, but without actually making money with it, the cost is harder to justify.

The Surface has access to writing software like Scrivener, the full version of Final Draft. It can run software like Sound Forge. Full Office. Creative Cloud. Developer Tools like Visual Studio, etc. You seem to be being unreasonably kind about the disparities. You should state the obvious in a more descriptive manner to drive the point home. What you wrote is too terse. The Surface is the tablet you want if you plan to use it for 100% of your computer work, when you're away from your desk or home and don't have access to your more powerful PC or Workstation. The Windows Pro OS on the Surface can accomplish things that iOS devices simply cannot. The distinction isn't just what it can do. It's that it allows you to avoid compromising in capabilities (apart from obvious hardware differences - Xeon CPUs, dGPUs, Massive Amounts of RAM and Storage that a powerful workstation-class machine can have, for example) even when you cannot access the more powerful machine, because the operating system it runs allows you to take the vast majority of those capabilities and user experience on the road with you.

I use a combination of the Surface and a powerful desktop. I would say about 50 / 50.

Seriously, hang in a gallery. Get your paint and brushes out. Very few galleries hang posters.

Sure, once the file is on the iPad Pro. Dealing with files in iOS is still an awkward if not just a simply bad experience.

Fact its borderline impossible for the Pro to handle large files.

I'm an illustrator, and I picked the iPad Pro. It handles large enough file sizes for me (up to 16K in Procreate) and I haven't been able to get it to lag even when maxing out settings. I think it has different appeal for designers vs illustrators. Designers probably see it as a neat sketching tool, but lacking in features for finished work, whereas illustrators see it as the most faithful digital art tool currently available.

I wonder how "professional" you really are... Lets be honest, Surface Pro 4 was what I bought

Where did you pull that statistic out of. Every single artist that I know owns a Surface Pro as well as an iPad. Especially now that you can use the iPad as drawing board in conjunction. Most use ArtRage and PhotoShop which require a full desktop OS. The iPad Pro has some nice drawing apps but dealing with files is a nightmare.

Good review and mirrors my own sentiments having used both. The Surface line is close to a Cintiq, but the Apple pencil is close to a real pencil.

My only real problem with comparisons in the article was the comparison of Apple's Notes to Fresh Paint. Fresh Paint is indeed not a notes app. The proper comparison would be with OneNote. They stand about equal in my books, but the fact that you can use OneNote outside of Apple's ecosystem is a big advantage. Especially if you plan on sharing your notes with someone.
Other than this, the stylus experience is a little misconstrued. It's a little unrealistic to say you like how the Pencil lacks buttons because it seems more realistic an experience. That's like saying if you had an eraser accessory to complement the Pencil, it would be preferable. And knowing Apple, if they decided to do that you'd pay an extra $50+ for the privilege of a brick you can rub on your glass screen. Switching tools is a bit cumbersome, and I find myself using both buttons (selection and erase) with my tablet when I'm writing notes. I don't even have the updated Surface Pen. The only complaint I have with the touch experience on Windows is the cursor that shows up when you touch something. It's not annoying or obtrusive, but I wish I could cut it out completely. Even when you try to, it is still a small tiny dot. The tilt sensitivity is the only feature missing on the Surface that the Pencil has. It may be the deciding factor for some people, if they really like iPad software.
With the battery situation, saying you could be frantic for batteries on an occasion is a bit over the top. The Surface Pen has batteries that last about a year, so you'd have plenty of time to plan on the batteries going out. Swapping them out is a pretty simple procedure. However, the Pencil has a 12 hour battery, so likely every week you'd be plugging this thing into the bottom of your iPad Pro, which makes it stick out ~8 inches, making using the iPad Pro kind of uncomfortable. Plus you couldn't use your Pencil right away. You'd have to wait at least 30 minutes.
I think these were a couple good points of criticism.

Notes vs Fresh Paint was for testing drawing and handwriting only, not note-taking in general. In that regard, Fresh Paint is superior to OneNote because it is specifically a drawing app. The biggest difference in experience between the Surface pen and the Apple pencil is the lag, not the tilt. Apple Pencil has a lot less lag. As for having to charge the pencil, 15 seconds of charging gets you 30 minutes of use, so it's not a big deal.

How many time you need to plug that pencil under your iPad pro in a year? And you know that doesn't seems secure at all. And when you charging your apple pencil with your ipad pro and try to rest the iPad pro on a flat surface, the width of the pencil is more then the iPad pro thickness. So the whole thing doesn't rest well... Posted from my Samsung Galaxy S6

I think it comes with a little cable bc of that reason. (Not speaking from first hand experience, I read it somewhere)

Probably the same amount of times that you need to plug the iPad pro in the outlet.

Stylus feel is a personal thing, which is why I stressed my personal interactions with it. Some people rely on extra buttons and like eraser nibs, and that's fine. I don't use them much, which is why I said what I did. So far, I've only had to charge the Pencil three or four times, and I'll usually do so while I get a cup of tea or read email. It takes about five minutes for a few hours' worth of charge; 15 minutes for a day; 30 minutes to charge up to full. I rarely charge it to full, just plug it in for a few minutes when it gets low. As I said in the article, I like that ability—if a battery-operated pen dies on me while on the road, I have to run out and find batteries.

OneNote is a lot better than Apple Notes, by an order of a magnitude. Especially on a device like the Surface Pro, where you can use the full Windows version of OneNote, which is about 1,000x better than the Universal Version that is on mobile devices and pre-loaded onto Windows 10. The Desktop version of OneNote can be had for free on Windows. The OS X version is basically a Mac Port of the Universal App, and is terrible like all the rest of them.

You can spin it anyway you want. But the fact is, the iPad Pro is nothing more than a souped up, big iPod Touch. The Surface is a full fledged Windows computer.

Rot with all of Windows faults!

You just made a great point! iPad Pro all the way. I have no desire to have anything to do with a Windows computer in my environment.

"The Surface is a full fledged Windows computer" Totally agreed. A full fledged Windows computer with display drivers that crash every 10 minutes, battery that dies in less than half a day under standby and a fan that just can't wait to turn on!

A lot of people forget about these points. Windows has a lot of issues, and eats up resources/power

Not really true anymore. Especially with the Surface Pro.

Am I the only one that thinks its silly that the pen has an eraser and the pencil doesn't?

Ironic for both of them isn't it.
Although I do have nice memories of pen's eraser. It erase the writing together with the test answer sheet.

It is still early in the software cycle for the iPad Pro. You don't need a MacBook Pro to do anything mentioned in the article. Yes, you can buy a Surface for $1000 and do more, but with no software. Let's not forget that Adobe creative studio starts at $1,200, the Master cost $2500. Photoshop is $699 by itself. Microsoft is showing all the things you can do on the new Surface in their new commercial. But what they are failing to say is all the software is sold separately. Know matter what App's and Software is going to cost money. Sent from the iMore App

Surface Pro starts at $899 for the Core m3 version, which has 128GB Storage (with a Full USB3.0 Port, as well as a mSD Slot for Expandable Storage), 4GB RAM, Windows 10 Professional, and Includes the Surface Pen in the box. The iPad Pro starts at $799 with an A9X, 3GB RAM, 32GB Storage (not Expandable), iOS, and you have to buy the pen separately. The Pen costs ~100, the KB costs (IIRC) slightly more than Microsoft's. So the iPad Pro is considerably more expensive. In order to get a 128GB iPad Pro with a Pen you're paying $949 + $99 for the Pencil. You can upgrade to the i5 SP4 and pay less. Most Creatives/Professionals won't have to worry about Software. They can just load up the software they already have as most companies allow multiple installations of their software (2-3, in some cases even more). The thing is, yes the software costs on the Surface. Still, you're being disingenuous. The great thing about Windows is that professions on a Budget can get lower cost options that are very popular. Someone can use Paintshop Pro for $50 off Amazon, which is suitable for Pro use. It's not as good as Photoshop, but it's about 5,000% better than Pixelmator (OS X or iOS). AfterShot Pro can replace Lightroom if you're on a budget. People have used worse tools than VideoStudio to produce movies. Corel Draw and Painter still exist, and are far cheaper over the long haul than full creative cloud subscription. Sound Forge and ACID Pro still exist as lower cost alternatives to Audition, etc. The world doesn't revolve around Adobe or even Microsoft's software. There are thousands - millions, even - of people out there getting the job done with much cheaper, still capable options. Many of which are still absent on both iOS and OS X. Actually if you want to *save* money over all, the Surface is the way to go, compared to a MBA or lower SKU MBP; and a Windows Desktop is the way to go over a Mac. Because on OS X/iOS you're either shut out from great software, or you're given the choice between low end non-Pro options that are simply not that good and high priced options like Adobe's software. On Windows, there are still mature, well supported solutions in that "middle area" that get the job done with no issues while saving thousands of dollars. The reason why professionals don't mind Macs is because in many cases they aren't going to be paying for their own tools, anyways. If you work at a company, they're likely to be paying for it. The same way software developers got their $500+ IDEs subsidized by their employee. Pricing is a bigger issue for contractors (who aren't rolling these costs into their billing) and independents and students just getting started, and in many cases the companies have workable offerings for those corners of the market (Visual Studio Community, Academic Licenses for Adobe CC/Office, etc.). Literally all of these companies allow at least 2 installations (even Adobe). If you're a professional, you probably already have the licenses. All you have to do, is install the software. So your cost analysis for the software is only really logical if you're talking about someone starting from scratch (and even then, as I stated, they can use alternatives and save a ton of cash - it isn't nearly as bad as you state). Creative Cloud is Subscription Only. I'm not sure how many people would want to buy an old CS6 version at this point, assuming Adobe is still selling it, and for professionals using Adobe Tools (especially multiple Adobe Apps) the Subscription isn't really as bad as some people say (the bad part about it is that you don't *own* the software - cost over the long term isn't worse than upgrading the perpetual licenses even with Upgrade Discounts). The iPad Pro software cycle won't matter. The issue isn't the device, but the Operating System that runs on it. Apple would have do change a lot of stuff to make software on the iPad Pro even began to be comparable with Professional or Prosumer Desktop software on any full Windows Convertible. Also, the ability to integrate the Surface into corporate networks like any other Windows Machine is also a +.

Very good and detail analysis. In my opinion, it's better then the main article itself. Because you look at the differences of the two.

Actually, you seem to be the disingenuous one here.
There is a lot of talk about "pro" "desktop" whatever-level software available on the Surface. But, now that we are comparing at the same price point, what exactly are people going to use on that m3 with the 4GB of RAM? Maya? If we are talking about software on the Mac or on iOS, there are plenty of very cheap options (not to mention free ones such as Pages, Numbers, Keynote etc.) and also plenty of Mac-only software, so implying that Windows is somehow cheaper overall or has more software available is simply untrue. The overall cost actually depends on the subjective needs of the user.
Apple doesn't need to do much with iOS, developers need to make software that takes advantage of the capabilities of the iPad Pro, same as they did when the iPad was initially released - the same criticisms were voiced back then and now plenty of people use it in a professional setting.

That's simply untrue as echoed by many artists and writers in the comments above and below. I don't believe there isn't an artist or writer that doesn't use the adobe suite in some fashion. IOS is the problem it handcuffs the developers from making apps that are comparable to software like illustrator, and Photoshop. Anyone using it in a professional setting doesn't use it primarily or even functionally because I'm sure they need to use actual professional software to produce the files desired.

"Many artists and writers in the comments"? Give me a break.
What is untrue? That the similarly priced and underpowered Surface will struggle with a lot of the software discussed here, especially some of Adobe's applications and those for 3D? That there is plenty of great software for both iOS and MacOS, which is often really cheap or simply doesn't exist on Windows?
The real issue here (and in most such discussions) is how randomly people decide what is "professional". It doesn't mean much, because it simply defines all people who make money with some device/software. iPads have been used in a professional setting for a long time now, albeit more as an assisting device. Look at applications such as Ulysses, those from Omni Group, Procreate, those from Apple, Office etc. Are you going to tell me that Pages cannot be used professionally? And more applications will come, now that we have a more powerful iOS device. Sure, it is not going to solve every need out there and if one needs Scrivener, as someone mentioned, then the Surface will be the better device. And, if you need to use After Effects, Zbrush or something more demanding, the Surface is also the better device, as it has the option to be upgraded quite well - however, this will put it in an entirely different price bracket from the iPad and into the realm of quad-core laptops, which will obliterate it for really serious work. As you can see, it simply depends on one's needs, so any generalization about what is more pro is nothing more than arguing like kids about which car is faster.

Under powered Surface? Ironic coming from someone supporting ipad Pro with far less power. Like I said before I've used CAD Revit Sketup all just fine with SP4 which all are a strong hold software in the design industry. Not some 10 dollar gimmicky 3d app to play legos with. I work for a fortune 500 company in the design dept. and the device they chose was the SP4. These two devices really shouldn't be compared to be honest but its funny to hear the ridiculously biased arguments for that over-sized Ipod touch with a decent stylus.

It doesn't matter how good the iPad Pro is with the Apple Pencil -- when you can't get the Pencil. I'm still in a holding pattern three weeks after purchasing my iPad Pro, and it's still showing another three weeks to ship. All my artwork is getting done on my PC, because as much as I'd love to use my iPad Pro, it's not that great with a standard pencil.

What a worthlessly biased article. I mean she pretty much admits she didn't spend that much time with the surface in the battery section yet she still includes that comparison in the article? The section where she goes on and on, lobbying for iOS apps and comparing to actual software was very humorous. She sounded more like a bad politician than an unbiased tech reviewer.

Its iMore site and publish by a pro apple writter. So I'd expected it to be a bias comparison. You can tell that when it's only comparing based on what iPad pro can do. It's a cheap tactic to make it sounds like they are in the same league by compare iPad pro to Surface pro 4 (which is a different league game by itself compare to iPad pro). I think a one proper comparison article should be compare Macbook air to Surface pro 4. Definitely not a iPad pro. Don't don't forget that they cost almost the same after adding up the accessories. Posted from my Samsung Galaxy S6

The hero of the internet discovered a Mac conspiracy!
The article is discussing the feel of a device, how precisely do you want to address bias in such a text? The author did in the best way possible - indicated very honestly how much time she spent with the device, what she is reviewing and clearly stated an opinion - "for me". People "offended on the internet" are much more humorous than the article.

The Surface does have much worse battery life. But then, it runs a full desktop OS with powerful and power hungry processors. It is expected.

Windows 10 doesn't use more battery because it's a "full desktop OS", it's because it was never optimized for mobile devices, you'll realize this if you use a Macbook and install Windows on it, then compare it to OSX

Think article shows how iMore tries to justify and praise every apple product, no matter how bad it is. They are lucky because apple products are pretty much all great; however, it seems like the iPad Pro is an exception (although its fault is not in the device itself, it's in what apple wants it to be). While places like Android Central and Windows Central can be critical about a product as there always is a competing device from another manufacturer, iMore can't do that. They have to make the iPad pro great, as there isn't another osx machine that does the same thing better.

Technically there are. The "iPod touch" and the iPad mini, and the iPad air. Except they all don't support apple brand $99 stylus. Other than that, they all are 99% similar functionality (up to the number of icon on the home screen are also same, with different size screen) Posted from my Samsung Galaxy S6

"99% similar functionality"
"Posted from my Samsung Galaxy S6" Have you even used any of these products? That's like saying all Android devices are the same because they all run Android

Yes, I have used the iPad Air 2, iPhone 6 Plus, iPhone 6S Plus, and iPod Touch. 90% of the software is the same. The rest is just icing on the cake depending on form factor and whether or not the device has the latest SoC in it. He's right. The issue with the iPad Pro is iOS, not the iPad Pro itself.

Dude, posted from my samsung galaxy s6 doesn't means that I had never used an iPad before, we had an iPad at home, it's just that I seldom use it because it is not very useful when compare to my PC. Yea, the "PC". I enjoy a freedom of having few browser open up and multiple tab per web browser. Its the tools to enable us to do thing fast, not us to adapt to the tools to do thing its way. Android device are not all the same because they all had different Launcher by different company. Its a complicated platform. Its like there is an apartment, there is many unit inside and different people will renovate their unit to suite their taste. But iOS is like there is an apartment, there is many unit inside, but all unit are the same, you can't renovate it. BTW, I was iPhone 4 user before.

It's not like the iPad Pro hasn't gotten good reviews elsewhere and iMore is the only one praising it. Nearly all the reviews have been positive. For a Apple oriented Web site I thought this comparison was pretty balanced.

She clearly stated that this isn't a review and more of a comparison. That being said it was hardly a comparison and more of a informative marketing tactic for the ipad pro. She makes it very clear that she wanted to inform the reader of all the workarounds for the Ipads downfalls and mislead the reader about the surface Pro 4 by using standard settings as if they are set in stone.

So they should revisit it again when the next generation iPad will (hopefully) support the Pencil and provide an alternative.

The bias level of this "review/article" rivals that of Rene. So sad. Sent from the iMore App

I think they are influencing each other.

Clearly, the article is biased. Surely, the Surface is the better device! Lol.

Serenity's comparison is completely valid and fair. She tells us where both products shine and which product is best for which user. Lot of salt in the comments as usual. The reason I will not be buying the Surface Pro 4 has little to do with her comments and more to do with my 20+ years of supporting Windows as an IT professional. No way I want my tablet bringing all that Windows baggage. Malware, BSODs, Windows Updates, virus protection, registry hacks, drivers, etc. I don't read The Verge scores, I look to the real customer reviews. https://www.google.com/shopping/product/156563052402315107/reviews?q=sur... http://www.amazon.com/Microsoft-Surface-Pro-Intel-Core/product-reviews/B... Absolutely littered with exactly what I expected.

She openly admits spending little time with the Surface. How is she qualified to compare two devices one of which she has barely used, and the other being a device she has an unquestioned bias for. Like previously said by many the devices shouldn't be compared for the simple reason apps can't be compared with actual software. And if all you need are apps then you shouldn't be making a judgement either because obviously you have no use for high powered software.

She didn't need to spend a lot of time with it. This comparison was for artists. This was which one is better to draw on. This wasn't a comparison of every single use case. If she'd spent "more" time on it, she'd found more things to complain about. The biggest problem with the Surface is that it runs Windows.

You sure you weren't the one who wrote the article? Yeah and any decent artist would prefer to draw on the corresponding complex software not a 99 cent app. You flew right out of the fanboy closet didn't you?

Actually, the fact that it runs Windows 10 (a great OS by the way, get with the times) is kind of the winner, in this case.

Windows 10 is pretty buggy at the moment, like all initial Windows releases because they don't do very good testing. It will be a pretty good OS after a year of being released though

"Openly admits" means being honest. I didn't know one needs to be "qualified" to judge the feel of a device. Surely, you are qualified, right?

What article are you reading. Pretty sure its not about judging the feel of devices. There are no qualifications but one would think that if you were going to write a comparison article you would spend an equal amount of time with both devices. That clearly wasn't the case.

The article above the comments.
"I do prefer the overall feel of the iPad", "The tablet feels much more well-balanced", "both Surface models feel", "pressing into the screen feels much", "its weight, length, and balance feels right for this sort of tool", "more natural-feeling"....
It is an opinion piece from start to finish. How would you describe the stylus experience in an unbiased manner? The whole article says the following - both devices are great; the feel is different; the author prefers the iPad feel. Where's the issue here? Of course, it would've been great if the author could spend enough time with both devices, but let's get real, in a professional setting, with deadlines and whatnot, this is not always possible and, if most comparisons do not start with a disclaimer about how one of the devices has been used for a shorter amount of time, that hardly means that wasn't the case.

So here's my question: does the pencil work on an iPad Air 2 or do you HAVE to have the iPad Pro? At present, I have no plans - near or far future to get a Pro. I don't have any kind of antipathy towards it or anything, it just seems to me to be a) better than the Air2, but not better enough to justify the price when I already have the Air, and b) a categorical "misfit" to be a proper "Surface Killer". So either way, impossible to justify. While I think it's probably fair to say the Pro's tablet experience is currently better than the Surface's "early Continuum" tablet experience, the Surface is a Tablet AND a laptop at the same time, all in one device - in the truest sense of the word. That's what makes it so special and so unique and currently, only the Windows ecosystem really pull that off. I'm sorry, but slapping an expensive keyboard and pencil on an iPad, no matter how stellar of one does not a laptop make. It just doesn't. Whether MacOS or Win10 desktop makes the better desktop experience is one part objective give and take, one part up for debate, and the heavy part sheer subjectivity and personal taste. Plus they're both constantly evolving so they both keep taking ground from the other one and the answer today - if there even is one - may not be the same answer tomorrow. In terms of the hardware itself between a MacBook, SurfaceBook, and SurfacePro, in my estimation, the MacBook slots in the middle. But regardless of who's hardware or desktop OS is best, my point is that the only way to have an experience with Apple that is anywhere near analogous to the Surface experience is to have BOTH an iPad AND a MacBook, have to lug two devices around, and between the two of them, spend enough to have both a Surface Pro AND a Surface book (though why would anyone want both?) My point is that while the prospect of the iPad Pro being the best all around tablet qua tablet on the market right now is pretty hard to argue against and three cheers to Apple for pulling it off in such a subtly gorgeous, starkly elegant and featherlight way - the prospect of the iPad Pro being a "Surface killer" is a category error on the order of laugh out loud funny. Not that I'm necessarily postulating that the Surface is "an iPad Pro killer" either, but I AM asserting that the converse is patently false. No, -IF- Apple has a "Surface Killer", it is only in the form of a $3000-$4000 multi-device tag team. Now, all that said, I have no reason at all to doubt that the Apple pencil and the iPad Pro art software is better. Apple has always seemed to have the edge in these areas (though I would certainly believe the Surface is at least very competitive). I don't do a lot of art, but I'm certainly intrigued by the prospect of being able to use a tablet to do it, and would love to mess around with it - especially on the apparently superior Apple experience! But as I said before, there is just no way that I could justify buying an iPad Pro - especially just to fart around with my fairly inept art skills. So I guess I just come back to my original question: is any of this stuff available to us iPad Air2 users? Lemme know! Cheers!

Short answer is no, apple pencils doesn't work on iPad Air 2. Cheers :) http://www.theipadguide.com/node/106109

Ah. I was afraid that'd be the answer. Thanks for the clarification. :-)

To be honest, the surface is better. For both writers and artists. Largely due to a massive software advantage. The ability to run software like Photoshop, Paintshop Pro, Painter, Corel Draw, Office 2016 for Windows, Scrivener... Hell, even Developer Tools. It just cannot be understated. The iPad Pro is nice hardware, but I would likely buy an Air [1] before I splurged on anything more high end because... iOS. Surface Pro 4 should be compared to MacBook [Air] and some lower MacBook Pro SKUs, not to an iPad Pro, which is more comparable to a Surface 2, except it has a stylus (a Pro in its column in that comparison). With $799+ Price Tags, the Surface Pro is an absolute steal compared to the iPad Pro.

To be honest, the iPad Pro is better. Yep, that was easy.

Why would she compare it with a MBA/P when they don't have styluses and this comparison was primarily for artists. Shut up, please.

A lot of people are also wondering why she would compare it to a iPad pro when it can't even run the corresponding software for artist and writers. There are ways to use a stylus with MBA/P but you'll never be able to run the software on the iPad. You should practice what you preach and shut up as well.

Surface also has a very nice touchpad on its stellar keyboard, along with a great pen.
You can also pair pretty much any bluetooth device with it as well as take advantage of every peripheral under the sun through its USB port. For professional work on the go... its no comparison. Oh and if your a zbrush person.... last I checked iOS has nothing that can even hold a candle to that software. I balance my days with a fully loaded PC, a mac for testing stuff and occasionally editing video, and a surface for picking up where I left off on professional painted pieces 600dpi+ . I really had high hopes for the ipad pro.... but when you get down to brass tacks, it just isn't a productivity device like they claim.... but it soooo wants to be one. Keep your traditional workflows and get a Surface Pro 4. (or a cintiq companion 16gb) When apple wises up and decides that gee.... I think everyone wants a macbook with the same tech, then I'm game... until then, the Ipad Pro is a great time waster when I'm not doing actual work.

You are going to use Zbrush with 4GB of RAM and an m3 processor? Or, are you going to upgrade and make the device twice as costly as an iPad pro?

Where did come up with m3 and 4GB? In any case, the iPad Pro regardless of cost, cannot run Zbrush, none of the Autodesk desktop application, any of the Adobe desktop applications, Unity 3D or the UDK 4 gaming engines, BlackMagics video editing and grading tools. If Apple wants to create a great sketch pad, graphics novel or media content device that is great. I would love to have one because I do think it is light, thin and well balanced and it is what I imagined a digital version of magazine would be like. Also, I think there a ton of remote viewing and remote operations apps in medical, business and science could use a digital clipboard. Once I can afford one, I do plan to get one for this reason alone.

Nice article! However, as some said, something slightly more in-depth would've been better.

FYI - If anyone wants to buy an Apple Pencil but doesn't want to wait 4-5 weeks order it from T-Mobile. I ordered mine on Sunday and it's being delivered today. Sent from the iMore App

I am little concerned about a website titled "iMore" and that appears to spend 99% of its time covering Apple related products and accessories, would not be biased in this review. I have heard two of the writers from this website on a few podcasts on several occasions over the years and there is heavy alliance to Apple. I have no problem with that, but I do have problem with a fair assessment of the benefits of each device in question when personal preferences strongly align with Apple. With that being the case it was a fun read, and some of the points I agree with. But major emphasis is what software will be available in the long run when you have so many constraints on how an app is created, marketed, and funded when it can only be obtained in the iOS app store. Developers are already showing their frustrations with the limited software distribution, pricing constraints (peer based) and maintenance model in the Mac OS app store. One final note. Maybe I am just an old guy, but I thought artist & musicians were "starving?" How did they become so wealthy to be the focus group behind this pretty expensive experiment? Maybe that's why we are seeing so many Surface Pros in "other" professional markets like medical, research, engineering, media, etc... I know these other markets are not as sexy, but at least they can afford them.

Having used Cintiqs for some years now, and a range of other stylus enabled devices, I would say, if you want an iPad Pro like experience, then get a Cintiq. That's maybe as close as you're going to get to the perfection of the Apple Pencil and iPad Pro. In terms of the stylus experience, the iPad Pro is a game changer. Also, performance with apps like ProCreate are a kind of smoothness that you'll never find with any deskto programs regardless of the monster workstation. The bottleneck is not just the workstation. It's the programs. Like Photoshop. Probably my favorite program ever, but I'd be dishonest if I said it were a really smooth experience. Yet, it's among the best on the desktop. But the iOS apps are super smooth as a rule, and some are exactly what's needed on a tablet. Photoshop is overkill.

Where to start? I get that this article is hopelessly outdated based on the fickle nature of the internet audience. I just came across it though. No idea if anyone is still reading this piece, but if they are, I wanted to throw out a few things.
* For those of you lamenting the pro Apple slant in this article, relax. Do you realize that this is part of a collective called Mobile Nations? They have several member sites that are served by fans of each company. iMore is in fact a pro Apple news site. Windows Central is in fact a pro Microsoft news site. Android Central is in fact a pro Google news site. Take them together as a whole entity. It is actually really fun and interesting journalism. Writers from different sites contribute to sister sites frequently. They also disagree with each other and refer to each other's articles for reference. If you just read one of them (say iMore) you are kind of missing the point.
* I feel that Serenity overall did a fine job on this article. It is supposed to be an opinion piece on which is the best pen/pencil platform. Unfortunately that is a really difficult review to write, because as the comments clearly illustrate, you really can't just peel off that one part of each platform and compare them. Pen/pencil is a small part of each platform's highly complex integrated experience. Were I her editor, I would have wanted something much more objective. Pick an experience common to both, say OneNote (and yes I know even that isn't a perfect comparison due to the differences in OneNote for each platform), and compare the writing and drawing experienced based on that common framework. I do think she falls a little short in the quick summaries. I'm talking about the frequent bolded sections stating "if you need a tablet that works in outer space, pick tablet A. If you need a tablet that can be submerged to 500 ft of water, choose tablet B". The reason I say that is because those seem to be the areas where she is comparing apples (pun intended) to oranges. The attempt at setting a clear common scope (drawing and writing) falls flat. The variables in those comparisons are too complex for the intended simple answer. In those situations she is obviously defaulting to Apple as the answer. I have no bad feelings about that. She is on the staff because she is an Apple fan. Daniel Rubino on Windows Central would do the same. Windows people, if you want a counter balance to this, go to Windows Central. Ditto Android folks.
* I have a problem. I get all the new shiny toys. I can't stop myself. I need to see a psychiatrist. I think there is something wrong with me. I am not bragging, but I am blessed by making enough dough to support my addiction, and I work for a company that gives me many of my toys for free as part of my job. So at this point, I have an iPhone 6s (which tends to be my daily driver), a Google Nexus 6 (last generation - i'm working on getting the 6p), and a Microsoft Lumia 950. On the computer side I have an HP Xeon workstation with a high powered Nvidia GPU. I also have a 2014 MacBook Pro Retina (i5, 8GB RAM, 256GB HDD). I also have an iPad Mini 2, an iPad Pro 128 (the big one), a Surface Pro 4, and a Surface Book (I also owned a Surface Pro 3 for a long time). I'm not bragging, I just want to establish myself as someone who loves all the new toys.
* A few thoughts of my own on iPad Pro vs Surface Pro 4 vs Surface Book
---I am a musician, and a software engineer. I am no graphic artist. However, I love to annotate things with ink, and i love to take notes with a pen/pencil. I am also a person who likes to draw out my ideas for others using diagrams. So while I am not creating great works of art, pen/pencil support is very important to me.
---iPad Pro and Apple Pencil is the better writing experience. Forget about everything else for a moment. I am talking exclusively about the feel, latency, and output of the stylus device. The pencil seems to write more smoothly on the surface (pun not intended) of the iPad Pro. There is less latency. I agree that the longer pencil somehow just feels better and more natural. More like an analog device as opposed to a digital one. I however hate the tilted pencil shading experience. That is not the way that a sharpened pencil or pen works. It might be a neat gimmick when i get used to it, but for the moment it shades at inappropriate times. I cannot quite get my head wrapped around the analog equivalent and how that would work for me.
---The SP4/SB pen is NOT by any means an inferior option. Yes the pencil feels better, and seems to be less latent (depending greatly on the app). But the difference in my opinion is extremely narrow. Once again I will reiterate, I am not a graphic artist, and maybe if I were there would be a universe of difference. But for my uses the pencil is better, but not by any wide margin. And although the pen doesn't seem to be balanced as well as the pencil, the eraser top and button are really useful features. I miss those features on my 'better feeling' Apple Pencil. I have to disagree with Serenity here. This is one of those places where she goes too far in the Apple fan girl direction. The likelihood that you will accidentally hit a Surface Pen button and do something bad is extremely small. It is well engineered. Why wouldn't someone want more options? There are a ton of things you can do with the top button - like launch a drawing app without even unlocking the machine. And as has been discussed you can erase with it. Apparently an eraser is actually a bad thing to a real artist? I guess you are supposed to shade your way around your mistakes? That's a new one for me, but I'm not making cartoons so what do I know? On the pen, no one is making you use the buttons. If you don't want buttons on your stylus device, don't use them. I find it highly unlikely that you will trigger one by mistake and erase valuable work. Why wouldn't you want those options on the pencil? You don't have to use them if you don't want to. Horrible analogy coming, but it feels like she is saying I don't want automatic windows on my car. It isn't necessary to drive and may interfere with my enjoyment of the driving experience. Speak for yourself. As long as an option doesn't get in the way if I don't want to use it, give me every option possible. I like the freedom to choose. Besides, I can't help but feel like if the pencil had more physical control options than the pen, that this article would be making the opposite argument. That may not be fair, but I would bet on it.
---Device usage. Ok, so I own all three. What do I use and when? The iPad Pro with its weaker but mobile first designed architecture gets better battery life, starts enormously faster, and holds a better battery life in standby. On that last point there is no comparison. I can leave any iPad in a soft standby state, and come back to it weeks later with commendable battery remaining. This is not the case with either Surface device. The systems are way too powerful, they try to do way too much with offline connectivity when in standby mode, and there is way too much going on in Windows itself to give it standby battery that is even in the same league as the iPad Pro. So clearly I prefer the iPad Pro. Uhh well, no, not necessarily. Despite the really great Apple pencil (btw - it can be used for iOS/app navigation now - that was a ding against the Surface in this article - was apparently too complex and it's supposed to be more natural to use finger for nav - do you lament that this feature was added to iOS, Serenity?), and the smart connector that lets me connect my substandard Apple smart keyboard cover, Apple is playing catch up here in input devices. Let me say though that for a v1 product the smart keyboard cover is awesome. Way better than the first two attempts by the Surface group. Times have changed though and the SP4 and SB keyboard and trackpad are Apple-style top notch. But here is the big thing - iPad Pro is STILL a 95% consumption device for me. It is what I reach for to surf the web on the couch, read a book, watch a YouTube video, play a simple game, check my bank account, etc. When I need to do real work (even just typing this ridiculously long comment) I reached for one of my Surface devices. It's what comes with me when i leave the house for the day. And at least on the larger screen of the Surface Book, I do all the things that some commentators believe is ridiculous (like write code in Visual Studio - come on - seriously? it's a freaking laptop - why do you think software development/engineering is ill suited for a laptop?)
* so that's my story. I love the Apple Pencil. I wish it had buttons. iPad Pro is my go-to device for any kind of consumption or entertainment activities. When I am serious about getting something done, iPad Pro doesn't even cross my mind. I grab one of my Surface devices and head for the door.
* honestly my most disappointing device in my collection is my retina MBP. The only reason I still have it is because I LOVE Logic Pro. It is my favorite DAW. If I could get it on Windows I would ditch my mbp in a microsecond - though you would have to pry my iPads and iPhone out of my cold dead hands. Hey Mobile Nations - looking for any new writers? :)
Thanks for reading. Mobile Nations - looking for any additional writers? :) Thanks for letting me take up so much space in your comment board.

The Apple Pencil senses stylus tilt, but most Windows tablets don't. The current generation of Intel-based windows tablets can do awesome things like real-time watercolor: https://www.youtube.com/watch?v=qADz0jXycOI that the iPad can't.
If next-gen Windows tablets get stylus tilt support, it would be perfect!
Get the best of iMore in in your inbox, every day!
Thank you for signing up to iMore. You will receive a verification email shortly.
There was a problem. Please refresh the page and try again.