iPhone 11 could use same OLED displays as Samsung Galaxy S10 and Note 10, says report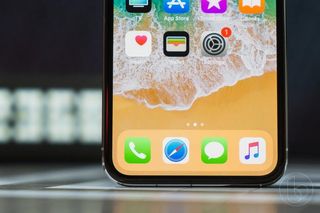 What you need to know
The new iPhone 11 will reportedly use the same OLED displays as the Galaxy Note 10 and S10.
Apple's OLED displays are made by Samsung, but this could be the first time it uses the same displays used for Samsung phones.
These new OLED displays would be included in the iPhone 11 and iPhone 11 Max.
The iPhone 11 will reportedly come with the same OLED displays used for Samsung's Galaxy S10 and Note 10, according The Elec, a South Korean site. The displays Samsung uses for its phones are branded "M9," which will reportedly be the same ones used for the new iPhones.
Ever since Apple introduced OLED displays in the iPhone, it has used Samsung panels, but this could be the first time it uses the same panels found in Samsung's own phones.
For the iPhone X, XS and XS Max, Apple used custom OLED panels that were codenamed "T2." Although made by Samsung, Apple color calibrated the displays to ensure the same quality as the LCD panels it used on previous phones.
It's unclear why Apple is making the sudden change. It might be that Samsung has tweaked the display quality or some other logistical factor like production speed. It could also be related to the fact that Apple shipped a lower number of iPhones with OLED panels than it had promised Samsung when this partnership began.
Whatever the case, Samsung and Apple's flagships could have displays that look very similar this year.
Apple will announce the new iPhones next month. If renders in the new iOS 13 beta are to be believed, that date will be September 10. We'll see then how the OLED displays look on the new iPhones.
Get the best of iMore in in your inbox, every day!
I suspect that Samsung might have gone into it knowing what Apple would demand in a display for this year (having been told that) and decided to make that display and also use it for the S10 and Note 10. It makes sense, it's one less article deciding whether Apple or Samsung has the better screen (they're the same) it also means that if Apple doesn't buy more then Samsung can use the excess in their own phones. It also means that if Samsung needs to ramp up production they can do it easier because they don't have two separate production lines. It also means production is already up and running on this part. Really Apple has always talked about how gorgeous their displays are, but they've never been "Our displays are so much better than the competition". There might have been a BIT of that when the iPhone 4 launched but other than that they've always just focused on having good displays. Also worth noting, this probably drives costs down a little and given that Apple might have been seriously worried about tariffs from the Trump administration, they probably were more worried about driving down costs on this year's iPhone that introducing a ton of new features.

While I love a great display. I don't see the value you in giving an iPhone a Galaxy quality display. It will be wasted on an iPhone. The IOS layout doesn't allow all the features an android phone does. Clean home screens to see your wall papers, widgets or half a dozen other things. Again, I get the want for a top end OLED screen. But let's be honest Apple just wants a reason to charge you more.

What's the point in this post? Just because iOS blocks your wallpaper with icons, doesn't mean the screen isn't important for videos, games, pictures or whatever else.
Thank you for signing up to iMore. You will receive a verification email shortly.
There was a problem. Please refresh the page and try again.