The iPhone 12 will need a huge upgrade to lure people away from the iPhone SE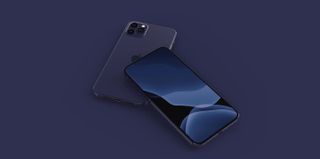 (Image credit: EverythingApplePro/Max Weinbach)
Right on the heels of the iPhone SE (2020) launch, a lot of rumors about the iPhone 12 have been circulating. From features, to screen sizes, and even prices, people are clamoring (myself included) for as much information we can about the upcoming iPhone. The iPhone 12 will be a hot topic right up until its launch, but the question a lot of people should be asking themselves is whether or not the iPhone 12 will be worth it.
It might be easy to say that the newest iPhone is always the best phone, and by some metrics (like speed) that's likely a fair assessment, but when you start talking about buying a new iPhone with your hard-earned money, what the spec sheet says usually matters less to people. Early indications show the iPhone 12 won't be anything ground-breaking, meaning the iPhone SE will be a great buy.
What's the rumors?
Let's start with the rumors. These rumors (while barebones) come from Jon Prosser, who's been super accurate with his information, especially lately. According to his sources, the iPhone 12 will come in not three, but four models each at different price points.
iPhone 12, 5.4-inches w/two rear cameras for $649
iPhone 12 "Plus", 6.1-inches, w/two rear cameras for $749
iPhone 12 Pro, 6.1-inches, w/three rear cameras and LiDAR for $999
iPhone 12 Pro Max, 6.7-inches, w/three rear cameras and LiDAR for $1,099.
These tentative models are all expected to feature OLED screens and 5G capabilities and improved internals.
Launching four models gives Apple an even larger spread across different price points, which is a smart move regardless of how you look at it, and it means you'll have some thinking to do when it comes to which model you want to buy.
What will the iPhone lineup look like when the iPhone 12 launches?
This is the big question mark, and no one has the exact answer, but it's entirely conceivable that once the iPhone 12 launches, Apple will only offer the iPhone SE (2020) and the four different models of the iPhone 12.
For comparison, the current lineup is the iPhone SE, iPhone XR, iPhone 11, iPhone 11 Pro, and iPhone 11 Pro Max. Five models of iPhone are about the average that Apple usually offers (as you can see from the picture above). With the rumors that and iPhone SE Plus can still be expected at some point this year, that would bring the total lineup to six models ranging from $399 to $1, 449 — that's a pretty good spread.
The iPhone SE will remain a solid contender come fall
It's easy to look at the lineup I laid out up above and think you have a lot of choices come this fall, but looks can be deceiving. If you break it down even further, you are going to have three iPhone choices come the fall — the iPhone SE, the iPhone 12, and the iPhone 12 Pro. All the "Plus" or "Max" models are just a bigger screen size of the same phone, making the three main price points $399 (iPhone SE), $649 (iPhone 12), and $999 (iPhone 12 Pro). It's at these price points where I still think the iPhone SE shines.
Yes, the iPhone SE is a downgrade from the iPhone 12 (even the base model), there's no doubt about that, but what you need to think about is what improvements the iPhone 12 promises. Currently, the biggest features we can expect are, better internals, 5G capabilities, and then the iPhone 12 Pro models are supposed to have LiDAR.
Let's take a quick moment to break down what those big improvements mean when compared to the iPhone SE.
Apple's chips only improve so much
The iPhone 12 will likely have the "A14" chip since the current iPhone SE, and iPhone 11 models have the A13, and while I have no doubt the A14 will be faster, I doubt it will be noticeable to the average user.
Apple's new chips are always better than the previous generation, but unless you're already pushing your iPhone to its limits, the boost in performance each year is pretty negligible. Most people will likely only start to notice a difference if they upgrade from two generations ago, so upgrading from the A12 chip to the new A14, you'll probably see some improvement.
So when you consider the iPhone SE has the A13 chip in it already, the promise of better internals from the iPhone 12 is almost a moot point. When it comes to speed and performance, the iPhone SE won't feel any less snappy or responsive than the iPhone 12.
5G is not a big deal — yet
There's a lot of talk about the potential of 5G is right now. The super-fast speeds of mmWave are enticing for anyone that has been stuck in less than stellar reception trying to load a webpage in Safari or download an app from the App Store, but 5G doesn't solve all problems.
First of all, 5G is very much in its infant stages, and the coverage is pretty minimal right now. Certain countries are further along an have a better 5G infrastructure right now than others, but for a large majority of people, 5G is nothing but a dream at the moment.
Secondly, even if there is a 5G network where you reside, it's likely only from one specific carrier. That's great if you already have a plan with that carrier or like what that carrier has to offer, but it offers you very little choice if you're deadset on using 5G on your next iPhone.
Lastly, while there is some credit to the thought of getting a 5G iPhone so you can future-proof your next iPhone purchase, after all, if you have 5G on your iPhone, then you can use it when it becomes available in your area. The iPhone SE won't give you that option; however, depending on where you live, reliable 5G might not roll out to for years, and when it does, buying a new iPhone at that point might be the right call, rather than spending the money on a feature you can't even use yet.
LiDAR — nothing to write home about
If you don't know what LiDAR is, I wouldn't blame you. In layman's terms, it's a cool technology that allows for much better implementation of AR.
There isn't too much to say about LiDAR because it's potential hasn't been realized. If you're super into AR or you're an AR developer, LiDAR is likely exciting to you, but for the average person, it's not a feature you'll miss if you don't have it.
What does all this mean?
It means that when the iPhone 12 launches in the fall (assuming it's on time), the iPhone SE is a viable option for a lot of people.
Of course, you still have to deal with the limitations that come with the iPhone SE. One rear camera, big bezels, no Face ID, and LCD screen, but once again, the value of the iPhone SE is so great that those limitations are a lot easier to swallow.
Now, this all comes with the caveat that the iPhone 12 doesn't come with any vast improvements or incredible features that we don't currently know about, and it's possible that Apple might blindside us with something cool; however, based on what we're expecting, that won't happen.
The bottom line, you'll still need to dole out extra money if you want the minimal bezel design or if you want multiple cameras. However, the iPhone SE remains an incredible phone for most people, and I don't foresee the iPhone 12 changing that.
Get the best of iMore in your inbox, every day!
Luke Filipowicz has been a writer at iMore, covering Apple for nearly a decade now. He writes a lot about Apple Watch and iPad but covers the iPhone and Mac as well. He often describes himself as an "Apple user on a budget" and firmly believes that great technology can be affordable if you know where to look. Luke also heads up the iMore Show — a weekly podcast focusing on Apple news, rumors, and products but likes to have some fun along the way.
Luke knows he spends more time on Twitter than he probably should, so feel free to follow him or give him a shout on social media @LukeFilipowicz.
Not in the same class. The new iPhones will be much more future proof (5G, battery, ram, etc). Yes the SE has a high end processor, but outdated screen, and ram that will cause it to slow more quickly than the 12/12pro will. Not to mention night mode + any other camera improvements (not just Lidar).

I agree they aren't in the same class, and I'm not saying the iPhone 12 will be a bad phone, but all indications show the iPhone 12 will be a small upgrade over the iPhone 11 — especially the base model. So, if the iPhone SE is inciting to a consumer now, the iPhone 12 likely won't change that. Obviously, camera lovers will go for the better camera array, and power users will go for the most RAM and newest processor. Still, the average user will likely find the iPhone SE a far better value for the money than the iPhone 12 at launch.

You'd have to be nuts to upgrade from an 11. Historically year over year is rarely a big step up. 7 to X in a year was probably the only exception. If you're like me and have for various reasons still been running a 6s, going to a 12 or 12 Pro sets you up for 3-5 years! The SE just feels like a SoC upgrade, which for a lot of people is a good thing, but personally I'll go a 12 Pro.

The big reason I'll be getting the iPhone 12 Pro will be the support for T-Mobile's low band 5G. I don't need crazy 500 MBPS but I would like the signal strength and building penetration from Verizon's early 700 MHZ LTE band.

Forget the iPhone SE, the iPhone 12 will need a huge upgrade to lure people away from the XS, or maybe even the X. People don't want another notch. People don't want a lightning connection they want USB-C. And more to the point, people want something new and innovative, something that will really grab them to buy it. Based on the news so far I'll be keeping my XS Max and skipping the 12

Yeah, that's valid. I'm currently rocking an iPhone XS Max as well, but at this point, the iPhone SE looks like my next phone. I still don't understand the hate for the notch, but then again, the design is pretty low on my priority list when it comes to buying a new phone.

I agree with you; I'm totally lost with the hate for the notch! I've an iPhone 8 and will only move to the iPhone 12 if it implements some sort of Touch ID. I refuse to buy or use a phone with only Face ID - or, if you prefer, without Touch ID. I'm ok with my iPhone 8 (bought new only last year) and can carry on with it for another 3 or even 4 years or upgrade to the SE 2020. However, I trust COVID-19 (face masks) will almost certainly force Apple to bring back Touch ID to the iPhone 12.

I doubt COVID-19 will have any influence over the iPhone 12, aside from delaying its release date. COVID-19 is temporary, not to mention many of the plans would've already been decided before the pandemic

The hate for the notch is that it just creates problems where problems don't need to be created. If you flip most websites over to landscape, there will be a weird edge on both sides not being used. All Apple has to do is make a space at the top of the phone so that the sensors sit above the screen, rather than cutting round it

If people don't like the notch wait til they have to confront the massive dual bezels on the SE.

by far the dumbest article i have ever seen on this site. These devices are for completely different consumers. You could say just buy the iphone 11 or even the xr but customers shopping for the se are not the same shopping for the 12. this is like saying well the mac pro was just a spec bump so your better off buying the 13"macbook pro. They are for different segments. i am very excited for the se because it means device makers have to try harder in the lower end. but it is not and will not be competition for an actual flaship and just because it has an apple moniker it needs to stop being treated as such. its a great device for the money for people who just need an iphone.

Well all I say is I beg to agree to disagree, with your comments about upcoming iPhone 12 not being much of an upgrade.
My take it all depends from what other iPhone you are upgrading from. for example if you already rock an iPhone 11 max or XS you already have most of these features ( at least an OLED screen, better battery etc) you may not consider it a major upgrade apart from offering 5g and minor upgrades,
however if you like me are coming from the first gen XR (still a great cheaper apple phone by the way) or less these upgrades will be seen as monumental.
Finally to have OLED, the option of 5g, and more in a iPhone that will maintain the same price
as my present XR is an offer that I will not see a minor upgrade (for me at least this will be a major upgrade) and finally cement the iPhone XR as a true member of the iPhone Family and not just a cheaper afterthought.

While I think the SE serves a lot of people for a lot of things, I'm in line for the 12 pro, same as I was for the 11 Pro, before its announced, purely based on the prospect of a better processor.

What hasn't been mentioned is the return of a small(ish) phone with fully modern specs (not a Frankenstein, parts bin phone like the SE) to the lineup. To me, that's a game changer. I prefer a small phone and would buy the SE if I had to today just because of the size. Based on the SE sales I don't think I am alone in that sentiment. I do want to use the new swipe interface with no home button, but to me a 6" phone is just too big. The fact that the only "small" phone with modern specs that was previously available was the iPhone 11 Pro, at 5.8", was disappointing. It's nice to see a smaller option available and with the bezel-less design of the iPhone 11 chassis it should (hopefully) be close to the size of the SE, but without a home button. While smaller would be nice, 5.4" seems to be the smallest we can get with the newer processors and 5G modems so I will gladly relish the opportunity for a small phone with the new UI.

Only time I can see why one would want to get a iphone 12 pro or any iphone 12 if they upgraded from like a iphone 6/s or 7/plus. Though like me I upgraded from a iphone 7 to iphone 11 pro max. And the difference is night and day. Would I had waited for the iphone 12? When I think about it... No.. Cause the updates are not big enough for me to want to wait it out. Anything on my old tiny iphone 7 was better. But if one wants to go with the classic phone then sure the SE2020 will do or iphone 8. I honestly just got tired of the old outdated look that been around pretty much since 2007 with minor changes to looks.

I think the new iPhone SE was doomed at birth. It really has very little to offer outside of being cheap. I have had the original SE since its birth and for me the iPhone 12 is my only natural upgrade path. Not a lot larger in size but with a significantly larger screen. A no brainer.