Best iPhone app for cloud storage: Dropbox review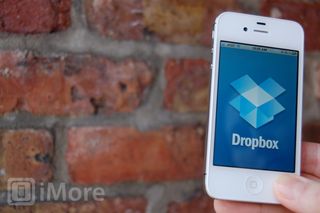 "When it comes to storing and syncing files online, Dropbox's accessibility from multiple platforms, easy to use interface, free starting service, and reasonably priced professional services make it hard to beat."
Dropbox is one of several high-profile cloud storage and sync solutions, but it comes out on top due to its fantastic iPhone (and iPad) support, multi-platform availability, easy to use interfaces, excellent availability and reliability, and highly competitive pricing.
Apple's iCloud is a great way to keep your personal information, your device data, and a few, compatible files like iWork backed up and in sync. However, iCloud doesn't provide anything beyond that. If you want to store files strictly online, if you want to access and edit them from other platforms, if you want past versions of files kept available, if you want an actual filesystem to work with, then iCloud isn't enough. (Anything a previous user of iDisk on MobileMe or .Mac knows and laments.)
Dropbox does all this, easily and transparently, and more.
Dropbox for iPhone opens up with a list of all the files and folders you have stored on their servers, arrange alphabetically. You can swipe up or down to browse, or just like Contacts, you can tap a letter on the right side of the screen to jump to files and folders that begin with that letter. It's like a very simple, iPhone optimized version of Windows Explorer or Mac finder.
If you tap on a file your iPhone understands, like text, HTML, PDF, documents, music, or video, Dropbox will open it up and show it to you. If it's an image file and the folder you're in has multiple images, Dropbox will show you a small gallery button at the top left and if you tap on it, will switch to a thumbnail view for easier browsing. You can even delete files right from your iPhone if you want to.
If another app on your iPhone understands and can do more with that file, like edit it, Dropbox will list the app under the action button and offer to send it there for you. You can also tap the Link button to share the file via email or copy it to the clipboard, or the Favorites (star) button to store a copy of the file locally (so you can access it when offline).
You can choose how much local storage you want Dropbox to use in the options tab. This makes it really handy for not only stories work files or family pictures, but storing PDF copies of your travel documents (airplane, hotel, event registrations, photo of your passport, etc.) as a backup.
Dropbox, smartly, made an open API (Application Programming Interface) so other apps could tie into their services. A lot of iOS apps have chosen to do so, including list-makers, password utilities, and text editors. Here are just a few of our favorites:
1Password
Elements
Noteshelf
If you use multiple mobile devices, Dropbox also has apps for iPhone, iPad, Android, and BlackBerry, as well as Windows, Mac, and Linux desktops, and, of course, a website available from pretty much anything that can run a browser.
That means it's really easy to access your files from pretty much anywhere. (Several of us here at iMore keep our entire local work directories in Dropbox, which means our computers are in sync at home, at work, and while traveling, and setting up a new computer is much, much easier.)
Dropbox also makes it easy to share folders and files. I've got several folders set up, some private, some shared. When I'm working on a website for a client I can share a folder with them so we can collaborate and they can preview what I'm doing and share back information I might need. This is far more productive than swapping emails and losing track of changes and versions.
You can move non-vital files off your iPhone (or iPad) an onto Dropbox to free up valuable local storage space. For example, if you have an iPhone 4S you have probably noticed how fast you can fill your phone with 1080p video and high quality images. While I was never able to fill 32GB on my iPhone 4, I'm quickly hitting a wall on my iPhone 4S.
Using Dropbox, I can simply upload photos and videos right from within the app, delete them from the Camera Roll, and still have access to them whenever I'm online. (The online part is key -- if you absolutely, positively have to have something available, make sure you store it locally on your device. Dropbox is for the vast majority of stuff that's okay to leave online.)
If you're traveling and away from your computer, and you need to share a file, you don't have to wait until you get back -- just share a link from Dropbox.
With any online storage solution, security is important. Dropbox encrypts files in transit and when stored on their servers. Dropbox also allows you to protect your files with a passcode on your iPhone. After so many incorrect attempts you can tell it to wipe your data off that device as well. I use Dropbox to store client files and business information so anytime I configure it on my iPhone, I make sure I add a passcode for added protection on top of my default iPhone password.
If that's not secure enough, you can even store encrypted disk images in dropbox, though you won't be able to open them on your iPhone.
Backup is also extremely important. With Dropbox, copies of all your files are stored on their servers. So if you lose your iPhone or your PC hard drive fails, you haven't lost any important date. You just replace the device or the drive, install Dropbox, and all your stuff is back.
The Dropbox app for iPhone (and iPad, it's universal) is free, as are your first 2GB of storage. If you need more, they have several reasonable price plans available.
2GB Basic account - Free
50GB Pro account - $9.99/month
100GB Pro account - $19.99/month
1TB+ Team accounts - $795/year for first 5 users
Dropbox also has a referral program that allows you to net an additional 250MB of storage space for each person you refer. Free accounts can earn up to 8GB from referrals while Pro users can get an additional 16GB of free space on top of their paid storage. (So if you sign up for the free account, hit up your friends and family before they find out about it first!)
The good
Free basic service, reasonably priced plans for power users
Dedicated apps for iPhone, iPad, other platforms like Android, as well as Windows, Mac, Linux.
Online access via Dropbox.com
Wide ranging support from iOS apps
Referral program allow you to add quite a bit of extra space at no cost to you
Save images and video from Dropbox directly to your device when you need to
Easily create links to share files on the go straight from the app
The bad
File sharing only available on the website
iOS app lacks viewers for popular formats like Photoshop
Online file storage is always susceptible to connectivity issues.
Conclusion
When it comes to storing and syncing files online, Dropbox's accessibility from multiple platforms, easy to use interface, free starting service, and reasonably priced professional services make it hard to beat. Other services like Box.net and Sky Drive are comparable but when it comes to iOS app support and native client ease of use, Dropbox comes out on top.
Get the best of iMore in your inbox, every day!
iMore senior editor from 2011 to 2015.
Dropbox is nice but I like Tappin a heck of a lot better, I have my 500GB and 2TB drives setup, all my work files, personal files pictures, music, and movies. I can get to everything at any time anywhere. http://www.tappin.com/

I wish Dropbox would offer a cheaper option with less storage. $120 annually is too much. I'd like to get 10-20 gb and I'd pay up to $40 for a year's service. Or if they could tie in getting more storage with other services, such as how amazon gives you up to 20 gb and its tied in with amazon music purchase. additional 250 mb for referrals is not too compelling.

I prefer skydrive and sugarsync. 2 GB isn't nearly enough so the 25 gb of skydrive gives me plenty of headroom and well i just prefer sugarsync. Also cause for a time dropbox had a stupid policy that you where giving them a copyright license to use anything you uploaded. They eventually change the language in their privacy agreement but i'd already taken everything out by that time and moved to sugarsync. But it reminds me of the itunes text book store thing that apple quickly changed it's language on.

I'd agree that a number of other services, like Skydrive, Box.net, and others offer far more starting storage for free. I hope Dropbox gets on a more competetive state soon. My Skydrive probably isn't as poloished as Dropbox, but 25 GB free to start is impressive.
Now if only Apple would step up to the plate and make iCloud into something that is an actual competetor in cloud-land.

i haven't used dropbox too much as i removed most of my content before i bought my iphone 4S and didn't have an iphone before that. That said i had a pre and did use dropbox through an app then.
No Skydrive may not be as polished. That's also why i put everything i have on skydrive into sugarsync. Like i had a 1.5 gb archive of photos so i uploaded those to skydrive specifically anticipating that it will have room for all the photos. But in reality it's robust enough for me. i just need a place that i can pull up a file if i'm away from my laptop and all of a sudden i need to send a resume or show a picture or something. Its not gonna be my only storage or where i put work files and i have backups of things. So most apps do enough for my needs.
I do wish there was more integration with the iphone or at least a bit of an easier way to upload files. That varies from app to app. And for some reason almost all the services are crappy at uploading files. It's just too hard or confusing especially if you don't want to straight sync folders like me. i once uploaded like 2 gbs then deleted a folder on my computer but since it was set up to sync it deleted everything in my online storage. man i was pissed. Once i figured out how to deal with that its not as big a problem.
as for icloud i'm kinda with you. for me i only use it for contacts and find my phone. I need a lot more control over files and seeing what files are saved or not then apple wants to give me. A lot closer to how drop box works.
But the thing that scares me about all these services is that whatever phone i have doesn't support it. like i upload 20gbs then can't use it. like i have music in Google music beta and i like it but there's not really great or google made app. And will the same happen with Gdrive when it's launched? Will microsoft not updated the ios app cause it doesn't care about skydrive on ios? It does hold back word from ios.

One caveat about uploading video from iPhone to Dropbox, I think it transcodes the video to a smaller/compressed lower quality file before uploading (it seems to on my iPhone 4 anyway).
Also, note that right now if you download the new beta of Dropbox and test their camera card upload function, you can get an additional 5GB's for free.

It only does that if you let it. There's a setting in the app that you can set the upload quality: Original, High, Medium, Low.

I love my Dropbox. I highly recommend their Pack Rat service too. Saved my butt more then once!

Dropbox is great, but I discovered a huge bug: While a file resides in/on Dropbox, it cannot be updated. I opened a FileMaker file while it was in my Dropbox (not residing on my local machine), and I made quite a few updates. After closing it I discovered that none of the updates had been made. It was very aggravating and irritating to have to go in and make those updates all over again. I emailed Dropbox support but still have yet to hear anything.

I have the 1TB teams acct. have tried them all. Sugar sync is a distant second and box.net could be awesome if not for their bs charge-for-windows client which makes it pointless for business.

I've tried just about all of these services, and SugarSync gets my money. Love the way it seamlessly integrates with my PCs (no special 'sync' folders need to be created - it just grabs all the folders you tell it to). Pour some SugarSync....on me.

I love how SugarSync isn't even mentioned in this post. Its basically glorifying Dropbox and it offers less than half the storage I get with SugarSync. Plus SS is a better desktop app and its a lot easier to use.

Got 50GB free with Box when I got my HP Touchpad and was still on webOS, and it seems to do what Dropbox does, so what am I missing that makes Dropbox your #1 pick?

probably the fact that EVERYONE doesn't get 50 gigs so they probably are not gonna get any extra points for that since its not normal or what most people get. Also maybe the integration into the operating system.

1Password doesn't use the Dropbox API, it just puts its data file in the Dropbox folder.
mSecure and DataVault really use the Dropbox API, stop fooling people with 1Password, it just is an expensive and limited piece of junk.

I got about 3Gb on Dropbox free, 50Gb on Box.net, also fee, using an iTunes Match subscription and the free 5Gb iCloud service. Strangly enough I seem to use Dropbox the most, mostly because of how simple syncing is performed. But lately I've been taking advantage of my Ubuntu One account, which is gaining my attention quickly. They give you 5Gb free, and I love how the iPhone app automatically syncs my camera roll right to my desktop. Ubuntu One also has a music streaming service, but it uses your music as direct uploads, doesn't quite come to par against iTunes match.

Huge failing of Dropbox is that using the mobile app or website you can only upload 250Mb. So I still have to manually sync my iPad to my PC and let the horrible Windows EXE upload my podcast recordings when I get home. This is on a paid account too.

As mentioned earlier I am moving away from dropbox because for the most part files are read only unless they have a dropbox tie for example i put a text file on there to collaborate with someone else. you can open it easy enough but have to have a text editor that supports dropbox linking other wise you can open but not change. Dropbox will only come out on top if they continue to get people to put apps that connect directly to it what would be great is a multiple editor app that ties into dropbox.

I love Dropbox. I do wish the iphone app was better but if you JB you can use full drop with ifile to get or push anything you ever need. I put an account on my parents computer and have it do a selective sync so they always have all of my daughters pictures. To sign up use this link we will both get an additional 250mb. http://db.tt/YMzAtTH

I've worked out an awesome iOS file system solution using Dropbox and a service called dropDAV which provides WebDAV capability to Dropbox. (Note: dropDAV is also a paid service, and I have no affiliation with them).
I'm an iPad-all-the-time person (see http://www.ipadalone.com) so this stuff if crucial for me. I retain a household iMac which acts as a centralized storage and syncing hub.
It works like this...
Set up a pointer on the Mac between Dropbox and the Documents folder. Poof - now ALL of my documents are synced to Dropbox. On my iPad, I am able to open files directly from Dropbox FROM WITHIN THE IWORK APPS THEMSELVES because of the WebDAV access. And, I can modify and save the files directly back to dropbox, again because of the WebDAV capability. And of course any changes or new docs get synced all the way back to the Mac.
iOS file system. Boom.

I like that DropBox is pretty much ubiquitous, but I really don't like it's functionality.
I have 50GB with Box.net but it doesn't allow me to share files. I think the people I'm sharing with have to be on box.net too, either way it's a headache.
Tried Sugar Sync didn't like it. Plus the app was huge and very slow on my laptop. Currently using Cloudapp for small files.
I have iDisk. It's been by far the best solution, especially for professional work. I have yet to find a service which offered that finction and simplicity.

Great review - I'm using Dropbox on daily basis as developer, and it saved my life many times (you can undelete files and compare versions). I have the 50gb account and it's amazing how your life is becoming so simple having all your important stuff available from everywhere - smartphone, pc whatever. You probably know about Dropbox referral plan: If you open a new account through this link we'll get together a total bonus of 1.25Gb!!! http://db.tt/XJZFMXC . You can get more if you're a student, and sometimes there is a beta test in their forum where you can get an extra couple of gig's for participation.

if this post has perked up your interest in dropbox, please use this link: http://db.tt/BhlCqXE and get 500MB extra (usually 250MB but with my .edu email, you get 2GB + 500MB and so do i)

Right, let's face it. There are still plenty of places where the Internet is not an option.Tavis J. Hampton recently posted..Simulating Two-Finger Scrolling in Linux

I concur with Brian. I have attempted to cancel five times in this past week. They keep on assuring me that it has been canceled but then I was just charged again yesterday! Their instructions on how to cancel are intentionally confusing and misleading and their customer service is clearly inept.

Hey Karen!My position remains solid: I am against everything and anything "cloud" in my way of thinking, cloud = communist. I want access to my stuff without having to connect with some cloud somewhere else.

Please let me know if you're looking for a writer for your weblog. You have some really good posts and I think I would be a good asset. If you ever want to take some of the load off, I'd really like to write some content for your blog in exchange for a link back to mine. Please blast me an e-mail if interested. Thank you!

Hi, I'm actually a developer at SMEStorage. I'm not sure why David R thinks we posted this review'. To my knowledge we didn't (although I'm not a marketeer), and we did create the Facebook plug-n from a customer request viewpoint, although I could not tell you it was specifically for this guy "John Woodcock".

Thank you finally a jailbreak for v4.3.3 thank you subbed and ready to jailbreak thx

Depending on whether you want to use DropBox for consumer or businesses purposes, it may or may not be right for you. For businesses in many regulated industries, DropBox is not compliant. Their website clearly states this:https://www.dropbox.com/help/238
Dropbox Enterprise File Transfer from Thru is the secure solution for businesses and enterprises. Their solutions have been working for large businesses for ten years without a single security breach.http://www.thruinc.com/solutions/dropbox-enterprise-file-transfer/

Peter, Why don't you outline your support offerings here as well? I am interested in the support offerings Tintri has since it is a startup. How would you compete against the 247 support offered by EMC in locations such as China? I have a heavily virtualized environment spread across 50 sites across the world.

if you are having problems with vendor charges on your credit card go directly to the issuer and block the vendor charges
the issuer will pressure the vendor to handle customer services issues by the charge backs the issuer charges.

Consumer dropbox solutions are convenient but lack necessary security for businesses and enterprises. Michael Osterman, President of Osterman Research, discusses this topic.http://www.thruinc.com/resources/news-room/041912_webcast/

Hi I think dropbox is a great tool. It got me out of a pinch when I did'nt have a usb flash drive. If you are new to dropbox and want to get an extra get 500mb click on my referral. http://db.tt/8nrVCwuH Thanks

If I understood it correctly, it kinda works like the system we have here in Brazil. The government gives tax deduction for people who keep their receipts as long as their ID was printed into them (a service the shops are required to offer). This way it's harder for the companies to lie about sales and pay less taxes than they should, as the government is being directly informed about them.

Wow! I never thought of it quite like that before!

I'm just as impressed in the GoPro cameras ability to survive a big fall than anything else. As Tyler mentioned though, both pieces of hardware will hit terminal velocity after about 100 so anything greater isn't going to matter. Great marketing stunt though and it's nice to see space from time to time.

I am extremely impressed by the way you have just reviewed the best app in town. Without any doubt, Dropbox cloud app has been profoundly taking off the market and the download rates has increased drastically. Very smartly done! Although, i am not a user of Dropbox specifically for iPhone, but i have used their service and it is very good. Currently, i am using box and it is smart as well to use! Got some good information from http://www.cloudreviews.com/blog/best-cloud-storage-providers