iPhone Slow: What you need to know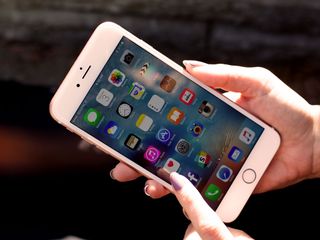 (Image credit: iMore)
Apple has published a letter explaining the confusion caused by the iOS 10.2.1 update last year that prioritized battery health over peak performance. The company is also offering deep discounts on battery replacements, down from $79 to $29, and has issued a software update that provides far more insight for customers into the state of their battery health. Most recently, Apple has offered a $50 credit to those who replaced their iPhone batteries before the discount program took affect. Here's what you need to know.
January 14, 2018: Apple replaced 11 million batteries — 5x to 10x normal — as part of the discount program
John Gruber, writing for Daring Fireball:
For much of last year, Apple Retail was packed with people waiting to get battery replacements. Anyone who visited the stores with any regularity, or who had even a passing familiarity with Apple Retail itself could easily see how the influx of people could not only become a new small business itself, but in hindsight, following Tim Cook's previous comments, a significant factor in slowing upgrades beyond China.
But, it's great John could put a number to the wide range of assumptions.
January 2, 2018: Tim Cook: Battery replacements impacted iPhone upgrades in Q1 2019
Looks like there was a cost to the battery upgrade program beyond just the parts and the labor. From Tim Cook (opens in new tab):
Cook had previously addressed the issue during Apple's Q1 2018 conference call:
October 31, 2018: iPhone 8, iPhone 8 Plus, iPhone X join power management program with iOS 12.1
Apple has updated its knowledge base article, adding last year's iPhone 8, iPhone 8 Plus, and iPhone X to the list of devices that, as of iOS 12.1, are included in Apple's performance management system, which tries to maintain battery longevity and prevent unintended shut downs due to spikes in power demand, by throttling down the speeds, where and when necessary.
But, due to iPhone 8, iPhone 8 Plus, and iPhone X's more advanced power management systems to begin with, Apple says it's less likely anyone will notice.
From Apple.com (opens in new tab):
As always, if you hate the very idea of performance management, you can keep it off in Settings > Battery. Not adding last year's iPhones, given how lithium ion batteries age, especiallly prematurely if they're exposed to excessive heat or other damage, would have been irresponsible, so whether you use it or not, be glad it's there.
May 23, 2018: Apple offering $50 credit for out-of-warranty iPhone battery replacements
Apple is offering a $50 credit to people who paid for an out-of-warranty battery replacement for iPhone 6 or later. The replacement had to have been done between January 1, 2017 and December 28, 2017, and completed at an Apple Store, Apple Repair Center, or an Apple Authorized Service Provider.
From Apple (opens in new tab):
So, if this applies to you, sit tight and wait for your email.
May 9, 2018: iPhone replacement batteries no longer facing shortages
Good news. If you've been waiting to have your iPhone battery serviced under the replacement plan, you shouldn't be waiting much longer.
March 29, 2018: iOS 11.3 now available with Battery Health
With iOS 11.3, Apple has delivered on its promise to surface battery health information for iPhone users whose devices are subjected to advanced performance management. The new panels, available in Settings > Battery, show current maximum capacity and peak performance capability, and will also inform you if your iPhone is being slowed down, whether it needs service, and will even allow you to turn off advanced power management — now called performance management — if you so choose.
If your iPhone SE, iPhone 6, iPhone 6s, or iPhone 7 had been slowed down due to prevent an unexpected shutdown, iOS 11.3 will restore it to its previous, unmanaged performance levels. Performance management will only kick back in when and if you experience another unexpected shutdown. Until then, it's a clean slate.
Peak performance capability is the ability of your iPhone's battery to supply adequate charge even in the face of highly demanding tasks, up to and including those that cause power spikes.
You can disable performance management in settings as well, though you risk unexpected shutdowns if you do so.
March 1, 2018: Apple testifies about 'iPhone slow' before Canadian Parliamentary Committee
John Poole, the Ontario resident who runs Primate Labs, the makers of Geekbench, and Apple Canada were brought in to testify today in front of a House of Commons committee looking into the recent controversy surrounding iPhone battery throttling.
While the iPhone sold in Canada is identical to iPhones sold in other parts of the world, and iOS on iPhones in Canada is identical to iOS on other iPhones running in other parts of the world, some members of parliament wanted to be seen doing their part for queen and country. And, since battery throttling kicks in when batteries are old or cold — and Canadians not only face extremely cold winter weather but sometimes also prematurely age their iPhones by mounting them in front of heating vents in the cars or leave them on top of heating elements in their homes, we can benefit from the additional exposure and education.
Based on early reports, it sounds like Poole's testimony was substantially in line with what he discussed on the Vector podcast (opens in new tab) when the story first started breaking.
Apple Canada's statement, issued by Jacqueline Famulak, Manager of Legal and Government Affairs at Apple Canada, was also directly in line with previous statements from Apple in the U.S. and Apple's CEO, Tim Cook.
It's hard to parse how much politicians care about consumers versus how much they care about the spotlight. Hopefully, in this case, the members of parliament are doing their jobs, educating themselves, and working towards policies that truly benefit Canadians, not just news cycles.
January 31, 2018: Apple: iOS 11.3 battery feature update going into beta next month, release this spring
Apple and Tim Cook previously said iOS 11.3 would include new battery features, including information on battery health, notification for batteries that need servicing, and even a way to toggle off the advanced power management that reduces performance on iPhones with degraded batteries to prevent them from shutting down.
In a statement from Apple today, the company let me and other outlets know that those features will first appear in beta next month and in the release version of iOS 11.3 this spring.
And, with regards to the investigations reported yesterday (see below):
January 30, 2018: DOJ and FEC reportedly looking into iPhone power management
The United States Department of Justice (DOJ) and the United States Securities and Exchange Commission (SEC) are looking into how Apple handled disclosing the advanced power management (and related performance throttling) introduced in iOS 10.2.1.
From Bloomberg:
Apple (opens in new tab) included the following in the release notes of iOS 10.2.1:
At the time, Apple also briefed iMore, TechCrunch, and possibly other outlets about the reasons for fix.
Again, from Bloomberg:
Investors really only care about making more money. So, "performance of old iPhones", in this context, likely means, "how the changes could potentially negatively impact the stock price."
January 18, 2017: Apple will let users disable performance throttling introduced last year to prevent unexpected shutdowns
Apple CEO, Tim Cook, has stated that an upcoming iOS software update will let users turn off the advanced power management that prevents unexpected shutdowns by throttling the processor. But they shouldn't.
Speaking to ABC News (transcript via MacRumors):
When people first became upset about the advanced power management in iOS 10.3.1, I suggested Apple should have let the phones shut down once and then, immediately on reboot, offered a button to enable advanced power management to prevent it happening again. That way, I reasoned, people would better understand the problem and that Apple was trying to help extend the useful life of the devices. This is like that but in reverse.
As Cook said, I don't think anyone should disable it. I don't recommend anyone disable it. I don't think anyone who understands why Apple implemented it will even want to disable it. But for those with very specific needs and circumstances, or for whom it's never really been about understanding, the switch will be there.
Cook also said Apple explained what it was doing at the time but that many people probably weren't paying attention and that Apple could have done a better job explaining what was happening and why.
As someone who had the 10.3.2 changes explained to him by Apple at the time, I think it's clear "advanced power management" didn't equate to "performance throttling" in people's minds, regardless of how obvious it might seem in hindsight.
I'd also guess even Apple didn't imagine how noticeable the throttling would become for people with older batteries in extremely poor health.
Apple hasn't said precisely which iOS update will include the new battery health features and advanced power management switch, though iOS 11.3 seems like a likely candidate. Look for it in beta next month and release towards the end of the quarter.
December 30, 2017: Forget mid–January, Apple starting discounted battery replacements now.
What you need to know about Apple's $29 battery replacement program
From Apple (opens in new tab):
Specifically, here's what Apple's doing:
To address our customers' concerns, to recognize their loyalty and to regain the trust of anyone who may have doubted Apple's intentions, we've decided to take the following steps:
Apple is reducing the price of an out-of-warranty iPhone battery replacement by $50 — from $79 to $29 — for anyone with an iPhone 6 or later whose battery needs to be replaced, starting in late January and available worldwide through December 2018. Details will be provided soon on apple.com.
Early in 2018, we will issue an iOS software update with new features that give users more visibility into the health of their iPhone's battery, so they can see for themselves if its condition is affecting performance.
As always, our team is working on ways to make the user experience even better, including improving how we manage performance and avoid unexpected shutdowns as batteries age.
At Apple, our customers' trust means everything to us. We will never stop working to earn and maintain it. We are able to do the work we love only because of your faith and support — and we will never forget that or take it for granted.
Simultaneously, Apple has published a tech support article that explains in far greater detail what happens with lithium-ion batteries in modern devices like iPhone.
From Apple Support (opens in new tab):
Overall, this is the right move from Apple after a series of missteps: It offers clarity on the issue, communication on why it happened, and explanation of how the company will fix it.
We're still digging into everything, and will update again with more information and further analysis ASAP.
The Genesis of "#iPhoneSlow"
How did #iPhoneSlow become an issue? It starts with a simple problem: Aging lithium-ion batteries. It's been two years since iPhone 6s shipped, and three years since iPhone 6.
Two to three years can be a long time for batteries, as we've seen from these Reddit comments:
Once upon a time, you loaded a web page or downloaded an email then spent a few minutes reading, turned off your iPhone, and went back to your day. Now, we have social and gaming apps that keep the screen on while checking GPS, downloading media, showing the camera's live view, and layering on augmented reality near-constantly. The tech industry has been prioritizing power efficiency over performance for years: Processors could always run at redline, but they'd burn the battery out just as fast.
Balancing power and performance is key, and Apple has been addressing this in multiple ways — like systems-on-a-chip with both high-efficiency and high-performance cores, and machine-learning-based power management.
But lithium-ion batteries are lithium-ion batteries. When it comes to older phones or those with poor battery health, Apple begun prioritizing battery life over processor speed in iOS 10.2.1. Here's what Apple told me at the time:
That caused a hit to the phone's performance, but now allowed older iPhone models to last longer throughout the day and keep them from unexpected shutdowns. Here's what I wrote at the time:
But Apple's power management may have been too overly aggressive (or the "battery service" notice in Settings was overly passive). Between Reddit threads and Geekbench tests, a number of users experienced Apple's ramped-up power management without seeing the explanation or understanding why.
After complaints, Apple initially provided iMore with the following statement:
The company has now put a firmer hand on things, rolling out a low-cost battery replacement program and apologizing for the issue. It's in Apple's best interests to keep customers happy so that they remain customers. Likewise, everyone at Apple has friends and family with older iPhones, and I've never gotten anything from anyone there other than a profound desire to keep those iPhones running as well as possible for as long as possible.
Apple would certainly be accused of maleficence either way: If it doesn't provide updates, it's withholding features. If it does, it's overloading. If it prioritizes performance, it's letting old phones die. If it prioritizes battery life, it's slowing them down. It's Apple's job to provide the best balance it can for as many customers as it can, though, and to take any all accusations that come along with it.
Get the best of iMore in in your inbox, every day!
Rene Ritchie is one of the most respected Apple analysts in the business, reaching a combined audience of over 40 million readers a month. His YouTube channel, Vector, has over 90 thousand subscribers and 14 million views and his podcasts, including Debug, have been downloaded over 20 million times. He also regularly co-hosts MacBreak Weekly for the TWiT network and co-hosted CES Live! and Talk Mobile. Based in Montreal, Rene is a former director of product marketing, web developer, and graphic designer. He's authored several books and appeared on numerous television and radio segments to discuss Apple and the technology industry. When not working, he likes to cook, grapple, and spend time with his friends and family.
I'm sticking with iOS 10. I've heard about too many issues with iOS 11. Speed being one of them. There should be a way to disable this throttling. Let me manage my battery. That is not a good experience. it seems like the update is more aggressive about throttling. (Part if what damaged those batteries was the Facebook app - microphone exploit.) This is a bad move by Apple. I'm not talking about slowing things down to get you to buy a new phone. I'm talking about a a viscous cycle. - Apps are eating your battery
- Instead of addressing the issue, the CPU is slowed down
- Those apps still eat your battery
- the CPU is slowed down even more The real problem is never addressed, damaging the device and the experience. - replace your battery
- apps start eating it
- CPU slows down Nothing is fixed. I should have the option to fix the problem (kill rogue apps, improve charging habits, dim screen, disable Bluetooth, toogle Wi-Fi, etc.). Then get my speed back and a real view of what apps are doing to my battery. Apple is making things "just work" in a way that "just fails" over time. On top of that, the problem apps should be penalized. Facebook should be forced to optimize itself. One last thing: These phones are often over 2 years old. What is AppleCare going to do?

hi cuttheredwire, I don't know if Apple is continuing to do this, but our family has two iPhone 6s' and Apple replaced both batteries for free even though both were outside the 1 year waranty period. It was part of a "silent" recall to address this shutdown problem. We didn't receive any notification from Apple about it, but it is (was) a "formal" recall program.

Apple does a fairly good job at managing battery life on iOS, hence why background apps only get limited functionality (so they're not running at full-force in the background). iOS 11 now tells you if an app is using GPS location in the background, too. Not sure what you mean by "rogue apps", but iOS doesn't really suffer from background apps getting stuck and draining the battery. There are certain apps, like Facebook, which seem to drain the battery more for whatever reason, you can try things like disabling auto-playing videos and making sure Facebook only uses location when using the app, or not at all. I'm not sure I agree with forcing performance-drain when the battery wear gets higher, usually that's something you only do when the phone is below a certain percentage (regardless of battery wear), I think there should be an option for that.

Stop living in fear, iOS 11 is fine. There are hundreds of millions of iPhones out there being used every day. Some are bound to have a few issues - are you expecting 100% quality on all iPhones models ever? Yours will most likely be fine.
That being said, that depends on the device you have. I have a 4 year old iPhone 5s, of course my battery drains faster now, they're not perpetual devices. Also, every .0 release will not be optimized but we're at 11.2 now so you'll be ok. Also every new release has new features that may drain your battery faster, features you're missing out right now. Your choice though.
I personally do not use the Facebook app on my iPhone, the mobile website is almost identical, no reason to keep the app.
Finally, things wear out, not just and not especially iPhones. The only solution is to stop buying stuff altogether.

The big problem is that, unlike every other component in the phone, battery technology hasn't really changed and this isn't Apple's fault. Apple have done two things to try combat it, they made the phones larger, and have employed this "throttling". The real problem is the battery technology, Li-ion batteries, and every company is susceptible to this problem and has to deal with it in different ways

Whilst the state of battery technology isn't down to Apple neither is the state of anything else they don't produce. The design of the finished article is 100% down to Apple. The real problem is NOT battery technology, let me exaggerate for you to illustrate.
Do you think you'd see this problem if Apple fitted a 150Ah battery to the phone?

The problem will happen with ANY battery, even if the battery has a larger capacity it will still happen, just slower. You're not really fixing the problem, just making it seem less of an issue

Seriously, that's what you're going with? I've been in the standby power industry for about 20 years. I can tell you without and doubt whatsoever that a bigger battery of the same age and condition will manage to withstand a current peak without the terminal voltage dropping to a critical level. They designed it wrong. Period.

How can you design a Li-ion battery wrong? A Li-ion battery is a Li-ion battery, of course a bigger battery will last longer, but it will still have the same issue eventually. You're not fixing the problem, just delaying it

Not sure why you're not seeing it.
I buy product A. could be a zPhone made by Orange or a radio controlled skateboard, it matters not.
The device should not be failing in the time period that it is, the battery is too small for the load. If there was a battery three times the size for example it would survive the warranty.
Period.

How can you set an arbitrary time-period? What is acceptable? 1 year, 3 years, 5 years, 10 years? Most smartphone batteries start failing after around 3-5 years, the same for Android phones as well as iPhones

To answer that question directly, at least a year and maybe two.
Apple take diagnostics from almost every iPhone, so that's billions of data points over the years for them to predict usage patterns. They will have a very good idea what people will do with them. To pretend otherwise is wilfully myopic.
Now something I've been saying all along which you refute is that need for bigger batteries. This guy says it better than I;
------Battery company Onavo's CEO believes that consumers should "start getting ready for compromise," settling for smartphones with increasingly bigger batteries that result in larger, heavier devices or lesser technologies like the LCD display in the iPhone XR.------
It's in a Macrumors article.

Bigger batteries would be nice, sure, but they are still subject to wear, and in turn, would still require throttling at some point in the future. Besides, Apple aren't going to make thicker phones, it would look horrible, they'll wait for a new battery technology first

Of course they are subject to wear and year.
Look read my post again. Apple knew how big the battery should probably be, they chose to undersize it hence we are seeing batteries reaching their limit faster.
Dunno why you're refusing to see a bigger battery would have less trouble. Also it would not necessarily need to see throttling. That's a choice. But up to you.

How do they get to the right "size" without making the phone thicker? As I said: Apple aren't going to make thicker phones, it would look horrible. It's not really Apple's fault that battery technology hasn't really progressed in over a decade

They don't. There is no need to keep making the iPhone thinner. That's the thing. This obsession with thin is the issue. I would gladly trade a small bit of thinness for a larger battery.

I'm waiting for iCloud Messages to be released and fixed. I'm not messing with that until a few point versions. This feature is pretty key for me because I want to clear out and start fresh. That can help speed things up. I already have motion reduced, which will help. It looks like a new battery would help too. Calca says I'm at ~80% performance. I really want a Mountain Lion release for iOS 12. They added too many features. (Ok, I want builtin Workflow too, but I can wait for that.) Also, I am finishing some 32-bit games that I'll lose in the update. This was the year to wait to upgrade.

I made the mistake and upgraded my iPhone SE to iOS 11 and I've had both app performance issues and trouble hearing the person on the other side of the call. Neither of which were problems for me prior to upgrading.

Every iOS update can cause possibly problems. Make sure you're updated to the very latest version of iOS 11. Also, Apple introducted the performance restriction based on battery wear in 10.2.1, so your performance drains aren't because of this

A weasel article, much like last week's iOS 11 security related weasel article.

RR always buys all the Apple BS fed by them. Apple is ******** up more and more on all fronts, IOS and MacOS. Many examples can be cited. Apple is not the company it was when Jobs was running the show. Just wish RR would stop always sucking up to them and just be honest, but he seems to be blinded by Apple. He does it constantly on MBW and has become a bore. BTW imore.com has such a horrible website and app. There, it has been said.

Why would RR report apple in anything less then a steller light? He receives test units from apple to use and write about. He gets invited to all the apple events. The man does not wish to jeapordize his standing with Apple.

So sacrificing one's integrity is a good thing?

René gets review units from Apple because he is fair in his reviews. He also doesn't get to keep them.
Samsung, for example, do 'compensate' their reviewers, talk about weasels.
If you think René lost his integrity, just don't read his articles.

No. Please don't talk rubbish. He's backtracked on many a subject. One I pointed out was buttons lining up that he cursed Samsung for.
I suggested the Apple watch where the crown and sleep don't line up, Guess what, no answer.
Why is the iPhone camera offset? It used to match the curve of the edge of the device.

Maybe it's offset because it's near the Face ID component? Either way it's not misaligned since it has nothing to align with, offset ≠ alignment. You're right though about the Apple Watch, and I would say that it is a flaw.

Eh, what? It has exactly the problem the Sammy has.

I'm sure it's offset for a reason, but there's no misalignment.

What do you mean? This article seems pretty informative, and I was actually unaware that Apple slows down the performance based on battery wear

Dude, this story is basically a week old. I've been visiting imore daily since the news broke to see when renee would write something about it. The only reason why he acknowledged the story i feel is because Apple released a formal statement. If they hadn't, he probably would have just kept his fingers in his ears and his eyes closed pretending that this isn't happening. As for you being unaware of why apple is doing this till renee wrote about it says a lot about why you always seem to defend renee on this site. seems the only apple news you read comes from Renee which is scary to be honest...

Or maybe René just took a few days off for the Holidays? There was another article about it on iMore, maybe you missed it. René does not work alone...

Really, that's your take on this?
''I will believe anything strangers (this story was blown out of proportions by haters) with nothing to lose and good reasons for lying have to say and nothing a Company (like Apple) and a journalist (like René) have to say about the issue even though they stand to lose their credibility and tons of money (Apple, not René).''
Not everybody is Donald Trump. But, then, just don't buy Apple's products and you'll be fine, no reason to distrust them.

Three year old phones will have sub par battery life, but a lot of the complaints on Reddit et al is with 6Ss that are less than a year old. We run several hundred iPhones for our sales team and are always fielding complaints that the 6S doesn't hold its charge compared to 7s of a similar age.

Not that I like to assume user error, but it's worth making sure the battery is calibrated. I see too many people who constantly charge their phone from half way and never let it do a full charge from flat, so the phone either ends up turning off at 20% or appearing to drain really fast

I didn't think battery memory affected li-ion batteries like the one in an iPhone? How would the recalibration help in this instance, aside from make the phone susceptible to low voltage issues and potentially damage the battery. iOS is supposed to calibrate itself from normal charging cycles without any intervention from the end user. Looking at the Apple support forums there are 6Ss with this issue that are brand new; they shouldn't be exhibiting any issues so quickly.

iOS, regardless of whether it should automatically calibrate itself or not, seemingly doesn't considering I've seen various iPhones with uncalibrated batteries, usually most noticable when the phone turns off before it hits 1%, like at 20% for example. Of course you are right in saying that this shouldn't happen when the phone is brand new, or really even after a year or so, so there's definitely a problem

The battery age isn't measured in days or years but in 100% charge cycles. I'm going to guess that a sales force uses their phones a lot more and harder than a typical user and wears out the battery much quicker. Of course a two year old phone under those conditions has a worn out battery. Replace those batteries!

You forgot to mention that 99% of the time Apple will flat out refuse to replace the battery even if you offer to pay 100% of the cost. If "their testing" shows the battery 80%+ you'll need to go the third party option to replace the battery or do it yourself. With this brought to light Apple needs to adjust the policy and allow us to replace the battery when we see fit, we use the phones on a daily basis and we know when something just isn't right.

Being a feature doesn't make it good. They could easily have a switch that allows people to opt out. Now, people don't update because of this, and are insecure. Apple looks bad if the battery dies normally, but worse if iPhones are vulnerable to things like KRACK because people don't update. Edit: "My preference would be for Apple to pop up an alert advising people when battery health is bad" This. Apple knows this info. I would see diagnostics when I worked there (when customers sent them in), battery had a green PASS, yellow for something, and red FAIL. They could easily tell people "We're slowing down because of this, please replace your battery" or turn this setting off, and your battery may be life may worsen.

And all this time, I thought every iOS device owner went to Apple related sites everyday and read these articles.

Not a month ago you were tripping over yourself to tell us that no, nope, no way, Apple isn't slowing down your old iPhone. So ... which is it?

I guess it depends on which Apple press release he's read on that day.

Whatever makes Apple look best is what is true for him.

Then why do you come here if that is actually what you think?

You expected René to know things that nobody else knew at the time? This is news, though not big news if you ask me, so it is also news for René.

You are deliberately missing the point! I was one of the people who said here that my iPhone was slowing down. René dismissed us all outright. If it was 'news' for him, why didn't he chose to at least partially believe people who were experiencing it? He could've then investigated the allegations. Instead, he decided to side 100% with Apple. And has just done it again: "How did #iPhoneSlow become an issue? It starts with a simple problem: Aging lithium-ion batteries." Wrong, René! It started with Apple not telling us to replace our $79 batteries because they wanted each of us to spend ten times that amount instead.

Technically it started with aging lithium-ion batteries, because Apple wouldn't have done this if that problem didn't exist. Chicken and egg

No, it did not. The problem with batteries has been around since time immemorial.

Ok? And this is how Apple chose to combat it. Since time immemorial we've had devices turn off before reaching 0% due to battery wear, Apple came up with a solution, even if it's a controversial one.

I think two different ideas are being mixed up in this whole thing, converging two theories to suit either agenda. The most common was that the OS itself got so fat it ran poorly on old hardware due to them not really caring to optimize on them anymore. Notable releases that really chunked things up were 4, 7, and now 11, among earlier others. Clockspeed throttling was not the theory here, it was that the OS would get too fat for the SoC to handle well at all. What's happening HERE is that it's been revealed that the SoC will act less bursty on a degraded battery. They should have been more transparent with it, but I believe that it's just to prevent shutdowns, better to be a bit slower than have an unreliable phone. Now here's where I'm personally upset at Apple: The 6S battery recall, which is why the .1 release changed this originally. A batch went out defective. They "patched" it in software to not shut down as much, and had a free battery swap in a specific ssin group (though it didn't seem to cover everyone impacted, but that's another seperate **** off). Now why couldn't they just give a user notification to come in for a free swap to restore performance? Most people will never figure out that patch is why their 6S is slower, even on batteries that should have been in good shape had they not been the defective batch.

Considering the 6S battery fault can make the device pretty much unusable, all affected devices should have been subject to a recall. Apple know each device's serial number so it wouldn't have been that difficult to send a push notification as you suggested. It would have cost Apple a tidy penny to do this, but it's this level of service that one expects when one pays the premium price for their products (the so called "Apple Tax").

Recall for an exhausted battery? When did batteries get designed to last forever, Snowflake?

I was referring to the batteries that Apple acknowledged have a fault, but have done nothing proactively to inform owners of affect devices.

It's not acting less bursts. It's permanently undercooked. That is a bi g difference. They basically make the A9 perform like an A6 ALL THE TIME. Your phone is always slow, not just when playing games. This has a huge impact on day to day use. Apps designed for the faster speeds start to choke on performance, for example applications that deal with it manipulate heavy media or graphics. This is like downgrading someone's i7 to a Celeron, even though they brought the i7specifically because it's performance advantages were the counterpoint of Apple's marketing strategy. You can't sell phones by talking up performance increases in the silicon and then interlock them at some arbitrary point you code without notifying users or disclosing it to them. We all kno w what the obvious suggestions will be for people who can't use a device in this state will be. It's not like most people who experience it won't pass Apple's battery test.

It doesn't decrease an A9 to an A6, and especially not an i7 to a celeron, you're being hyperbolic. It'd decrease an A9 to an A8, if that.

ROTFLMFAO as they used to say.
When this story first broke, I feebly recollected that a nearly exact story like it broke a couple of years ago. And it was exactly what was discussed here: iOS is designed to work poorly as the battery weakens. What Rene said: Feature, not bug. Just like the last time this story ran.
But you know, the clickbait media just have to have stuff to get hysterical about.
To the extent that this cycle is about the 6s battery replacement program (only because this cycle's variant is broader than that), true: It could have been handled by Apple far better than it was.

you have a link to that story?

The solution is simple. Get an Android phone. Lots of great Android phones out there. Get the Google Pixel 2 XL. Apple software quality is horrible. I use both iPhone 8 Plus and a OnePlus 3T. The iPhone 8 is buggy as **** while my over one year old OnePlus 3T is smooth and bug free. Yes there are occasional stutter but it's way way more reliable than anything from Apple
Time to switch.

2 XL is panned by Android faithfuls. O.o; The Pixel 2 I respect, but it looks like an iPhone 7 and X had a baby. The latest Samsung ones look good… I pray they get updates. I just haven't updated from 10.3.3 until they do some more stability updates. iOS 11 has had bad bug, but not enough to make me switch or worry. Apple doubles down on stability and performance when it has problems. I'm hoping for a Mountain Lion type release for iOS 12. That said, I would sooner switch to a dumb phone than a Google phone. Even fully patched phones were getting infected with HummingBad. Apple was hit on older iOS versions, but could kill it on updates. On Android it survives a system reset. If you can't flash it with a factory image then the only fix is a hammer and fire.

The solution is to stop buying stuff. You could also learn not to live in fear but that is a long shot for you it seems.
All devices have issues, you only get to chose the set of issues you want. Androids are better for you, great, I prefer iPhones.
iPhone 8 is not buggy unless you have proofs of that, any data to submit. One example is not a proof.
Pixel 2XL has a terrible screen for a phone with that price tag. If you don't mind that, then by all means.
Apple software quality is good (I agree it's been better) but is still way over most Android devices I have seen (so much variation there, some may be better but most are worst).

Funnily enough I've always found iPhones more stable than Android devices. In fact, that was the primary reason I switched

Lol. I was expecting the Apple PR response from Rene and true to form here it is. This comical considering that just a little while ago Rene went out of his way to pen an article trying to convince everyone of the exact opposite. I'm sticking with 10.3. There's been FAR fewer problems than has been seen on 11.

Throttling of performance was introduced in iOS 10.2.1. Anyway, I'm enjoying iOS 11 :)

For the 6 and upward yes. Recent experience at board level has taught me that you need to be very careful when you look at statements given out by companies. They are usually extremely well put together and virtually always worded in such a way as to make their readers concentrate on one or two specific items; "Last year we released a feature for iPhone 6, iPhone 6s and iPhone SE ..............snip.....We've now extended that feature to iPhone 7 with iOS 11.2, and plan to add support for other products in the future."
Does not mean that it was never in place for earlier phones. The statement is written specifically to draw your attention to something in particular and make you feel as if there are no questions left to ask.
The 'my iPhone has been slowed by an update after the new iPhone came out' narrative has been around for years and Apple are aware of it. Notice though that Apple did not say, 'no such measures have been taken for any earlier iPhone model'.

Good point. To be fair, Narthalus didn't specify what iPhone he has, and either way it doesn't look like Apple plan to get rid of this feature, so you might as well enjoy the benefits of iOS 11

Ah, yes. I assumed one of the affected. I much prefer Apple stuff but no longer upgrade and endorse blindly like I used to. I now work for myself and I made the very stupid error of upgrading to High Sierra, (a new OS with a new file system). Everything seemed fine and then a few weeks in regular crashes and sleep problems.
Never upgrading that machine again.
No choice about iOS11 as that's what my X came with.

There's a lot of overreacting going on. Apple *could* let you decide not to throttle, but it's not that battery life would continue to degrade; the phone would unexpectedly turn itself off. It's not speed vs battery life, it's speed vs turning itself off. I think most people intuitively understand that the older electronics get, the slower they get. Slowness is preferable to the phone turning itself off. Codifying that decision isn't Apple's mistake. Not communicating throttling as a result of a degraded battery is their mistake. That's pretty forgivable in my book.

So.... an analogy if you will... My laptop allows me to run full speed 100% cpu even if my battery will only last 30 mins. If i wanted to make it run at 20% I could, and increase my battery life to say..... 4 hrs. Even if the battery life is @ 60% capacity, I still have the choice to do this. Also, it would be transparent to me that my battery is the issue. Buy a new one, happy camper. On a samsung phone, the user can choose to run at "high performance" even if their phone will die in 5 hrs if they want. Or they can put it in battery saver mode to get 10 hrs. If they just want to run high performance, they'll just have to replace the battery. It would be transparent to me that my battery is the issue. No trickery involved. I've had to replace my mother in law and my wife's iphones because of performance gripes, not so much battery life because the few times I tried to get the battery replaced at the apple store they told us that the battery was fine. The result was my wife and mother in law picking up new iphones. So two new 30+ dollar leases when all we needed to do was replace the battery that we were told tested to be fine at the apple store. This is a real world example of how this "feature" is forcing upgrades from users.

That's not how it works. Try something intensive on an older phone, like a 5s that doesn't have this throttling code and you'll see. It doesn't "lessen runtime" at all, it **powers off immediately**. It's like your laptop saying it has 30 minutes, but as soon as it hits a CPU peak (say after 3 minutes) it powers off totally. No clean shutdown or anything. Then you power it up and run for the remaining 27 minutes. That's the equivalent of what is going on here.

Which a bigger battery would likely alleviate. Also an older iPhone might not have 'this throttling code", but I gotta say my 5S did seem slower on upgrades and not with what I'd deem processor intensive stuff, (admittedly I don't really know exactly what taxes the CPU), camera launching and operation, site reloading etc. etc.

"alleviate" is the key word there. Why try to put a bit of sticky tape on a problem if that sticky tape is still going to come off eventually?

This is going to be one beaut of a class action lawsuit. Apple knew for years that a $79 battery replacement would have brought older hardware back up to full spec but never disclosed that their own software was deliberately slowing down those devices? Couldn't possibly be because they make more money on sales of new phones then they do on batteries for old ones. Right? Very stupid move. Anyone who upgraded their phone in recent memory because it was "getting slow" has a cause of action. If Apple is smart, they will quickly get in front of this with a discount program.

I'd be ****** if my phone was purposely slowed down. I didn't spend $1,000 for Apple to slow me down.

Apple didn't necessarily need to disclose this to the public. The bigger issue is that it seems not even their retail staff were made aware, and that seems VERY purposeful. The retail staff always pushes new phones on people. And it is much too convenient for Apple to have simply forgot to tell their staff to let people know that they simply need a new battery - not a new phone with Applecare.

You've never been to an Apple store. Retail staff do not push anything, they don't need to, customers just walk up to them and ask to get whatever they want and they get it for them.

Calling it a feature not a bug is beyond Apple PR's wildest dreams. Another horrific apology by Apple's number one fanboy.
I want my 6s Plus back, $79 and it would be flying still.

But it is a feature. Apple put it in on purpose (hence not a bug) and aren't planning to remove it (hence not a bug).

Last year with an iPhone. Have an HTC One M8 from 2014 that ran literal circles around the iPhone 6 Plus someone in the house had after iOS 11. It was so slow that it was literally unusable for anything except as an iPod. I know people with 6s devices that perform terribly. No Android ONE is doing this, but iPhone's are the ONLY devices that randomly shut down and drain their batteries in record time in the ice rink here. This doesn't happen to anyone's Android phones, so I feel like the design is flawed to some extent in These phones. Next year I am moving to Android for peace of mind, and because I want a longer upgrade cycle. I don't want to wake up one day with my phone throttled and unable to do what I bought it for. T his is disgusting, and I'm as you see that people are defending it. The gambling has gotten stupendous, these days. It does force upgraded. The person with the 6 Plus would have kept it if the phone didn't start running like carp after that irreversible update. We're all moving to Android next year when we update again.

Good luck with that. Android has horrible power management. Apps that I closed yesterday pop up with the "this app is draining the battery and has been put to sleep" warning. Huh? I closed that app! How is it still using the battery?

Right. Never had power management problems and have much better control over how I manage power.

And that battery use on closed apps is because apps run properly in a headless state. You can turn that off too if you want.

An app that I closed, but is still running in a zombie state sucking up cpu and battery is NOT "running properly". Sorry, but Android gets this wrong. Even Windows phones handled this better. Of course, so does iOS.

Agreed, one of the apps on my mum's Android phone still tries to do processing in the power, so it comes up with this silly warning saying "an app in the background is draining battery". This isn't necessary on iOS because it correctly puts the app to sleep if it doesn't need to do anything

Wasn't a problem on my Note 3 or M8. Certainly isn't a problem now. Rhetoric is cute, but my experience disagrees with your assertions. Google was, pretty transparent about how Android manages power, as well, in Addition to the way it multitask.

I don't know where you get this stuff, maybe you had a very eloquent experience with a Galaxy S3 like most apple fans but battery management on my Android One running Oreo has been terrific.

Android used to have bad power management, however that's probably not true today.

THIS is the problem with Apple. They aren't making it OPTIONAL as well, they're making it easier for people to do things the way Tim Cook wants. Even Steve Jobs changed the side switch on the iPad after enough requests, but Tim can't stop slowing phones? Edit: On top of this, I recall numerous customers calling in when I was at Apple about their battery life not being even. So I don't see how this saves battery. Their battery went from 100% to 93% to 85% to whatever, skipping numbers. Just make a friggin switch Apple.

It's okay though: Tim just awarded himself a $100m paycheck for 2017. I'm assuming that figure is based on sales and not on the number of fur cups that Apple have created this year.

I have a 6 Plus with a crappy battery will I be able to get my battery replaced for free or $29?

Good. I've been wanting to replace the battery on my 6s plus. Now it will be $30 instead of $80. It's not running slow, it just does not last like it used to.

It's unsettling that people would defend this. Apple purposely throttled your expensive device without telling you, and then made you purchase a new phone in order to get a phone with "normal" performance and not telling consumers that they could replace the battery in their aging device, something that would cost a helluva lot less. That's the very definition of planned obsolescence, and I hope Apple gets sued bigly over this.

In the meantime my 6s Plus that I loved is sitting at Gazelle because it was so slow I couldn't stand it any longer. Wish they had acknowledged this a few months earlier and I could have had a snappy iPhone for $29.

Good move by Apple, and that battery price will be adopted by other manufacturers. Hopefully this will lead to Apple having a bit more respect for their customers' level of common sense.

A little of topic but in the battery category. My original Apple Watch could not make it through a long bike ride anymore. I took it to the "genius" prior to it being no longer covered by AppleCare. They tested, said it was fine and sent me home.
If I cannot make it through a two hour bike ride with a device that used to do it easily, that isn't fine. They need to believe their customers who use the device each day.

Wait where's the article that said "nope, no, never apple never slows down your old devices"

Things change with the wind around here.
Apple is hiding a number of similar limitations which you can guarantee will be buried deeper by Apple moving forward.

It is rather cowardly of Rene to update the article in such a way that it removes all trace of his slavish defence and denial of Apple's sometimes knuckleheaded design decisions.

To Renes credit, he DOES acknowledge all of this. Scroll way down this page. The article is there. He admits he was wrong.

Ooops, my mistake. The article I am referring to was NOT written by Rene. I didn't look at the ByLine first. So yes, Rene has yet to own up to this.

LOL. He will never do that! René didn't even had the courage to state here that he was wrong when he wrote said article.

Are we talking about "courage" again?

Steep Discounts???!??? What about all the people that upgraded their hardware over the years that Apple was slowing the phones down, thinking that the software was putting more of a stress on older hardware?

They are (or should be) getting in on the class actions. Of course, they won't win anything for themselves - the only winners in these things are the lawyers, of course - but Apple needs to be seen to lose on this to set a precedent that this **** is not acceptable.

I have no problem with slowing down the phones vs. having them shut off. I agree with most that it should have been known what was happening. Once the battery reaches a certain level it would let you know that your phone will be running at a slower speed until the battery can be serviced. Like limp home mode in some cars. My sister-in-law had a 5s that was shutting off randomly at battery levels as high as 40%.(She hadn't upgraded past the first version of iOS 10) I knew it was time for a new battery, but we ended up buying her a new phone for Christmas. Yeah we could've replaced the battery, but the home button was getting a little iffy so we decided to replace the phone. It had done well for 4 years of hard service so no complains about that. But if upgrading wasn't an option it would've been nice to know what the options were with battery vs. slowing down.

They've broken out the fire extinguishers. Unfortunately, a fair amount of damage has already been done. Discounted batteries don't help anyone who upgraded their older iPhone because Apple had intentionally, and secretly, slowed it in the last year. That was a deceptive move and they should have known better. More importantly, we all now have to just accept that Apple has installed a software time bomb on our phones that is here to stay. At some point, your phone will either be slowed down or you will have to spring for a new battery. It could happen in a year or two years. It all depends on how much you use the device and recharge it. Why would anyone who spends the kind of money Apple charges for its hardware want to have that aggravation in the back of their heads. Yes, of course, we are all going to upgrade our phones at some point. But that should be a decision that we look forward to making, not one that was foisted upon us. Apple should really rethink this whole aspect of the iOS. It's a self-inflicted wound at this point. And a really stupid one too when you consider how expensive these machines are. Entice me to upgrade with new value and features, not by crippling my existing hardware please.

Apple's job is not to 'balance out' anything, but to design their hardware so that the battery can handle it -- like other manufacturers are doing, and hence have to opt for lower Geekbench scores. Here Apple have been just offloading their design flaws on their customers, the same flaws that have allowed them to couple an overpowerful CPU with hardware that cannot handle it. Good that this is coming to an end.

So, maybe not click the "Accept" button so fast next time, huh? It's probably buried in the EULA somewhere, and Apple will use that in their defense.
But I also think that Apple wont just get away with a cheaper battery replacement program once the Justice Department do some checking and the Class Actions get rolling.

I think people are combining all of the customers who come into the store as people who are looking to buy something. If you spend any time in the back portion of the store (Genius area) you hear these conversations all of the time. People complain that their phone is slow, or "not right", and the first thing offered as a remedy is a new phone. You have to be persistent with what you want to get them off message. I had this same thing when I went in for the official 6S battery replacement. I was there to get it done and they still tried to push me towards a 7 at full cost. I kept saying no and then after an inspection of everything not related to the battery they agreed. I then waited 2 hours for my appointment for them to do it. Can't imagine what the wait time is going to be now. The problem is that the way these devices are made it leaves little chance for anyone outside of Apple to do things like change the battery. So we have to rely on them to do it or make decisions "for our own good".

I just don't understand why apple chose to hide this. Plus, why don't Android phones need this feature? It seems like android is trending up and Apple is trending down.

Android phones do need this feature, considering they also turn off before hitting 0% when battery wear kicks in

No they don't.
There is no Android OEM that has a similar problem with batteries Apple has right now.

So apparently magical fairies in the Android OS prevent a hardware issue that has been an issue since time immemorial. *sigh* Android devices do suffer with the issue because every device with a battery suffers with the issue.

In an attempt to be proactive I took my iPhone to Best Buy yesterday to have the battery replaced under Apple's $29 replacement offer. I am disappointed to report I was not successful. The Geek Squad technician ran a diagnostic and reported that the battery was not depleted and therefore not eligible for replacement under the Apple program. Not what I expected. I believe the right thing for Apple to do is to offer the program to any customer who asks for it. If the battery is not depleted now, it will be.

iOS 11.3 will disable the performance drain, so if your iPhone is running slowly then this should fix it

Ridiculously ****** about this. I only purchased the iPhone X because I thought that my 6+ was on its last legs (super slow & reboots every few minutes).
Now I feel that I was implicitly coerced to upgrade because of something Apple was doing in the background...& neglected to mention.
Now that I'm +$1000 in the hole, there is a $29.00 fix available.
WOW!!!!
A company that has near unshakable public good will & more $$ than they can ever hope to spend (& continuously making more) shouldn't move like this.
This has left a very bad taste in my mouth, & I am someone who is VERY pro Apple.

Did you go to the Apple store about your slow iPhone? I doubt they would've just told you to upgrade, they would've wanted to solve the issue for you, and probably would've told you that the battery was to blame. I know it's too late for it now, but you should always check with Apple if you can't figure out why your phone is going slow.

Wait... You're angry at them because you dumped $1000 on a CELL phone when you could have easily chosen to get a lesser priced model? I'm in no way defending Apple... But they didn't manage your wallet or force you to choose to waste your cash like that. Smh

Not to mention he didn't suggest that he even went to Apple to ask them if he actually needed to upgrade, he just "assumed" he did. He who assumes, becomes the fool.

Hey Rene, do you know if the $29.95 batter replacement program applies to the iPod touch 6th generation? It has the same internals as the iPhone 6, A8 cpu, etc.

According to Apple's website:
"Apple is reducing the price of an out-of-warranty iPhone battery replacement by $50 — from $79 to $29 — for anyone with an iPhone 6 or later whose battery needs to be replaced, available worldwide through December 2018. Details will be provided soon on apple.com." I can't find any further details on apple.com yet, but it looks like it will solely be iPhones, and only the iPhone 6 and above

Are there resources being devoted to solving the issue with mobile batteries? This seems like a bandaid, which I'm fine with if there are no other alternatives. But I'm interested in what could be done in the battery space to resolve this issue and not require us to throttle our devices to continue using them. Obviously we can purchase a new battery, which is fine. But what about prolonging the life of our batteries?

I would imagine resources are being devoted to solving issues with batteries, but no alternative has been found yet. The iPhone started with a lithium-ion battery, and the iPhone X has a lithium-ion battery, these issues have been around since time immemorial. Apple's solution is nice if it does prevent the phone from turning off before 0% because no one wants that to happen, especially in the case of an emergency. It is a "bandaid" solution, you're right in saying that, but that's only because there really is no better one at the moment.

The simple solution is to use bigger and more resilient batteries(as in better quality batteries).
But that collides with Apple's mission of maximizing their profits.

There's no such thing as "better batteries", they're lithium-ion, there's no better type. As for bigger batteries, you do realize they're still subject to battery wear? Apple aren't maximising profits at all, they're putting the best batteries they can in their devices, but unfortunately we're still using lithium-ion because nothing better exists yet

The real solution is to not stare at your phone for 16 hours every GD day. You will be charging it twice a day, so basically in 18 months or less the battery is toast. I have 4 and 5 year old phones that still work fine. I have an ancient iPod Touch 4th gen that still works fine. It also would help if everyone was not obsessed with thin/small devices. Make it a little bigger and put in a bigger, longer lasting battery.

That's not a real solution because everyone is allowed to use their device for as long as they like. Not to mention it doesn't necessarily require you staring at your phone for 16 hours, using GPS or playing games a lot will drain the battery fast as well.

That whooshing sound you hear is my point flying over your head. The point is, put your phone down. Stop using it constantly. The batteries will last many years if they are only being charged 3 times a week, instead of 10 times a week. Yes, use it all you want. But then don't complain that your battery is losing capacity after 18 months because you charge it twice a day. As with all things, moderation is the key.

3 times a week for an iPhone? What world do you live in? I don't know _anybody_, not even my parents, who can only charge their phone three times a week. It needs charging at least once every other day, if not every day

I charge my 8 plus maybe twice a week. AGAIN, I do not use it constantly. It is not my only computer. I have iPads that get used when I am at home.

Well that's fine for your use case, however the majority of people use their smartphones on a daily basis, so of course they're going to charge it more than 3 times a week

The Galaxy S8's battery should lose around 5% of in capacity in 2 years.
Yes batteries degrade, it's something that can't be stoped but there are workarounds this issue, so manufactures can design their phones so they don't shut down unexpectedly, this is the reason we never hear of Android phones being plunged by this kind of shut down problems.

Except Android phones do have these shutdown problems, because they have batteries too. I've seen all different kind of devices suffer from the shutdown issue, it's due to battery wear, which unfortunately will affect any device.

Perhaps, but Android manufacturers don't insult the intelligence of their customers by claiming they're the ones at fault for their battery woes all the while knowing full well that they were the ones who caused their customer's battery woes by sneaking in a piece of code to slow down their phones & calling it a "feature".

They should have informed their customers, that was the main thing Apple got wrong. It is a feature, because it prevents your phone from shutting down when the battery wear is beyond a certain point. Would you rather have your phone shut down randomly, or slow down slightly?

What I would rather have is a phone that isn't designed so asininely thin that: A;battery life suffers
B;results in the company designing a battery case to make up for the design fail
C;results in the company sneaking a piece of software on to my phone and lying to my face about it

The thinness of the phone doesn't result in point C. Battery wear happens regardless of how big the battery is

You seriously believe that, ask people with S7's how their batteries were after 2 years. No phone company can fix what heat does to a lithium ion battery, why do you think all the power tool companies are putting fans on their charging, to cool the batteries when charging!

I hope they lose a ton of money over this. They can't make decisions for people. Let me choose if I want my phone to be slow. Let me choose if I want the taptic engine to buzz or not. Let me choose if I want you announcing my texts on Carplay when someone else picks up the phone to respond for me INSTEAD of interrupting my music. Basic stuff Apple.

Apple make a ton of decisions for you. Can you install non-App Store apps? No. Can you theme the OS? No. The iPhone isn't the phone to pick if you want complete control over the device (unless you're going to jailbreak). In this case, Apple are actually trying to help, the throttling stops your phone from randomly switching off

Apple Japan is currently quoting 2 to 5 weeks wait on stock for 6s battery replacement. YES, 5 weeks.
My 6s battery is at 71% of full capacity after 709 charge cycles and the CPU is throttled.
Not a great experience Apple. Even after you 'fessed up to throttling, your customers are still in ****.

Wow $50 whole for those that already paid for the repair. And now out comes documents showing that Apple was lying about the problems with the iPhone 6 all along and changing customers for repairs that they knew might need doing before they ever sold 1 phone! Rene it's high time you get Tim Cook on your show to answer for all the problems of late!

Much ado about nothing...

To have the iPhone X from last year and for them to now place it within the same category as the iPhone 8 and below is quite ridiculous. All because Apple trying to place their newer phones in the spot light over the X. The X is a great device.

They're not being placed into the same category, it's just enabling the power management functionality. All it means is that when your iPhone X has battery wear beyond a certain point, you can decide whether the phone should be throttled in performance to stop it turning off before the battery fully depletes
Thank you for signing up to iMore. You will receive a verification email shortly.
There was a problem. Please refresh the page and try again.