Apple's $29 battery replacement program: what you need to know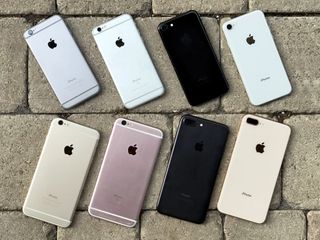 May 23, 2018: Apple offering $50 credit for out-of-warranty iPhone battery replacements
If you had your iPhone battery replaced prior to Apple's discount program, Apple is now offering a $50 credit towards out-of-warranty replacement for iPhone 6 or later. The replacement had to have been done between January 1, 2017 and December 28, 2017, and completed at an Apple Store, Apple Repair Center, or an Apple Authorized Service Provider.
From Apple (opens in new tab):
So, if this applies to you, sit tight and wait for your email.
May 9, 2018: iPhone replacement batteries no longer subject to delays
According to an internal Apple memo obtained by MacRumors, Apple's batteries for its iPhone battery replacement program are now available without delay. Batteries should arrive more quickly at both Apple Stores and Authorized service providers.
January 11, 2018: iPhone 6 Plus batteries may be delayed until March
According to an intercepted internal document obtained by MacRumors, certain iPhone models may have significant delays on battery replacements:
While this may be frustrating to iPhone 6 Plus users, it's not surprising: Apple mentioned at the start that supply would be limited, as the company attempts to ship as many replacement batteries as it can to Apple Stores and authorized repair shops alike. To get in queue for a replacement, follow our replacement guide below.
Why would I need to replace my battery at all?
Lithium-ion batteries aren't infinitely powerful: Like everything on this planet, they age, and as they do so they become less effective. From Apple's battery and performance document (opens in new tab):
In other words: As your battery gets older, it may run into issues running high-powered apps and tasks and might shut down. In order to prevent unexpected shutdowns in these older batteries, Apple deliberately meters processor power, which may make your iPhone run more slowly.
If you want to avoid that slowdown and return to full health, you want to replace your battery. (Think of it like getting a hip or knee replacement as you age.)
What iPhone models did Apple slow down?
It's less to do with iPhone models and more to do with battery capacity: If your iPhone is running iOS 10.2.1 (iPhone 6, SE, or 6s) or iOS 11.2 or later (iPhone 7 and 7 Plus) and its battery health is low enough to potentially trigger unexpected shutdowns, iOS throttles the CPU and GPU to keep it from triggering a restart. From Apple's support document:
This power management works by looking at a combination of the device temperature, battery state of charge, and the battery's impedance. Only if these variables require it, iOS will dynamically manage the maximum performance of some system components, such as the CPU and GPU in order to prevent unexpected shutdowns. As a result, the device workloads will self-balance, allowing a smoother distribution of system tasks, rather than larger, quick spikes of performance all at once. In some cases, a user may not notice any differences in daily device performance. The level of perceived change depends on how much power management is required for a particular device.
In cases that require more extreme forms of this power management, the user may notice effects such as:
Longer app launch times
Lower frame rates while scrolling
Backlight dimming (which can be overridden in Control Center)
Lower speaker volume by up to -3dB
Gradual frame rate reductions in some apps -During the most extreme cases, the camera flash will be disabled as visible in the camera UI
Apps refreshing in background may require reloading upon launch
Many key areas are not impacted by this power management feature. Some of these include:
Cellular call quality and networking throughput performance
Captured photo and video quality
GPS performance
Location accuracy
Sensors like gyroscope, accelerometer, barometer
Apple Pay
If your iPhone has a still-functional battery — even if it's an iPhone 6 — you shouldn't be affected by iOS throttling. If you're concerned, you can check by comparing your iPhone's speed benchmarks against other iPhone models using the Geekbench (opens in new tab) app. You can also run coconutBattery on your Mac to see your iPhone battery's age and wear/tear.
Are there non-battery reasons my iPhone might be slow?
Absolutely — and they don't have to do with Apple throttling your CPU or GPU. You might have a memory-bloated app, your phone may not have been restarted recently, you may need newer software... there are a number of reasons your iPhone might be not working at peak performance. Check out our troubleshooting article below for potential causes and how to fix them:
How to fix a slow or frozen iPhone or iPad
How will I know if I need to replace my battery?
You can check your battery's general health at any time by going to Settings > Battery on your iPhone. If your battery is running into issues, you'll see an alert at the top of the screen to consider a replacement.
Additionally, you can run coconutBattery on your Mac to see your iPhone battery's age and wear/tear.
Finally, you can always ask your local Apple Store or authorized repair shop to run a diagnostic on your iPhone battery if you're worried it's no longer suitable.
What iPhone models are eligible for this program?
All iPhones 6 or later will be eligible for a battery replacement. That includes:
iPhone 6
iPhone SE
iPhone 6s
iPhone 7
iPhone 7 Plus
What about iPad models?
iPad models aren't getting the battery replacement program — nor does iOS need to throttle their CPU and GPU — because their batteries are much bigger. They're not currently part of Apple's power management program, either. From Rene's article on the subject:
No, your iPad isn't affected by #iPhoneSlow. Here's why!
Can I replace the battery even if it doesn't say I need to replace it?
When you make an appointment at the Apple Store, Genius Bar employees will run a diagnostic on your iPhone to see if the battery is below its operational threshold; that said, we've seen multiple reports and received independent confirmation that if the part is in stock, the Genius will replace it for you even if your existing battery is still powerful enough to avoid Apple's power management program.
I have other damage to my iPhone; is my battery still eligible?
It should be: Apple's replacing the battery, not the phone itself. Even if you have a cracked screen or dented case, you won't need to pay to replace those to get your battery fixed. (But if you have a cracked screen, you probably should fix that.)
Will Apple force me to upgrade my software when I get a battery replacement? I don't like iOS 11!
First note: If you're on iOS 10.1 or earlier, you shouldn't be seeing any software throttling — those changes were introduced in iOS 10.2.1 or later for iPhone 6, SE, and 6s users — but you might be prey to unexpected shutdowns. In this case, we do recommend upgrading to iOS 10.2.1 or later.
For all others on pre-iOS 11 software, Apple hasn't required users update software in the past during battery replacements, though if it's something important to you, you should make that known to your Apple Store or repair shop contact when bringing it in for a battery replacement.
How much will a battery replacement cost?
Normally, the program is free to iPhone models under warranty and $79 to out-of-warranty customers; this program will allow out-of-warranty customers to replace the battery for just $29.
What will Apple's battery replacement program cost outside the U.S.?
Canadian out-of-warranty iPhone battery replacements have dropped by $64 — from $99 to $35 — for anyone with an iPhone 6 or later whose battery needs to be replaced.
In the U.K., the price has dropped by £54, to £25.
How do I make an appointment to replace my battery?
Visit the Apple Support

(opens in new tab)

page.
Choose iPhone.
Select Battery, Power & Charging.
Choose Battery Replacement.
If you live near an Apple Store, click Bring in for Repair; if not, choose Send in for Repair.
Enter your information to make an appointment.
How long will it take for Apple to replace my battery?
If your battery is in stock, the procedure should take around an hour; if not, you'll be asked to return for a follow-up repair when the part is in stock. (You can always choose to send your iPhone via mail for repair, but that process takes a bit longer — close to a week — and means living without your phone.)
I don't want to wait — can someone else besides Apple replace my battery?
Absolutely. Folks like iFixYouri can replace your battery for $70; alternatively, you can buy kits from sites like iFixit for the same price as an Apple Store repair, though that requires some technical know-how and DIY willingness on your part.
Will the battery replacement mess up my iPhone's water resistance?
It shouldn't when done through an Apple Store or authorized repair shop.
When will the program end?
Currently, Apple says it will continue the program worldwide until December 2018.
Why doesn't Apple just give us free batteries for life?
It's a nice thought, but unfortunately, all electronics are in this boat: AA batteries don't last; lithium-ion camera batteries don't last; and smartphone batteries don't last. Apple's batteries aren't running down any faster than other companies — their effect on your software speed might just be more noticeable.
I don't want a battery replacement — I bought a new iPhone because my old one was slow, and now I want a refund/reimbursement instead!
This isn't officially part of Apple's battery program, but you might have luck contacting AppleCare (opens in new tab) and inquiring there.
Any other questions?
Let us know below.
Updated January 11, 2018: Updated with information on battery delays.
Get the best of iMore in in your inbox, every day!
Serenity was formerly the Managing Editor at iMore, and now works for Apple. She's been talking, writing about, and tinkering with Apple products since she was old enough to double-click. In her spare time, she sketches, sings, and in her secret superhero life, plays roller derby. Follow her on Twitter @settern.
It'll be interesting to see if Apple offer partial refunds for batteries already replaced. They have done with other replacement programs. I pad £79 in November to replace an iPhone 6 battery.

Definitely reach out to AppleCare!

The only answer I can get from Apple right now it to keep checking their website for updates.

If you get your battery replaced, can you stay on the OS you're on? Or does it update you to the current OS?

It shouldn't, though Apple may try and request you update. We'll query and check back.

Be sure to store your phone face down on concrete. It makes the battery last longer.

How often do you have your phone on concrete? I wouldn't worry too much, just make sure your phone doesn't get too warm

How is it possible the SE is not part of this battery replacement program as it does share iPhone 6 technology. And my SE is nearly as slow as apple watch series 0, but no indication that the battery requires servicing.

I've read that the SE is eligible for this program. What makes you believe otherwise?

SE is eligible, as it shipped after iPhone 6.

With all due respect to the author, the important questions aren't answered here. And there are other questions like, if I upgraded my phone to a newer model because my older phone slowed down, am I eligible for a reimbursement of some specified amount?

Nowhere is Apple saying older phones will never slow down. Unless you could prove that the slow down was because of the battery and Apple refused to replace the battery you'd never get a refund.

Apple never said that a phone would slow down because of the battery, until now. They've always marketed specs on the newer phones being 2x faster blah blah blah... When a phone slows down, I've always suspected it was new features in the phones slowing it down. Hence upgrading the phone. If I had known that the phones battery was failing a lot sooner than the two year apple care warranty I would have brought it back to apple for replacement instead of upgrading.

I have not read anywhere that Apple is saying the batteries are failing sooner than they should.
Batteries age, like everything else, why would you expect them not to?
They may age faster or slower depending on your usage, each case is different; maybe your battery was defective or maybe your phone slowed down for some other reason. You're not detailing the steps you took to eliminate all other causes, beside the battery, before buying a new phone.
Your experience may not represent the majority. I never had any technical issue with any Apple devices (owned dozens).
Then again, maybe your model had a higher failing rate, only Apple would know that but they have not said so yet as far as I know.

I think people need to understand fully what was going on. A battery in poor health, meaning one that was not capable of making it through the day under normal use AND couldn't supply the logic board et al with enough power to run at full spec never showed any indication to the user that the battery was in poor health and not capable of supplying that power. That's a fact. Everyone understands that batteries wear down with age. Typically that means that they degrade to the point where you don't get as long a use out of them before they die. But there is something else going on with the batteries and electronics that they used in the 6 and 6s's and possibly, 7,8,and x. http://fortune.com/2017/01/25/apple-iphone-6-battery-recall/ No other iPhones behaved like that and I still have a 4s at work that operates fine even after all this time. Does it last as long as day 1, no it doesn't. But it doesn't behave the same way the 6 and 6s do after a much much shorter time period and same type of use. And when I run a benchmark test on it, it performs close enough to the original benchmark that it shows me it's still running at full speed.

All iPhones running 10.2.1 or later, have their performance reduced based on battery wear. All I know is that all phones suffer a similar kind of battery wear, I've seen Android phones switch off at 20-30% due to battery wear, and Blackberrys, and Windows phones. Basically any phone

I've never seen that on any other device except my old iPhone 6.

That's something you'll have to take to AppleCare directly about, as Apple doesn't have an official program in place.

I traded in my iphone 6 for a X partly because the battery was dying (I was depending on a Mophie battery case to get me through the day) and hence slowing down so I would have appreciated this programme a little earlier.
Now my ipad Air 2 is showing similar symptoms - any hope for a similar battery replacement programme for ipads?

I was wondering the same thing. My 6S is actually fine but my iPad Air has slowed down.

We're inquiring about iPads and will get back to you!

Your chose to fork 1000$ for a new iPhone instead of 79$ for a battery replacement and you're saying the 50$ discount would have made a difference?
Did they offer you a lower trade in amount for your 6 because of the defective battery? Warranty was over by then.

Now, if this really is the case, shouldn't plugging in your phone or ipad cure the issue and make it fast again?
I can tell you this is definately not the case with my iPad 2 or iPhone 6+. The iPhone 7 is still doing ok...

If Apple coded in something that lets the processor run faster on wall power, possibly — but I'm not sure about that fact. It might have to do with the way tasks are routed through the power processor — if everything goes through the (aging) battery first, the unexpected shutdown issue might still occur.

I can't imagine it would be a great user experience for your phone to go faster having it plugged in, since it would cause people to plug in their phone more, making the battery wear out even faster

As a business, I understand why Apple still has a price tag on the battery. But for me, the consumer, Apple has taken one humongous step into pushing me away from their ecosystem entirely, and while I'll grant you that this article isn't fully dismissing the problems with Apple's decision, I think you don't give them enough grief Serenity. Apple is, at least for the first time we know of, doing something no other device maker is. I've defended the iPhone 4, iPad 2, iPad mini slowdowns to myself and others in the past, but when I hear this I look back at my blind defence and ask why. I appreciate that Apple keeps the OS updated on older devices for longer, but my father in law's iPad Air just recently accidentally upgraded to iOS 11 (thanks to him trying to be helpful) and holy crap is it a slog, if anything it almost seems slower than my iPad 4 on iOS 10. And then I ask myself why, why do we allow this to happen? I know the other big companies do this with their devices, but Apple is the premium tech experience out there, and when I'm paying such a crazy high premium for my device (I've been really debating on an iPhone X, not now) and I can expect slow downs and such in around 2 years because of battery tech... what the crap? I also know we are in a bubble here with battery tech and once we can pop it, these specific slow down issues will hopefully be non existent. One can dream. But ffs, that still leaves the device update slog as a major, major problem. I've had times where I intentionally bust out my first Gen iPad because it doesn't run like absolute dog crap, and also it can still airplay to my Apple TV 2 but that's another story.

Obviously, your decision to walk away from Apple is yours. I am just amazed that you expect Apple to bend the laws of physics and to use technologies that have not been invented yet. Batteries don't last forever. What Apple did is make sure your device does not brick, even momentarily, when your battery gets older. Beside not telling you, Apple actually deserves to be thanked.

You take Apple's press release as the gospel!! What Apple did was to protect its own reputation, nothing else, be it hiding battery/power management issues or reducing the battery replacement cost. They don't deserve to be thanked. They deserve to be sued.

What Apple did amounts to a deceptive trade practice. They never disclosed that they had deliberately slowed their customers' phones, even when those customers upgraded to new models in the hope of getting better performance. That is why there is a criminal investigation in Europe now along with multiple class actions here. They screwed up in huge way and the cost to them will likely be in the billions.

I noticed that the iPhone 6+ is not one of the phones you list for eligibility. Was that a misprint, or is there some special reason the 6 would be eligible, but not the 6+?

I've had my 6+ for 3 years and going and the battery is horrible on it now. I hope it gets added to the list.

I just had my iPhone 6 battery replaced at an Apple store last Saturday. Since I paid full price I feel I should get a refund of the difference. Would it be best to contact the store or Apple support?

Why Apple should be sued for "early obsolescence" of iPhones - scaling back performance to accommodate degrading batteries. Apple has been known, at least in recent times for being "the good" guys. After a fairy tale beginning, they lost a huge copyright battle with Microsoft yet ended up needing to receive funding from their old foe. They lost their visionary leader Steve Jobs and fumbled for years on the edge of failure. But in 1998, Jobs finally returned and ushered in a new era with incredible products: OSX, iPod, iPhone, iPad, Apple Watch, iTunes music and the IOS App Store. They were saluted when they stood up for LGBT rights. Cheered for standing toe to toe with the FBI on user privacy. They demonstrated that, while there products were premium priced, their value and incredible design warranted the price. And their record making profits were overlooked as they continued to develop and market
"ground breaking", "live changing" products. While continuing to change the world. And lets not forget the "spaceship" headquarters. But then again, who wanted to upgrade the iPhone 7 anyway. Yawn. But, while we were mesmerized by the white, silver and occasionally rose and gold colored product revisions, things began to change. Or rather stagnate. Product lines stumbled. Advances in models slowed or halted altogether. As I write this two of Apples 4 main computer product lines have not seen new models in over 4 years. And their flagship MacBook "Pro" line is seen as a giant leap backward. With the shallow "chicklet" keyboard, lack of connection ports, reliance on expensive dongles, the inability to upgrade memory or storage - it is no longer considered "professional" at all. Pundents and professionals are recommending the last "Pro" MacBook (still being sold) that was introduced over two years ago. Apples marketing machine continues to shine as it promotes its latest iPhone model as a revolution. And while it is breaking records for sales and receiving shining reviews, much of the "advances" actually respond to pressure from other companies like Google. Wireless charging, edge-to-edge displays, OLED displays, no headphone jack, AR are all features that have been introduced previously (in some cases, years previously) by Samsung, Google, HTC and others. But just like in the past Apple just does those better. But with all this attention to detail, Apple forgot about something fundamental to the iPhone. Unlike Samsung, they had not been reminded how much attention should be paid to this area of their phone technology called "the battery". It's deceitful that even with the additional purchase of an AppleCare + warranty to extend the warranty to 2 years, Apple would surreptitiously throttle an iPhone processor back in performance due to receding battery performance - but not agree or suggest or cover battery replacement when its enough of an issue that a software mod is released. Instead, they nobley suggest that they were preserving operations stability in light of a weakening battery. Deceit and lies. Volkswagon did something very similar and paid for a complete product replacement - not a discount on a fix. Apple are "good guys" who love their customers and know what their customers need better than they do. And because of this, they are going to reduce the cost of a new battery and "allow" users to purchase a discounted replacement -- (oh my gosh!) even if there isn't a "problem". Because remember, this isn't a problem, or a flaw, or a premature failure, its a design issue. One that required a creative design solution to mask the issue and lessen satisfaction with our current models by reducing performance and thereby encouraging people to upgrade to the new super model - iPhone X. What a bunch of bunk. I hope folks don't continue to swallow this line from Apple. Don't be fooled. This isn't the beginning a huge downturn for Apple -- That started 2-3 years ago. They simply have so much momentum that they mistake their increasing "resting" position as incline. Decline follows the resting state in any organization. Decline will be marked by reorganization and restructuring. New leadership. Or complete failure. Just because your making tons of money doesn't mean your a leader or have a future. Just ask Steve Ballmer from Microsoft.

Well put. Their conduct in this matter is arguably fraud.

I don't have a comment, I have an "Any other question." Is this the "below" where I go for "Any other questions"? [It's (maybe not so) amazing how often internet "directions" are ambiguous, conflicted, etc.] If yes, my (any other) question is:
Since my ~ 2-1/2 year old iPhone 6 almost always gets through a full day just fine (I fully re-charge it every night), do you think it's a significant risk to put off replacing my battery until, say, September or October? I'm concerned that Apple will change their mind or run out of replacement batteries or, for whatever "convenient to Apple" reason, decide on Labor Day or sometime before "through December 2018" to abruptly end this program.

It's not quite correct that they'll simply replace the battery if there's screen damage. If you look at guides for aftermarket iPhone battery replacement, the screen has to be pressed into place in order to close the case, and it may even be impossible to open it without broken glass pieces falling out. A digitizer with broken glass pieces flapping around could be damaged even it doesn't fall out. iFixit uses their Sclack suction cup opener to open the case via the glass. I was specifically told at an Apple Store that they wouldn't replace the battery on an iPhone with a cracked screen without combining a screen repair. Their listed prices are anywhere from $129 to $169.

After taking an appointement with an apple store and telling them that I do not have an original battery, well...Nothing.
At the Apple store, they refuse to replace my battery since changing the battery myself or by a third-party even if not anymore under warranty, the phone become ineligible for any services.
Even after talking to customer service nothing they can do!!
I think I will start an action law against apple for this! Rediculous that now my phone can't get any service from them even if I pay for the service!!
Someone has an idea for this situation?
Thank you for signing up to iMore. You will receive a verification email shortly.
There was a problem. Please refresh the page and try again.