iPhone XR: Everything you need to know!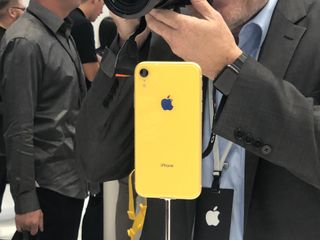 (Image credit: iMore)
Apple has just announced the iPhone XR, which offers much of the same user experience of the iPhone X, but with some notable departures. The phone is larger than the iPhone X, with a 6.1-inch LCD display. It retains the TrueDepth camera that first launched on the 2017 iPhone X, and says goodbye to the Home button.
Here's what you need to know about the iPhone XR.
What is the iPhone XR?
The iPhone XR is one of Apple's new iPhones for late 2018 and into 2019. While the iPhone XS and iPhone XS Max are certainly the flagship products, the iPhone XR offers a similar user experience with some scaled-down specs. The iPhone XR uses the same processor as the iPhone XS and iPhone XS Max, as well as Face ID and the TrueDepth camera, but uses different display technology and a single rear camera. Its sides are also made out of aluminum, rather than stainless steel.
When will the iPhone XR be available?
The iPhone XR goes up for pre-order on Friday, October 19, and will be available in stores on October 26.
What colors will it come in?
Apple has some new color options for its mainstream iPhone. While past models have been available in up to three colors, this year, Apple is offering the iPhone XR in six: Black, White, Product(Red), Yellow, Coral, and Blue.
What storage capacities will the iPhone XR come in?
The iPhone XR will have three storage options: 64GB, 128GB, and 256GB.
What will the iPhone XR cost?
iPhone XR pricing breaks down like so:
64GB: $749
128GB: $799
256GB: $899
Will the iPhone XR run iOS 12?
Indeed it will. iOS 12 will launch to the public before the iPhone XR reaches customers, so there might even be a small update ready by the time you get yours.
So is there no Home button on the iPhone XR?
The iPhone XR has ditched the Home button and Touch ID in favor of Face ID and the TrueDepth camera.
Does the iPhone XR have a new display?
Yes and no. It's still an LCD panel, unlike the iPhone XS, which uses and OLED screen. LCD is still the standard display technology in the mainstream iPhone lineup. But for the first time, Apple has made an LCD display that covers the entire front of the device, and Apple calls it the Liquid Retina display. That means saying goodbye to the iPhone's "chin and forehead" look that had become associated with it.
It's also the second-largest iPhone that Apple has produced by screen size. Sitting in between the iPhone XS (5.8 inches) and iPhone XS Max (6.5 inches), the iPhone XR features a 6.1-inch display with a resolution of 1792x828, with a pixel density of 326ppi.
So there's no more Home button?
Apple has ditched the Home button in favor of Face ID. And just like on the iPhone X last year, you'll now swipe up from the bottom of the display in order to return to your Home screen.
Is there anything new with Face ID or the TrueDepth camera?
The iPhone XR uses the same TrueDepth camera as the iPhone XS.
What should I know about the new A12 Bionic processor?
The A12 Bionic is Apple's latest and greatest in-house system-on-a-chip (SoC). Like its predecessor, it uses a combination of multiple high-energy processing cores for more intensive tasks, as well as multiple high-efficiency cores for light work like checking email and browsing the web. It's a six-core CPU, and uses a new, eight-core Neural Engine to power the machine learning systems on the iPhone XR that can process up to five trillion (yep) operations per second.
The processor allows for more powerful graphics performance, better photo processing, and real-time machine learning.
What's new with the camera?
If you were hoping the dual-camera system on the iPhone X would make its way over the the iPhone XR, I've got some bad news: the iPhone XR only uses a single rear camera like the iPhone 8. That being said, it still shoots up to 4K at 60 frames per second and is optically stabilized.
The camera also benefits from the new power of the A12 Bionic processor, improved sensors, and improved image signal processor. The camera is able to capture even more detail, despite keeping the 12 megapixels that have been present in the iPhone cameras for years now. It features Smart HDR, which automatically makes improvements to photos using machine learning.
The iPhone XR is also able to take Portrait Mode photos, despite the fact that it has only a single camera.
What about battery life?
Apple's official battery specs for the iPhone XR read as follows:
Talk time (wireless): Up to 25 hours
Internet use: Up to 15 hours
Video playback (wireless): Up to 16 hours
Audio playback (wireless): Up to 65 hours
You should see around 90 minutes of additional battery life compared to the iPhone 8 Plus.
Does it still have wireless charging?
The iPhone XR does indeed support wireless charging.
Joseph Keller is the former Editor in Chief of iMore. An Apple user for almost 20 years, he spends his time learning the ins and outs of iOS and macOS, always finding ways of getting the most out of his iPhone, iPad, Apple Watch, and Mac.
What's the deal with the new "haptic touch" on the iPhone XR that replaces 3D Touch? How does it differ from 3D Touch? Can I still press app icons on the home screen for extra quick access features?

my thoughts exactly. was really surprised to hear this. and it was rather on a sidenote...

I would assumenot? Certainly not very clear, but the haptic touch things seemed to be about feedback, a vibration when triggered. If it doesn't have 3D touch how could it tell when you press harder to trigger the shortcuts, and if it can wouldn't that be 3D touch? Personally I don't care much for 3D touch, don't use the associated features much and there's no reason they couldn't be done with a tap and hold anyway. The lack of 3D touch in iPads doesn't help. Still, seems like an odd choice to take a feature that has been in all iPhones for a while now and cut it from only one of the new devices. Apple will have a lineup of four different phones for sale and all but one of the newest have 3D touch.

I'm guessing but maybe a subtle tap when a long press is done to invoke the same shortcuts? The Taptic Engine is still in there, which is what makes the taps so satisfying. I'm gonna miss 3D Touch, I use it everywhere :-(

The huge bezels and that notch make this a remarkably ugly phone.

In your opinion. Funny how Apple actually reduced the bezels and people still complain about them, makes me wonder if you ever even saw the iPhone X in person

At least it looks better than having a notched top and a chin

Are you sure this goes up for preorder on Friday? Everyplace else says Oct 19 for online.

The Apple website says 19 October.

I might just end up getting this phone. I went "Ooh" as soon as I saw the blue, but the black looks great, too. Oh, so do the white and red.

The iPhone Xr will be my first iPhone daily driver. It's going to replace my Pixel 2. I was going to get the Xs but I don't think I need a $1000 phone. I would prefer a higher screen resolution but 720p is good enough.

So if I have an 8 Plus and I only care about the camera and my wallet, wouldn't I be be better off sticking with my 8 Plus or doing a minor upgrade to the old X than getting the XR? I'm confused by the single camera, isn't that a step backward?

Not necessarily, the Pixel 2 had a higher rated camera than the iPhone X or iPhone 8 Plus and it only had a single shooter. A good combination or camera and software can do wonders.

With the exception of the A12 the dated and lackluster tech in this phone is hilarious. Apple is laughing all the way to the bank. 2013 screen anyone? Liquid retina omfg

Liquid retna? What's that? 720p in 2018? Since it is a 6.1 screen it will look like trash

Apple as it's best. Selling a low hardware for high end price.

No fanboy here, however, I find the screen on my iPhone 8 very nice. Better than any Samsung I have owned.
Get the best of iMore in in your inbox, every day!
Thank you for signing up to iMore. You will receive a verification email shortly.
There was a problem. Please refresh the page and try again.