iPhone 15 preorders up 10%, expected to buck downward preorder trend
Have you ordered yours yet?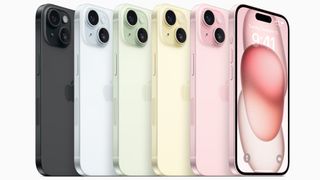 (Image credit: Apple)
Partially a testament to some beefy upgrades in this year's iPhone 15 line, preorders for Apple's flagship phone line are stronger than they were last year. Though the iPhone 14 was a a minimal upgrade, this is potentially a sign of renewed interest in getting Apple iPhones on day one.
As reported by Apple Insider in a note from analysts, "iPhone 15 pre-orders began this Friday and so far (as of Sunday PM) are tracking much stronger than we and the Street expected and up roughly 10%-12% from iPhone 14 based on our analysis".
Analysts attribute a lot of this to iPhone 15 Pro and iPhone 15 Pro Max sales in the US, China, India, and Europe. India has one of the most significant rises with an almost 25% preorder increase. This could be linked to manufacturing moving to India. Despite reports of, and the subsequent denial of, iPhone bans for China, the iPhone 15 line is still proving to be incredibly popular.
A good time to upgrade — iMore's take
I have been trying to secure a preorder for the incredibly powerful iPhone 15 Pro Max this week, mostly down to its superior zoom and the chip's gaming capabilities. Unfortunately, I have remained unsuccessful. Users also reported being locked out of Apple.com for up to 20 minutes on the preorder day, presumably due to how popular the new iPhones are already.
One of the more enticing changes this year is the addition of USB-C charging, allowing you to charge all devices with one cable and even plug your iPhone 15 into an external monitor. These preorder figures are a sign of a healthy launch for Apple and Wedbush estimates 250 million or so users haven't upgraded in the last four years. iPhone 14 preorders last year were a little below the previous year but this year is projected to be much higher. With all these upgrades, it's easy to understand why.
Master your iPhone in minutes
iMore offers spot-on advice and guidance from our team of experts, with decades of Apple device experience to lean on. Learn more with iMore!
James is a staff writer and general Jack of all trades at iMore. With news, features, reviews, and guides under his belt, he has always liked Apple for its unique branding and distinctive style. Originally buying a Macbook for music and video production, he has since gone on to join the Apple ecosystem with as many devices as he can fit on his person.
With a degree in Law and Media and being a little too young to move onto the next step of his law career, James started writing from his bedroom about games, movies, tech, and anything else he could think of. Within months, this turned into a fully-fledged career as a freelance journalist. Before joining iMore, he was a staff writer at Gfinity and saw himself published at sites like TechRadar, NME, and Eurogamer.
As his extensive portfolio implies, James was predominantly a games journalist before joining iMore and brings with him a unique perspective on Apple itself. When not working, he is trying to catch up with the movies and albums of the year, as well as finally finishing the Yakuza series. If you like Midwest emo music or pretentious indie games that will make you cry, he'll talk your ear off.
Samsung, google, oppo, vivo, xiaomi, all had a terrible year, everyone said this was due to the economy and inflation…..except the iPhone 15 pro and pro max just sold out till November.

Looks like consumers have shifted premium smartphone sales ($400 and up) directly to Apple, starving out all other android players in the segment.


Apple in 2023



Reply