iPhone 15 vs Pixel 8 – all the rumors so far and how they compare
Google and Apple go head to head. Again.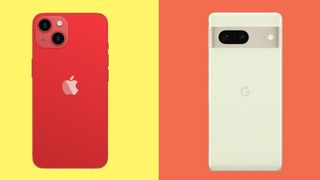 (Image credit: iMore)
The iPhone 15 – alongside the iPhone 15 Plus, the iPhone 15 Pro, and the iPhone 15 Pro Max/Ultra – is sure to be one of the best and most popular phones yet to arrive in 2023, but it's not the only big-hitter that's still to come, as the Pixel 8 line is also on the way.
The standard Google Pixel 8 is likely to be one of the main competitors to the standard iPhone 15. This is because they'll both probably be towards the lower end of premium phone prices and may have similar screen sizes too.
While nothing is known for sure about either phone yet, below we've looked at all the key leaks and rumors that we've heard so far, so you can see how the iPhone 15 (expected in September) and the Pixel 8 (probably coming in October) are likely to compare.
iPhone 15 vs Pixel 8: spec rumors
Swipe to scroll horizontally
Specs: what the rumors are saying

| | | |
| --- | --- | --- |
| Specs | iPhone 15 | Pixel 8 |
| Display size | 6.1‑inch OLED display, 60Hz refresh rate | 6.17-inch AMOLED display, 120Hz refresh rate |
| Display type | OLED | AMOLED |
| Colors | Cyan, Light Blue, Pink, Midnight, Starlight, and (PRODUCT)RED | Haze, Jade, Licorice, and Peony |
| Capacity | 128GB, 256GB, 512GB, + 6GB RAM | 128GB, 256GB + 12GB RAM |
| Splash, water, dust resistance | IP68 | IP68 |
| Chip | A16 Bionic | Tensor G3 |
| Camera | Dual lens 48MP wide and 12MP ultra-wide rear, 12MP TrueDepth front | Dual lens 50MP main camera and 12MP ultra-wide, 10.8MP front |
| Size | 146.7 x 71.5 x 7.8mm, 172 g | 150.5 x 70.8 x 8.9mm, 197 g |
| Operating system | iOS 17 | Android 14 |
| Battery | 3,877mAh, fast charging (40W or 20W, charger sold separately), Qi wireless charging | Around 4,485mAh, fast charging (24W, charger sold separately), Qi wireless charging |
| SIM | eSIM | eSIM |
iPhone 15 vs Pixel 8: price rumors
While the iPhone 15 and the Google Pixel 8 will both probably be towards the lower end of high-end phone pricing, the Pixel 8 is still likely to be the substantially cheaper option. Because while we don't yet know for sure what either phone will cost, the Pixel 7 is a fair bit more affordable than the iPhone 14.
The former starts at $599, while the latter starts at $799, and in both cases that's with 128GB of storage. So if pricing this year is similar, you could be paying around $200 more for an iPhone 15 than a Pixel 8.
There are some pricing rumors, and they suggest that both phones might be a little more expensive than their predecessors, with leaker @Tech_Reve claiming the iPhone 15 will cost around 12% more to produce than its predecessor, while leaker Yogesh Brar has tweeted that the Pixel 8 will start at either $649 or $699.
We would take all of this with a pinch of salt, as not many sources have talked about price rises for either phone, so we might well be looking at starting prices of $599 and $799 again, or we might see one phone increase in price but not both.
So it's hard to say with any certainty what the exact prices will be, but we're fairly confident that the iPhone 15 will be more expensive than the Pixel 8 regardless.
iPhone 15 vs Pixel 8: design rumors
It's likely that there will be one very obvious design difference on both the front and back of these two phones. On the front, the iPhone 15 will probably stand out through its Dynamic Island, which we're expecting to see on all iPhone 15 models.
This replaces the long-standing notch and takes the form of a clever and versatile – if large – cut-out in the screen, where the Face ID components are housed.
The Google Pixel 8 on the other hand will probably have a small punch-hole camera cut-out in the top center of the display, much like many other Android phones. This will interrupt the screen far less than the Dynamic Island, but it also doesn't do anything, other than house the camera.
On the back, it's the Pixel 8 that may stand out more, thanks to the large camera visor that Google first introduced with the Pixel 6, and that we're once again expecting here. This isn't as new as it once was, but it's a design that's not really seen on non-Google phones.
The iPhone 15's camera layout will probably be far more conventional, with a squarish block in the top left corner housing the lenses.
These big differences aside, the two phones might be superficially quite similar, with glass backs and metal (probably aluminum) frames. They'll also both almost certainly have flat screens. In other words, they'll both look a lot like how you'd expect a smartphone in 2023 to look.
However, the Google Pixel 8 will probably be slightly bigger, with leaker @OnLeaks in collaboration with MySmartPrice pointing to dimensions of 150.5 x 70.8 x 8.9mm, while the iPhone 15 will probably be around the same size as the iPhone 14, at 146.7 x 71.5 x 7.8mm – though possibly slightly smaller due to slimmer bezels.
Colors will also differ, with the iPhone 15 rumored to come in Cyan, Light Blue, Pink, Midnight, Starlight, and (PRODUCT)RED shades, while the Google Pixel 8 will reportedly land in Haze, Jade, Licorice, and Peony colors.
Both phones should be durable, but the iPhone 15 might have the edge, with both Ceramic Shield protection for the screen and the ability to dunk it up to 6 meters deep in water for up to 30 minutes.
Those same specs are found on the iPhone 14, while with the Pixel 8, we'd guess the glass will use similarly tough Gorilla Glass Victus 2 for protection, but the phone may only be rated to depths of up to 1.5 meters in water.
iPhone 15 vs Pixel 8: display rumors
Other than the addition of a Dynamic Island – which you can see in the leaked image above, from 9to5Mac – the iPhone 15 will probably have a very similar screen to the iPhone 14 from what we've heard so far, meaning a 6.1-inch OLED display with a 60Hz refresh rate and a resolution of around 1170 x 2532.
As for the Google Pixel 8, rumors point to an AMOLED screen of roughly 6.2 inches (though possibly precisely 6.16 or 6.17 inches according to some sources). So marginally bigger than the iPhone 15's in any case.
This display will likely be FHD+, but there's disagreement on the exact resolution. We've heard both 1080 x 2400 and 1080 x 2268 mentioned. Either way, that will be in the same ballpark as the iPhone 15, and the extra 0.1 inch or so won't make much difference either.
The main difference we might see is that the Pixel 8 could have a 120Hz refresh rate according to Android Authority, which could make interactions feel smoother than on the likely 60Hz iPhone 15. That said, Google stuck with 90Hz for the Pixel 7 and Pixel 6, so we wouldn't count out a continuation of that either.
iPhone 15 vs Pixel 8: camera rumors
In terms of camera numbers, the iPhone 15 and Pixel 8 are likely to be equal, with both having two snappers on the back and one on the front, but the specs of those cameras could differ.
Reports suggest the iPhone 15 will have a 48MP main sensor, up from 12MP on the iPhone 14. This 48MP sensor will likely be the same one as is currently found on the iPhone 14 Pro and Pro Max, meaning an aperture of f/1.8, and sensor-shift optical image stabilization (OIS) included.
That's the main camera upgrade we're expecting from the iPhone 15, with its secondary camera expected to be the same 12MP ultra-wide model as last year, and its front-facing one also expected to be 12MP again.
Meanwhile, the Pixel 8 is rumored to have a 50MP main sensor, just like its predecessor, albeit using an upgraded sensor that lets more light in. It might also have a 12MP ultra-wide camera with the same sensor as the Pixel 8, but with a wider lens, according to Android Authority. We're also expecting the exact same 10.8MP selfie camera as last year.
On paper then there aren't huge differences between these camera systems even when looking at the megapixel counts, but you can expect them to perform differently.
Going by past form, the Pixel's cameras will probably deliver more lively photos, along with more advanced AI features for photo editing. But the iPhone 15 will likely take more natural, realistic shots, and far exceed the Pixel's skills with videos and selfies. So if that holds true then it will largely come down to personal preference and to the types of things you like to use the cameras for, as to which is better.
iPhone 15 vs Pixel 8: performance rumors
There's no question as to which phone will be better on the performance front – it's the iPhone 15. Why? Well, because Apple's phones outperform all Android phones when it comes to raw power, and the Pixel line has never been among the most powerful even in Android land.
That said, the iPhone 15 probably won't use Apple's latest and greatest chipset. Instead, reports suggest that it will use the A16 Bionic, currently found in the iPhone 14 Pro and iPhone 14 Pro Max, with this year's Pro models getting a new A17 Bionic.
But despite using a chipset that's a year old, it will probably outperform the Tensor G3 that we're expecting in the Pixel 8. The A16 Bionic in most areas outperforms the Snapdragon 8 Gen 2, which is the most powerful chipset currently available for Android phones, and it's unlikely that the Tensor G3 will match either of those. That said, Google's phone and chipset are likely to still offer very solid performance.
The Google Pixel 8 will probably also have more RAM than the iPhone 15. The Pixel 7 had 8GB, so we'd expect at least that much in the Pixel 8, but one early leak from WinFuture points to 12 GB.
The iPhone 15 on the other hand will probably have 6GB of RAM, like its predecessor. However, Apple's phones always have less RAM than the top Androids, and that's never held them back, so we wouldn't read too much into that.
iPhone 15 vs Pixel 8: battery rumors
According to one report, the iPhone 15 will have a 3,877mAh battery, which would be a big increase on the 3,279mAh in the iPhone 14. As for the Pixel 8, one leak from Android Authority suggests its battery could be 4,485mAh, making it slightly bigger than the 4,355mAh one in the Pixel 7.
The same leak suggests that the Pixel 8 might offer 24W wired charging and 20W wireless. The iPhone 15 meanwhile could offer as much as 40W wired charging along with 20W wireless, according to leaker @RGcloudS. However, they're not sure whether this will come to the iPhone 15 or the iPhone 16.
At the very least, the iPhone 15 should match the iPhone 14 here, with 20W wired charging and 15W via MagSafe.
So in terms of battery capacity, the Pixel 8 will probably be on top, while in terms of charging power, it could go either way, depending on whether the 40W iPhone 15 leak pans out.
The most important thing here though is how long the battery actually lasts between charges, and we won't know for sure until the phones launch. But for reference, the iPhone 14 and Pixel 7 have similar battery lives, with both capable of getting through a heavy day of use, but not much more than that.
Oh, and both the iPhone 15 and Pixel 8 will probably charge via USB-C, as Apple is widely expected to be ditching Lightning this year.
iPhone 15 vs Pixel 8: features and software rumors
The biggest difference here is the operating system, with the iPhone 15 set to run iOS 17, while the Pixel 8 will probably launch with Android 14.
It's become almost a cliché to say that Android offers more flexibility and customization while iOS offers more privacy, security, and a generally slicker experience, but that's largely always been the case.
We're not going to say one of these is objectively better than the other, it truly does come down to personal preference, and if we could have the best features of both in one phone we'd gladly take it, but we can't.
However, one area where Apple does definitely win on the software front is in terms of support, with the company bringing new versions of iOS to its phones for a lot longer than Google does.
Typically you're looking at five or six years of iOS updates with iPhones, while the Pixel 7 is only promised three years of Android version updates (along with five years of security patches). We don't know if the Pixel 8 will be the same, but it's unlikely to be as generous for this as iPhones are.
You'll also probably be able to get more storage with the iPhone 15, at up to 512GB, while the Pixel 8 is likely to top out at 256GB.
---
iPhone 15 vs Pixel 8: which should you buy?
We can't make any definitive judgments on either of these phones until they're actually out, but going by the leaks, rumors, and what we expect, there are some clear takeaways.
The iPhone 15 will almost certainly be the most powerful of the two, along with having a handy Dynamic Island, probably more water resistance, better selfie and video recording skills, more storage, more long-term support, and potentially faster charging.
The Google Pixel 8 on the other hand will probably cost less and have a higher refresh rate on its screen. They're the only significant areas where it looks likely to pull ahead, but in most other ways it will probably either be comparably good to the iPhone 15, or the differences will come down to personal preference.
So in all, when you break it down like that, the iPhone 15 looks like it probably will be the slightly better phone – but it will also probably be priced accordingly, and the difference is unlikely to be vast.
If you want Android and something of a bargain price as far as fairly high-end handsets go, then the Pixel 8 could make for a fine choice. But on paper, based on what we've heard so far, there are slightly more ticks in the iPhone column.
Master your iPhone in minutes
iMore offers spot-on advice and guidance from our team of experts, with decades of Apple device experience to lean on. Learn more with iMore!
In sales, absolutely not .

Reply