iTunes Radio vs Pandora vs Songza vs TuneIn Radio vs Last.fm: Radio streaming music services compared!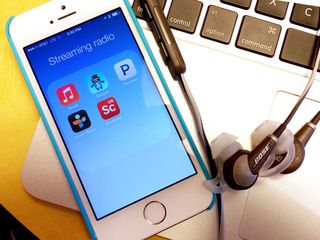 Radio streaming services take the heavy lifting out of finding music to listen to. They differentiate themselves from on-demand streaming music services by taking the work out of curating your own content and playlists. Remember the days where we had favorite radio stations and just tuned into them and listened? That's the experience Pandora, Songza, iTunes Radio, Last.fm, and TuneIn Radio want to put in your pocket. So if you aren't interested in offline downloads and just want to hit play, follow along to figure out which one is right for you.
Quick comparison
Swipe to scroll horizontally
| Service | Price | Desktop apps | Web streaming | Catalog size | Availability | Audio quality |
| --- | --- | --- | --- | --- | --- | --- |
| iTunes Radio | Free - $25/yr | iTunes | No | 25 million+ | US Only | 256 |
| Pandora | Free - $3.99/mo | Mac - PC | Yes | 1 million | US, Australia, New Zealand | 192 |
| Songza | Free - $3.99/mo | No | Yes | 20 million | US & Canada | 256 |
| TuneIn Radio | Free - $3.99 one time | Windows | Yes | 100,000 stations | 80 countries, selection varies | Up to 320 |
| Last.fm | Free - $3.00/mo | Mac - PC | Yes | 12 million | US, UK, Germany | 128 |
Above is a quick comparison of each service and what they have to offer. Keep in mind that this comparison is only looking at radio streaming services and not on-demand ones. If those are what interests you, check out that comparison separately via the following link:
Design
iTunes Radio is built into the Music app so love it or hate it, you're stuck with it if you want to use iTunes Radio. It lives in one singular tab which doesn't leave a ton of room for additional functionality. You've got featured stations at the top and your custom built stations at the bottom. Now playing screens only differ by adding like and dislike options. Next up we have Pandora whose design hasn't changed drastically in a long time. That's not a bad thing though if you like minimalistic. It's easy enough to figure out and navigate with very few frills.
TuneIn Radio Pro is simple enough to navigate and uses sideways scrolling featured sections to recommend stations it thinks you'd enjoy. The exploration section of TuneIn Radio is one of the best I've seen. Categories are descriptive and actually contain what they say they do. While the design isn't anything over the top, it doesn't hurt your eyes and makes sense in each menu. This is something Last.fm's Scrobbler app struggles to do. Fonts and icons are overdone and too large creating a lot of wasted space. It's functional, but not pretty to look at.
That brings us to Songza, which is the best designed app of the bunch. From the concierge service to searching for carefully curated playlists, the app is well done. If you're running iOS 7 it also supports swipe gestures which make an already beautiful app even more enjoyable to use.
When it comes to design, Songza wins hands down.
Curation
If you want radio, curation is the most important aspect of getting songs you actually want to hear. Theoretically Last.fm should be best at this since it literally looks at all the things you already own in your iTunes library, pulls them in, and plays things based on what you already listen to. While it does a decent job, it isn't the best of the bunch. Pandora does a decent job but in my experience, I hear a lot of duplicates in more obscure genres. A lot of this could be due to their smaller catalog size.
TuneIn Radio does a great job of separating out categories and genres and serves up a great mix but since it's based on live radio for the most part, you're at the mercy of the station. One bonus of TuneIn that a lot of others don't have is the ability to record live radio for playback later. It isn't on-demand by any means but it's a nice option to have. It does however require the Pro version of the app.
Songza's main focus is curation and it shows. The playlists are hand picked and regardless what you listen to, you'll find something. iTunes Radio does a decent job as well but just like Pandora, after a certain amount of time I start hearing the same tracks over and over again. I think the problem here is less a curation one and more a playlist one. If I tweak the playlist slightly or change setting, it changes up the selection. In my mind that sounds more like an issue or bug than a lack of music to play.
Regardless, the only service I can press play on and walk away from for hours is Songza. It really is that damned good at curation.
Specialty stations
If listening to things like comedy shows and sporting events is important to you, TuneIn Radio Pro is a must have. None of the other options give you the live stations and local options that TuneIn does. At its core it really is the traditional radio experience we've all grown up with in your pocket. That means anything you could flip your dial to will most likely be available in TuneIn.
For live events and live radio stations from all over the globe, there's none that can top TuneIn Radio.
Catalog size and selection
TuneIn Radio is different from the others since it's based on live radio and not an actual catalog. On the plus side, that means the TuneIn database is constantly changing. For people that don't like listening to the same thing consistently, it's like a breath of fresh air all the time. Not a bad thing in my opinion. As long as you stay away from local stations that is, which we all know play the same thing over and over. And over again.
Pandora has the smallest catalog size but that doesn't mean it isn't well suited for some people. Most tracks in Pandora are mainstream so if that's your thing, you probably won't notice the small size. Now if you listen to more obscure music, you'll notice fairly quickly. Last.fm comes in next with around 12 million tracks in their catalog. I hear a lot less repeats than I do with Pandora but they're still noticeable after spending a good amount of time with the service.
iTunes Radio pulls from iTunes which has a massive collection of over 25 million tracks. I'm not sure if all of those are up for grabs on iTunes Radio or not but for the most part, iTunes Radio plays things you want to hear. Even though Apple killed Ping a while back, I'm sure they pulled a lot of valuable data about listening habits from it. And I'm almost positive that data has a home in iTunes Radio. My only issue is that after listening to the same playlist a few times I start hearing duplicates rather quickly. It can't be due to a lack of selection and I hope it's something Apple addresses in the near future. For now, tweaking the playlist slightly seems to solve the problem.
Songza has a library of around 20 million tracks which is on-par with what on-demand streaming services such as Rdio, Spotify, and Beats Music offer. No matter what genres you listen to or how obscure they are, you'll find playlists in Songza's catalog that suit your tastes.
Songza slides in for the win just ahead of TuneIn Radio.
Availability
Radio streaming services are a little harder to peg for availability than on-demand streaming services are. From what I could find, there are workarounds for some of them but official availability is pretty limited and varies greatly depending on country.
TuneIn Radio is available in the most countries so that puts it on top. Just be aware that what stations are available will heavily depend on where you are in the world.
Pricing
All five services offer ad supported streaming for free. You're limited to the amount of skips under free plans though. Last.fm limits some other features like profile views and access on mobile apps as well unless you're a premium subscriber. iTunes Radio is the cheapest subscription based option coming in at $25 a year for ad free listening. TuneIn Radio makes both a free and a pro app. If you buy the pro version you get the ability to record live streaming but it's still ad supported, and there's no way to remove them since there's no monthly subscription to be had.
If you're looking at price, iTunes Radio is the cheapest where subscriptions are concerned but TuneIn Radio Pro is the cheapest overall to unlock all features, but you'll still be served up ads from each station.
Which one is best for you?
Regardless what your tastes are, radio streaming services are not created equal. Pandora and Last.fm are lacking enough that I can't recommend either of them. From there the decision gets a little more difficult.
iTunes Radio is a great service that offers a great value but still has a few issues like duplicates, which I don't quite understand given the size of the iTunes catalog.
That leaves us with TuneIn Radio and Songza.
If you need live stations that cover all the bases, including comedy and sports, get TuneIn Radio. If music is your concern, you need Songza. It's the best music curation service currently available and I seriously can't think of any reason to recommend any other service if music is your number one priority.
What service did you pick?
If you prefer streaming radio over on-demand streaming, which service do use and why? Does any of the above information have you contemplating switching services? Let us know in the comments!
Master your iPhone in minutes
iMore offers spot-on advice and guidance from our team of experts, with decades of Apple device experience to lean on. Learn more with iMore!
iMore senior editor from 2011 to 2015.