iTunes Radio vs Pandora vs Songza vs TuneIn Radio vs Last.fm: Radio streaming music services compared!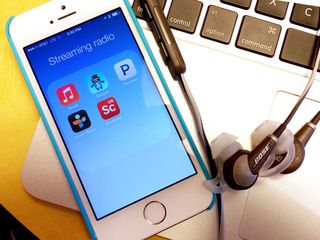 Radio streaming services take the heavy lifting out of finding music to listen to. They differentiate themselves from on-demand streaming music services by taking the work out of curating your own content and playlists. Remember the days where we had favorite radio stations and just tuned into them and listened? That's the experience Pandora, Songza, iTunes Radio, Last.fm, and TuneIn Radio want to put in your pocket. So if you aren't interested in offline downloads and just want to hit play, follow along to figure out which one is right for you.
Quick comparison
Swipe to scroll horizontally
| Service | Price | Desktop apps | Web streaming | Catalog size | Availability | Audio quality |
| --- | --- | --- | --- | --- | --- | --- |
| iTunes Radio | Free - $25/yr | iTunes | No | 25 million+ | US Only | 256 |
| Pandora | Free - $3.99/mo | Mac - PC | Yes | 1 million | US, Australia, New Zealand | 192 |
| Songza | Free - $3.99/mo | No | Yes | 20 million | US & Canada | 256 |
| TuneIn Radio | Free - $3.99 one time | Windows | Yes | 100,000 stations | 80 countries, selection varies | Up to 320 |
| Last.fm | Free - $3.00/mo | Mac - PC | Yes | 12 million | US, UK, Germany | 128 |
Above is a quick comparison of each service and what they have to offer. Keep in mind that this comparison is only looking at radio streaming services and not on-demand ones. If those are what interests you, check out that comparison separately via the following link:
Design
iTunes Radio is built into the Music app so love it or hate it, you're stuck with it if you want to use iTunes Radio. It lives in one singular tab which doesn't leave a ton of room for additional functionality. You've got featured stations at the top and your custom built stations at the bottom. Now playing screens only differ by adding like and dislike options. Next up we have Pandora whose design hasn't changed drastically in a long time. That's not a bad thing though if you like minimalistic. It's easy enough to figure out and navigate with very few frills.
TuneIn Radio Pro is simple enough to navigate and uses sideways scrolling featured sections to recommend stations it thinks you'd enjoy. The exploration section of TuneIn Radio is one of the best I've seen. Categories are descriptive and actually contain what they say they do. While the design isn't anything over the top, it doesn't hurt your eyes and makes sense in each menu. This is something Last.fm's Scrobbler app struggles to do. Fonts and icons are overdone and too large creating a lot of wasted space. It's functional, but not pretty to look at.
That brings us to Songza, which is the best designed app of the bunch. From the concierge service to searching for carefully curated playlists, the app is well done. If you're running iOS 7 it also supports swipe gestures which make an already beautiful app even more enjoyable to use.
When it comes to design, Songza wins hands down.
Curation
If you want radio, curation is the most important aspect of getting songs you actually want to hear. Theoretically Last.fm should be best at this since it literally looks at all the things you already own in your iTunes library, pulls them in, and plays things based on what you already listen to. While it does a decent job, it isn't the best of the bunch. Pandora does a decent job but in my experience, I hear a lot of duplicates in more obscure genres. A lot of this could be due to their smaller catalog size.
TuneIn Radio does a great job of separating out categories and genres and serves up a great mix but since it's based on live radio for the most part, you're at the mercy of the station. One bonus of TuneIn that a lot of others don't have is the ability to record live radio for playback later. It isn't on-demand by any means but it's a nice option to have. It does however require the Pro version of the app.
Songza's main focus is curation and it shows. The playlists are hand picked and regardless what you listen to, you'll find something. iTunes Radio does a decent job as well but just like Pandora, after a certain amount of time I start hearing the same tracks over and over again. I think the problem here is less a curation one and more a playlist one. If I tweak the playlist slightly or change setting, it changes up the selection. In my mind that sounds more like an issue or bug than a lack of music to play.
Regardless, the only service I can press play on and walk away from for hours is Songza. It really is that damned good at curation.
Specialty stations
If listening to things like comedy shows and sporting events is important to you, TuneIn Radio Pro is a must have. None of the other options give you the live stations and local options that TuneIn does. At its core it really is the traditional radio experience we've all grown up with in your pocket. That means anything you could flip your dial to will most likely be available in TuneIn.
For live events and live radio stations from all over the globe, there's none that can top TuneIn Radio.
Catalog size and selection
TuneIn Radio is different from the others since it's based on live radio and not an actual catalog. On the plus side, that means the TuneIn database is constantly changing. For people that don't like listening to the same thing consistently, it's like a breath of fresh air all the time. Not a bad thing in my opinion. As long as you stay away from local stations that is, which we all know play the same thing over and over. And over again.
Pandora has the smallest catalog size but that doesn't mean it isn't well suited for some people. Most tracks in Pandora are mainstream so if that's your thing, you probably won't notice the small size. Now if you listen to more obscure music, you'll notice fairly quickly. Last.fm comes in next with around 12 million tracks in their catalog. I hear a lot less repeats than I do with Pandora but they're still noticeable after spending a good amount of time with the service.
iTunes Radio pulls from iTunes which has a massive collection of over 25 million tracks. I'm not sure if all of those are up for grabs on iTunes Radio or not but for the most part, iTunes Radio plays things you want to hear. Even though Apple killed Ping a while back, I'm sure they pulled a lot of valuable data about listening habits from it. And I'm almost positive that data has a home in iTunes Radio. My only issue is that after listening to the same playlist a few times I start hearing duplicates rather quickly. It can't be due to a lack of selection and I hope it's something Apple addresses in the near future. For now, tweaking the playlist slightly seems to solve the problem.
Songza has a library of around 20 million tracks which is on-par with what on-demand streaming services such as Rdio, Spotify, and Beats Music offer. No matter what genres you listen to or how obscure they are, you'll find playlists in Songza's catalog that suit your tastes.
Songza slides in for the win just ahead of TuneIn Radio.
Availability
Radio streaming services are a little harder to peg for availability than on-demand streaming services are. From what I could find, there are workarounds for some of them but official availability is pretty limited and varies greatly depending on country.
TuneIn Radio is available in the most countries so that puts it on top. Just be aware that what stations are available will heavily depend on where you are in the world.
Pricing
All five services offer ad supported streaming for free. You're limited to the amount of skips under free plans though. Last.fm limits some other features like profile views and access on mobile apps as well unless you're a premium subscriber. iTunes Radio is the cheapest subscription based option coming in at $25 a year for ad free listening. TuneIn Radio makes both a free and a pro app. If you buy the pro version you get the ability to record live streaming but it's still ad supported, and there's no way to remove them since there's no monthly subscription to be had.
If you're looking at price, iTunes Radio is the cheapest where subscriptions are concerned but TuneIn Radio Pro is the cheapest overall to unlock all features, but you'll still be served up ads from each station.
Which one is best for you?
Regardless what your tastes are, radio streaming services are not created equal. Pandora and Last.fm are lacking enough that I can't recommend either of them. From there the decision gets a little more difficult.
iTunes Radio is a great service that offers a great value but still has a few issues like duplicates, which I don't quite understand given the size of the iTunes catalog.
That leaves us with TuneIn Radio and Songza.
If you need live stations that cover all the bases, including comedy and sports, get TuneIn Radio. If music is your concern, you need Songza. It's the best music curation service currently available and I seriously can't think of any reason to recommend any other service if music is your number one priority.
Songza - Free - Download Now

(opens in new tab)

Pandora - Free - Download Now

(opens in new tab)

iTunes Radio - built into the iOS Music app
TuneIn Radio Pro - $3.99 - Download Now

(opens in new tab)

Last.fm Scrobbler - Free - Download Now

(opens in new tab)
What service did you pick?
If you prefer streaming radio over on-demand streaming, which service do use and why? Does any of the above information have you contemplating switching services? Let us know in the comments!
Get the best of iMore in your inbox, every day!
iMore senior editor from 2011 to 2015.
Great review and comparison. I'm really enjoying iTunes Radio. Sent from the iMore App

i prefer itunes radio because its built in the os. but dont like the duplicates.

That's pretty much my only gripe. With my custom made j and k pop station I hear the same songs every time I press play

I prefer Songza. I sure wish they would tweak the UI a little bit and remove the thumbs up, thumbs down, and sharing buttons so it doesn't block the album artwork. Maybe move them down a little bit above the play button. Sent from the iMore App

If I could add one more suggestion: Sirius XM. You can subscribe to their internet only service. And you get radio stations by genre/decade etc. Commercial free plus Talk, sports, news, comedy. I wouldn't have thought of it before, but got a free subscription when I purchased a car. I really use it as my "stream"/radio/discovery and then deciding between spotify/beats/google music for on-demand.

If you don't have a car how can you subscribe to Serious XM radio? Sent from the iMore App

You can sign up for an internet only account on the site. Only like 13 bucks a month and you get a free preview. :-) Posted via the Android iMore App!

Please send me a link Sent from the iMore App

http://lmgtfy.com/?q=sirius+xm+internet+radio

The article states that TuneIn Radio has no desktop apps. That's not accurate, they have one in the Windows App Store: https://www.imore.com/e?link=https2F2Fdeepl... I'm thinking the author just researches what's available for a Mac? Also, the article mentions TuneIn's record feature, however, neglects to mention how great the features is. You can record up to 8 hours of broadcast per recording session, and when you're playing back music you can skip songs (words on ads as well). TuneIn recognizes track changes and zips forward/backward a song at a time. The >only< way to listen to internet broadcast radio -- for every 10 songs played you might like a couple. A great way to find music you want to purchase.

I'll update. I couldn't find the windows version most likely because I'm on a Mac. Thanks! Sent from the iMore App

I use siriusxm as well as iTunes radio with those two and tje music on my phone, I wouldn't change that combo at all! Posted via the Android iMore App!

Nice write-up/comparison. Would like you to add a few more services: Sirius/XM, Rdio, Xbox Music/Radio and, Spotify. To be honest, I had no heard of Songza before.

Please read the quick comparison section as I fully explained why services like Rdio, Spotify etc are not included. They are NOT radio streaming services. They are on demand. I did a separate comparison which I linked twice in the article.

Bit like semantics ain't it? Spotify certainly is a streaming service. You are just arbitrarily parsing words ( streaming radio vs on demand radio ) .

With "on demand" you can choose the songs you want and build your own playlists. With "streaming" you choose the TYPE of music you want, but it's up to the app to decide the songs to play (like a radio station). While the words we've chosen to categorize the different services are not that great, the services themselves are very different and are not comparable.

Slacker Radio is pretty big. Surprised it wasn't included in this list.

Please read the quick comparison. It is on demand, not radio. It was included in that comparison. There is a link.

I LOVE Pandora and listen to it often, but do occasionally hear a repeat of a song or too much of similar songs. My playlist has been around for about a decade now, so it has MANY likes and dislikes on it. I seriously tried iTunes Radio and even with over 150 "play more like this" entries and set to Discovery, I would hear the same 10 songs over and over again, oftentimes BACK TO BACK! As such, I've switched back to Pandora. In the hour of getting dressed, getting breakfast on the road, and driving to work, I sometimes skip songs, but I get no repeats. In iTunes Radio, I got repeats before I even got the car turned on. Sad -- I really liked the Siri integration and since I'm a Match subscriber, I was ad-free. It just didn't work for me.

hmmm...'on demand' vs 'radio' - so Allyson you're saying that Pandora is radio, whereas Slacker is on demand. I would maintain that the free version of Slacker Radio (their actual app name) is just about exactly the same as Pandora. How are you defining the difference? Yes I've read that other article, but I still think free Slacker is in fact 'radio', just like Pandora. They're both curated, both can start playing a 'station' based on artist/song/genre, etc. I've used and use them both, and I see no difference in their free versions. 'splain it to me Lucy.....

I really only looked at the premium versions. And premium of slacker = on demand.

yeah I know the services tend to blur over the category lines - but the free Slacker is truly <just> like Pandora, and thus qualifies as "radio" - as I see it anyway... :)

I was wondering the same thing myself. I also noticed that she left other services out like google music as well, that and slacker also have radio capabilities.

If it offered on-demand, it got put there.

As someone who has tried just about every service, I have to second "CycloneFW"'s comment and sentiment about preferring Pandora over iTunes Radio. I wanted to like it, and gave it a fair shot, but it probably comes down to a similar situation: I have many Playlists that I have personally curated over years (tons and tons of my own thumbs ups and downs on tracks). iTunes Radio gave me tons of repeats, whereas Pandora gives me a great range of variety. The deal breaker for me, though, with iTunes Radio was the fact that it didn't work nearly as well in the background as Pandora. If I'm listening to iTunes Radio, I can't comfortably use other apps without music stuttering or pausing. With Pandora this is never a problem. This is even more noticeable while driving (jumping in and out of GPS apps always killed my iTunes Radio playback) -- which is where I do the bulk of my music streaming. Add to this the fact that my particular model of car has Pandora integration (right down to thumbs up/down buttons on the steering wheel), Pandora is just a more seamless service and app for my particular use case.

You're right about iTunes. The iTunes experience has gotten worse with the debut of its radio. I could browse the library and sample the songs with no problems. Now it's "start" "stop" "clear it" "start again" and hope it plays through. I miss iTunes on iOS 6

I have the free versions of all of these except Last.fm. Pandora & iTunes is good for about an hour or so before they start repeating. TuneIn works when I need to have that radio experience. And Songza really serves up the specialized playlists. I've found more new music this way.

Hi, the Last.fm Scrobbler App you used in the review only applies Last.fm's algorithms to your existing iTunes music and doesn't stream music you don't own. Their radio streaming app is for iPhone only at the following link. https://itunes.apple.com/gb/app/last.fm/id284916679?mt=&at=10l3Vy

Pandora 1 mil? I thought it was 20+ mil.. I use Pandora (Vpn), iTunes Radio, TuneIn Radio, Spotify, they all are good.. But if you use Free version Spotify is awful! After every 1 or 2 songs there are 1 min ads.. I LOVE iHeartRadio ... I don't know why it's not in the list.. You can always find something good. My Faves are Pandora, iTunes, TuneIn and iHeartRadio. Sometimes Sky.Fm and DI for house/dance/trance.

Everything I saw said 1M, if you can find a link I'll update!

I'm with the poster above me - I Heart Radio should be included here. It's a great provider. You can listen to live radio, make your own custom stations and I think the catalog is about 20 million songs. You can also listen to news, sports, etc. It's my go to for streaming music.

I found iHeartRadio to be lacking. Lots of the time it tells me I can't listen to a program in my area (mainly sports).

This. It's why I didn't include it.

I second the vote for Songza. When I first downloaded it I thought it was going to be a bit gimmicky but it really is a stellar app. I've found some great new artists and they have a curated playlist for just about every mood or occasion you can think of. **HOT TIP - when I moved to the UK I was most disappointed to see it wasn't available here (which is weird because it IS available in the UK on Windows Phone - how does that happen?) but you can get it pretty easily on an iPhone doing the following: on your phone, change your iTunes store region to USA and then you'll be able to download it. You can then change the iTunes store region back to UK again and the app will continue to function normally. Highly recommend this app.

Pandora and Tunein user... Posted via the Android iMore App!

iTunes Radio plays the same songs in a row. Beats Music is way better only $10 a month, and it have all the albums. Sent from the iMore App

I'm liking everything I'm hearing about Beats Music these days, so leaning toward that. I also like that some very respected musicians and industry folks are involved in it as well. I hope this means the artists will be treated well. Sent from the iMore App

I scribble every thing on Last.FM and have done so for the past 5 years. It provides awesome data on what you listen to and makes some good recommendations compared to other sites. I'd never stream from there though.

Thanks for the review. I'm going to check out Songza and TuneIn. The description for TuneIn Pro says "Display ads are no longer featured in TuneIn Radio Pro". This must be brand new?

Thanks for another informative article. I'll wait for iTunes Radio to arrive in my country ... hopefully anytime now!

Thanks for the great comparison, Ally. Being from Canada, I've only been able to try out iTunes Radio/Pandora on a limited basis (via a workaround or two...), but as an iTunes Match subscriber, I'm eagerly awaiting the former coming to Canada. My experience with Songza has been similar to yours with iTunes Radio - playlists tend to repeat on me quicker than I'd like. Of course, this all depends on the type of music one listens to as some playlists are obviously broader than others. In the end, as an electronica fan, I find myself using Digitally Imported most often for music (via the DI app, TuneIn Radio or internet radio).

I prefer Tunein Radio,which has Data usage so you can keep track if your on a limited data plan.

I tend to use Pandora. It is closer to an artist with selections. I am a guitarist. If I pick Chet Atkins on Pandora, I get him, and other guitarist with similar styles. Yes it can be off, but it is all instrumentals. If I pick him on iTunes Radio, I get very little of Chet, and every country singer know to iTunes. If Beats would get the battery issues solved, I would drop Rhapsody, but that is another topic. Sent from the iMore App

Pandora only streams at 192 Kbps on desktop if you subscribe to Pandora One. Otherwise, on mobile it's 64Kbps (or even lower). As an audiophile, that's just unacceptable to me.

Glad to see Songza get some love!! I love to listen to movie original soundtracks, and Songza has by far the best options to choose from. From Action movies to superhero movies, to A-List composers, and much more. Great stuff. There is some repetition but they also add new movie music so there is always updated scores available.