iTunes Radio vs Spotify free: Which free mobile music service is best?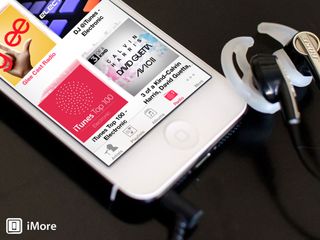 With the launch of iTunes Radio earlier this year, Apple certainly ruffled a few feathers in the mobile music world. The seamless integration into iOS 7 and iTunes Desktop for Mac and Windows meant that folks who'd never entertained a music streaming service before were being exposed to it for the first time in a simple manner. Well, folks in the United States anyway.
Then, just this past week Spotify finally threw its hat in the free music ring. Previously, free account subscribers were only allowed to listen to music while at their computers, with mobile access requiring a premium subscription. All that has now changed, with a free, ad-supported model to help you get your groove on using your iPhone or iPad – and yes, it's also supported on Android right now.
But, since one is new, and one is provided by Apple, it's a perfect time for a shootout. So, iTunes Radio or Spotify free; which is better?
The service
There are similarities and there are also differences between the two. The similarities are in the way the free nature is subsidized; in-stream advertising. The great thing about both services is that the ads aren't overly frequent, and quite easy to ignore. So far with Spotify this week I've heard nothing but ads for its own premium service, which will likely change but is perfectly reasonable to live with.
The difference comes in the nature of the music delivery. iTunes Radio, true to its name, operates like a radio station, serving up a random selection of music for you to listen to. Searching for artists tells iTunes Radio what sort of thing you like to listen to, it does the rest.
Spotify on the other hand allows you to search for specific albums and artists to listen to. Fantastic. But, there's a caveat, and that comes in the form of Shuffle Play. Without paying a subscription, you're free to enjoy Spotify's entire catalog, as long as you're happy to listen to the tracks in a shuffled fashion. My first thoughts on that weren't great, since I have OCD about listening to an album in full, but honestly it's actually fine. Searching for an artist and just hitting play is a personal favorite, as you're then treated to a random offering from said artist's back catalog.
The music
Both services can boast a veritable feast of music on offer. The iTunes catalog as we know is packed to the rafters, but Spotify is no slouch either. Recent times have seen such massive additions as Metallica, Pink Floyd and just this week an exclusive streaming deal for the Led Zeppelin library. On either front, you're not likely to be disappointed.
The apps
iTunes Radio has a slight advantage in this regard since it's a native app that comes pre-installed on every iOS 7 device. As such it offers a supremely familar experience, since it's just part of the Music player. For a lot of the more casual iPhone and iPad owners, Radio is indistinguishable as a separate feature to anything else on the device. And that's comfortable, reassuring.
Spotify isn't that far behind though. The app is now fully iOS 7 compliant, and while it doesn't look as good as Apple's effort, it's good enough. It doesn't really need to be any more than that. It is a little more fussy though in its design, there's more menus, more on the display. Just more.
Availability
Score a massive win for Spotify. iTunes Radio launched only in the United States, and there it remains exclusively. Spotify on the other hand is available in a whole bunch of countries around the world and just this week announced a further 20 expansions – sorry Canada.
It doesn't matter how good the app, music or service is, if folks can't get it, it just doesn't matter.
The bottom line
It's a close run thing, but right now I'd take Spotify free in a heartbeat. Primarily that comes down to availability; iTunes Radio is a fantastic product, but it's only a fantastic product if you're an American. Spotify has been in this space a lot longer, and as such has built up a great catalog and a great network of supported countries. It doesn't provide the full Spotify experience, but without handing over your money this is plenty close enough.
Your thoughts
So, those are my thoughts, what about yours? Do you favor iTunes Radio over all others, or maybe Spotify, or perhaps you're using something else that you think is better. With so many services out there, and so many that are exclusive to certain regions, there's something out there for everyone. These are but two of those options, so if you've got your own recommendations share the what and the why with us in the comments below!
Get the best of iMore in in your inbox, every day!
I do favor iTunes Radio over Spotify, but at this point I think the latter is the winner in this bout. The two are so close in offerings, yet Spotify is, like you said, available to more listeners. Sent from the iMore App

iTunes Radio, if you listen to a station long enough, repeats a LOT. Their library is huge yet my favorite station (the thrash metal station) repeats a lot. I've noticed this with other stations too. Sent from the iMore App

When a station is playing tap the info icon at the top then slide the slider to variety or discovery

Thanks. I had it on variety but you'd think there'd be more new stuff coming in... Sent from the iMore App

Here is a huge difference: in the Spotify free app in the ipad (not the iPhone) you can chose any song, album, or artist and listen to exactly which songs you choose. You can't do that with free iTunes Radio.

Forget both. I use Rdio. Sent from the iMore App

How is Rdio's free offering though? From what I understand (and do correct me if I'm wrong) over here at least in the UK, the free tier is extremely limited in that it only lasts 6 months, offers a limited number of tracks a month and is exclusive to the web and desktop?

Can't you only use Spotify with Facebook??? Why would ANY company do that. That alone keeps me away from their service.

http://www.imore.com/how-avoid-using-facebook-login-your-spotify-account I don't have a Facebook account and have used Spotify trouble free for a long time. I only cancelled my paid subscription because Deezer is cheaper where I am.

No that is not correct You can Easely sign up without Facebook involved, that's what I did.

open a fake facebook account. that's what i do for things that require facebook. that said, though i don't use spotify, i signed up in some way that didn't require facebook.

My pick is iTunes Radio. I like the features and u believe apple has an advantage with iTunes Store and the purchases and ratings if songs as we'll. Sent from the iMore App

For me it seems iTunes random country top 100 gives a better selection of more recent music than even Spotify Premium.

Skip that...found you can choose Billboard Country Songs on Spotify and you get the same result as iTunes Top 100...and with Premium...no adds.

The one that I am getting first Sent from the iMore App

Whichever one comes to Canada first

The ability to search and find whatever album I want and listen to it as well as save it to my playlist for later online listening from ANY device is what makes Spotify a winner to me. As well as the massive music playlist in the radio.

iTunes radio is pretty good, but seems a little buggy, especially when creating a new station; it doesn't do that good of a job with including music in the same category. What about Pandora? Seems like a more polished app than iTunes Radio.

U.S. only? (I had to spoof a U.S. iTunes account just to try iTunes Radio) Problem with all music services. There's still no "this one is available everywhere" that we can consider :(

In my humble opinion, Pandora is the best. I know that's not an option, but, it is what it is. I've had a number of occurrences where Pandora has led me to a "New" favorite band. However, I have not played around with the "discover" option with iTunes radio...

I have to add another +1 to Pandora (even though not included in the article). Sure, if I remember right, it might be one more example of a US-only service (?), but for US listeners it tops the other two if you want a shuffled/radio-like experience. Plus, it's integrated into almost EVERYTHING these days: car head units, home stereos, televisions... It's sheer ubiquity makes it also much more convenient than the other two -- and it's stations are much more customizable to personal taste.

OK, now compare the paid versions. I'm in the USA and never tried spotify. I do have the paid version of iTunes Radio for $25 USD per year which includes iTunes match. Which is better that way? I love the comedy station I created with my favorite commedians. I assume that will translate to other music services? Try "Mitch Hedberg" and "George Carlin" or whatever you like.

Just get Spotify Premium... for what you get out of it $9 a month is practically free!!! I have been a subscriber since day one!

I prefer Spotify free, but only because iTunes Radio isn't available in the UK yet. If and when iTunes Radio becomes available I'll more than likely give it a go and see which I prefer then. I tried the 30 day free trial of Spotify Premium when I was using my Samsung Galaxy SIII Mini & really enjoyed it, but at the time didn't use it enough to justify the £9.99 GBP a Month for it.

For now spotify.. We didn't get itunes radio (mexico) Sent from the iMore App

Apple is usually a very international company, - their products launch simultaneously in most major markets, then worldwide shortly afterwords. From time to time though, they can become oddly insular, and develop things exclusively for their home market. The Apple TV is effectively a US only product, as while it can be bought elsewhere, it's long been abandonware with a total lack of support for all local streaming services. iTunes Radio is an even more extreme example of this insular approach. Spotify then, simply wins by default. It's not really a competition at all.

Spotify is not available on Apple TV, nor integrated with my BMW as iTunes Radio is. The lack of integration with my car is what made me stop being a Premium subscriber and cancelled the account altogether, as I have other (legal) ways of getting to the music I like and be able to have it on Apple TV and in my car. For me, the winner is iTunes Radio. Yes, I don't live in the US, but I do have an US account which works just as well.

Background:
I'm in the U.S. and have used the free version of Pandora since 06'. I tried Spotify, but because my schedule favors a mobile solution more, I stopped using it. Radio has been free all my life. Initially it never made sense (to me) to pay for radio. Nowadays I do buy iTunes and have iTunes Match. Since iTunes Radio came about, I can count on one hand how many times I've listened to either Pandora or Spotify.
In terms of this shoot out criteria, Spotify's greater international availability would make it the winner, but that's the only reason for me. My findings show that Pandora offers more choices than iTunes Radio in terms of Lounge Music and Christmas Music for some reason. I'm not sure about Spotify. To be fair, I'd have to download Spotify again. I can access Pandora on all my Apple devices except AppleTV. When at home I access Pandora via my Vizio smart tv. Spotify will be limited to the iPhone/iPad apps and MacBook Air for me. iTunes Radio being so woven into AppleTV makes it an overwhelming favorite for me these days. If anyone else likes Lounge Music, please let me know your experience with these different music playing options. By the way, for the vintage radio feel (commercials and all), TuneIn Radio is my favorite.

Spotify is great with its playlists and commercial free music for $9.99. It's my daily go to music app. In the rare instance i can't stream something from spotify I will purchase it from iTunes. Sent from the iMore App

i'd use spotify but i don't need everything i play just automagically being published to Facebook i don't need that kind of judgement

Facebook is optional. You don't have to sign up with your Facebook details or ever have them connected to your Spotify account. http://www.imore.com/how-avoid-using-facebook-login-your-spotify-account

I love iTunes Radio for discovering new music (and the ability to add it to a 'wish list' and to rediscover music I had forgotten about. Spotify for me (the paid version) was mostly about the playlist and the ability to share and see what friends were listing too, however with the increase in competition now all my friends are spread out and many don't use Spotify so I stopped my subscription.

Slacker for the win, for me. Just love it, and I've tried them all....

I subscribe to Spotify and prefer it (had satellite radio, but let it go due to cost concerns). The frustration I have with any of the music services (and this occasionally goes for satellite and terrestrial radio, as well) is that often one can not get the original recording on older track, and the re-recordings are usually sub-par. As one who tends mainly to listen to older pop, classic country, and classic rock this is very frustrating. I'm sure there are many who don't mind this - I just don't happen to be one of them.

I'm trying to like iTunes Radio, but I find does not work quite as well with less know artists. Ex: I was able to buy the Kick-Ass 2 soundtrack, which contains "Pu$$y Drop" (you can guess the first word) by Lemon. I tried to create a station based on the artist and got Classical music (Brandenburg Concerto hahaha). I then tried by Song and a different set of Classical played. This has happened with a few other less known artist. If found, it plays great, if not, I get classical music.

I like Spotify, and iTunes Radio, and glad to see Spotify is competing. I have a paid account, but like they way they did this, as most people would be fine with shuffle. Does offline work with the free version?
Thank you for signing up to iMore. You will receive a verification email shortly.
There was a problem. Please refresh the page and try again.