Jimmy Iovine steps back from daily involvement in Apple Music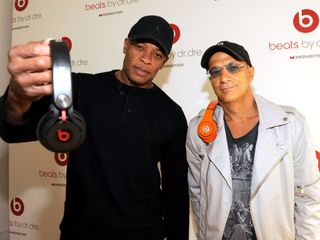 (Image credit: Apple)
After responding to a slough of rumors saying that he was leaving Apple entirely, music executive and Beats co-founder Jimmy Iovine is reportedly transitioning to a "consulting role" for Apple Music this August, according to the Wall Street Journal.
Iovine is one of the few remaining music execs Apple welcomed when it bought Beats Electronics LLC in 2014 — a team which once included Ian Rogers, Dr. Dre, and Trent Reznor before they all distanced themselves from the company. In addition to Iovine, Luke Wood, who oversees the headphones business, also remains. Since the acquisition, Iovine has played a vital part in the growth of Apple Music, providing the brand with artistic credibility and savvy that it may have otherwise lacked.
The WSJ didn't offer any details regarding what exactly "consulting role" means, though the article did say that according to those close to him, Iovine "plans to spend more time with his family while supporting Apple Senior Vice President Eddy Cue, who oversees Apple Music, as needed."
Though Iovine has yet to give any reasons for his stepping down as Apple Music's figurehead, the WSJ speculates that part of it has something to do with reconciling Beats' inherent "edginess" with Apple's focus on appealing to everyone. Iovine's primary responsibility was maintaining relationships with artists and creatives while other execs quietly held up the more technical end:
In addition, the piece mentions that the timing of his transition is linked to the Apple shares he received when the company acquired Beats, which will fully vest in August.
In spite of the leadership changes it has seen since its genesis, Apple Music is one of the most popular and successful music streaming services in the world, currently boasting 38 million subscribers. The service is even on track to overtake Spotify in the U.S. in terms of subscribers later this year.
Thoughts?
How do you feel about Jimmy Iovine's reduced role in Apple Music? Share your thoughts in the comments!
Get the best of iMore in in your inbox, every day!
Tory Foulk is a writer at Mobile Nations. She lives at the intersection of technology and sorcery and enjoys radio, bees, and houses in small towns. When she isn't working on articles, you'll likely find her listening to her favorite podcasts in a carefully curated blanket nest. You can follow her on Twitter at @tsfoulk.
I could care less who is involved if they would improve how you listen to shows. I try to listen to The Pharmacy, but every time I get out of the car it starts the show over and I have to find the spot. Just make it like Podcasts and be done with it. Also, half the time the shows aren't in order so I have to remember where I left off. #ComeOnMan

Just like he denied doing just a couple of months ago, even though the rumor mill nailed it. and tell Laporte it's Eye-veen. Anyway he conned Apple out of a few Billion. For what? He's so 15 minutes ago.

The Beats purchase price was only a head scratcher to non-business people. Beats has already brought in many billions more than Apple paid for it. Despite opinions about the sound quality, from a business perspective, the finance and business community realize how ingenious Tim Cook was to purchase Beats. Not only did it bring the streaming service Apple needed to get a running start to go from start to number two in the world, and now bringing in billions in revenue, by buying Beats, Apple bought a headphone line that has allowed Apple to grow into the number one seller of premium (>$200 ) headphones in the entire world. The Beats line is enormously profitable due to the high margins from the billions in revenue, and more than paid off the purchase price long ago. Apple is now also the number one seller of wireless headphones in the entire world thanks to the included Beats wireless headphones.

I'll be glad when Jimmy Iovine is totally gone from Apple. A billon dollar purchase of rubbish including Beats which I hope will be gone as well soon.
Apple can make mistakes.

Lol, what a troll! The Beats brand is the most lucrative headphone brand on the market and makes BILLIONS of dollars a year by itself. Plus the insane momentum of Apple Music (which is the offspring of Beats Music, which was most likely the primary reason for the purchase), and your comment comes along as some edgy hipster troll trying to make a point that doesn't exist.

BOSE BLOWs BEATS OUT OF THE APPLE STORE IN HAWAII and Bose is average. Marketing sold Beats because people like you believed it.
Thank you for signing up to iMore. You will receive a verification email shortly.
There was a problem. Please refresh the page and try again.