Join the Discussion: Wireless charging + the new iPhone: How do you feel about it?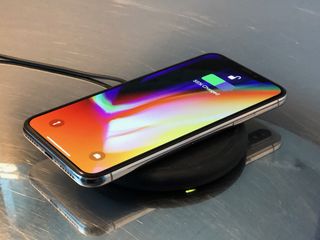 (Image credit: Rene Ritchie / iMore)
The new iPhones brought a ton of new features to the table, but one literally lets you charge your iPhone directly on the table without any pesky plugs or wires AKA the new wireless charging mats.
Some people say that the option is super nice, but that it depends on if the speed of the mat while charging an iPhone is still up-to-snuff and not sluggish:
While others plan on picking up several different types of charging mats for the home, their office, and when they're on the go!
But what about you?!
Hop on into the iMore forums today and join the discussion over whether wireless charging has your heart singing, or if you'd just prefer to simply plug on in as usual.
Get the best of iMore in in your inbox, every day!
Cella writes for iMore on social and photography. She's a true crime enthusiast, bestselling horror author, lipstick collector, buzzkill, and Sicilian. Follow her on Twitter and Instagram: @hellorousseau
Not interested. Current charging stands and car dashboard holder (ProClip) charge my X just fine and the screen is easily viewable, i.e., I don't have a reason to use a charge pad.

I was not excited about inductive charging before I got the iPhone X. But now after using it I kind of love it.
I still use lighting for the fastest charging but the pads are great for places I put my phone down. I have one in the kitchen and one on my desk at work.
The one at work especially nice because it just slowly charges while on it and I don't have to unplug it when I leave my desk for the bathroom, a meeting, or whatever.
Just super convenient.

It's useful, albeit I'm more looking forward to true wireless charging, e.g. what this product aims to achieve: https://www.picharging.com I was hoping that the iPhone X was going to have this kind of charging, but I guess it's not commercially there yet
Thank you for signing up to iMore. You will receive a verification email shortly.
There was a problem. Please refresh the page and try again.