Kendall and Kylie game: Four tips, tricks, and cheats to max out your mega-celebrity!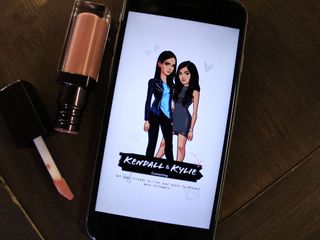 You're either obsessed with the Kardashians/Jenners' glamor, style and influence, or you're repulsed by their avarice and decadence. Regardless of how you stand on reality TV mega-stars, Kendall and Kylie, their iPhone game is a ton of fun to play. If you liked Kim Kardashian: Hollywood, then you'll be happy to know Kendall and Kylie is similar.
Follow our tips and tricks and you could be, like, totally the most popular socialite in Calabasas, California!
1. Open your gift boxes
Throughout Kendall and Kylie, there are three types of available giftboxes waiting in the lower lefthand corner. They recharge at different times (the 'rainbow' box takes around 24 hours, while Kylie's giftbox takes 3 days, and Kendall's takes an entire week) but are easy to forget about if there's a promotion from an outside brand (like Pacsun or Nour Hammour) that adds an additional loading screen, causing you to tap quickly to by-pass it.
Gift Boxes are awesome because they give you rare clothing items that you can't find anywhere else in the game, extra money, and extra energy (but be warned: there are also some really lame prizes, like selfie stickers for your character's social media posts that don't really do anything.)
2. Tap, tap, and tap some more!
Seriously (seriously!), almost everything in the background of Kendall and Kylie can give you bonuses. Every time you go from location to location, take some time to tap the birds, tap the fire hydrants, tap the trees, tap the potted plants, pigeons, suitcases, seagulls, bicycles, mailboxes, and more to gain energy, money, and experience. There are one to four bonuses hiding depending on your location.
Though the bonuses may not seem gigantic like they are when you complete missions, getting that single extra energy 3 minutes before an event is over could make the difference between a 4-star and 5-star rating.
3. Keep your ratings 5-Star with a full bar (of energy)
As exciting as it is to jump from one socialite event to the next in Kendall and Kylie, you need to allow yourself time to regenerate your energy in between events.
Hopping into a concert or a fashion show with your energy half-charged is a sure way to get a low rating, so be patient and wait for your energy to recharge. It only take around 5 minutes for one energy to renew, but if you want to get playing right away, you can always buy additional energy with K-Gems (and if you don't have enough K-Gems, then you can always spend your own money on in-game purchases.)
4. Become a serial dater
While it may seem like odd advice to suggest going on a bajillion dates, it's actually a great strategy to level up, get more followers on social media, and play the game without wasting a ton of energy.
Most major events in the game take three to eight hours and waste all of your energy to complete, so going out on a date is quick and fun alternative. Head to Greg's in West Hollywood, the Beach in Malibu (or anywhere, really!) to meet someone new and hit them up for a date. It'll only take around 30 minutes for a date with the person, and depending on how far you are in the game, it may only use up as little as 6 of your energy points.
Your top tips?
Now you're ready to take on, like, ultimate glamor stardom! Kendall, Kylie and I wish you the best of luck. If you've been playing for a while and have tips of your own to share, I'd be totally grateful to read those as well!
Master your iPhone in minutes
iMore offers spot-on advice and guidance from our team of experts, with decades of Apple device experience to lean on. Learn more with iMore!
Cella writes for iMore on social and photography. She's a true crime enthusiast, bestselling horror author, lipstick collector, buzzkill, and Sicilian. Follow her on Twitter and Instagram: @hellorousseau