Kim Kardashian: Hollywood: Top 8 tips, hints, and cheats you need to know!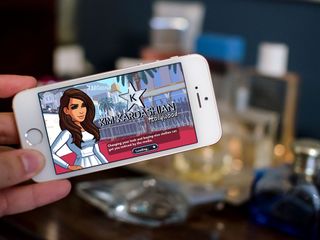 Kim Kardashian: Hollywood lets you lead the life of a celebrity right on your iPhone or iPad. Work your way through the social ranks to gain more fans and make your way to the A list. As elegant as it sounds, you'll need to do some serious work to climb your way up the social ladder, even with Kim K herself on your side. You'll need to network with the right people, choose the right outfits, and choose tasks wisely. Stars, cash, and energy don't grow on trees and you'll want to make sure you're using them wisely. Here are our favorite tips, hints, and cheats to becoming an A-lister before you know it!
1. Change your outfit often
You can change your outfit and redo your makeup and hair whenever you'd like in Kim Kardashian: Hollywood. If you're changing into something you already own, it'll cost you nothing. Not only that, but changing outfits regularly gets you noticed and you'll accrue points more often. So whenever you go on a new job or start a new quest, change outfits first! Just be sure you don't wear the same thing for too long or people may start talking.
2. Watch video offers for free stars and cash
You can watch videos every so often in exchange for free cash and stars. If you don't mind spending a few minutes every time you play doing this, they can add up. And who doesn't like free money? Be sure to visit both sections of the store as there are different sets of videos for both.
3. Bring friends to gigs and earn more
You can use the phone menu to call contacts and connections while you're on jobs. If you bring someone along with you, you'll earn more stars and level up faster. The more prominent of a figure that shows up with you, the more you'll earn.
4. Start a long task right before you finish playing
If you decide to work a full or half shift at work, don't waste your energy on finishing the task quickly. Instead, start these kinds of tasks before you close the game and go with shorter tasks while you're playing that don't require as much energy. This lets you explore more without having to pay real money or trade in stars for energy.
5. If you buy anything, buy stars
Cash is pretty easy to come by during game play and can be racked up fast. Your energy meter will also add one bolt every 5 minutes. If you're going to spend money on anything, spend it on stars. This way if you absolutely need more energy, you've got stars to trade for them. There are also a lot of items you'll want or need that you can't buy with cash.
6. Don't use stars to buy clothes
One of the few things you don't want to use your stars on is clothes. As you level up, you'll unlock lots of items that are tempting but you really don't need them. Wait until you're at a point in the game where you can really afford it without having to skimp elsewhere. Save the stars to go on dates and network. People may make comments if you wear the same things but they'll still hang out with you, and that's what matters.
If you're going to buy clothes, aim for cash buys, not star exchanges.
7. Gifts get you to the A list faster
If you want to climb your way to the A list faster, there's no better way to get to that inner circle than showering the people in it with gifts. Use the phone section of the game in order to find out what people are already popular and give them gifts. They'll like you more and in time, you'll build a relationship that'll pay off in the long run.
8. Date lots of people, but don't get dumped
There's no rules when it comes to dating. Date as many people as you want and you'll climb to the top of the A list even faster. But don't get dumped by someone as it could negatively hurt your popularity. Instead, you don't even actually have to pay for a date. Just call someone up to meet you but don't actually go on the date. Basically, bring them to the place but don't tap on their conversation bubble. This will keep them interested enough to stick around.
Your favorite tips, hints, and cheats to making the A list in Kim Kardashian: Hollywood?
If you've been working your way to the top in Kim Kardashian: Hollywood, what tips do you have to share? Have you found better ways of using energy or stars that help you progress faster? Be sure to let me know in the comments!
Master your iPhone in minutes
iMore offers spot-on advice and guidance from our team of experts, with decades of Apple device experience to lean on. Learn more with iMore!
iMore senior editor from 2011 to 2015.