KISS Photo Bomb app can add rock and roll to all of your pictures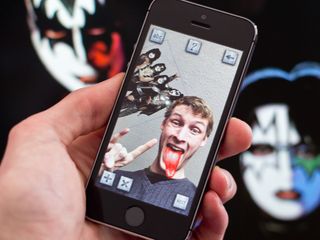 KISS is going mobile and today have announced the launch of the KISS PHOTO BOMB app for Android and iOS devices. With the free app, users can "KISSIFY" their photos and text messages with things like KISS members, KISS make-up, KISS frames and even KISS emoticons. Snap away then share to your favorite social service.
Press Release
Legendary Rock Band KISS Launches Official Mobile App!
(Los Angeles, April 3, 2014) KISS, the most influential rock band of all time, and Bare Tree Media, the leader in virtual branding, announced a partnership, brokered by Live Nation Merchandise, to launch the KISS PHOTO BOMB mobile app. Recently released on iTunes and Android as a FREE download, KISS PHOTO BOMB features both FREE and premium KISS virtual items. Additional categories of virtual merchandise will be developed for release throughout 2014.
KISS PHOTO BOMB allows fans to KISSIFY their photos and text messages with rock 'n' roll elements from their favorite rock band. Fans can easily add KISS effects, KISS make-up, KISS band members, KISS frames and more. The app allows users to instantly share their KISS moments with friends via Facebook, Instagram, and Twitter. There is even a feature to rock out text messaging by applying KISS emoticons when texting from the app. Fans can also connect to KISSOnline.com and get up to date news on the band and events. To download the app, visit: www.KissPhotoBomb.com.
"We are thrilled to partner with the Rock 'n' Roll legend KISS, and work with a premiere company like Live Nation!" said Robert Ferrari, CEO of Bare Tree Media. " KISS fans are highly engaged and social, so KISS PHOTO BOMB is perfect for them to socialize their love and loyalty of KISS." Co-founders of KISS Paul Stanley and Gene Simmons added, "We are excited to expand the KISS experience to our mobile fans. KISS PHOTO BOMB will rock the charts with fans around the world!"
Get the best of iMore in your inbox, every day!
Editorial Director - High Yield
Getting his start writing about BlackBerry in 2008, Adam is the Editorial Director of High-Yield content at Future. Leading an outstanding team, he oversees many of the articles the publisher produces about subscriptions and services – VPN, TV streaming, and antivirus software. From buying guides and how to watch content, to deal news and in-depth reviews. Adam's work can be seen on numerous Future brands including TechRadar, Tom's Guide, T3, TTR, Android Central, iMore, and Real Homes.
Bleh. I hated KISS from the moment their first record came out. It's very disappointing to me that all these years later, these talentless boobs are still hanging around (even virtually). What's kind of amusing to me though, is that a lot of Metal fans today seem to like KISS, and consider them part of rock and roll and Metal history ... but at the time they came out, they were kind of a "girlie" band that "real" metal fans both hated and shunned with a passion. If you went to an early KISS concert (I did), you would find actual protests outside from "real metal fans," and inside the auditorium, the audience would be 80-90% 16 year old girls (and younger) wearing disco jeans. KISS: closer to Justin Bieber than Deep Purple

Out of interest, what's a real metal fan?

This might be the worst app in the history of apps.