The Lego Movie Video Game: Top tips, hints, and cheats you need to know!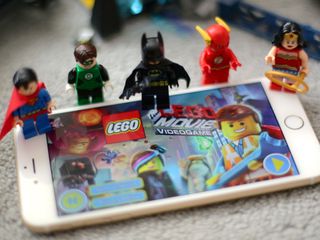 In The Lego Movie Video Game, you star as Emmet, an ordinary guy who desperately wants to fit in and have some friends. However, after stumbling upon the Piece of Resistance, Emmet's life gets a lot more interesting. Throughout the game you'll also play as Wild Style and many other characters from the movie as you work your way through over 40 levels. Along the way you'll have to be creative and watch for clues in order to unlock the next stage. So here are our top tips, hints, and cheats to help you make your way through the entire Lego Movie Video Game for iPhone and iPad!
1. Mini-challenges
Each level offers a plethora of mini-challenges that you can complete for even extra points and prizes. At the beginning of each level you'll see a screen that you can tap on different tiles in order to see what you have to do to complete each one. Doing these mini-challenges get you way more Lego studs to use towards purchasing characters and they sometimes are even necessary to get further into the game, so pay attention to them.
2. Watch for the red glow
Red bricks can prove tricky to find at times but just watch for the red glow. Sometimes you may have to take a direct hit in order to collect a red brick but 9 times out of 10, it's worth it.
3. Start smashing
Sometimes you'll run into what you think is a dead end but it really isn't. The next part of the puzzle is most likely just hidden. In some cases it may be as simple as smashing a barrel or a pile of rubble. In the beginning, this is how you'll find pieces for Wild Style to build.
4. Change controller types
When you pause the game, you can switch to a classic controller type if you choose. Anyone who is used to a D-pad or just prefers physical controls can give this a try. You can even hook up an accessory controller if you have one.
5. Packages deals are better
If you insist on buying your favorite characters by purchasing yellow bricks, be sure to check out the bundles that are offered. They are almost always a better deal than buying individual characters.
6. Don't buy to beat
That being said, you don't actually have to spend any real money in order to beat The Lego Movie Video Game. Instead, just work your way through the story lines and you'll unlock new characters and end up unlocking achievements faster than you'd think. Game play itself isn't actually hard or difficult, so sit back and enjoy the story line and complete as many mini-games as you can!
7. Use your abilities
There are some situations where certain characters are better suited than others. For example, Wild Style has special moves that make her better at combat than Emmet. Whenever a bunch of enemies are descending upon you at once, try switching to Wild Style instead and letting her take care of the situation.
Your tips, hints, and cheats?
If you've been working your way through the Lego Movie Video Game, what are some tips, hints, and cheats you can share? Be sure to let us know in the comments!
Master your iPhone in minutes
iMore offers spot-on advice and guidance from our team of experts, with decades of Apple device experience to lean on. Learn more with iMore!
iMore senior editor from 2011 to 2015.